Chance Fracture Workup
Author: J Allan Goodrich, MD; Chief Editor: Jeffrey A Goldstein, MD more...
Updated: Dec 18, 2014
What would you like to print?
Imaging Studies
The radiographic workup[14] initially should include anteroposterior (AP) and lateral views of the thoracolumbar junction. The posterior elements should be observed clearly to identify the fracture line and its propagation. (See the image below.)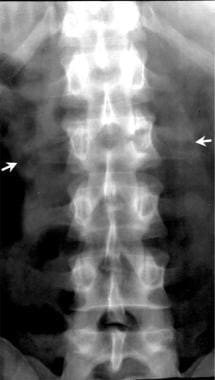 Anterior view of Chance fracture of L2 vertebral body. Fracture line follows horizontal plane through L2 vertebral body and transverse processes (arrows).
Computed tomography (CT) may be necessary to clearly delineate the entire bony nature of this injury; sagittal and coronal reconstructions are helpful.[15]
As a rule, magnetic resonance imaging (MRI) evaluation is unhelpful, except in individuals with unexplained neurologic deficits, which are uncommon with this injury. The scan may demonstrate a contusion of the conus or compression of the cauda equina, which may correlate with the clinical examination.[16]
Laboratory Studies
The laboratory workup, in general, is the same as it would be for any trauma patient. It should include a baseline complete blood count, a urinalysis, and an appropriate chemistry profile as indicated. Because of the high incidence of associated intra-abdominal pathology, pay close attention to liver function test results.
References
Eismont FJ. Flexion-Distraction Injuries of the Thoracic and Lumbar Spine. In: Levine A, Eismont FJ, Garfin S, Zigler J, eds. Spine Trauma. Philadelphia, Pa: WB Saunders; 1998:. 402-14.

Chance GQ. Note on a flexion fracture of the spine. Br J Radiol. 1948. 21:452-3.

Gordon ZL, Gillespie RJ, Ponsky TA, Barksdale EM Jr, Thompson GH. Three siblings with Chance fractures: the importance of 3-point restraints. J Pediatr Orthop. 2009 Dec. 29(8):856-9. [Medline].

LeGay DA, Petrie DP, Alexander DI. Flexion-distraction injuries of the lumbar spine and associated abdominal trauma. J Trauma. 1990 Apr. 30(4):436-44. [Medline].

Triantafyllou SJ, Gertzbein SD. Flexion distraction injuries of the thoracolumbar spine: a review. Orthopedics. 1992 Mar. 15(3):357-64. [Medline].

Tyroch AH, McGuire EL, McLean SF, Kozar RA, Gates KA, Kaups KL, et al. The association between Chance fractures and intra-abdominal injuries revisited: a multicenter review. Am Surg. 2005 May. 71(5):434-8. [Medline].

Mulpuri K, Reilly CW, Perdios A, Tredwell SJ, Blair GK. The spectrum of abdominal injuries associated with Chance fractures in pediatric patients. Eur J Pediatr Surg. 2007 Oct. 17(5):322-7. [Medline].

Reid AB, Letts RM, Black GB. Pediatric Chance fractures: association with intra-abdominal injuries and seatbelt use. J Trauma. 1990 Apr. 30(4):384-91. [Medline].

Ragel BT, Allred CD, Brevard S, Davis RT, Frank EH. Fractures of the thoracolumbar spine sustained by soldiers in vehicles attacked by improvised explosive devices. Spine (Phila Pa 1976). 2009 Oct 15. 34(22):2400-5. [Medline].

Schoenfeld AJ, Wood KB, Fisher CF, Fehlings M, Oner FC, Bouchard K, et al. Posttraumatic Kyphosis: Current State of Diagnosis and Treatment: Results of a Multinational Survey of Spine Trauma Surgeons. J Spinal Disord Tech. 2010 Jan 27. [Medline].

Hu X, Lieberman IH. Proximal Instrumented Vertebral Body Chance Fracture after Pedicle Screw Instrumentation in a Thoracic Kyphosis Patient with Osteoporosis. J Spinal Disord Tech. 2012 Jul 19. [Medline].

Smith WS, Kaufer H. Patterns and mechanisms of lumbar injuries associated with lap seat belts. J Bone Joint Surg Am. 1969 Mar. 51(2):239-54. [Medline].

Denis F. The three column spine and its significance in the classification of acute thoracolumbar spinal injuries. Spine. 1983 Nov-Dec. 8(8):817-31. [Medline].

Parizel PM, van der Zijden T, Gaudino S, Spaepen M, Voormolen MH, Venstermans C, et al. Trauma of the spine and spinal cord: imaging strategies. Eur Spine J. 2010 Mar. 19 Suppl 1:S8-17. [Medline].

Bernstein MP, Mirvis SE, Shanmuganathan K. Chance-type fractures of the thoracolumbar spine: imaging analysis in 53 patients. AJR Am J Roentgenol. 2006 Oct. 187(4):859-68. [Medline].

Groves CJ, Cassar-Pullicino VN, Tins BJ, Tyrrell PN, McCall IW. Chance-type flexion-distraction injuries in the thoracolumbar spine: MR imaging characteristics. Radiology. 2005 Aug. 236(2):601-8. [Medline].

Le TV, Baaj AA, Deukmedjian A, Uribe JS, Vale FL. Chance fractures in the pediatric population. J Neurosurg Pediatr. 2011 Aug. 8(2):189-97. [Medline].

Arkader A, Warner WC Jr, Tolo VT, Sponseller PD, Skaggs DL. Pediatric Chance fractures: a multicenter perspective. J Pediatr Orthop. 2011 Oct-Nov. 31(7):741-4. [Medline].

Dimar JR, Fisher C, Vaccaro AR, Okonkwo DO, Dvorak M, Fehlings M, et al. Predictors of Complications After Spinal Stabilization of Thoracolumbar Spine Injuries. J Trauma. 2010 Apr 16. [Medline].

Mulpuri K, Jawadi A, Perdios A, Choit RL, Tredwell SJ, Reilly CW. Outcome analysis of Chance fractures of the skeletally immature spine. Spine. 2007 Nov 15. 32(24):E702-7. [Medline].

Beringer W, Potts E, Khairi S, Mobasser JP. Percutaneous pedicle screw instrumentation for temporary internal bracing of nondisplaced bony Chance fractures. J Spinal Disord Tech. 2007 May. 20(3):242-7. [Medline].

Schizas C, Kosmopoulos V. Percutaneous surgical treatment of Chance fractures using cannulated pedicle screws. Report of two cases. J Neurosurg Spine. 2007 Jul. 7(1):71-4. [Medline].
Medscape Reference © 2011 WebMD, LLC