Coccygodynia Workup
Author: Deepak Gautam, MBBS, MS; Chief Editor: Jeffrey A Goldstein, MD more...
Updated: Jan 14, 2015
What would you like to print?
Laboratory Studies
The diagnosis of coccygodynia is predominantly based on clinical examination. Laboratory investigations show no particular abnormality, except in the presence of infection or tumor.[1]
Imaging Studies
Radiologic investigations are helpful in diagnosis. However, because coccygodynia is a dynamic disorder, it can only be appreciated on dynamic radiographic imaging.
Dynamic radiography
Dynamic films taken in both a sitting and a standing position allow measurement of sagittal pelvic rotation and the coccygeal angle of incidence. The coccyx can move as much as 22° when a person sits or shifts from standing to sitting. Subtle posterior coccygeal subluxations can be found only when a sitting lateral film of the coccyx is compared to a standing film to check the amount of translation. Sitting and standing films will show radiographic abnormalities in as many as 70% symptomatic cases of coccygodynia.[5] (See the image below.)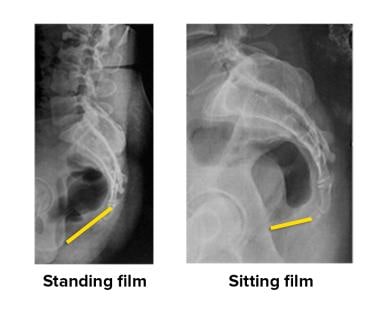 Dynamic radiographs obtained from patient with coccygodynia.
In dynamic radiographic imaging, hypermobility of the coccyx is defined as more than 25° of flexion on the lateral view; subluxation is defined as more than 25% translation of the coccyx from the standing view to the sitting view. Measurement of the intercoccygeal angle (ie, the angle formed between the first coccygeal segment and the last coccygeal segment) can provide an objective measurement of the forward inclination of the coccyx.
Computed tomography
Computed tomography (CT) plays no role in diagnosing idiopathic coccygodynia, except in cases of traumatic etiology with an obvious fracture or in cases involving infections or tumors. Contrast films may be helpful in differentiating infection and tumors.
Magnetic resonance imaging and bone scanning
Magnetic resonance imaging (MRI) and technetium-99m bone scanning may demonstrate inflammation of the sacrococcygeal area indicative of coccygeal hypermobility.[5] However, these advanced imaging techniques may not be as accurate as dynamic radiography.[9] MRI can be helpful for ruling out possible tumor.
Provocative discography
Provocative discography is a promising investigation in the assessment of coccygodynia. In a study by Maigne et al,[14] coccygeal discography was technically successful in 44 of 51 cases and yielded positive results in all cases of subluxation and hypermobility; 50% of the patients had normal dynamic films but positive discograms.
Fluoroscopy and injection
Pressing the region of tenderness with a blunt needle to elicit pain and subsequent relief of pain with injection of local anesthetic under fluoroscopic guidance may be helpful in confirming the diagnosis and may be therapeutic as well.
References
Nathan ST, Fisher BE, Roberts CS. Coccydynia: a review of pathoanatomy, aetiology, treatment and outcome. J Bone Joint Surg Br. 2010 Dec. 92(12):1622-7. [Medline].

Pennekamp PH, Kraft CN, Stütz A, Wallny T, Schmitt O, Diedrich O. Coccygectomy for coccygodynia: does pathogenesis matter?. J Trauma. 2005 Dec. 59(6):1414-9. [Medline].

THIELE GH. COCCYGODYNIA: CAUSE AND TREATMENT. Dis Colon Rectum. 1963 Nov-Dec. 6:422-36. [Medline].

Peyton FW. Coccygodynia in women. Indiana Med. 1988 Aug. 81(8):697-8. [Medline].

Fogel GR, Cunningham PY 3rd, Esses SI. Coccygodynia: evaluation and management. J Am Acad Orthop Surg. 2004 Jan-Feb. 12(1):49-54. [Medline].

Kim NH, Suk KS. Clinical and radiological differences between traumatic and idiopathic coccygodynia. Yonsei Med J. 1999 Jun. 40(3):215-20. [Medline].

Maigne JY, Doursounian L, Chatellier G. Causes and mechanisms of common coccydynia: role of body mass index and coccygeal trauma. Spine (Phila Pa 1976). 2000 Dec 1. 25(23):3072-9. [Medline].

Postacchini F, Massobrio M. Idiopathic coccygodynia. Analysis of fifty-one operative cases and a radiographic study of the normal coccyx. J Bone Joint Surg Am. 1983 Oct. 65(8):1116-24. [Medline].

Patel R, Appannagari A, Whang PG. Coccydynia. Curr Rev Musculoskelet Med. 2008 Dec. 1(3-4):223-6. [Medline]. [Full Text].

SCHAPIRO S. Low back and rectal pain from an orthopedic and proctologic viewpoint; with a review of 180 cases. Am J Surg. 1950 Jan. 79(1):117-28, illust. [Medline].

Maigne JY, Chatellier G. Comparison of three manual coccydynia treatments: a pilot study. Spine (Phila Pa 1976). 2001 Oct 15. 26(20):E479-83; discussion E484. [Medline].

Reig E, Abejón D, del Pozo C, Insausti J, Contreras R. Thermocoagulation of the ganglion impar or ganglion of Walther: description of a modified approach. Preliminary results in chronic, nononcological pain. Pain Pract. 2005 Jun. 5(2):103-10. [Medline].

De Andrés J, Chaves S. Coccygodynia: a proposal for an algorithm for treatment. J Pain. 2003 Jun. 4(5):257-66. [Medline].

Maigne JY, Guedj S, Straus C. Idiopathic coccygodynia. Lateral roentgenograms in the sitting position and coccygeal discography. Spine (Phila Pa 1976). 1994 Apr 15. 19(8):930-4. [Medline].

Khan SA, Kumar A, Varshney MK, Trikha V, Yadav CS. Dextrose prolotherapy for recalcitrant coccygodynia. J Orthop Surg (Hong Kong). 2008 Apr. 16(1):27-9. [Medline].

Mennell JB. The Science and Art of Joint Manipulation. London: Churchill; 1952. Vol III:

Maigne JY, Chatellier G, Faou ML, Archambeau M. The treatment of chronic coccydynia with intrarectal manipulation: a randomized controlled study. Spine (Phila Pa 1976). 2006 Aug 15. 31(18):E621-7. [Medline].

Plancarte R, Amescua C, Patt RB, Allende S. Presacral blockade of the ganglion of Walther (ganglion impar). Anesthesiology. 1990. 73:A751.

Atim A, Ergin A, Bilgiç S, Deniz S, Kurt E. Pulsed radiofrequency in the treatment of coccygodynia. Agri. 2011 Jan. 23(1):1-6. [Medline].

Gopal H, Mc Crory C. Coccygodynia treated by pulsed radio frequency treatment to the Ganglion of Impar: a case series. J Back Musculoskelet Rehabil. 2014. 27(3):349-54. [Medline].

Marwan Y, Husain W, Alhajii W, Mogawer M. Extracorporeal shock wave therapy relieved pain in patients with coccydynia: a report of two cases. Spine J. 2014 Jan. 14(1):e1-4. [Medline].

POWERS JA. Coccygectomy. South Med J. 1957 May. 50(5):675-8. [Medline].

Gardner RC. An improved technic of coccygectomy. Clin Orthop Relat Res. 1972. 85:143-5. [Medline].

Perkins R, Schofferman J, Reynolds J. Coccygectomy for severe refractory sacrococcygeal joint pain. J Spinal Disord Tech. 2003 Feb. 16(1):100-3. [Medline].

Trollegaard AM, Aarby NS, Hellberg S. Coccygectomy: an effective treatment option for chronic coccydynia: retrospective results in 41 consecutive patients. J Bone Joint Surg Br. 2010 Feb. 92(2):242-5. [Medline].

Shoakazemi A, Shafafy M, Fagan D, Mehdian SM. Results of coccygectomy in patients with traumatic coccydynia. J Bone Joint Surg Br. 2008. 90-B Suppl 3:528.

Karadimas EJ, Trypsiannis G, Giannoudis PV. Surgical treatment of coccygodynia: an analytic review of the literature. Eur Spine J. 2011 May. 20(5):698-705. [Medline]. [Full Text].

Kerr EE, Benson D, Schrot RJ. Coccygectomy for chronic refractory coccygodynia: clinical case series and literature review. J Neurosurg Spine. 2011 May. 14(5):654-63. [Medline].

Ramieri A, Domenicucci M, Cellocco P, Miscusi M, Costanzo G. Acute traumatic instability of the coccyx: results in 28 consecutive coccygectomies. Eur Spine J. 2013 Nov. 22 Suppl 6:S939-44. [Medline]. [Full Text].
Medscape Reference © 2011 WebMD, LLC