Spinal Dislocations Workup
Author: J Allan Goodrich, MD; Chief Editor: Jeffrey A Goldstein, MD more...
Updated: Sep 24, 2012
What would you like to print?
Laboratory Studies
The laboratory workup for spinal dislocation parallels that for any patient with complex traumatic injuries. The workup should include a complete blood count, comprehensive metabolic profile, and urinalysis. The workup frequently includes clotting studies (prothrombin time, activated partial thromboplastin time).
If the patient presents in shock, urgent type and crossmatch is necessary for blood administration. Since a dislocation fracture requires a significant insult, associated chest and abdominal injuries are not uncommon.
Imaging Studies
Imaging for spinal dislocation begins with high-quality plain radiographs taken in the AP and lateral views.[11] These most often demonstrate the severity of the injury. A well-centered lateral view provides information on alignment and associated fractures, primarily of the anterior column. The AP view demonstrates associated injuries to the ribs and transverse processes, which are an indication of the violent nature of the injury. Associated pneumothorax may also be depicted from this view. See the radiographs below.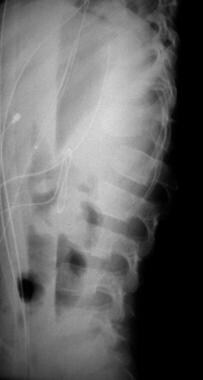 Flexion distraction injury with facet dislocation.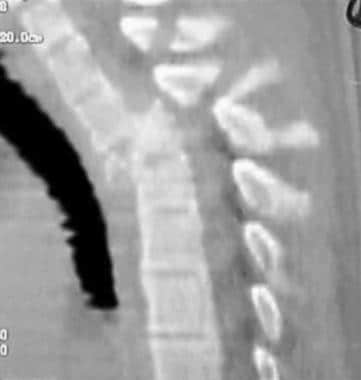 Fracture dislocation.
CT scan supplements the information gathered from the plain radiographs and provides pertinent data on the injuries to the posterior elements, including lamina and facet injuries. The empty facet sign is a complete dislocation of these joints and is a hallmark finding with these injuries as well as severe flexion-distraction–type traumas. These studies usually are obtained with 3-mm cuts and can be reformatted in the frontal and sagittal plains.[12]
MRI is infrequently required; plain radiographs and CT scans can provide most of the data needed to treat these injuries. If the neurologic examination findings do not correlate with the level of injury determined from plain films, then MRI may be indicated to provide additional information on adjacent levels of involvement. The neural elements and disk injuries are better depicted by MRI.[13, 12]
Ultrasound has been used in some centers intraoperatively to assess canal clearance. Specific expertise in its interpretation is required and is not always available.
Staging
Classification systems for thoracolumbar fractures
Many classification systems for thoracolumbar fractures exist. None are universally accepted, but each has its own merits and limitations. Important factors in their application include simplicity, reproducibility, and the ability to assist in making management decisions.[14, 15, 16]
Historically, Holdsworth viewed the spine as a 2-column structure with the vertebrae representing the anterior, load-bearing column and the posterior elements (pedicles, laminae, spinous processes, and attaching ligaments) functioning primarily as a tension band resisting tensile loads. Involvement of either structure or both structures, according to Holdsworth, required potentially different modes of reconstruction.[17]
Currently, the AO classification has many advocates.
Magerl basically divided thoracolumbar fractures into 3 groups[18] :
Group A involves compression injuries.

Group B involves distraction mechanisms.

Group C involves torsional injuries.
Further subdivisions are based on morphology of the fracture and its associated ligamentous components. This system and others base their classification on plain radiographs and computer tomographic (CT) findings. While extremely inclusive and comprehensive, interobserver agreement approaches only 67%.[14]
References
Breasted JH. The Edwin Smith surgical papyrus. Chicago: Univ. Chicago Press,; 1980,. 2 vols. (see 1: pp. xvi, 6, 480-485, 487-489, 446-448, 451-454, 466; 2: pi. XVII, XVIIA).

Wilkins RH. Neurosurgical Classic-XVIIEdwin Smith Surgical Papyrus. Cyber Museum of Neurosurgery. Available at http://www.neurosurgery.org/cybermuseum/pre20th/epapyrus.html. Accessed: August 28, 2008.

NICOLL EA. Fractures of the dorso-lumbar spine. J Bone Joint Surg Am. 1949 Aug. 31B(3):376-94. [Medline].

Dunn RN, van der Spuy D. Rugby and cervical spine injuries - has anything changed? A 5-year review in the Western Cape. S Afr Med J. 2010 Mar 30. 100(4):235-8. [Medline].

Kemp AM, Joshi AH, Mann M, Tempest V, Liu A, Holden S, et al. What are the clinical and radiological characteristics of spinal injuries from physical abuse: a systematic review. Arch Dis Child. 2010 May. 95(5):355-60. [Medline].

Liu P, Yao Y, Liu MY, Fan WL, Chao R, Wang ZG, et al. Spinal trauma in mainland China from 2001 to 2007: an epidemiological study based on a nationwide database. Spine (Phila Pa 1976). 2012 Jul 1. 37(15):1310-5. [Medline].

Fellrath RF, Jr, Hanley EN, Jr. Multitrauma and thoracolumbar fractures. Semin Spine Surg. 1995. 7:103-108.

Levine AM. Facet fractures and dislocations of the thoracolumbar spine. Spine Trauma. 1998. 415-427.

Whitesides TE Jr. Traumatic kyphosis of the thoracolumbar spine. Clin Orthop. 1977 Oct. (128):78-92. [Medline].

Schouten R, Albert T, Kwon BK. The spine-injured patient: initial assessment and emergency treatment. J Am Acad Orthop Surg. 2012 Jun. 20(6):336-46. [Medline].

Silva CT, Doria AS, Traubici J, Moineddin R, Davila J, Shroff M. Do additional views improve the diagnostic performance of cervical spine radiography in pediatric trauma?. AJR Am J Roentgenol. 2010 Feb. 194(2):500-8. [Medline].

Radcliff K, Kepler C, Reitman C, Harrop J, Vaccaro A. CT and MRI-based diagnosis of craniocervical dislocations: the role of the occipitoatlantal ligament. Clin Orthop Relat Res. 2012 Jun. 470(6):1602-13. [Medline]. [Full Text].

Grauer JN, Vaccaro AR, Lee JY, Nassr A, Dvorak MF, Harrop JS, et al. The timing and influence of MRI on the management of patients with cervical facet dislocations remains highly variable: a survey of members of the Spine Trauma Study Group. J Spinal Disord Tech. 2009 Apr. 22(2):96-9. [Medline].

Christopher M. Bono, M.D.Marie D. Rinaldi, M.D. Thoracolumbar Trauma. Jeffery Spivak,MD and Patrick J. Connolly MD. Orthopaedic Knowledge Update Spine 3. Third. Rosemont, Illinois: American Academy of Orthopaedic Surgeons; 2006. 201-216/23.

Arnold PM, Brodke DS, Rampersaud YR, Harrop JS, Dailey AT, Shaffrey CI, et al. Differences between neurosurgeons and orthopedic surgeons in classifying cervical dislocation injuries and making assessment and treatment decisions: a multicenter reliability study. Am J Orthop (Belle Mead NJ). 2009 Oct. 38(10):E156-61. [Medline].

Noonan V, Thorogood NP, Fingas M, Batke J, Belanger LM, Kwon BK, et al. The Validity of Administrative Data to Classify Patients with Spinal Column and Cord injuries. J Neurotrauma. 2012 Sep 24. [Medline].

Holdsworth F. Fractures, dislocations, and fracture-dislocations of the spine. J Bone Joint Surg Am. 1970 Dec. 52(8):1534-51. [Medline].

Magerl F, Aebi M, Gertzbein SD, Harms J, Nazarian S. A comprehensive classification of thoracic and lumbar injuries. Eur Spine J. 1994. 3(4):184-201. [Medline].

Rajasekaran S. Thoracolumbar burst fractures without neurological deficit: the role for conservative treatment. Eur Spine J. 2010 Mar. 19 Suppl 1:S40-7. [Medline].

Daniaux H. [Transpedicular repositioning and spongioplasty in fractures of the vertebral bodies of the lower thoracic and lumbar spine]. Unfallchirurg. 1986 May. 89(5):197-213. [Medline].

Daniaux H, Seykora P, Genelin A, Lang T, Kathrein A. Application of posterior plating and modifications in thoracolumbar spine injuries. Indication, techniques, and results. Spine. 1991 Mar. 16(3 Suppl):S125-33. [Medline].

Bedbrook GM. Treatment of thoracolumbar dislocation and fractures with paraplegia. Clin Orthop. 1975 Oct. (112):27-43. [Medline].

Bohlman HH. Treatment of fractures and dislocations of the thoracic and lumbar spine. J Bone Joint Surg Am. 1985 Jan. 67(1):165-9. [Medline].

Lewis J, McKibbin B. The treatment of unstable fracture-dislocations of the thoraco-lumbar spine accompanied by paraplegia. J Bone Joint Surg Br. 1974 Nov. 56-B(4):603-12. [Medline].

Vialle R, Rillardon L, Feydy A, Levassor N, Lavelle G, Guigui P. Spinal trauma with a complete anterior vertebral body dislocation: a report of three cases. Spinal Cord. 2008 Feb. 46(2):154-8. [Medline].

Reindl R, Ouellet J, Harvey EJ, Berry G, Arlet V. Anterior reduction for cervical spine dislocation. Spine. 2006 Mar 15. 31(6):648-52. [Medline].

Wang HC, Yang YL, Lin WC, Chen WF, Yang TM, Lin YJ, et al. Computer-assisted pedicle screw placement for thoracolumbar spine fracture with separate spinal reference clamp placement and registration. Surg Neurol. 2008 Jun. 69(6):597-601; discussion 601. [Medline].

Eismont FJ, Wiesel SW, Rothman RH. Treatment of dural tears associated with spinal surgery. J Bone Joint Surg Am. 1981 Sep. 63(7):1132-6. [Medline].

Gertzbein SD. Scoliosis Research Society. Multicenter spine fracture study. Spine. 1992 May. 17(5):528-40. [Medline].

Bracken MB, Holford TR. Neurological and functional status 1 year after acute spinal cord injury: estimates of functional recovery in National Acute Spinal Cord Injury Study II from results modeled in National Acute Spinal Cord Injury Study III. J Neurosurg. 2002 Apr. 96(3 Suppl):259-66. [Medline].

Coleman WP, Benzel D, Cahill DW, Ducker T, Geisler F, Green B, et al. A critical appraisal of the reporting of the National Acute Spinal Cord Injury Studies (II and III) of methylprednisolone in acute spinal cord injury. J Spinal Disord. 2000 Jun. 13(3):185-99. [Medline].

Nesathurai S. Steroids and spinal cord injury: revisiting the NASCIS 2 and NASCIS 3 trials. J Trauma. 1998 Dec. 45(6):1088-93. [Medline].

Bracken MB, Shepard MJ, Holford TR, Leo-Summers L, Aldrich EF, Fazl M, et al. Administration of methylprednisolone for 24 or 48 hours or tirilazad mesylate for 48 hours in the treatment of acute spinal cord injury. Results of the Third National Acute Spinal Cord Injury Randomized Controlled Trial. National Acute Spinal Cord Injury Study. JAMA. 1997 May 28. 277(20):1597-604. [Medline].

Young W. NASCIS. National Acute Spinal Cord Injury Study. J Neurotrauma. 1990 Fall. 7(3):113-4. [Medline].

Geisler FH. GM-1 ganglioside and motor recovery following human spinal cord injury. J Emerg Med. 1993. 11 Suppl 1:49-55. [Medline].

Geisler FH, Dorsey FC, Coleman WP. Recovery of motor function after spinal-cord injury--a randomized, placebo-controlled trial with GM-1 ganglioside. N Engl J Med. 1991 Jun 27. 324(26):1829-38. [Medline].
Medscape Reference © 2011 WebMD, LLC