Hypertriglyceridemia Clinical Presentation
Author: Mary Ellen T Sweeney, MD; Chief Editor: Romesh Khardori, MD, PhD, FACP more...
Updated: Apr 13, 2015
What would you like to print?
History
The US Preventive Services Task Force (USPSTF) includes the following as risk factors for a 10-year risk of cardiovascular events in patients with dyslipidemias, including hypertriglyceridemia and hyperlipoproteinemia[31] :
Diabetes

History of coronary heart disease (CHD) or noncoronary atherosclerosis (eg, abdominal aortic aneurysm, peripheral artery disease, carotid artery stenosis)

Family history of cardiovascular disease before age 50 years in male relatives or age 60 years in female relatives

Tobacco use

Hypertension

Obesity (body mass index [BMI] >30 kg/m 2)
In addition to the risk factors above, the American Association of Clinical Endocrinologists (AACE) includes the following as major risk factors for dyslipidemia and atherosclerosis[32] :
Elevated serum total cholesterol levels

Elevated levels of non–high-density lipoprotein (non–HDL) levels

Elevated low-density lipoprotein (LDL) levels
Gastrointestinal symptoms
Hypertriglyceridemia is usually asymptomatic until triglycerides are greater than 1000-2000 mg/dL. Patients may report pain, which is commonly mid epigastric but may occur in other regions, including the chest or back.
A history of recurrent episodes of acute pancreatitis is common in patients with severe and uncontrolled hypertriglyceridemia.[33] Triglyceride levels often exceed 5000 mg/dL at the onset of pancreatitis.
Patients with recurrent episodes of abdominal pain that is less severe than acute pancreatitis may experience the chylomicronemia syndrome.[34] Affected patients usually have triglyceride elevations greater than 2000 mg/dL at the onset of symptoms and provide a history of recurrent episodes of abdominal pain, sometimes with nausea, vomiting, or dyspnea. Pancreatitis is not necessarily present. The presentation of hyperchylomicronemia may be confused with conditions such as acute myocardial syndromes or biliary colic.
Dermatologic symptoms
Severe hypertriglyceridemia may cause skin lesions called xanthomas. Patients may report the appearance of any of the following types of xanthomas:
Xanthoma striata palmaris: Orange-yellow discolorations of the palmar creases, which in some cases are raised; considered pathognomonic for dysbetalipoproteinemia

Tuberoeruptive xanthomas: Nonpainful, raised, erythematous, nodular lesions approximately 0.5 cm in diameter; may be present on the elbows and knees

Tuberous xanthomas: Larger, coalesced tuberoeruptive xanthomas; raised, moderately firm, nontender lesions predominantly on the elbows and knees

Tendon xanthomas: Occur infrequently; more common in familial hypercholesterolemia

Eruptive xanthomas: Small nodular papules commonly seen over the trunk, buttocks, and thighs; associated with chylomicronemia syndrome
Ophthalmologic symptoms
Uncommonly, patients may also note the presence of a corneal arcus, which is a grayish white opacification at the periphery of the cornea and/or xanthelasmas, which are pale yellow, raised lesions around the eyelids.
Physical Examination
When triglycerides are less than 1000 mg/dL, the physical findings are normal unless the underlying condition is dysbetalipoproteinemia, type III hyperlipoproteinemia. In this condition, palmar xanthomas may be discerned infrequently.
When triglycerides are acutely and massively elevated, physical findings may be absent except on funduscopic examination. Therefore, physical findings in patients with severe hypertriglyceridemia are variable, ranging from normal to one or more of the findings discussed below.
In patients with peripheral vascular disease, the pedal pulses or ankle/brachial index may be decreased.
Gastrointestinal
If pancreatitis or the chylomicronemia syndrome is present, the mid epigastric area or upper right or left quadrants are tender to palpitation. Hepatomegaly and, less commonly, splenomegaly may be appreciated.
Dermatologic
Eruptive xanthomas (see the images below) are sometimes found when sustained elevated triglycerides are well above 1000 mg/dL. These are 1- to 3-mm yellow papules on an erythematous base that are most prominent on the back, buttocks, chest, and proximal extremities. The lesions are caused by accumulations of chylomicrons within macrophages and disappear gradually when triglycerides are kept below 1000 mg/dL.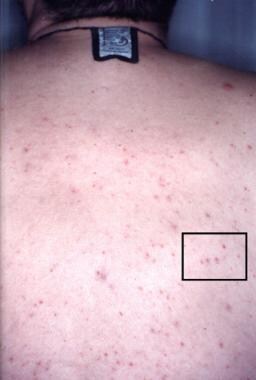 Eruptive xanthomas on the back of a patient admitted with a triglyceride level of 4600 mg/dL and acute pancreatitis.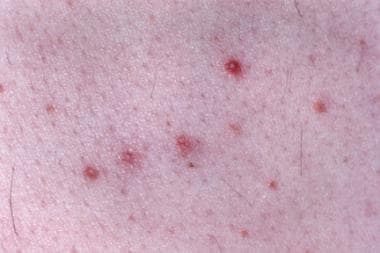 Close-up of eruptive xanthomas.
Patients with dysbetalipoproteinemia (type III) may have palmar xanthomas (yellowish creases of the palms). This type of xanthoma is considered pathognomonic for this disorder. Tuberous or tuberoeruptive xanthomas, which also may occur in other hyperlipidemias, may arise on the elbows, knees, or buttocks.
Ophthalmologic
Corneal arcus, lipemia retinalis, and xanthelasma are the most common ocular abnormalities.[2] Triglyceride levels of 4000 mg/dL or higher may cause lipemia retinalis, in which funduscopic examination reveals retinal blood vessels (and occasionally the retina) that have a pale pink, milky appearance.
The ocular changes are usually not seen until the triglyceride level reaches at least 2000 mg/dL in the early stages; they are best observed in the peripheral fundus. The vessels initially appear salmon-pink, but when the triglyceride level rises further, they become whitish. These changes, which begin in the periphery, progress toward the posterior pole as the triglyceride level rises. In severe cases, the vessels are creamy white, and differentiating the arteries from the veins is difficult. The findings can fluctuate widely from day to day, depending on the triglyceride level.
Xanthelasma is a deposition of lipid in the eyelid, usually the upper medial lid. The lesions may be excised, but recurrences are common. Current treatments include serial excisions, the use of carbon dioxide and erbium lasers, and trichloroacetic acid peels. With primary excisions, recurrences of up to 40% have been reported, and secondary excision recurrences are even higher.[35] Of the initial failures, 20% are within the first year.[36]
The fundus abnormalities, which improve as the triglyceride levels return to normal, provide a method of following the patient's course and response to therapy.
Neurologic
Memory loss, dementia, and depression have been reported in patients with the chylomicronemia syndrome.
References
Nainggolan L. FDA Approves Epanova for Severe Hypertriglyceridemia. Medscape Medical News. Available at http://www.medscape.com/viewarticle/824748. Accessed: May 12, 2014.

Wu CW, Lin PY, Liu YF, Liu TC, Lin MW, Chen WM, et al. Central corneal mosaic opacities in Schnyder's crystalline dystrophy. Ophthalmology. 2005 Apr. 112(4):650-3. [Medline].

FREDRICKSON DS, LEES RS. A SYSTEM FOR PHENOTYPING HYPERLIPOPROTEINEMIA. Circulation. 1965 Mar. 31:321-7. [Medline].

Mahley RW, Rall SC Jr. Type III hyperlipoproteinemia (dysbetalipoproteinemia): the role of apolipoprotein E in normal and abnormal metabolism. Scriver CR, Beaudet AR, Sly WS, Valle D, eds. The Metabolic and Molecular Bases of Inherited Disease. 8th ed. New York: McGraw-Hill; 2001. 2835-62.

Kane JP. Structure and function of the plasma lipoproteins and their receptors. Fuster V, Ross R, Topol EJ, eds. Atherosclerosis and Coronary Artery Disease. Philadelphia, Pa: Lippincott-Raven; 89-103. 1996: .

Mahley RW, Huang Y, Rall SC Jr. Pathogenesis of type III hyperlipoproteinemia (dysbetalipoproteinemia). Questions, quandaries, and paradoxes. J Lipid Res. 1999 Nov. 40(11):1933-49. [Medline].

Smelt AH, de Beer F. Apolipoprotein E and familial dysbetalipoproteinemia: clinical, biochemical, and genetic aspects. Semin Vasc Med. 2004 Aug. 4(3):249-57. [Medline].

Huang Y, Schwendner SW, Rall SC Jr, Sanan DA, Mahley RW. Apolipoprotein E2 transgenic rabbits. Modulation of the type III hyperlipoproteinemic phenotype by estrogen and occurrence of spontaneous atherosclerosis. J Biol Chem. 1997 Sep 5. 272(36):22685-94. [Medline].

Zhang SH, Reddick RL, Piedrahita JA, Maeda N. Spontaneous hypercholesterolemia and arterial lesions in mice lacking apolipoprotein E. Science. 1992 Oct 16. 258(5081):468-71. [Medline].

Corbo RM, Scacchi R. Apolipoprotein E (APOE) allele distribution in the world. Is APOE*4 a 'thrifty' allele?. Ann Hum Genet. 1999 Jul. 63:301-10. [Medline].

Feussner G, Piesch S, Dobmeyer J, Fischer C. Genetics of type III hyperlipoproteinemia. Genet Epidemiol. 1997. 14(3):283-97. [Medline].

Davignon J, Gregg RE, Sing CF. Apolipoprotein E polymorphism and atherosclerosis. Arteriosclerosis. 1988 Jan-Feb. 8(1):1-21. [Medline].

Hassing HC, Surendran RP, Mooij HL, Stroes ES, Nieuwdorp M, Dallinga-Thie GM. Pathophysiology of hypertriglyceridemia. Biochim Biophys Acta. 2012 May. 1821(5):826-32. [Medline].

Executive Summary of The Third Report of The National Cholesterol Education Program (NCEP) Expert Panel on Detection, Evaluation, And Treatment of High Blood Cholesterol In Adults (Adult Treatment Panel III). JAMA. 2001 May 16. 285(19):2486-97. [Medline].

Miller M, Stone NJ, Ballantyne C, Bittner V, Criqui MH, Ginsberg HN, et al. Triglycerides and cardiovascular disease: a scientific statement from the American Heart Association. Circulation. 2011 May 24. 123(20):2292-333. [Medline].

Pajukanta P, Porkka KV. Genetics of familial combined hyperlipidemia. Curr Atheroscler Rep. 1999 Jul. 1(1):79-86. [Medline].

Kolovou GD, Anagnostopoulou KK, Kostakou PM, Bilianou H, Mikhailidis DP. Primary and secondary hypertriglyceridaemia. Curr Drug Targets. 2009 Apr. 10(4):336-43. [Medline].

Pilia G, Chen WM, Scuteri A, Orrú M, Albai G, Dei M, et al. Heritability of cardiovascular and personality traits in 6,148 Sardinians. PLoS Genet. 2006 Aug 25. 2(8):e132. [Medline]. [Full Text].

Willer CJ, Mohlke KL. Finding genes and variants for lipid levels after genome-wide association analysis. Curr Opin Lipidol. 2012 Apr. 23(2):98-103. [Medline]. [Full Text].

Johansen CT, Wang J, Lanktree MB, Cao H, McIntyre AD, Ban MR, et al. Excess of rare variants in genes identified by genome-wide association study of hypertriglyceridemia. Nat Genet. 2010 Aug. 42(8):684-7. [Medline]. [Full Text].

Kathiresan S, Willer CJ, Peloso GM, Demissie S, Musunuru K, Schadt EE, et al. Common variants at 30 loci contribute to polygenic dyslipidemia. Nat Genet. 2009 Jan. 41(1):56-65. [Medline]. [Full Text].

Hiramatsu M, Oguri M, Kato K, Horibe H, Fujimaki T, Watanabe S, et al. Synergistic effects of genetic variants of APOA5 and BTN2A1 on dyslipidemia or metabolic syndrome. Int J Mol Med. 2012 Jul. 30(1):185-92. [Medline].

Shen GQ, Li L, Wang QK. Genetic variant R952Q in LRP8 is associated with increased plasma triglyceride levels in patients with early-onset CAD and MI. Ann Hum Genet. 2012 May. 76(3):193-9. [Medline].

Ford ES, Giles WH, Dietz WH. Prevalence of the metabolic syndrome among US adults: findings from the third National Health and Nutrition Examination Survey. JAMA. 2002 Jan 16. 287(3):356-9. [Medline].

Sumner AE, Cowie CC. Ethnic differences in the ability of triglyceride levels to identify insulin resistance. Atherosclerosis. 2008 Feb. 196(2):696-703. [Medline].

Assmann G, Schulte H. Relation of high-density lipoprotein cholesterol and triglycerides to incidence of atherosclerotic coronary artery disease (the PROCAM experience). Prospective Cardiovascular Münster study. Am J Cardiol. 1992 Sep 15. 70(7):733-7. [Medline].

Stamler J, Wentworth D, Neaton JD. Is relationship between serum cholesterol and risk of premature death from coronary heart disease continuous and graded? Findings in 356,222 primary screenees of the Multiple Risk Factor Intervention Trial (MRFIT). JAMA. 1986 Nov 28. 256(20):2823-8. [Medline].

Athyros VG, Giouleme OI, Nikolaidis NL, Vasiliadis TV, Bouloukos VI, Kontopoulos AG, et al. Long-term follow-up of patients with acute hypertriglyceridemia-induced pancreatitis. J Clin Gastroenterol. 2002 Apr. 34(4):472-5. [Medline].

Brunzell JD, Bierman EL. Chylomicronemia syndrome. Interaction of genetic and acquired hypertriglyceridemia. Med Clin North Am. 1982 Mar. 66(2):455-68. [Medline].

Chait A, Brunzell JD. Chylomicronemia syndrome. Adv Intern Med. 1992. 37:249-73. [Medline].

US Preventive Services Task Force. Screening for lipid disorders in adults: U.S. Preventive Services Task Force recommendation statement. Rockville, Md: Agency for Healthcare Research and Quality; 2008.

Jellinger PS, Smith DA, Mehta AE, Ganda O, Handelsman Y, Rodbard HW, et al. American Association of Clinical Endocrinologists' Guidelines for Management of Dyslipidemia and Prevention of Atherosclerosis. Endocr Pract. 2012 Mar-Apr. 18 Suppl 1:1-78. [Medline].

Fortson MR, Freedman SN, Webster PD 3rd. Clinical assessment of hyperlipidemic pancreatitis. Am J Gastroenterol. 1995 Dec. 90(12):2134-9. [Medline].

Leaf DA. Chylomicronemia and the chylomicronemia syndrome: a practical approach to management. Am J Med. 2008 Jan. 121(1):10-2. [Medline].

Pandhi D, Gupta P, Singal A, Tondon A, Sharma S, Madhu SV. Xanthelasma palpebrarum: a marker of premature atherosclerosis (risk of atherosclerosis in xanthelasma). Postgrad Med J. 2012 Apr. 88(1038):198-204. [Medline].

Rohrich RJ, Janis JE, Pownell PH. Xanthelasma palpebrarum: a review and current management principles. Plast Reconstr Surg. 2002 Oct. 110(5):1310-4. [Medline].

Institute for Clinical Systems Improvement. Lipid management in adults. Bloomington, Minn: Institute for Clinical Systems Improvement; 2009.

Berglund L, Brunzell JD, Goldberg AC, Goldberg IJ, Sacks F, Murad MH, et al. Evaluation and treatment of hypertriglyceridemia: an Endocrine Society clinical practice guideline. J Clin Endocrinol Metab. 2012 Sep. 97(9):2969-89. [Medline]. [Full Text].

Bansal S, Buring JE, Rifai N, Mora S, Sacks FM, Ridker PM. Fasting compared with nonfasting triglycerides and risk of cardiovascular events in women. JAMA. 2007 Jul 18. 298(3):309-16. [Medline].

Haffner SM. Secondary prevention of coronary heart disease: the role of fibric acids. Circulation. 2000 Jul 4. 102(1):2-4. [Medline].

University of Michigan Health System. Screening and management of lipids. Ann Arbor, Mich: University of Michigan Health System; 2009.

Klop B, Wouter Jukema J, Rabelink TJ, Castro Cabezas M. A physician's guide for the management of hypertriglyceridemia: the etiology of hypertriglyceridemia determines treatment strategy. Panminerva Med. 2012 Jun. 54(2):91-103. [Medline].

Grundy SM, Cleeman JI, Merz CN, Brewer HB Jr, Clark LT, Hunninghake DB, et al. A summary of implications of recent clinical trials for the National Cholesterol Education Program Adult Treatment Panel III guidelines. Arterioscler Thromb Vasc Biol. 2004 Aug. 24(8):1329-30. [Medline].

Shimabukuro M, Higa M, Tanaka H, Shimabukuro T, Yamakawa K, Masuzaki H. Distinct effects of pitavastatin and atorvastatin on lipoprotein subclasses in patients with Type 2 diabetes mellitus. Diabet Med. 2011 Jul. 28(7):856-64. [Medline].

Hadfield SG, Horara S, Starr BJ, Yazdgerdi S, Marks D, Bhatnagar D, et al. Family tracing to identify patients with familial hypercholesterolaemia: the second audit of the Department of Health Familial Hypercholesterolaemia Cascade Testing Project. Ann Clin Biochem. 2009 Jan. 46:24-32. [Medline].

Versmissen J, Oosterveer DM, Yazdanpanah M, Defesche JC, Basart DC, Liem AH, et al. Efficacy of statins in familial hypercholesterolaemia: a long term cohort study. BMJ. 2008 Nov 11. 337:a2423. [Medline]. [Full Text].

van der Graaf A, Cuffie-Jackson C, Vissers MN, Trip MD, Gagné C, Shi G, et al. Efficacy and safety of coadministration of ezetimibe and simvastatin in adolescents with heterozygous familial hypercholesterolemia. J Am Coll Cardiol. 2008 Oct 21. 52(17):1421-9. [Medline].

Schaap-Fogler M, Schurr D, Schaap T, Leitersdorf E, Rund D. Long-term plasma exchange for severe refractory hypertriglyceridemia: a decade of experience demonstrates safety and efficacy. J Clin Apher. 2009. 24(6):254-8. [Medline].

US Food and Drug Administration. Safety: statins and HIV or hepatitis C drugs: drug safety communication - interaction increases risk of muscle injury. Posted: March 1, 2012. Available at http://www.fda.gov/Safety/MedWatch/SafetyInformation/SafetyAlertsforHumanMedicalProducts/ucm294294.htm. Accessed: November 1, 2013.

US Food and Drug Administration. Safety: statin drugs - drug safety. Available at http://www.fda.gov/Safety/MedWatch/SafetyInformation/SafetyAlertsforHumanMedicalProducts/ucm293670.htm. Accessed: November 1, 2013.

US Food and Drug Administration. Safety: Zocor (simvastatin): label change - new restrictions, contraindications, and dose limitations. Posted: June 8, 2011. Available at http://www.fda.gov/Safety/MedWatch/SafetyInformation/SafetyAlertsforHumanMedicalProducts/ucm258384.htm. Accessed: November 1, 2013.

Maki KC, Bays HE, Dicklin MR. Treatment options for the management of hypertriglyceridemia: strategies based on the best-available evidence. J Clin Lipidol. 2012 Sep-Oct. 6(5):413-26. [Medline].

Mohiuddin SM, Pepine CJ, Kelly MT, Buttler SM, Setze CM, Sleep DJ, et al. Efficacy and safety of ABT-335 (fenofibric acid) in combination with simvastatin in patients with mixed dyslipidemia: a phase 3, randomized, controlled study. Am Heart J. 2009 Jan. 157(1):195-203. [Medline].

Wu J, Song Y, Li H, Chen J. Rhabdomyolysis associated with fibrate therapy: review of 76 published cases and a new case report. Eur J Clin Pharmacol. 2009 Dec. 65(12):1169-74. [Medline].

Abourbih S, Filion KB, Joseph L, Schiffrin EL, Rinfret S, Poirier P, et al. Effect of fibrates on lipid profiles and cardiovascular outcomes: a systematic review. Am J Med. 2009 Oct. 122(10):962.e1-8. [Medline].

Sica DA. Fibrate therapy and renal function. Curr Atheroscler Rep. 2009 Sep. 11(5):338-42. [Medline].

Harper CR, Jacobson TA. Managing dyslipidemia in chronic kidney disease. J Am Coll Cardiol. 2008 Jun 24. 51(25):2375-84. [Medline].

Canner PL, Berge KG, Wenger NK, Stamler J, Friedman L, Prineas RJ, et al. Fifteen year mortality in Coronary Drug Project patients: long-term benefit with niacin. J Am Coll Cardiol. 1986 Dec. 8(6):1245-55. [Medline].

McKenney JM, McCormick LS, Weiss S, Koren M, Kafonek S, Black DM. A randomized trial of the effects of atorvastatin and niacin in patients with combined hyperlipidemia or isolated hypertriglyceridemia. Collaborative Atorvastatin Study Group. Am J Med. 1998 Feb. 104(2):137-43. [Medline].

Goldberg RB, Jacobson TA. Effects of niacin on glucose control in patients with dyslipidemia. Mayo Clin Proc. 2008 Apr. 83(4):470-8. [Medline].

Roth EM, Bays HE, Forker AD, Maki KC, Carter R, Doyle RT, et al. Prescription omega-3 fatty acid as an adjunct to fenofibrate therapy in hypertriglyceridemic subjects. J Cardiovasc Pharmacol. 2009 Sep. 54(3):196-203. [Medline].

Lavie CJ, Milani RV, Mehra MR, Ventura HO. Omega-3 polyunsaturated fatty acids and cardiovascular diseases. J Am Coll Cardiol. 2009 Aug 11. 54(7):585-94. [Medline].

Egert S, Kannenberg F, Somoza V, Erbersdobler HF, Wahrburg U. Dietary alpha-linolenic acid, EPA, and DHA have differential effects on LDL fatty acid composition but similar effects on serum lipid profiles in normolipidemic humans. J Nutr 2009;139:861-68.

Balk EM, Lichtenstein AH, Chung M, Kupelnick B, Chew P, Lau J. Effects of omega-3 fatty acids on serum markers of cardiovascular disease risk: a systematic review. Atherosclerosis 2006;189:19-30.

Bays HE, Ballantyne CM, Kastelein JJ, Isaacsohn JL, Braeckman RA, Soni PN. Eicosapentaenoic acid ethyl ester (AMR101) therapy in patients with very high triglyceride levels (from the Multi-center, plAcebo-controlled, Randomized, double-blINd, 12-week study with an open-label Extension [MARINE] trial). Am J Cardiol. 2011 Sep 1. 108(5):682-90. [Medline].

Kastelein JJ, Maki KC, Susekov A, Ezhov M, Nordestgaard BG, Machielse BN, et al. Omega-3 free fatty acids for the treatment of severe hypertriglyceridemia: the EpanoVa fOr Lowering Very high triglyceridEs (EVOLVE) trial. J Clin Lipidol. 2014 Jan-Feb. 8(1):94-106. [Medline].

Fletcher B, Berra K, Ades P, Braun LT, Burke LE, Durstine JL, et al. Managing abnormal blood lipids: a collaborative approach. Circulation. 2005 Nov 15. 112(20):3184-209. [Medline].

Hsia SH, Connelly PW, Hegele RA. Successful outcome in severe pregnancy-associated hyperlipemia: a case report and literature review. Am J Med Sci. 1995 Apr. 309(4):213-8. [Medline].

Kuklina EV, Yoon PW, Keenan NL. Trends in high levels of low-density lipoprotein cholesterol in the United States, 1999-2006. JAMA. 2009 Nov 18. 302(19):2104-10. [Medline].

Hudgins LC, Kleinman B, Scheuer A, White S, Gordon BR. Long-term safety and efficacy of low-density lipoprotein apheresis in childhood for homozygous familial hypercholesterolemia. Am J Cardiol. 2008 Nov 1. 102(9):1199-204. [Medline].

Foran SE, Flood JG, Lewandrowski KB. Measurement of mercury levels in concentrated over-the-counter fish oil preparations: is fish oil healthier than fish?. Arch Pathol Lab Med. 2003 Dec. 127(12):1603-5. [Medline].

Pharmacist's Letter. 2010; 26(1): 260101. Available at http://pharmacistsletter.therapeuticresearch.com/. Accessed: October 11, 2013.

Pharmacist's Letter. 2012; 28(6): 280606. Available at http://pharmacistsletter.therapeuticresearch.com/. Accessed: October 11, 2013.
Medscape Reference © 2011 WebMD, LLC