Pituitary Microadenomas Workup
Author: Bernard Corenblum, MD, FRCPC; Chief Editor: George T Griffing, MD more...
Updated: Jul 25, 2016
What would you like to print?
Laboratory Studies
Current management strategies are controversial.[13] In the absence of symptoms or signs suggesting excess of specific hormones, the most cost-effective strategy is simply measurement of the prolactin level.[14]
If clinical suspicion of Cushing syndrome, acromegaly, or other hormone excess exists, order appropriate tests. Because excess growth hormone secretion may not produce the clinical phenotype in all cases, especially if early in the course, a serum insulinlike growth factor-1 (IGF-1) level is recommended in all cases. Screening tests for Cushing syndrome, such as overnight dexamethasone suppression test, 24-hour urinary free cortisol, or midnight salivary cortisol are usually not routinely performed unless there is clinical suspicion for this disorder.
Autonomous secretion by a tumor usually shows an inappropriate relationship between the level of the hormone secreted by the peripheral gland (thyroid, adrenal, gonadal) and the stimulating pituitary hormone (thyroid-stimulating hormone [TSH], corticotropin, gonadotropins). For example, a patient may be hyperthyroid without TSH suppression (must be differentiated from thyroid hormone resistance) or a patient with Cushing disease may have an elevated or normal (nonsuppressed) corticotropin level.
Imaging Studies
MRI studies (as seen in the image below) have shown sensitivity and specificity of about 90% for secretory tumors. Enhancement with gadolinium diethylenetriaminepentaacetic acid (DTPA) improves the detection rate. Sensitivity for detection of corticotropin-secreting adenomas is much less (60-75%); diagnosis may require specialized tests such as petrosal sinus sampling.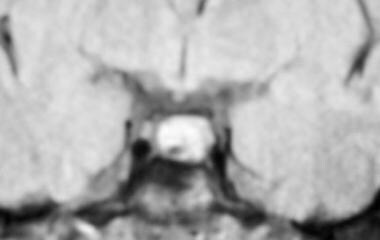 MRI showing a nonenhancing area in the pituitary consistent with a microadenoma in a patient with hyperprolactinemia.
CT scans are not very specific or sensitive for microadenomas.
Unless the microadenoma is secretory, the actual pathology remains presumptive.[15, 16]
Other Tests
Other tests are dictated by the clinical picture of hormonal excess or, very rarely, hormonal deficiency. For larger functional microadenomas, especially those located in an area where upward pressure on the optic chiasm may exist, assessment of visual fields may be useful in monitoring therapy. Computer-assisted perimetry may be more sensitive than Goldman perimetry. In contrast to pituitary macroadenomas, microadenomas rarely cause any visual-field defects.
Histologic Findings
If the tumor is removed surgically, immunohistochemical staining for secretory granules is advisable. This would be the only definitive tissue diagnosis for the cause of a nonsecreting tumor.
Staging
Staging is determined primarily by the size of the microadenoma. By definition, all are less than 10 mm.
References
Fernandez-Balsells MM, Murad MH, Barwise A, et al. Natural history of nonfunctioning pituitary adenomas and incidentalomas: a systematic review and metaanalysis. J Clin Endocrinol Metab. 2011 Apr. 96(4):905-12. [Medline].

Chahal HS, Stals K, Unterlander M, et al. AIP mutation in pituitary adenomas in the 18th century and today. N Engl J Med. 2011 Jan 6. 364(1):43-50. [Medline].

Ezzat S, Asa SL, Couldwell WT, Barr CE, Dodge WE, Vance ML. The prevalence of pituitary adenomas: a systematic review. Cancer. 2004 Aug 1. 101(3):613-9. [Medline].

Hall WA, Luciano MG, Doppman JL, Patronas NJ, Oldfield EH. Pituitary magnetic resonance imaging in normal human volunteers: occult adenomas in the general population. Ann Intern Med. 1994 May 15. 120(10):817-20. [Medline].

Buurman H, Saeger W. Subclinical adenomas in postmortem pituitaries: classification and correlations to clinical data. Eur J Endocrinol. 2006 May. 154(5):753-8. [Medline].

Sherlock M, Ayuk J, Tomlinson JW, Toogood AA, Aragon-Alonso A, Sheppard MC. Mortality in patients with pituitary disease. Endocr Rev. 2010 Jun. 31(3):301-42. [Medline].

Molitch ME. Management of incidentally found nonfunctional pituitary tumors. Neurosurg Clin N Am. 2012 Oct. 23(4):543-53. [Medline].

Freda PU, Beckers AM, Katznelson L, Molitch ME, Montori VM, Post KD. Pituitary incidentaloma: an endocrine society clinical practice guideline. J Clin Endocrinol Metab. 2011 Apr. 96(4):894-904. [Medline].

Machado MC, Alcantara AE, Pereira AC, et al. Negative correlation between tumour size and cortisol/ACTH ratios in patients with Cushing's disease harbouring microadenomas or macroadenomas. J Endocrinol Invest. 2016 Jun 30. [Medline].

Harbeck B, Haas CS, Suefke S, Kropp P, Moenig H. Headache and depression in patients with hypothalamic-pituitary disorders-etiology and risk factors. Exp Clin Endocrinol Diabetes. 2015 Oct. 123 (9):571-4. [Medline].

Maruyama T, Masuda H, Uchida H, Nagashima T, Yoshimura Y. Follicle stimulating hormone-secreting pituitary microadenoma with fluctuating levels of ovarian hyperstimulation. Obstet Gynecol. 2005 May. 105(5 Pt 2):1215-8. [Medline].

Dworakowska D, Grossman AB. The pathophysiology of pituitary adenomas. Best Pract Res Clin Endocrinol Metab. 2009 Oct. 23(5):525-41. [Medline].

Bancos I, Natt N, Murad MH, Montori VM. Evidence-based endocrinology: illustrating its principles in the management of patients with pituitary incidentalomas. Best Pract Res Clin Endocrinol Metab. 2012 Feb. 26(1):9-19. [Medline].

King JT Jr, Justice AC, Aron DC. Management of incidental pituitary microadenomas: a cost-effectiveness analysis. J Clin Endocrinol Metab. 1997 Nov. 82(11):3625-32. [Medline].

Derman A, Shields M, Davis A, Knopp E, Fatterpekar GM. Diseases of the sella and parasellar region: an overview. Semin Roentgenol. 2013 Jan. 48(1):35-51. [Medline].

Hess CP, Dillon WP. Imaging the pituitary and parasellar region. Neurosurg Clin N Am. 2012 Oct. 23(4):529-42. [Medline].

Karavitaki N, Collison K, Halliday J, Byrne JV, Price P, Cudlip S. What is the natural history of nonoperated nonfunctioning pituitary adenomas?. Clin Endocrinol (Oxf). 2007 Dec. 67(6):938-43. [Medline].

Corenblum B. Bromocriptine response in pathological hyperprolactinemia: a 34-year follow-up of a homogeneous population of 827 patients. Open Endocrinol J. 2009. 3:38-41.

Verhelst J, Abs R, Maiter D, et al. Cabergoline in the treatment of hyperprolactinemia: a study in 455 patients. J Clin Endocrinol Metab. 1999 Jul. 84(7):2518-22. [Medline].

Xekouki P, Pacak K, Almeida M, et al. Succinate dehydrogenase (SDH) D subunit (SDHD) inactivation in a growth-hormone-producing pituitary tumor: a new association for SDH?. J Clin Endocrinol Metab. 2012 Mar. 97(3):E357-66. [Medline]. [Full Text].

Beckers A. Means, motive, and opportunity: SDH mutations are suspects in pituitary tumors. J Clin Endocrinol Metab. 2013 Jun. 98(6):2274-6. [Medline].

Molitch ME. Management of incidentally found nonfunctional pituitary tumors. Neurosurg Clin N Am. 2012 Oct. 23(4):543-53. [Medline].

Lucas JW, Zada G. Endoscopic surgery for pituitary tumors. Neurosurg Clin N Am. 2012 Oct. 23(4):555-69. [Medline].

Pivonello R, De Martino MC, Auriemma RS, Alviggi C, Grasso LF, Cozzolino A, et al. Pituitary tumors and pregnancy: the interplay between a pathologic condition and a physiologic status. J Endocrinol Invest. 2014 Feb. 37(2):99-112. [Medline].

Trouillas J. In search of a prognostic classification of endocrine pituitary tumors. Endocr Pathol. 2014 Jun. 25(2):124-32. [Medline].

Lee JY, Bohman LE, Bergsneider M. Contemporary neurosurgical techniques for pituitary tumor resection. J Neurooncol. 2014 May. 117(3):437-44. [Medline].

Ramakrishnan VR, Suh JD, Lee JY, O'Malley BW Jr, Grady MS, Palmer JN. Sphenoid sinus anatomy and suprasellar extension of pituitary tumors. J Neurosurg. 2013 Sep. 119(3):669-74. [Medline].

Gittleman H, Ostrom QT, Farah PD, et al. Descriptive epidemiology of pituitary tumors in the United States, 2004-2009. J Neurosurg. 2014 Sep. 121(3):527-35. [Medline].

Asa SL, Ezzat S. The pathogenesis of pituitary tumors. Annu Rev Pathol. 2009. 4:97-126. [Medline].

Milian M, Honegger J, Gerlach C, Psaras T. Health-related quality of life and psychiatric symptoms improve effectively within a short time in patients surgically treated for pituitary tumors--a longitudinal study of 106 patients. Acta Neurochir (Wien). 2013 Sep. 155(9):1637-45; discussion 1645. [Medline].

Harrington MH, Casella SJ. Pituitary tumors in childhood. Curr Opin Endocrinol Diabetes Obes. 2012 Feb. 19(1):63-7. [Medline].

Di Ieva A, Butz H, Niamah M, et al. MicroRNAs as biomarkers in pituitary tumors. Neurosurgery. 2014 Aug. 75(2):181-9; discussion 188-9. [Medline].

Zacharia BE, Gulati AP, Bruce JN, et al. High response rates and prolonged survival in patients with corticotroph pituitary tumors and refractory Cushing disease from capecitabine and temozolomide (CAPTEM): a case series. Neurosurgery. 2014 Apr. 74(4):E447-55; discussion E455. [Medline].

Roser F, Honegger J, Schuhmann MU, Tatagiba MS. Meningiomas, nerve sheath tumors, and pituitary tumors: diagnosis and treatment. Hematol Oncol Clin North Am. 2012 Aug. 26(4):855-79. [Medline].

Otsuka F, Tsukamoto N, Miyoshi T, Iwasaki Y, Makino H. BMP action in the pituitary: its possible role in modulating somatostatin sensitivity in pituitary tumor cells. Mol Cell Endocrinol. 2012 Feb 26. 349(2):105-10. [Medline].

Chitsantikul P, Becker WJ. SUNCT, SUNA and pituitary tumors: clinical characteristics and treatment. Cephalalgia. 2013 Feb. 33(3):160-70. [Medline].

Raverot G, Wierinckx A, Dantony E, et al. Prognostic factors in prolactin pituitary tumors: clinical, histological, and molecular data from a series of 94 patients with a long postoperative follow-up. J Clin Endocrinol Metab. 2010 Apr. 95(4):1708-16. [Medline].

Mehta GU, Jane JA Jr. Pituitary tumors. Curr Opin Neurol. 2012 Dec. 25(6):751-5. [Medline].

Carija R, Vucina D. Frequency of pituitary tumor apoplexy during treatment of prolactinomas with dopamine agonists: a systematic review. CNS Neurol Disord Drug Targets. 2012 Dec. 11(8):1012-4. [Medline].
Medscape Reference © 2011 WebMD, LLC