Upper Lid Ptosis Blepharoplasty Treatment & Management
Author: Jorge I de la Torre, MD, FACS; Chief Editor: James Neal Long, MD, FACS more...
Updated: Jan 11, 2016
What would you like to print?
Surgical Therapy
Surgical therapy is the only effective management for ptosis of the upper lid. As indicated, many different surgical techniques are available for ptosis correction.
Minimal incision approaches have been described to correct aponeurotic laxity by Freuh et al.[13] This anterior approach uses minimal dissection, is faster than traditional approaches, and can be just as efficacious in the properly selected patient.
Use of the frontalis muscle flap advancement is an effective surgical technique to treat patients who have severe ptosis and poor levator function.[14] It is particularly applicable to congenital ptosis.
Extended upper blepharoplasty incisions are more appropriate in patients with significant lateral hooding in addition to ptosis. Har-Shai and Hirshowitz described an incision along the supratarsal fold extending past the lateral canthus and cephalad toward the eyebrow.[15] This technique also facilitates cosmetic improvement and fat resection if needed. Different surgical techniques may incorporate browpexy or browlifting.[16] Others have indicated that open sky approach to subtotal Muller's resection is a more predictable correction, which is maintained over time, has less frequent contour abnormalities, and lower reoperation rates compared with anterior levator advancement.
Preoperative Details
This is the authors' preferred method of correction. Preoperative makings should be performed with the patient in the upright position. The meridian of the eyelid should be marked on both the affected and unaffected side. The supratarsal fold also should be marked. Both planned incisions should be infiltrated using 1% lidocaine with epinephrine.
Intraoperative Details
The authors' preferred method of ptosis correction can be performed in conjunction with facial rejuvenation. A standard upper blepharoplasty incision with conservative skin excision is used to obtain exposure; however, a limited incision approach (ie, less than a centimeter) can also be used and has been presented with good results.
Plication of the levator aponeurosis is performed using 6-0 clear nylon sutures. The suture is placed as a horizontal mattress stitch plicating only the aponeurosis and avoiding the tarsus to prevent lifting the eyelid from the globe or notching the lid margin. The superior portion of the suture is placed in the aponeurosis 4-8 mm above the superior tarsus. The inferior portion of suture is placed in the aponeurosis just above the tarsal plate. The amount of plication used was determined by the elevation of the lid gained with the plication. Usually 1 mm of lid margin elevation is obtained with 3 mm of plication. Most patients were corrected to a level at the superior limbus or 1 mm below. Many patients are corrected using a single suture placed at the vertical axis of or just medial to the pupil. Additional sutures can be placed medial or lateral to this central stitch.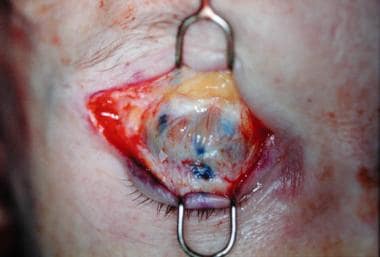 Blepharoplasty, upper lid ptosis surgery. Intraoperative photo of levator muscle.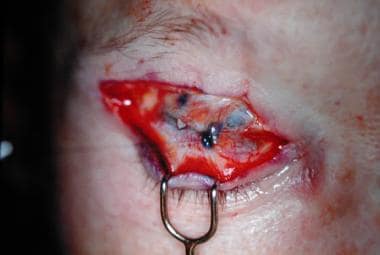 Blepharoplasty, upper lid ptosis surgery. Intraoperative photo of levator plication.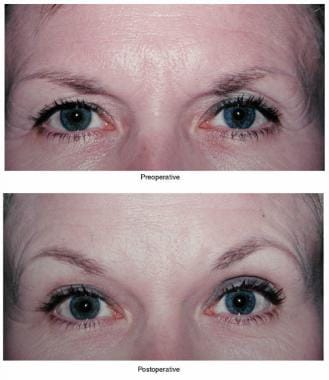 Upper lid ptosis surgery. Correction of ptosis using blepharoplasty plication of the levator. In addition, the patient had facial rejuvenation and endoscopic brow lift.
Postoperative Details
No dressing is required; however, application of cool packs decreases swelling and bruising as well as postoperative discomfort. Instructions on corneal protection and the use of artificial tears are essential, as with any periorbital surgery. Skin sutures can be removed on postoperative day 4 or 5.
Follow-up
Follow-up care is performed over a period of several weeks to allow swelling to resolve. Postoperative photographs allow objective evaluation of surgical results.
Complications
Complications include difficulty closing the eyes, eye irritation, and contour irregularity and asymmetry. Although undercorrection of ptosis is one of the most common complications, it is not associated with corneal problems such as exposure or drying. Rather, the cosmetic appearance is not optimized because some ptosis is still present in the operated eye. This problem cannot be corrected without an additional plication of the levator.
Blepharoplasty, upper lid ptosis surgery. Correction of ptosis, with incomplete correction of asymmetry.
In addition to asymmetry, significant overcorrection can lead to serious problems, such as corneal exposure, drying, and ulceration. In these severe cases, it is critical to protect the cornea using artificial tears, ophthalmic ointment, and taping of the eyelid. If eyelid excursion is limited by scar adhesions or lagophthalmos persists, surgical lysis of adhesions may be required. However, asymmetry and contour irregularity will improve significantly with massage therapy alone.
Correcting eyelid retraction caused by tissue fibrosis and muscle degeneration is difficult. Correction of the retraction by levator lengthening using the pretarsal tissue has been described as a technique that is both easy to adjust and offers high predictability in its result.[17]
Meticulous hemostasis is essential to prevent hemorrhagic complications. Acute bleeding into the globe is a sight-threatening emergency, which requires immediate re-exploration and decompression. Residual hematoma within the eyelid can cause excessive fibrosis, chronic edema, and persistent lid irregularities.
Other complications following ptosis correction or upper eyelid surgery include reduced vision, corneal abrasion, entropion, loss of eyelashes, or diplopia. Subconjunctival edema or "chemosis" occurs more frequently but resolves spontaneously within a few weeks and can be treated with ophthalmic steroids.
Outcome and Prognosis
Levator aponeurosis plication is an effective, safe, and simple procedure to correct upper eyelid ptosis. It easily can be combined with many facial cosmetic surgery procedures.
References
Bowman W. Report of a chief operation performed at the Royal London Ophthalmic Hospital for the quarter ending 25th of September 1857. Royal London Ophth Hosp Rep. 1859. 11:34.

Fasanella RM, Servat J. Levator resection for minimal ptosis: another simplified operation. Arch Ophthalmol. 1961 Apr. 65:493-6. [Medline].

Beard C. The surgical treatment of blepharoptosis: a quantitative approach. Trans Am Ophthalmol Soc. 1966. 64:401-87. [Medline].

Payr E. Plastischen erfolgreicher ersatz aller 4 auenlinder. Arch Lin Chir. 1928. 152:532.

Lexer E. Ptosisoperation, Herstelung der oberlidfalte und herstelung des unterlides durch faszienzugel. Klin Mbl Augenheik. 1923. 70:464.

Risdon F. Plastic operations about the orbit. Bull Acad Med Toronto. 1945. 18:139.

Tillett CW, Tillett GM. Silicone sling in the correction of ptosis. Am J Ophthalmol. 1966 Sep. 62(3):521-3. [Medline].

McCord CD, Shore JW. Silicone rod frontalis suspension. Adv Ophthalmol Plast Reconstr Surg. 1982. 1:213.

Bagheri A, Tavakoli M, Najmi H, Erfanian Salim R, Yazdani S. Comparison between eyelid indices of ptotic eye and normal fellow eye in patients with unilateral congenital ptosis. J Plast Reconstr Aesthet Surg. 2016 Jan. 69 (1):e5-9. [Medline].

Satariano N, Brown MS, Zwiebel S, Guyuron B. Environmental factors that contribute to upper eyelid ptosis: a study of identical twins. Aesthet Surg J. 2015 Mar. 35 (3):235-41. [Medline].

Srinath N, Balaji R, Basha MS. Ptosis correction: a challenge following complex orbital injuries. J Maxillofac Oral Surg. 2012 Jun. 11(2):195-9. [Medline].

Chang S, Lehrman C, Itani K, Rohrich RJ. A systematic review of comparison of upper eyelid involutional ptosis repair techniques: efficacy and complication rates. Plast Reconstr Surg. 2012 Jan. 129(1):149-57. [Medline].

Frueh BR, Musch DC, McDonald HM. Efficacy and efficiency of a small-incision, minimal dissection procedure versus a traditional approach for correcting aponeurotic ptosis. Ophthalmology. 2004 Dec. 111(12):2158-63. [Medline].

Zhong M, Jin R, Li Q, Duan Y, Li L, Huang D. Frontalis Muscle Flap Advancement for Correction of Severe Ptosis Under General Anesthesia: Modified Surgical Design with 162 Cases in China. Aesthetic Plast Surg. 2014 Mar 8. [Medline].

Har-Shai Y, Hirshowitz B. Extended upper blepharoplasty for lateral hooding of the upper eyelid using a scalpel-shaped excision: a 13-year experience. Plast Reconstr Surg. 2004 Mar. 113(3):1028-35; discussion 1036. [Medline].

Bellinvia G, Klinger F, Maione L, Bellinvia P. Upper lid blepharoplasty, eyebrow ptosis, and lateral hooding. Aesthet Surg J. 2013 Jan. 33(1):24-30. [Medline].

Cho IC, Kang JH, Kim KK. Correcting upper eyelid retraction by means of pretarsal levator lengthening for complications following ptosis surgery. Plast Reconstr Surg. 2012 Jul. 130(1):73-81. [Medline].

Bernardini FP, de Conciliis C, Devoto MH. Mini-invasive ptosis surgery. Orbit. 2006 Jun. 25(2):111-5. [Medline].

Borman H. New adjustable suture technique for managing eyelid ptosis. Ann Plast Surg. 2001 Dec. 47(6):673-7. [Medline].

Carraway JH. Reconstruction of the eyelids and correction of ptosis of the eyelid. Aston SJ, Beasley RW, Thorne CH, eds. Grabb and Smith's Plastic Surgery. Lippincott-Raven; 1997. 538-44.

Finsterer J. Ptosis: causes, presentation, and management. Aesthetic Plast Surg. 2003 May-Jun. 27(3):193-204. [Medline].

Frueh BR, Musch DC, McDonald HM. Efficacy and efficiency of a small-incision, minimal dissection procedure versus a traditional approach for correcting aponeurotic ptosis. Ophthalmology. 2004 Dec. 111(12):2158-63. [Medline].

Harley RD, Nelson LB, Flanagan JC, Calhoun JH. Ocular motility disturbances following cosmetic blepharoplasty. Arch Ophthalmol. 1986 Apr. 104(4):542-4. [Medline].

Jelks G, Smith B. Reconstruction of the eyelids and associated structures. McCarthy J, ed. Plastic Surgery. 1990. 1752-73.

Jelks GW, Jelks EB. Blepharoplasty. Complications and Problems in Aesthetic Plastic Surgery. 1992.

Jones LT, Quickert MH, Wobig JL. The cure of ptosis by aponeurotic repair. Arch Ophthalmol. 1975 Aug. 93(8):629-34. [Medline].

Lemke BN. Anatomy of the Ocular Adenexa and Orbit. Ophthalmic Plastic and Reconstr Surg. 1987.

Mahaffey PJ, Wallace AF. Blindness following cosmetic blepharoplasty--a review. Br J Plast Surg. 1986 Apr. 39(2):213-21. [Medline].

Rycroft B. Tearing: management with transantral vidianectomy. Troutman RC, Converse JM, Smith B, eds. Plastic and Reconstructive Surgery. 1962.

Siegel RJ. Advanced upper lid blepharoplasty. Clin Plast Surg. 1992 Apr. 19(2):319-28. [Medline].

Singh D. Orbicularis plication for ptosis: a third alternative. Ann Ophthalmol (Skokie). 2006. 38(3):185-93. [Medline].

Stasior OG, Ballitch HA 2nd. Ptosis repair in aesthetic blepharoplasty. Clin Plast Surg. 1993 Apr. 20(2):269-73. [Medline].

von Graefe CF. De Rhinoplastice. 1818. 13.

Whitnall SE. On a ligament acting as a check to the action of the palpebral superioris muscle. J Anat Physiol. 1910. 14:131.
Medscape Reference © 2011 WebMD, LLC