Nasal Fracture Surgery Workup
Author: Vipul R Dev, MD; Chief Editor: Deepak Narayan, MD, FRCS more...
Updated: Mar 18, 2016
What would you like to print?
Laboratory Studies
Measure hemoglobin values as indicated, particularly if significant epistaxis present.
Imaging Studies
Imaging studies are rarely needed in the evaluation of nasal fractures.
Plain films are often obtained in emergency departments, but the diagnosis is made based on physical examination findings. As many as 47% of patients with nasal fractures have negative findings on x-ray films. However, see the images below.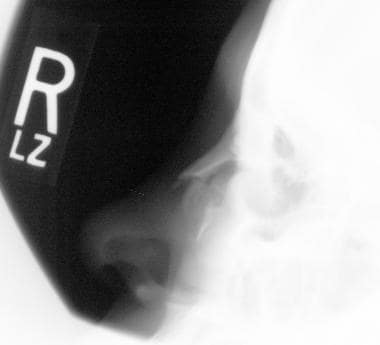 Lateral radiographic view of a displaced nasal bone fracture in a patient who sustained this injury because of a punch to the face during a hockey game.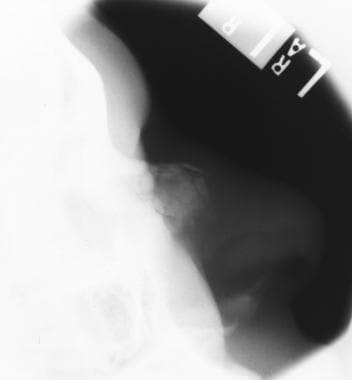 Lateral radiographic view of a nasal bone fracture in an elderly patient who fell forward on her face as a result of syncope. Marked comminution is present.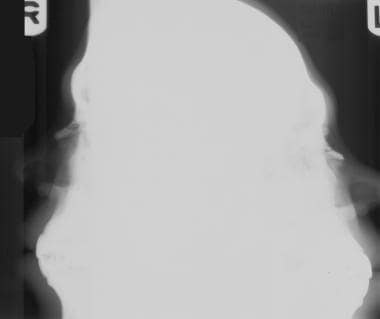 Lateral radiographic view of a minimally displaced nasal bone fracture.
CT scan is also not routinely required. An exception is made for patients in whom more significant injuries are suggested.[4] The force applied to the mid face may cause Le Fort or other midface fractures, orbital blowouts, and naso-orbito-ethmoid complex fractures. In patients with the latter, a CSF leak is possible, with CSF rhinorrhea. Nasal fractures are often associated with such severe injuries. The decision to order CT scans is made based on the history and associated physical examination findings that raise the physician's index of suspicion regarding associated injuries.
References
Liu C, Legocki AT, Mader NS, Scott AR. Nasal fractures in children and adolescents: mechanisms of injury and efficacy of closed reduction. Int J Pediatr Otorhinolaryngol. 2015 Dec. 79 (12):2238-42. [Medline].

Murray JA, Maran AG, Mackenzie IJ, Raab G. Open v closed reduction of the fractured nose. Arch Otolaryngol. 1984 Dec. 110(12):797-802. [Medline].

Sargent LA. Nasoethmoid orbital fractures: diagnosis and treatment. Plast Reconstr Surg. 2007 Dec. 120 (7 Suppl 2):16S-31S. [Medline].

Javadrashid R, Khatoonabad M, Shams N, Esmaeili F, Jabbari Khamnei H. Comparison of ultrasonography with computed tomography in the diagnosis of nasal bone fractures. Dentomaxillofac Radiol. 2011 Dec. 40(8):486-91. [Medline].

Yi CR, Kim YJ, Kim H, et al. Comparison study of the use of absorbable and nonabsorbable materials as internal splints after closed reduction for nasal bone fracture. Arch Plast Surg. 2014 Jul. 41(4):350-4. [Medline]. [Full Text].

Yu SS, Cho PD, Shin HW, Rhee SC, Lee SH. A Comparison Between K-Wire Splinting and Intranasal Gauze Packing in Nasal Bone Fracture. J Craniofac Surg. 2015 Jul. 26 (5):1624-7. [Medline].

Illum P. Long-term results after treatment of nasal fractures. J Laryngol Otol. 1986 Mar. 100(3):273-7. [Medline].

Rohrich RJ, Adams WP Jr. Nasal fracture management: minimizing secondary nasal deformities. Plast Reconstr Surg. 2000 Aug. 106(2):266-73. [Medline].

Bailey BJ. Nasal fractures. Bailey BJ. Head and Neck Surgery - Otolaryngology. Philadelphia, Pa: JB Lippincott; 1993. Vol 1: 991-1007.

Pollock RA. Nasal trauma. Pathomechanics and surgical management of acute injuries. Clin Plast Surg. 1992 Jan. 19(1):133-47. [Medline].
Medscape Reference © 2011 WebMD, LLC