Vascular Hand Injury Workup
Author: Zubin J Panthaki, MD, CM, FACS, FRCSC; Chief Editor: Joseph A Molnar, MD, PhD, FACS more...
Updated: Apr 09, 2015
What would you like to print?
Laboratory Studies
Please see Indications section above.
Imaging Studies
Conventional arteriography (CA) remains the criterion standard for radiologic evaluation of the peripheral vascular system.[27]
Advantages to CA include the following:
May demonstrate arterial lesions that can undergo sequential endovascular treatment; diagnostic and therapeutic modality

Can provide accurate localization of the lesion, which can assist with surgical planning

Can distinguish between intimal disruption and spasm through the use of vasodilators
Disadvantages to CA include the following:
It is an invasive diagnostic procedure.

It is a time-intensive procedure.

It requires transfer to a specialized angiography suite for evaluation.

It is a costly procedure.

Iatrogenic injuries can result, especially contrast-induced nephropathy and arterial access injuries (1-3%).
However, CA is usually unnecessary for the diagnosis of upper extremity vascular injuries. Some patients, such as those with shotgun injuries or complex wounds and fractures at multiple levels, may need to undergo arteriography to define the precise anatomic location of the arterial injury. In the trauma setting, most arteriographic evaluations can be completed intraoperatively once proximal and distal vascular control is obtained.
Noninvasive diagnostic modalities including duplex ultrasonography and CT angiography can aid in the diagnosis of peripheral vascular injuries, particularly those with equivocal, or "soft" signs.
Duplex sonography is a portable, rapid, and inexpensive tool that can be as accurate as conventional arteriography. Duplex sonography additionally aids in the diagnosis of major venous injuries. Performed by expert operators, duplex ultrasonography is an accurate and noninvasive study that allows the diagnosis of occult arterial injuries. According to Meissner and colleagues, no major injuries were missed in 60 scans.[28] Fry and colleagues reported that duplex ultrasonography offered 100% sensitivity and 97% specificity for identifying major extremity arterial injuries.[29] The limitations of duplex sonography are its expert operator dependence and the potential for missed injuries due to open wounds, large hematomas, bulky dressings, or splints that hinder access of the ultrasound probe. A recent large cohort study suggests that color-flow duplex sonography is of low yield in the diagnosis of upper extremity vascular injuries.[30]
Helical CT angiography (CTA) is rapidly gaining crucial ground as an alternative noninvasive, diagnostic modality in the management of suspected extremity vascular trauma.[27] Advancements in the scanning technology of helical CT scanners allow acquisition of detailed images that rival those of CA.[31, 32] Current studies suggest that CT angiography (CTA) may replace conventional angiography as the diagnostic study of choice for vascular injuries of the extremities. Sensitivity (95.1%) and specificity (98.7%) of diagnostic CT angiography for the detection of clinically significant extremity vascular injury in blunt and penetrating trauma was noted in one study.[33] In addition to providing high-resolution vascular images comparable to conventional arteriograms (see image below), helical CT scanners can simultaneously provide detailed images of the bone and soft tissue.[34]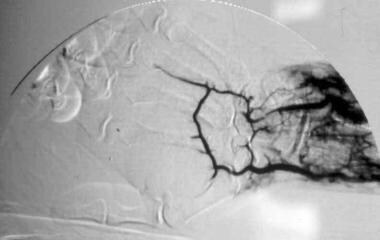 Arteriogram demonstrates obstruction of flow in the upper extremity.
CTA simplifies the logistics of monitoring the trauma patient with potential extremity vascular injury, eliminates the risks associated with arterial puncture seen with CA, and results in a substantial cost savings to the patient and hospital. Cost analysis of the study conducted at Temple University by Seamon et al demonstrated a reduction of patient charges by $12,922 and reduction in hospital costs by $1166 compared to conventional arteriography.[31] Busquets and colleagues reported 97 cases evaluated for extremity vascular injury with CT angiography without any missed injury.[27]
References
Fields CE, Latifi R, Ivatury RR. Brachial and forearm vessel injuries. Surg Clin North Am. 2002 Feb. 82(1):105-14. [Medline].

Velmahos GC, Toutouzas KG. Vascular trauma and compartment syndromes. Surg Clin North Am. 2002 Feb. 82(1):125-41, xxi. [Medline].

Friedman SG. Early vascular repairs and anastomoses. A History of Vascular Surgery. 2nd ed. Massachusetts: Blackwell-Futura; 2005. 14-30.

Layton TR. Stonewall Jackson's wounds. J Am Coll Surg. 1996 Nov. 183(5):514-24. [Medline].

Rich NM, Spencer FC. Brachial artery injuries. Rich NM, Spencer FC. Vascular Trauma. Philadelphia, Pa: WB Saunders; 1978. 348-68.

Mattox KL, Feliciano DV, Burch J, Beall AC Jr, Jordan GL Jr, De Bakey ME. Five thousand seven hundred sixty cardiovascular injuries in 4459 patients. Epidemiologic evolution 1958 to 1987. Ann Surg. 1989 Jun. 209(6):698-705; discussion 706-7. [Medline]. [Full Text].

Prichayudh S, Verananvattna A, Sriussadaporn S, Sriussadaporn S, Kritayakirana K, Pak-art R, et al. Management of upper extremity vascular injury: outcome related to the Mangled Extremity Severity Score. World J Surg. 2009 Apr. 33(4):857-63. [Medline].

Clouse WD, Rasmussen TE, Perlstein J, Sutherland MJ, Peck MA, Eliason JL, et al. Upper extremity vascular injury: a current in-theater wartime report from Operation Iraqi Freedom. Ann Vasc Surg. 2006 Jul. 20(4):429-34. [Medline].

White JM, Stannard A, Burkhardt GE, Eastridge BJ, Blackbourne LH, Rasmussen TE. The epidemiology of vascular injury in the wars in iraq and afghanistan. Ann Surg. 2011 Jun. 253(6):1184-9. [Medline].

Klocker J, Falkensammer J, Pellegrini L, Biebl M, Tauscher T, Fraedrich G. Repair of arterial injury after blunt trauma in the upper extremity - immediate and long-term outcome. Eur J Vasc Endovasc Surg. 2010 Feb. 39(2):160-4. [Medline].

Bongard F, Dubrow T, Klein S. Vascular injuries in the urban battleground: experience at a metropolitan trauma center. Ann Vasc Surg. 1990 Sep. 4(5):415-8. [Medline].

van der Sluis CK, Kucey DS, Brenneman FD, Hunter GA, Maggisano R, ten Duis HJ. Long-term outcomes after upper limb arterial injuries. Can J Surg. 1997 Aug. 40(4):265-70. [Medline].

Joshi V, Harding GE, Bottoni DA, Lovell MB, Forbes TL. Determination of functional outcome following upper extremity arterial trauma. Vasc Endovascular Surg. 2007 Apr-May. 41(2):111-4. [Medline].

Dragas M, Davidovic L, Kostic D, Markovic M, Pejkic S, Ille T, et al. Upper extremity arterial injuries: factors influencing treatment outcome. Injury. 2009 Aug. 40(8):815-9. [Medline].

Jackson MR. Upper extremity arterial injuries in athletes. Semin Vasc Surg. 2003 Sep. 16(3):232-9. [Medline].

Smith HE, Dirks M, Patterson RB. Hypothenar hammer syndrome: Distal ulnar artery reconstruction with autologous inferior epigastric artery. J Vasc Surg. 2004 Dec. 40(6):1238-42. [Medline].

Bravman JT, Ipaktchi K, Biffl WL, Stahel PF. Vascular injuries after minor blunt upper extremity trauma: pitfalls in the recognition and diagnosis of potential "near miss" injuries. Scand J Trauma Resusc Emerg Med. 2008 Nov 25. 16(1):16. [Medline]. [Full Text].

Ejrup B, Fischer B, Wright IS. Clinical evaluation of blood flow to the hand. The false-positive Allen test. Circulation. 1966 May. 33(5):778-80. [Medline].

Greenhow DE. Incorrect performance of Allen's test-ulnar artery flow erroneously presumed inadequate. Anesthesiology. 1972. 37:356-7.

Benit E, Vranckx P, Jaspers L, Jackmaert R, Poelmans C, Coninx R. Frequency of a positive modified Allen's test in 1,000 consecutive patients undergoing cardiac catheterization. Cathet Cardiovasc Diagn. 1996 Aug. 38(4):352-4. [Medline].

Jarvis MA, Jarvis CL, Jones PR, Spyt TJ. Reliability of Allen's test in selection of patients for radial artery harvest. Ann Thorac Surg. 2000 Oct. 70(4):1362-5. [Medline].

Glavin RJ, Jones HM. Assessing collateral circulation in the hand--four methods compared. Anaesthesia. 1989 Jul. 44(7):594-5. [Medline].

Barbeau GR, Arsenault FA, et al. Evaluation of the ulnopalmar arterial arches with pulse oximetry and plethysmography: comparision with the Allen's test in 1010 patients. Am Heart J. 2004. 147:489-93.

Lawson D, Norley I, Korbon G, Loeb R, Ellis J. Blood flow limits and pulse oximeter signal detection. Anesthesiology. 1987 Oct. 67(4):599-603. [Medline].

Fuhrman TM, Reilley TE, Pippin ED. Comparision of digital blood pressure, plethysmography, and the modified Allen's test as means of evaluating the collateral circulation to the hand. Anaesthesia. 1992. 47:959-61.

Johansen K, Lynch K, Paun M, Copass M. Non-invasive vascular tests reliably exclude occult arterial trauma in injured extremities. J Trauma. 1991 Apr. 31(4):515-9; discussion 519-22. [Medline].

Busquéts AR, Acosta JA, Colón E, Alejandro KV, Rodríguez P. Helical computed tomographic angiography for the diagnosis of traumatic arterial injuries of the extremities. J Trauma. 2004 Mar. 56(3):625-8. [Medline].

Meissner M, Paun M, Johansen K. Duplex scanning for arterial trauma. Am J Surg. 1991 May. 161(5):552-5. [Medline].

Fry WR, Smith RS, Sayers DV, Henderson VJ, Morabito DJ, Tsoi EK, et al. The success of duplex ultrasonographic scanning in diagnosis of extremity vascular proximity trauma. Arch Surg. 1993 Dec. 128(12):1368-72. [Medline].

Mollberg NM, Wise SR, Banipal S, Sullivan R, Holevar M, Vafa A, et al. Color-Flow Duplex Screening for Upper Extremity Proximity Injuries: A Low-Yield Strategy for Therapeutic Intervention. Ann Vasc Surg. 2013 Feb 11. [Medline].

Seamon MJ, Smoger D, Torres DM, Pathak AS, Gaughan JP, Santora TA, et al. A prospective validation of a current practice: the detection of extremity vascular injury with CT angiography. J Trauma. 2009 Aug. 67(2):238-43; discussion 243-4. [Medline].

Peng PD, Spain DA, Tataria M, Hellinger JC, Rubin GD, Brundage SI. CT angiography effectively evaluates extremity vascular trauma. Am Surg. 2008 Feb. 74(2):103-7. [Medline].

Soto JA, Múnera F, Morales C, Lopera JE, Holguín D, Guarín O, et al. Focal arterial injuries of the proximal extremities: helical CT arteriography as the initial method of diagnosis. Radiology. 2001 Jan. 218(1):188-94. [Medline].

Bogdan MA, Klein MB, Rubin GD, McAdams TR, Chang J. CT angiography in complex upper extremity reconstruction. J Hand Surg [Br]. 2004 Oct. 29(5):465-9. [Medline].

Frykberg ER, Crump JM, Dennis JW, Vines FS, Alexander RH. Nonoperative observation of clinically occult arterial injuries: a prospective evaluation. Surgery. 1991 Jan. 109(1):85-96. [Medline].

Rothkopf DM, Chu B, et al. Radial and ulnar artery repairs: assessing patency rates with color Doppler ultrasonographic imaging. J Hand Surg. 1993. 18A:626-8.

Gelberman RH, Nunley JA, et al. The results of radial and ulnar arterial repair in the forearm. Experience in three medical centers. J Bone Joint Surg Am. 1982. 64:383-87.

Johnson M, Ford M, Johansen K. Radial or ulnar artery laceration. Repair or ligate?. Arch Surg. 1993 Sep. 128(9):971-4; discussion 974-5. [Medline].

Feliciano DV, Mattox KL, Graham JM, Bitondo CG. Five-year experience with PTFE grafts in vascular wounds. J Trauma. 1985 Jan. 25(1):71-82. [Medline].

Castelli P, Caronno R, Piffaretti G, Tozzi M, Laganà D, Carrafiello G, et al. Endovascular repair of traumatic injuries of the subclavian and axillary arteries. Injury. 2005 Jun. 36(6):778-82. [Medline].

Danetz JS, Cassano AD, Stoner MC, Ivatury RR, Levy MM. Feasibility of endovascular repair in penetrating axillosubclavian injuries: a retrospective review. J Vasc Surg. 2005 Feb. 41(2):246-54. [Medline].

Raskin KB. Acute vascular injuries of the upper extremity. Hand Clin. 1993 Feb. 9(1):115-30. [Medline].

Konstantiniuk P, Fritz G, Ott T, Weiglhofer U, Schweiger S, Cohnert T. Long-term follow-up of vascular reconstructions after supracondylar humerus fracture with vascular lesion in childhood. Eur J Vasc Endovasc Surg. 2011 Nov. 42(5):684-8. [Medline].

Klocker J, Peter T, Pellegrini L, Mattesich M, Loescher W, Sieb M, et al. Incidence and predisposing factors of cold intolerance after arterial repair in upper extremity injuries. J Vasc Surg. 2012 Aug. 56(2):410-4. [Medline].

Endress RD, Johnson CH, Bishop AT, et al. Hypothenar hammer syndrome: long-term results of vascular reconstruction. J Hand Surg Am. 2015 Apr. 40(4):660-665.e2. [Medline].

Wegmann H, Eberl R, Kraus T, et al. The impact of arterial vessel injuries associated with pediatric supracondylar humeral fractures. J Trauma Acute Care Surg. 2014 Aug. 77(2):381-5. [Medline].

Gulgonen A. Compartment syndrome. Greens Operative Hand Surgery. Philadelphia, Pa: Elsevier; 2005.

Rich NM. Historical and military aspects of vascular trauma. Vascular Trauma. Philadelphia, Pa: Elsevier Science; 2004.

Rowe VL, Yellin AE, Weaver FA. Vascular injuries of the extremities. Rutherford: Vascular Surgery. Philadelphia, Pa: Saunders; 2005.

Shanmugam V, Velu RB, Subramaniyan SR, Hussain SA, Sekar N. Management of upper limb arterial injury without angiography--Chennai experience. Injury. 2004 Jan. 35(1):61-4. [Medline].

Sise MJ, Shackford SR. Extremity vascular trauma. Vascular Trauma. Philadelphia, Pa: Elsevier Science; 2004.

Sriussadaporn S, Pak-art R. Temporary intravascular shunt in complex extremity vascular injuries. J Trauma. 2002 Jun. 52(6):1129-33. [Medline].
Medscape Reference © 2011 WebMD, LLC