Lip Reduction
Author: Rohit Seth, MD, PhD, MRCS(Edin); Chief Editor: Jorge I de la Torre, MD, FACS more...
Updated: Jan 05, 2015
What would you like to print?
Background
The goals of lip reduction surgery are to achieve a harmonious relationship between the upper and lower lips that is in balance with the entire face, as well as to attain normal lip competence.
Reduction cheiloplasty, as performed through classically described techniques, has traditionally focused on reduction of lip volume through excision of a single strip or ellipse of tissue, with direct closure and a change in the posture of the lip.[1] However, lip reduction procedures are now placing more emphasis on the resultant contour of the lip and the volume relationship between the upper and lower lip.
"Bikini" lip reduction, introduced in 2007, is characterized by a restoration of an attractive labial contour. Using this technique, instead of an elliptical excision, authors describe bikini-shaped excisions: a "bikini top" excision in the upper lip, consisting of two cups and a middle strap, and a "bikini bottom" excision in the lower lip, in the shape of a triangle.[2]
There has been a "Brazilian" modification to the bikini lip reduction, featuring a bikini bottom excision on the lower lip that is less triangular and more curved; the upper excision is also more conservative.[3]
For patient education information, see the Aesthetic Medicine Resource Center.
Problem
The purpose of lip reduction is not always purely cosmetic. Macrocheilia, or excessively prominent lips, may interfere with oral function, with an inadequate seal between the upper and lower lips resulting in incompetence and drooling. It can also interfere with speech patterns and functionality and can alter self-perception and confidence, since the condition can sometimes be a source of ridicule and a target of bullying. Macrocheilia, which is more prevalent in certain ethnic groups, has multiple etiologies and can affect one or both lips. (See the image below.)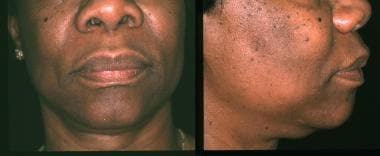 Frontal and profile view of a 45-year-old African American woman seeking reduction of her upper lip.
Etiology
Macrocheilia can be due to normal ethnic variations, particularly in the Afro-Caribbean/American and Asian populations, as well as in other non-Caucasian groups. Other congenital causes of macrocheilia include "double lip" and labial "pits." In fact, the double lip can also be acquired; it most often occurs in the upper lip.[4]
Macrocheilia can also result from dentofacial deformities (pseudomacrocheilia), hemangiomas, inflammatory or lymphedematous infiltration, glandular hypertrophy, and generalized thickening of all tissues.[5, 6, 7] .
Port-wine (capillary) vascular malformations that enlarge the lips (port-wine macrocheilia) are a different category of lesions and have a different pathophysiology. They may require complex reconstruction.[7, 8]
Other causes of macrocheilia include infection, trauma, iatrogenic complications, neoplasms, and syndromes such as Melkersson-Rosenthal syndrome and Ascher syndrome. Miescher granulomatous macrocheilitis, a monosymptomatic presentation of Melkersson-Rosenthal syndrome, is characterized by granulomatous swelling of the lip.[9, 10]
Pathophysiology
As previously mentioned, macrocheilia is associated more commonly with certain ethnic groups and is a normal variation. Such ethnic variations demonstrate diffuse thickening of all lip structures and may require resection of muscle.
The double lip deformity occurs because of the persistence of the transverse sulcus between the inner pars villosa and the outer pars glabra, resulting in glandular hypertrophy along with redundant labial mucosa. The excess tissue forms an accessory lip, which is more apparent during smiling. The underlying orbicularis oris muscle is not involved.
Ascher syndrome is identical to double lip deformity, with associated blepharochalasis and endocrine disorders. Another example of hypertrophy is cheilitis glandularis simplex, a sarcoidlike condition.[5, 6]
Traumatic causes result in an inflammatory infiltration leading to fibrosis and subsequent lip enlargement, as shown below.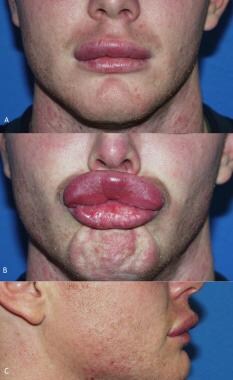 A. Face-on view of a 25-year-old male who sustained facial trauma 1 year ago. He presents with persistent upper lip enlargement after all other facial edema subsided. B. Pursing of lips shows exaggerated eversion. C. Profile view.
The Melkersson-Rosenthal syndrome, a condition characterized by a triad of facial paralysis, facial edema, and lingua plicata (furrowed tongue), similarly results in an infiltrative process of the lips. Migraine headaches are frequently associated with this syndrome. Over time, the recurrent bouts of edema render the tissue indurated.[5] Cheilitis granulomatosa produces a similar infiltrative process and lip enlargement.
Presentation
Clinical signs of macrocheilia include a protruding lip, which often stands out as the most prominent feature of the face, attracting undesirable attention. A proportion of patients present with oral dysfunction; functional difficulties such as labial incompetence interfere with speech, salivary control, and mastication. (See the image below.)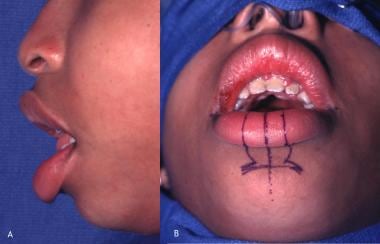 A. Child (age 6 years) with cerebral palsy who has hypotonic upper and lower lips presents with lip incompetence and uncontrollable drool. B. Design of the lower lip full-thickness excision.
Other clinical presentations include granulomatous conditions and syndromes. In Melkersson-Rosenthal syndrome, for example, the lip swelling can present on its own as granulomatous cheilitis, a subtype of orofacial granulomatosis. Granulomatous cheilitis is also a well-documented manifestation of Crohn disease.[11]
Indications
In most cases of lip reduction, the surgery is performed at the patient's request, with a significant number of patients seeking the procedure because of concern about their looks. Other indications include functionality problems, such as excessive drooling due to labial incompetence, and the development of poor speech patterns.
Lip enhancement complications (eg, postoperative infection or overfilling with injectables) and trauma-related scar formation are additional indications for lip reduction.
Relevant Anatomy
The lips are the most prominent structures of the lower third of the face.[12, 13] They are an important element in conveying emotion and attractiveness. In the "normal" lip position, the commissures lie between the pupils and are slightly wider than the ala of the nose. In profile, the lips should be slightly parted and the lower lip should lie only just posterior to the upper lip. The upper lip ideally covers two thirds of the incisors. Normally, slightly more lower lip vermillion is exposed than the upper. In profile, excessive protrusion of either lip is considered unaesthetic.
The upper lip extends from the base of the nose superiorly to the nasolabial folds laterally and to the free edge of the vermilion border inferiorly. The lower lip extends from the superior free vermilion edge superiorly, to the commissures laterally, and to the mandible inferiorly. Around the circumferential vermilion-skin border, a fine line of pale skin accentuates the color difference between the vermilion and normal skin. See Lips and Perioral Region Anatomy for more information.
The nose, chin, and lips have an aesthetic relationship. To evaluate the nose-chin-lip relationship, a vertical line tangent to the upper lip (normal projection) typically has the lower lip passing posterior (2 mm) to this line and chin posterior to the lower lip (in men it is slightly stronger). A horizontal line from nasal tip to the ala cheek junction should have 50–60% of the line anterior to this vertical line. This defines the ideal tip projection.[14]
A second aesthetic relationship, a line from the subnasale tangent to the pogonion, has the upper lip protruding 2-5 mm and the lower lip 1-4 mm beyond the line.[15] The female lip is typically more protrusive than the male lip, except for the adolescent male, whose lip protrudes more than the female's.[12, 16, 15] Vermilion height norms vary in different ethnicities; for example, on average, African American males have 13.3-mm upper lips and 13.2-mm lower lips, and African American females have 13.6-mm upper lips and 13.8-mm lower lips. North American Caucasian vermilion height norms of upper and lower lip for males and females are 8.0 and 8.7 mm and 9.3 and 9.4 mm, respectively. Consider ethnic variations of anthropometric norms when planning reduction surgery.[13]
Contraindications
Contraindications to reduce lip size include pseudomacrocheilia, acute inflammation, and psychological instability. If dento-osseous abnormalities are not recognized, lip reduction is inappropriate and causes loss of normal lip volume. Avoid operations during the acute inflammatory phase of Melkersson-Rosenthal syndrome or cheilitis granulomatosa, as the inflammation makes the procedure extremely difficult. Multiple surgeries may be required, and the patient should have realistic expectations of the outcome. Patients perceived as psychologically unstable should not undergo reduction surgery.
References
Niamtu J 3rd. Lip reduction surgery (reduction cheiloplasty). Facial Plast Surg Clin North Am. 2010 Feb. 18(1):79-97. [Medline].

Fanous N, Brousseau VJ, Yoskovitch A. The "bikini" lip reduction: an approach to oversized lips. Plast Reconstr Surg. 2008 Jul. 122(1):23e-25e. [Medline].

Sforza M, Andjelkov K, Zaccheddu R, et al. The "Brazilian" bikini-shaped lip-reduction technique: new developments in cheiloplasty. Aesthetic Plast Surg. 2012 Aug. 36(4):827-31. [Medline].

Martins WD, Westphalen FH, Sandrin R, et al. Congenital maxillary double lip: review of the literature and report of a case. J Can Dent Assoc. 2004 Jul-Aug. 70(7):466-8. [Medline].

Pitanguy I, Gonzalez R, Brentano J, et al. Surgical treatment of macrocheilia. Head Neck Surg. 1988 May-Jun. 10(5):309-18. [Medline].

Habel G, O'Regan B. Surgical management of macrocheilia of the lower lip. Br J Oral Maxillofac Surg. 1990 Oct. 28(5):295-8. [Medline].

Zide BM, Glat PM, Stile FL, et al. Vascular lip enlargement: Part I. Hemangiomas--tenets of therapy. Plast Reconstr Surg. 1997 Dec. 100(7):1664-73. [Medline].

Zide BM, Glat PM, Stile FL, et al. Vascular lip enlargement: Part II. Port-wine macrocheilia--tenets of therapy based on normative values. Plast Reconstr Surg. 1997 Dec. 100(7):1674-81. [Medline].

Cederna PS, Fiala TGS, Smith DJ Jr, et al. Melkersson-Rosenthal syndrome: reduction cheiloplasty utilizing a transmodiolar labial suspension suture. Aesthetic Plast Surg. 1998 Mar-Apr. 22(2):102-5. [Medline].

Liu R, Yu S. Melkersson-Rosenthal syndrome: a review of seven patients. J Clin Neurosci. 2013 Jul. 20(7):993-5. [Medline].

Bartell HL, Harting M, Eldin KW, et al. Chronic, progressive enlargement of the lower lip in a healthy girl. Dermatol Online J. 2007 May 1. 13(2):20. [Medline].

Ellis DA, Rubin AM, Shemen LJ. University of Toronto teaching rounds. Esthetic evaluation of the lips and cosmetic reconstructions. J Otolaryngol. 1982 Jun. 11(3):221-5. [Medline].

Farkas LG. Anthropometry of the Head and Face in Medicine. NY: Elsevier Science; 1981.

Gunter PJ. Facial analysis for the rhinoplasty patient. Presented at: Dallas Rhinoplasty Symposium. 1999. 17-28.

Epker BN, Wolford LM. Reduction cheiloplasty: its role in the correction of dentofacial deformities. J Maxillofac Surg. 1977 Jun. 5(2):134-41. [Medline].

Stucker FJ Jr. Profile contouring including cheiloplasty. Arch Otolaryngol. 1979 Nov. 105(11):680-3. [Medline].

Pensler JM, Mulliken JB. The cleft lip lower-lip deformity. Plast Reconstr Surg. 1988 Oct. 82(4):602-10. [Medline].

Rzany B, Becker-Wegerich P, Bachmann F, et al. Hyaluronidase in the correction of hyaluronic acid-based fillers: a review and a recommendation for use. J Cosmet Dermatol. 2009 Dec. 8(4):317-23. [Medline].

Vent J, Lefarth F, Massing T, et al. Do you know where your fillers go? An ultrastructural investigation of the lips. Clin Cosmet Investig Dermatol. 2014. 7:191-9. [Medline]. [Full Text].

Field LM. Macrocheiloplasty. Principles and techniques. J Dermatol Surg Oncol. 1992 Jun. 18(6):503-7. [Medline].

Niechajev I. Lip enhancement: surgical alternatives and histologic aspects. Plast Reconstr Surg. 2000 Mar. 105(3):1173-83; discussion 1184-7. [Medline].

Matory EW. Lip thinning. E Courtiss, ed. Male Aesthetic Surgery. 2nd ed. St. Louis: Mosby; 1991. 180-1.

Oliver DW, Scott MJ. Lip reduction cheiloplasty for Miescher's granulomatous macrocheilitis (Cheilitis granulomatosa) in childhood. Clin Exp Dermatol. 2002 Mar. 27(2):129-31. [Medline].

Puri N, Pradhan KL, Chandna A, et al. Biometric study of tooth size in normal, crowded, and spaced permanent dentitions. Am J Orthod Dentofacial Orthop. 2007 Sep. 132(3):279.e7-14. [Medline].
Medscape Reference © 2011 WebMD, LLC