Dermabrasion
Author: Gaurav Bharti, MD; Chief Editor: Gregory Gary Caputy, MD, PhD, FICS more...
Updated: Jan 05, 2015
What would you like to print?
Background
The face is arguably the most critical aesthetic unit of the human body. The art of facial rejuvenation has been practiced since ancient civilizations, and the interest in this subject continues to grow. Various options exist to perform skin resurfacing of the face, including dermabrasion, laser resurfacing, and chemical peels.[1, 2, 3, 4, 5] All skin-resurfacing modalities aim to remove damaged skin and stimulate normal wound healing. Dermabrasion is a simple, cost-effective means of skin resurfacing that can provide repeated and reliable results when used on the face or many other areas of the body.
The goal of dermabrasion is to remove a controlled thickness of damaged skin to stimulate normal wound healing and skin rejuvenation, while avoiding the complications of scarring and pigmentary changes.[6, 7] This controlled damage rapidly heals because of the abundance of a rich vascular and adnexal network along with the supply of macronutrients, which promotes tissue remodeling of the proteins and structures of the skin, yielding rejuvenated skin that is smoother and firmer than before.
Numerous studies have demonstrated that dermabrasion is a reliable and effective method for skin resurfacing and should be a part of a plastic and dermatologic surgeon's repertoire in resurfacing damaged skin and the aging and damaged face.[8] It has features that make it superior to chemical peels and lasers, including the ability to use it in focal segments of the face, the lower likelihood of injury to the pigment-containing melanocytes resulting in pigmentary changes, and the much lower cost compared with laser treatments. With experience, the risks of scarring and skin sloughing due to traction injuries are very low.
The development of antiviral medications, semipermeable dressings, tumescent anesthesia, and cryoanesthesia has advanced the technique of dermabrasion, as well as other resurfacing surgeries such as chemical peeling, ablative laser resurfacing (see Carbon Dioxide Cutaneous Laser Resurfacing and Erbium-YAG Cutaneous Laser Resurfacing), nonablative laser resurfacing, and microdermabrasion. A comprehensive understanding of the advantages and the disadvantages of each of these resurfacing procedures is necessary to achieve optimal surgical results in patients who undergo resurfacing surgery.
See the image below.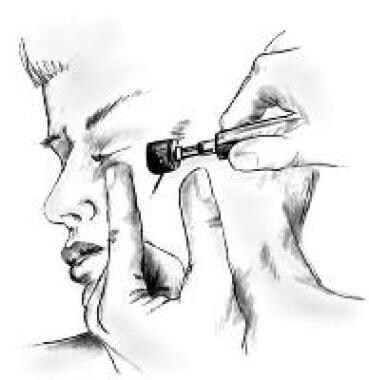 Technique and hand position for dermabrading raised scars.
Anatomy
The most important element in dermabrasion is recognition of the appropriate depth of treatment. The skin is composed of 2 mutually dependent layers, the epidermis and the dermis, which rest on a fatty subcutaneous layer. The epidermis contains no blood vessels and protects the underlying dermis from the external elements. The epidermis is entirely dependent on the underlying dermis to deliver nutrients and to remove waste by means of diffusion across the dermoepidermal junction. An important function of the dermis is to sustain and support the epidermis. The dermis is divided into 2 layers: the relatively superficial papillary dermis and the relatively deep reticular dermis. Collagen, elastic tissue, and reticular fibers are present throughout both layers.
Epidermal appendages are intradermal epithelium-lined structures that can divide and differentiate. They develop as downgrowths of the epidermis into the dermis. They include sebaceous glands, sweat glands, apocrine glands, mammary glands, and hair follicles. Epidermal appendages serve an important role as a source of epithelial cells. These appendages are responsible for reepithelialization if the overlying epidermis is removed or destroyed in situations such as partial-thickness burns, chemical peeling, dermabrasion, traumatic abrasions, or harvesting of split-thickness skin grafts. See the image below.
Skin anatomy.
Controlled dermabrasion can be performed on the epidermis and on the upper layers of the dermis. The wound heals by means of reepithelialization from the remaining epidermal appendages, similar to the healing of partial-thickness burns. Reepithelialization begins within 24 hours of wounding and is usually complete after 7-10 days. Collagen remodeling continues for 3-6 months and results in dermal thickening and contraction, which further enhance the smoothing effect.
Areas of the body where the skin adheres closely and tightly to underlying structures are referred to as adherent or tight structures. Those areas where the skin can be very loose, such as the neck and upper and lower eyelids, are referred to as loose areas. Dermabrasion must be performed evenly across the entire area to be treated, and the leading edge needs to be as deep as the trailing edge of the abrader. This is very difficult to perform in areas that are very loose, even with cooling of the skin. Wherever possible, progression should go from fixed areas to looser areas rather than in the opposite direction. Areas of very loose skin can be caught within a mechanical dermabrader and sheared off completely, leaving a severe deficit, which can cause open wounds and scarring. Extremely loose areas should be approached with caution and only by an experienced dermabrasion specialist.
Pathophysiology
With aging, the skin undergoes atrophy. This process typically begins during the fourth decade of life. The outermost portion of the epidermis, the stratum corneum, becomes disorganized and less effective as a protective barrier to the external environment. A gradual decline also occurs in the number of melanocytes populating the basal layer of the epidermis. The dermoepidermal junction becomes flattened because fewer dermoepidermal papillae are present. The most significant changes occur in the dermis, where an overall loss of organization occurs as the dermis thins with age. The amount of ground substance decreases and elastic fibers degenerate, making the skin less resistant to deformational forces. Collagen is also lost, and the proportion of type I collagen relative to type III collagen is reduced.
Actinic damage also produces changes in the skin, resulting in skin that actually thickens. Actinic keratoses and lentigines form. Dermal elastosis results from accumulation of thickened degraded collagen and elastic fibers. Ground substance also increases, while mature forms of collagen decrease. Facial rhytides occur, probably as the result of a combination of aging, photodamage, gravity, and repeated use of the muscles of facial expression.
Prognosis
Dermabrasion is a well-established technique for skin resurfacing using mechanical abrasion of the skin. It can yield excellent results when a well-trained surgeon performs the procedure for the appropriate patient. The keys to performing dermabrasion are experience and understanding of its principles to provide sufficient resurfacing to the appropriate depth and minimize scar formation.[8] Careful patient screening is crucial to ensure realistic expectations.[8] With meticulous postoperative care, the results can be highly satisfying for patients.
With the armamentarium of resurfacing modalities increasing, mechanical dermabrasion remains an important dermatosurgical procedure, particularly for the improvement of cystic acne, postsurgical scars, partial-thickness Mohs defects, and the visual appearance of skin grafts.
Small areas may be easily and safely treated with proper technique, and these areas demonstrate rapid recovery. Although experience and skill are necessary in order to avoid serious complications with full-face dermabrasion, its efficacy for the treatment of acne scarring and deep rhytides currently remains unmatched for the patient who is willing to endure the resultant recovery period.
Close follow-up during the postoperative period is important in order to recognize and treat the most serious potential complications of infection and scarring at the earliest stages. While new technologies continue to emerge, mechanical resurfacing will likely remain an essential and unmatched modality for scar improvement.
Complications
Postoperative spot bleeding, erythema, milia formation, and flare-ups of acne are normal sequelae of dermabrasion and should be discussed with the patient preoperatively. A common effect is hyperpigmentation 4-6 weeks after the procedure, but this is usually transient and responds well to hydroquinone. Patients at increased risk include those taking oral contraceptives, exogenous estrogens, or other photosensitizing medications. When hyperpigmentation does not respond to topical treatment, nonablative laser therapy can be performed to diminish the pigment.
The skin typically is sensitive to the sun following dermabrasion, and this also may be a source of hyperpigmentation. Instruct patients to use sunscreen daily for 6-12 months following dermabrasion.
The most clinically significant complications are hypertrophic scarring and permanent hypopigmentation. The risk of prolonged erythema, scarring, and hypopigmentation is directly proportional to the depth of dermabrasion and to the delay of wound healing after the normal time for reepithelialization. Therefore, every effort should be made to control these factors.
Milia
Milia, or intraepidermal collections of keratinaceous debris, are commonly observed after dermabrasion. These collections appear as small white cysts. Treatment consists of abrasive soaps, electrodessication, unroofing, or lancing the cysts with a needle or scalpel.
Hypopigmentation
No reliably good treatment is available to manage the complication of hypopigmentation. This complication occurs to varying degrees in 20-30% of patients. Hypopigmentation is due to the destruction or inhibition of melanocytes. Because they originate from neural crest cells, melanocytes cannot regenerate or divide. Hypopigmentation is most noticeable in darkly pigmented patients and may be difficult to assess until erythema subsides; however, it may be permanent at that point. Pigmentary changes are less likely to occur with dermabrasion than with alternate techniques, such as chemical peeling or laser resurfacing. Camouflage methods are currently the best options to treat hypopigmentation, although certain lasers may be used to stimulate the melanocytes in some patients.
The 309-nm excimer laser has been shown to improve hypopigmented scars and vitiligo, and it also may be an option for improvement after dermabrasion.[9] True hypopigmentation should be differentiated from the pseudohypopigmentation seen when resurfaced skin without actinic damage simply appears lighter than the surrounding actinically damaged skin. Fulton et al reported successful blending of hypopigmentation using laser-assisted chemabrasion,[10] and Grimes et al reported success with topical photochemotherapy.[11]
Hypertropic scarring and keloid formation
Hypertrophic scarring and keloid formation are the most worrisome complications and can result from dermabrasion through the deep reticular dermis or an exaggerated inflammatory response. Therefore, any history of keloid formation in the patient's history should serve as a contraindication to dermabrasion.
Persistent erythema and delayed reepithelialization should alert the physician and patient that scarring is imminent. Erythema after dermabrasion typically lasts only 8-12 weeks, as opposed to 3-6 months of erythema after laser resurfacing. Wounds that demonstrate a lack of reepithelialization by day 14 are at risk for hypertrophic scarring. Early recognition and aggressive treatment are essential. Aggressive measures, such as the application of compressive silicone sheets, scar massage, topical or intralesional steroids, or pressure garments, may minimize the appearance of the scar. Mid- to high-potency topical steroid creams may be used. If induration is present, intralesional steroids (eg, triamcinolone acetonide [Kenalog]) may be given every 2-3 weeks. Pulsed-dye vascular lasers have been used with some success during the erythematous phase of hypertrophic scarring. Scar excision or further dermabrasion may be necessary if the results of these therapies are unsatisfactory.
Infectious complications
Infectious complications are unusual but must be recognized quickly to prevent undesirable scarring. Postoperative viral infections, especially those due to herpes simplex virus (HSV), may occur despite prophylaxis. If pain, erythema, or ulcerations appears 7-10 days after the procedure, viral infection should be suspected and full-strength antiviral therapy should be administered (valacyclovir 1 g 3 times a day for 7 days or famciclovir 500 mg 3 times a day for 7 days). Infections due to staphylococcal, streptococcal, and pseudomonal bacteria or candidal fungus may occur. If they do, wound cultures should be ordered and appropriate oral or topical antibiotics or antifungal treatment should be started.
Patient Education
Preoperative counseling is imperative to ensure realistic patient expectations. The patient's desired outcome must be clearly communicated and understood. Physicians may show patients preoperative and postoperative photos of patients treated with dermabrasion; complications should be included. In general, dermabrasion yields 35-50% subjective improvement of skin texture. Patients should not expect restoration of perfect skin, and dermabrasion does not affect skin redundancy or eliminate the possible need for rhytidectomy. Patients should be told that the greatest improvement is usually observed 6 months after surgery. Patients should be provided a reference list of alternative procedures and should be instructed that combining other procedures with dermabrasion is not uncommon.
Patients should avoid sun exposure before and after the procedure. Some surgeons prescribe antiviral prophylaxis to all patients, and patients with a history of herpes simplex should receive strong prophylactic doses of acyclovir 400 mg 3 times daily or valacyclovir 500 mg twice daily, beginning the day of, or even prior to, the procedure. The herpes virus requires viable epidermal cells to establish an infection. Therefore, antiviral therapy should continue for 10-14 days to allow complete reepithelialization to occur. Prophylactic antibiotics are usually not needed. However, patients with a history of impetigo, staphylococcal skin infection, or a compromised immune system may benefit from antibiotics.
After a patient is appropriately selected, the physician obtains informed consent for the procedure. This process includes a thorough discussion of possible complications. Select patients may require preoperative laboratory screening to include complete blood cell count and serum chemistries. In addition, at-risk individuals should be screened for HIV and infectious hepatitis
References
Demas PN, Bridenstine JB. Diagnosis and treatment of postoperative complications after skin resurfacing. J Oral Maxillofac Surg. 1999 Jul. 57(7):837-41. [Medline].

Fitzpatrick RE. Resurfacing procedures: how do you choose?. Arch Dermatol. 2000 Jun. 136(6):783-4. [Medline].

Roy D. Ablative facial resurfacing. Dermatol Clin. 2005 Jul. 23(3):549-59,viii. [Medline].

Cortez EA, Fedok FG, Mangat DS. Chemical peels: panel discussion. Facial Plast Surg Clin North Am. 2014 Feb. 22(1):1-23. [Medline].

Brauer JA, Patel U, Hale EK. Laser skin resurfacing, chemical peels, and other cutaneous treatments of the brow and upper lid. Clin Plast Surg. 2013 Jan. 40(1):91-9. [Medline].

Kim EK, Hovsepian RV, Mathew P, Paul MD. Dermabrasion. Clin Plast Surg. 2011 Jul. 38(3):391-5, v-vi. [Medline].

Smith JE. Dermabrasion. Facial Plast Surg. 2014 Feb. 30(1):35-9. [Medline].

Baker TM. Dermabrasion. As a complement to aesthetic surgery. Clin Plast Surg. 1998 Jan. 25(1):81-8. [Medline].

Alexiades-Armenakas MR, Bernstein LJ, Friedman PM, Geronemus RG. The safety and efficacy of the 309 nm excimer laser for pigment correction of hypopigmented scars and striae alba. Archives of Dermatology. 2004;140:955-960.

Fulton JE Jr, Rahimi AD, Mansoor S, Helton P, Shitabata P. The treatment of hypopigmentation after skin resurfacing. Dermatol Surg. 2004 Jan. 30(1):95-101. [Medline].

Grimes PE, Bhawan J, Kim J, Chiu M, Lask G. Laser resurfacing-induced hypopigmentation: histologic alterations and repigmentation with topical photochemotherapy. Dermatol Surg. 2001 Jun. 27(6):515-20. [Medline].

Roenigk HH Jr, Pinski JB, Robinson JK, Hanke CW. Acne, retinoids, and dermabrasion. J Dermatol Surg Oncol. 1985 Apr. 11(4):396-8. [Medline].

Katz BE, Mac Farlane DF. Atypical facial scarring after isotretinoin therapy in a patient with previous dermabrasion. J Am Acad Dermatol. 1994 May. 30(5 Pt 2):852-3. [Medline].

Rubenstein R, Roenigk HH Jr, Stegman SJ, Hanke CW. Atypical keloids after dermabrasion of patients taking isotretinoin. J Am Acad Dermatol. 1986 Aug. 15(2 Pt 1):280-5. [Medline].

Zachariae H. Delayed wound healing and keloid formation following argon laser treatment or dermabrasion during isotretinoin treatment. Br J Dermatol. 1988 May. 118(5):703-6. [Medline].

Hexsel D, Soirefmann M, Porto MD, Schilling-Souza J, Siega C, Dal'Forno T. Superficial dermabrasion versus topical tretinoin on early striae distensae: a randomized, pilot study. Dermatol Surg. 2014 May. 40(5):537-44. [Medline].

Williams LA. Facial rejuvenation. Nurs Clin North Am. 1994 Dec. 29(4):741-51. [Medline].

Fitzpatrick TB. The validity and practicality of sun-reactive skin types I through VI. Arch Dermatol. 1988 Jun. 124(6):869-71. [Medline].

Goldberg DJ, Cutler KB. Nonablative treatment of rhytids with intense pulsed light. Lasers Surg Med. 2000. 26(2):196-200. [Medline].

Kamer FM, Lefkoff LA. Injectable collagen, chemical peeling and dermabrasion as an adjunct to rhytidectomy. Facial Plast Surg. 1992 Jan. 8(1):89-92. [Medline].

Menaker GM, Wrone DA, Williams RM, Moy RL. Treatment of facial rhytids with a nonablative laser: a clinical and histologic study. Dermatol Surg. 1999 Jun. 25(6):440-4. [Medline].

Yarborough JM Jr. Ablation of facial scars by programmed dermabrasion. J Dermatol Surg Oncol. 1988 Mar. 14(3):292-4. [Medline].

Emsen IM. A different and cheap method: sandpaper (manual dermasanding) in treatment of periorbital wrinkles. J Craniofac Surg. 2008 May. 19(3):812-6. [Medline].

Leyngold M, Leyngold I, Letourneau PR, Zamboni WA, Shah H. Basal cell carcinoma and rhinophyma. Ann Plast Surg. 2008 Oct. 61(4):410-2. [Medline].

Sandel HD 4th, Perkins SW. CO2 laser resurfacing: still a good treatment. Aesthet Surg J. 2008 Jul-Aug. 28(4):456-62. [Medline].

Gupta S, Handa S, Saraswat A, Kumar B. Conventional cold excision combined with dermabrasion for rhinophyma. J Dermatol. 2000 Feb. 27(2):116-20. [Medline].

Faris C, Manjaly JG, Ismail-Koch H, Caldera S. Rapid treatment of rhinophyma with powered microdebrider. Case Rep Otolaryngol. 2013. 2013:621639. [Medline]. [Full Text].

Mandy SH. Tretinoin in the preoperative and postoperative management of dermabrasion. J Am Acad Dermatol. 1986 Oct. 15(4 Pt 2):878-9, 888-9. [Medline].

McEvitt WG. Treatment of acne pits by abrasion with sandpaper. J Am Med Assoc. 1950 Mar 4. 142(9):647. [Medline].

Emsen IM. Effect of dermasanding (manual dermabrasion) with sandpaper on the appearance of both postsurgical and burn scars. Aesthetic Plast Surg. 2007 Sep-Oct. 31(5):608-11. [Medline].

Hanke CW, O'Brian JJ, Solow EB. Laboratory evaluation of skin refrigerants used in dermabrasion. J Dermatol Surg Oncol. Jan 1985. 11(1):45-9. [Medline].

Hanke CW, O'Brian JJ, Solow EB. Laboratory evaluation of skin refrigerants used in dermabrasion. J Dermatol Surg Oncol. 1985 Jan. 11(1):45-9. [Medline].
Table 1. Fitzpatrick Skin Classification
[18]
| | | |
| --- | --- | --- |
| Type | Skin Color | Characteristics |
| I | Very white | Always burns, never tans |
| II | White | Usually burns, tans with difficulty |
| III | White or light brown | Mildly burns, average ability to tan |
| IV | Brown | Rarely burns, tans easily |
| V | Dark brown | Very rarely burns, tans very easily |
| VI | Black | Never burns, darkly pigmented |
Table 2. Glogau Scale of Facial Rhytides Formation and Photoaging
| | | |
| --- | --- | --- |
| Skin Type | Age (y) | Clinical Findings |
| I (mild) | 20-30 | Early photoaging, fine wrinkling |
| II (moderate) | 30-40 | Early to moderate photoaging, present with motion, no keratoses |
| III (advanced) | 50 and over | Advanced photoaging, wrinkles with rest, visible keratoses, noticeable discolorations |
| IV (severe) | 60 and over | Severe photoaging, wrinkles throughout, dynamic and gravitational wrinkling, actinic keratoses |
Medscape Reference © 2011 WebMD, LLC