Spinal Instability and Spinal Fusion Surgery Workup
Author: Peyman Pakzaban, MD; Chief Editor: Brian H Kopell, MD more...
Updated: Jan 14, 2016
What would you like to print?
Laboratory Studies
There are no laboratory studies that would assist in diagnosis of spinal instability. Laboratory studies can be helpful in diagnosing certain conditions that could result in spinal stability, such as spine infections (CBC, ESR, C-reactive protein, blood cultures), rheumatoid arthritis (rheumatoid factor), ankylosing spondylitis (HLA-B27), multiple myeloma (serum immunoelectrophoresis, urine Bence-Jones proteins), and others.
Laboratory studies are routinely performed as a part of preoperative preparation for spine surgery.
Imaging Studies
Spine MRI and plain x-ray films with flexion and extension are the most useful imaging studies for evaluation of spinal instability. In addition to demonstrating vertebral displacement, vertebral deformation and neural compression, MRI provides invaluable information about spinal cord injury, neoplastic and infectious processes, and ligamentous disruption. CT-myelography is used when MRI cannot be obtained or has not provided the resolution necessary to assess the extent of neural compression.
Plain CT is useful in assessing bone anatomy in the setting of vertebral fractures, spondylolysis, history of previous spine surgery, and congenital spine anomalies. CT may also be used to assess certain bony parameters (such as pedicle size in thoracolumbar spine, lateral mass anatomy in cervical spine, and vertebral artery anatomy in C1-2 region) in preparation for instrumentation of the spine.
To evaluate bone integrity prior to fusion when osteoporosis is suspected, a bone density scan is performed. Radionucleotide bone scans have been supplanted by high resolution CT for assessment of pseudarthrosis.
Other Tests
Electromyography (EMG) may be used to confirm nerve root compression but does not play a direct role in establishing the diagnosis of spinal instability.
Diagnostic Procedures
Selective nerve root injections can be used as a diagnostic tool to confirm that a particular nerve root is responsible for the pain syndrome. They are also used in a therapeutic capacity in nonsurgical management of spine disorders.
CT-guided biopsy/aspiration is used when tumor or infection is suspected and when the possibility of nonsurgical treatment is being entertained. When surgery has to be performed to decompress and/or stabilize the spine, the diagnosis can be obtained intraoperatively.
Substantial controversy exists regarding the value of discography in diagnosis of discogenic pain and in patient selection for fusion surgery. When performed, it should be accompanied by measurements of intradiscal pressure, documentation of severity and concordance of pain during injection, and postdiscography CT scan.
Histologic Findings
No histological findings are relevant to the diagnosis of spinal instability, except when a neoplasm is the source of instability.
Staging
Since spinal instability is a heterogenous disorder, no uniform staging/grading system exists that would be relevant to all forms of spinal instability.
Spondylolisthesis, defined as anterior translation of a vertebral body in relation to the adjacent caudal vertebral body, is graded according to the system in Table 3.
Table 3. Grading of Spondylolisthesis (Open Table in a new window)
Slip Distance/AP Diameter



of Vertebral Body




Grade
0-25%
1
25-50%
2
50-75%
3
75-100%
4
>100%
Spondyloptosis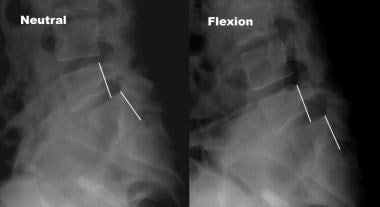 Grade 1 spondylolisthesis in neutral position progresses to grade 2 with flexion, indicating overt instability in this case.
In the lumbar spine, spondylolisthesis is either isthmic, degenerative, or traumatic. Isthmic spondylolisthesis occurs because of a congenital weakness and subsequent fracture of pars interarticularis (usually of L5), resulting in uncoupling and glacial anterior translation of one vertebral body over another.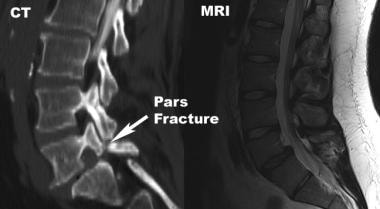 Grade I isthmic spondylolisthesis at L5-S1. Arrow depicts the L5 pars fracture.
Degenerative spondylolisthesis occurs because of severe degeneration of facet joints and incompetence of facet capsules, which lose the capacity to resist the flexion moment, resulting in translation. Traumatic spondylolisthesis represents a fracture-dislocation of the spine.
References
Harrington PR. The history and development of Harrington instrumentation. Clin Orthop Relat Res. 1973 Jun. (93):110-2. [Medline].

White AA, Panjabi MM. Clinical Biomechanics of the Spine. 2nd ed. Philadelphia: Lippincott; 1990. 30-342.

Benzel EC. Biomechanics of Spine Stabilization, Principles and Clinical Practice. McGraw-Hill; 1995.

Ailon T, Smith JS, Shaffrey CI, Lenke LG, Brodke D, Harrop JS, et al. Degenerative Spinal Deformity. Neurosurgery. 2015 Oct. 77 Suppl 4:S75-91. [Medline].

Weber MH, Burch S, Buckley J, Schmidt MH, Fehlings MG, Vrionis FD, et al. Instability and impending instability of the thoracolumbar spine in patients with spinal metastases: a systematic review. Int J Oncol. 2011 Jan. 38 (1):5-12. [Medline].

Rajaee SS, Bae HW, Kanim LE, Delamarter RB. Spinal fusion in the United States: analysis of trends from 1998 to 2008. Spine (Phila Pa 1976). 2012 Jan 1. 37 (1):67-76. [Medline].

Deyo RA, Nachemson A, Mirza SK. Spinal-fusion surgery - the case for restraint. N Engl J Med. 2004 Feb 12. 350(7):722-6. [Medline].

Patil PG, Turner DA, Pietrobon R. National trends in surgical procedures for degenerative cervical spine disease: 1990-2000. Neurosurgery. 2005 Oct. 57(4):753-8; discussion 753-8. [Medline].

Denis F. Spinal instability as defined by the three-column spine concept in acute spinal trauma. Clin Orthop Relat Res. 1984 Oct. (189):65-76. [Medline].

Mohan S, Baylink DJ. Bone growth factors. Clin Orthop Relat Res. 1991 Feb. (263):30-48. [Medline].

Kane WJ. Direct current electrical bone growth stimulation for spinal fusion. Spine. 1988 Mar. 13(3):363-5. [Medline].

Brown CW, Orme TJ, Richardson HD. The rate of pseudarthrosis (surgical nonunion) in patients who are smokers and patients who are nonsmokers: a comparison study. Spine. 1986 Nov. 11(9):942-3. [Medline].

Bridwell KH, Sedgewick TA, O'Brien MF, Lenke LG, Baldus C. The role of fusion and instrumentation in the treatment of degenerative spondylolisthesis with spinal stenosis. J Spinal Disord. 1993 Dec. 6(6):461-72. [Medline].

Resnick DK, Choudhri TF, Dailey AT, Groff MW, Khoo L, Matz PG, et al. Guidelines for the performance of fusion procedures for degenerative disease of the lumbar spine. Part 1: introduction and methodology. J Neurosurg Spine. 2005 Jun. 2(6):637-8. [Medline].

Schulte TL, Ringel F, Quante M, Eicker SO, Muche-Borowski C, Kothe R. Surgery for adult spondylolisthesis: a systematic review of the evidence. Eur Spine J. 2015 Sep 12. [Medline].

Abbott AD, Tyni-Lenné R, Hedlund R. Early rehabilitation targeting cognition, behavior, and motor function after lumbar fusion: a randomized controlled trial. Spine (Phila Pa 1976). 2010 Apr 15. 35(8):848-57. [Medline].

Fritzell P, Hagg O, Wessberg P, Nordwall A,. 2001 Volvo Award Winner in Clinical Studies: Lumbar fusion versus nonsurgical treatment for chronic low back pain: a multicenter randomized controlled trial from the Swedish Lumbar Spine Study Group. Spine. 2001 Dec 1. 26(23):2521-32; discussion 2532-4. [Medline].

Brox JI, Sørensen R, Friis A, Nygaard Ø, Indahl A, Keller A, et al. Randomized clinical trial of lumbar instrumented fusion and cognitive intervention and exercises in patients with chronic low back pain and disc degeneration. Spine. 2003 Sep 1. 28(17):1913-21. [Medline].

Lin EL, Wang JC. Total disk arthroplasty. J Am Acad Orthop Surg. 2006 Dec. 14(13):705-14. [Medline].

Murrey D, Janssen M, Delamarter R, Goldstein J, Zigler J, Tay B, et al. Results of the prospective, randomized, controlled multicenter Food and Drug Administration investigational device exemption study of the ProDisc-C total disc replacement versus anterior discectomy and fusion for the treatment of 1-level symptomatic cervical disc disease. Spine J. 2009 Apr. 9(4):275-86. [Medline].

Schwarzenback O, Berlemann U, Stoll TM, Dubois G. Posterior dynamic stabilization systems: DYNESYS. Orthop Clin North Am. 2005. 36(3):363-72. [Medline].
Table 1. Traumatic Instability of Cervical Spine
Fracture/Dislocation



(Mechanism)




Type/Issue
Treatment
C1 Jefferson fracture



(axial loading)




1. Isolated -->



2. With transverse ligament rupture -->



3. Widely diastatic -->



4. With odontoid fracture -->




1. Hard collar



2. Halo



3. Consider occiput-C2 fusion



4. Treat according to odontoid fx




C1-2 Rotatory subluxation



(twisting moment)




1. Children, URI -->



2. Adults, tumor, trauma, infection -->




1. Bedrest, analgesics, halter traction, soft collar



2. Traction, hard collar, halo, or C1-2 fusion depending on cause and duration




Odontoid fracture



(flexion in young, extension in old)




1. Type 1 -->



2. Type 2, < 6 mm displaced -->



3. Type 2, >6 mm displaced or chronic or type 2A -->



4. Type 3 -->




1. If no atlanto-occipital instability, collar x 3 mo



2. Halo x 3-6 mo



3. C1-2 fusion or odontoid screw



4. Halo x 6 mo




C2 Hangman fracture



(extension)




1. Pars approximated->



2. Pars separated, reducible -->



3. Pars separated, not reducible -->




1. Hard collar x 3 mo



2. Reduce in extension, then halo x 3 mo



3. C2-3 fusion




Unilateral jumped facet



(flexion + rotation)




1. Reducible -->



2. Not reducible -->



3. With facet fracture -->



4. With disc herniation-->




1. Reduce and halo x 3 mo



2. Open reduction and posterior fusion



3. Open reduction and posterior fusion



4. Anterior decompression, open reduction, and anterior fusion




Bilateral jumped facet



(flexion)




1. Reducible, without disc herniation -->



2. Not Reducible, without disc herniation-->



3. With disc herniation-->




1. Closed reduction, then posterior fusion



2. Open anterior or posterior reduction and fusion



3. Anterior discectomy, reduction and fusion




Subaxial spine axial loading injuries



(axial +/- flexion)




1. Simple compression fracture -->



2. Burst fracture +/- tear drop fx -->



3. Burst + posterior column fracture -->




1. Hard collar



2. Anterior corpectomy and fusion



3. Anterior corpectomy and fusion



(+/- posterior fusion)




Clay shoveler fracture



(flexion)




Always stable
Soft collar and analgesics
Anterior avulsion fracture



(extension)




Always stable
Soft collar and analgesics
Table 2. Traumatic Instability of Thoracic and Lumbar Spine
Fracture
Denis Columns Involved
Treatment
Compression fracture
Anterior column
Bracing (note that >50% vertebral body height loss or Cobb angle >30 degrees predict worsening of kyphosis)
Compression fracture with splaying of spinous processes
Anterior and posterior columns
Posterior instrumented fusion
Stable burst fracture



(preserved posterior longitudinal ligament)




Anterior column and part of middle column
If no neural compromise, treat with TLSO brace



If canal stenosis present, retropulsed fragment may be reduced by ligamentous taxis in distraction



with posterior instrumented fusion




Unstable burst fracture
Anterior and middle columns with significant retropulsion,



or all 3 columns




Anterior decompression and instrumented fusion
Flexion-distraction seat belt injury (ligamentous)
Middle and posterior columns
Posterior reduction and instrumented fusion
Chance fracture (osseous)
2 or 3 columns but with good bone contact
TLSO brace
Shear fracture dislocation
3 columns
Instrumented fusion, anterior, posterior, or both
Table 3. Grading of Spondylolisthesis
Slip Distance/AP Diameter



of Vertebral Body




Grade
0-25%
1
25-50%
2
50-75%
3
75-100%
4
>100%
Spondyloptosis
Table 4. Odontoid Fracture Classification
| | |
| --- | --- |
| Type | Fracture Anatomy |
| 1 | Fracture through the odontoid tip (rare) |
| 2 | Fracture across the base of the odontoid process (most common) |
| 2A | As in type 2, except with comminution of fracture line, reducing the possibility of healing of fracture in halo or with odontoid screw |
| 3 | Fracture extension into C2 vertebral body; because of larger bone contact area, fracture usually heals well in a halo |
Medscape Reference © 2011 WebMD, LLC