Cold Agglutinin Disease Workup
Author: Salman Abdullah Aljubran, MD; Chief Editor: Michael A Kaliner, MD more...
Updated: Jul 20, 2016
What would you like to print?
Approach Considerations
Ensure proper handling of specimens when looking for cold agglutinins (ie, keeping the blood warm until it is tested). Blood specimens are commonly placed in a laboratory refrigerator until they are tested. This practice must be avoided when testing for cold agglutinins.
Urinalysis
Perform urinalysis with microscopic assessment for RBCs and a chemical test for hemoglobin to differentiate between hematuria and hemoglobinuria. Urinalysis can reveal hemoglobinuria, hemosiderinuria, and elevated urobilinogen.
Processing only fresh urine samples is an important means of avoiding in vitro hemolysis of RBCs in the urine, leading to an incorrect diagnosis of hemoglobinuria.
Urine immunoelectrophoresis should be performed if serum globulins are abnormal; only a 24-hour urine sample can be used to conclusively exclude the presence of light chains.
LDH and bilirubin levels
Lactate dehydrogenase (LDH) and total and direct bilirubin values are elevated in cold agglutinin disease, depending on the extent of hemolysis.
Haptoglobin
The haptoglobin level may be reduced when hemolysis is active and ongoing with an intravascular spillover from a massive extravascular process and in the absence of significant liver disease.
Direct Coombs test
The direct Coombs test (direct antiglobulin test [DAT]) should be performed with samples at 35-37°C, using polyspecific and monospecific Coombs sera, including monospecific anti-C3 and IgG antisera.
Cryoglobulin levels
Cryoglobulin levels should be tested only if vascular purpura or other atypical findings, such as elevated levels of IgM and/or hepatitis virus antibodies, are found. Again, proper handling of the sample, by keeping it warm until the test is run, is essential to avoid premature loss of the cryoglobulin.
Imaging studies
A chest radiograph is obtained if pneumonia is suggested; pulmonary infiltrates are found in cases of Mycoplasma pneumoniae infection. Findings may also indicate lymphadenopathy. Computed tomography (CT) scans of the chest and abdomen are performed to assess for lymphadenopathy and splenomegaly when lymphoma is suggested.
Staging
Staging of cold agglutinin disease is applicable only if an underlying malignant disorder is present.
Complete Blood Count With Platelet and Differential Leukocyte Counts
If the cold agglutinin is operative at room temperature, then a falsely high mean corpuscular volume (MCV), mean corpuscular hemoglobin (MCH), and mean corpuscular hemoglobin concentration (MCHC) with a low RBC count are obtained due to agglutination of RBCs in the cold automated counter.
Agglutination may also be seen in anticoagulated blood at room temperature. This agglutination worsens with storage and cooling of blood to 4°C and disappears rapidly upon warming the blood to 37°C, unlike with rouleaux formation. Repeating the complete blood count (CBC) after warming the blood to 37°C avoids this problem. Thus, the clinical laboratory is frequently the first to report the presence of a cold agglutinin. Agglutination in the cold may also interfere with typing and cross-matching of blood.
In patients with chronic cold agglutinin disease, a mild to moderate stable anemia is present; occasionally, the anemia is severe. Peripheral blood smears may reveal clumps of RBCs (see the image below). Leukocytosis may be evident during hemolytic episodes.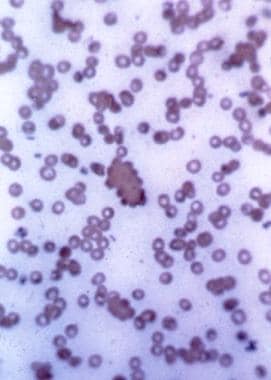 Peripheral blood smear showing several clumps of RBCs with the largest in the center. These are typical of aggregates seen in persons with cold agglutinin disease.
Reticulocytes and Spherocytes
The results of the reticulocyte count are usually increased in patients with cold agglutinin disease, with polychromasia in the peripheral blood smear. The mean corpuscular volume (MCV) is elevated because of reticulocytosis, as well as agglutination of the RBCs.
However, reticulocytosis may be inadequate for the degree of anemia in the patient. This may be due to decreased erythropoiesis caused by an underlying infection.
Spherocytes may be present, although less prominently than in warm autoantibody–induced hemolytic anemias. (See the image below).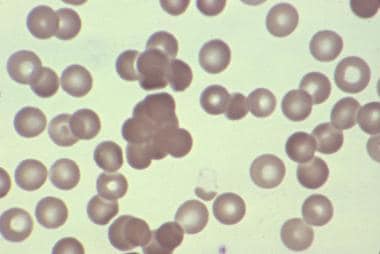 Blood smear showing spherocytic and agglutinated red blood cells.
Blood Typing
Blood typing is performed in the event that a transfusion is needed. The presence of autoantibodies may interfere with blood typing because they may react with the RBCs of potential donors, making detection of alloantibodies difficult. Several techniques are available to improve compatibility testing. These include testing the patient's serum for anti-A and anti-B hemagglutinins and performing the compatibility testing reactions at 37°C to avoid inaccurate test results due to nonspecific agglutination in the cold.
Electrophoresis and Immunoelectrophoresis
Perform serum protein electrophoresis and serum immunoelectrophoresis (immunofixation) as initial tests to look for a dysproteinemia.
Quantitation of serum levels of IgG, IgA, and IgM should follow when a dysproteinemia is suggested based on results from the first 2 tests. These test results may be normal or abnormal (increased IgM with κ or λ light chains).
Careful sample processing, avoiding exposure of blood to the cold, and maintaining the blood at 37°C before testing is essential. If the blood sample is cooled and not kept warm from the time it is collected to the time it is tested, the cold agglutinin attaches to the RBCs and is removed from the serum, causing a false-negative result.
Cold Agglutinin Titers
With the cold agglutinin titer, a titer of greater than 1:64 is considered abnormal when blood is tested at 4°C. Obtain the cold agglutinin titers also at 30°C and 37°C, when needed. Testing at temperatures higher than 4°C is extremely valuable, particularly if the patient is to undergo hypothermia for surgery.
Cold agglutinin disease is usually associated with very high cold agglutinin titers of greater than 1:10,000 at 4°C, with a thermal amplitude of up to 30-32°C. The addition of bovine serum albumin (BSA) while testing for the cold agglutinin titer and thermal amplitude results in a better correlation with clinical hemolytic anemia than does obtaining data in the absence of BSA, using saline-suspended cells.[8]
Infectious and Vascular Disease Testing
The following infectious disease tests can be performed if these disorders are being considered in the etiology of cold agglutinin disease:
Infectious mononucleosis (EBV)

Anti-influenza antibody

Anti–mycoplasmal pneumonia antibodies

HIV antibodies

Antihepatitis antibodies

CMV antibodies

Review of thick and thin smears for malaria, as indicated
If collagen vascular disease is a possibility, blood tests for the following disorders should be performed:
Systemic lupus erythematosus (SLE)

Rheumatoid arthritis

Scleroderma (systemic sclerosis)
Biopsy
Perform bone marrow aspiration and biopsy only when they are needed to exclude certain neoplastic or immunoproliferative diseases. Flow cytometry studies of bone marrow are helpful in defining the presence of an abnormal monoclonal population of lymphocytes.
A lymph node biopsy is necessary when unexplained lymphadenopathy is present. Fine-needle aspiration is not reliable in comparison with excision of the largest lymph node for diagnostic purposes; nodal architecture is important for making an accurate diagnosis and is preserved in a lymph node biopsy. The addition of flow cytometry to define the presence of 1 or more abnormal monoclonal lymphocyte populations is also useful.
Histology
Depending on the underlying precipitating illness, changes may be seen in the bone marrow and lymph nodes of patients with cold agglutinin disease. The presence of a malignant lymphoproliferative disorder may also be evident in biopsy samples. Clumps of RBCs may be observed in the peripheral smear. (See the images below.)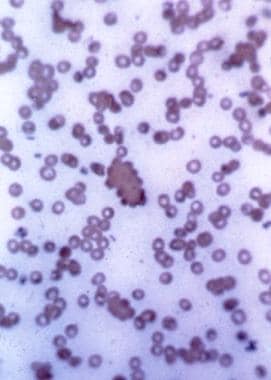 Peripheral blood smear showing several clumps of RBCs with the largest in the center. These are typical of aggregates seen in persons with cold agglutinin disease.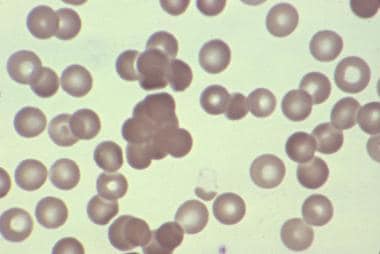 Blood smear showing spherocytic and agglutinated red blood cells.
References
Swiecicki PL, Hegerova LT, Gertz MA. Cold agglutinin disease. Blood. 2013 Aug 15. 122 (7):1114-21. [Medline]. [Full Text].

Małecka A, Trøen G, Tierens A, Østlie I, Małecki J, Randen U, et al. Immunoglobulin heavy and light chain gene features are correlated with primary cold agglutinin disease onset and activity. Haematologica. 2016 May 19. [Medline].

Berentsen S, Randen U, Tjønnfjord GE. Cold agglutinin-mediated autoimmune hemolytic anemia. Hematol Oncol Clin North Am. 2015 Jun. 29 (3):455-71. [Medline].

Rosse WF, Adams JP. The variability of hemolysis in the cold agglutinin syndrome. Blood. 1980 Sep. 56(3):409-16. [Medline]. [Full Text].

Dacie J, The auto-immune haemolytic anaemias. The Haemolytic Anaemias. 3rd ed. Edinburgh, United Kingdom: Churchill Livingstone; 1992. Vol 3.: 210-362.

Harboe M, van Furth R, Schubothe H, Lind K, Evans RS. Exclusive occurrence of K chains in isolated cold haemagglutinins. Scand J Haematol. 1965. 2(3):259-66. [Medline].

Angevine CD, Andersen BR, Barnett EV. A cold agglutinin of the IgA class. J Immunol. 1966 Apr. 96(4):578-86. [Medline].

Garratty G, Petz LD, Hoops JK. The correlation of cold agglutinin titrations in saline and albumin with haemolytic anaemia. Br J Haematol. 1977 Apr. 35(4):587-95. [Medline].

Wortman J, Rosse W, Logue G. Cold agglutinin autoimmune hemolytic anemia in nonhematologic malignancies. Am J Hematol. 1979. 6(3):275-83. [Medline].

Roelcke D. The Lud cold agglutinin: a further antibody recognizing N-acetylneuraminic acid-determined antigens not fully expressed at birth. Vox Sang. 1981 Nov-Dec. 41(5-6):316-8. [Medline].

Crisp D, Pruzanski W. B-cell neoplasms with homogeneous cold-reacting antibodies (cold agglutinins). Am J Med. 1982 Jun. 72(6):915-22. [Medline].

Sokol RJ, Hewitt S, Stamps BK. Autoimmune hemolysis: mixed warm and cold antibody type. Acta Haematol. 1983. 69(4):266-74. [Medline].

Roelcke D. Reaction of anti-Gd, anti-Fl and anti-Sa cold agglutinins with p erythrocytes. Vox Sang. 1984. 46(3):161-4. [Medline].

Agarwal SK, Ghosh PK, Gupta D. Cardiac surgery and cold-reactive proteins. Ann Thorac Surg. 1995 Oct. 60(4):1143-50. [Medline].

Packman CH, Leddy JP. Cryopathic hemolytic syndromes. Beutler E, Lichtman M, Coller B, Kippst, eds. Williams Hematology. 5th ed. New York, NY: McGraw-Hill; 1995. 685-91.

Jacobs A. Cold agglutinin hemolysis responding to fludarabine therapy. Am J Hematol. 1996 Dec. 53(4):279-80. [Medline].

Terness P, Kirschfink M, Navolan D, et al. Inverse correlation between IgG-antihinge region and antierythrocyte autoantibody in chronic benign and malignant cold agglutination. J Clin Immunol. 1997 May. 17(3):220-7. [Medline].

Thorpe SJ, Turner CE, Stevenson FK, et al. Human monoclonal antibodies encoded by the V4-34 gene segment show cold agglutinin activity and variable multireactivity which correlates with the predicted charge of the heavy-chain variable region. Immunology. 1998 Jan. 93(1):129-36. [Medline]. [Full Text].

Ciejka JZ, Cook EB, Lawler D, et al. Severe cold agglutinin disease and cryoglobulinemia secondary to a monoclonal anti-Pr2 IgM lambda cryoagglutinin. Clin Exp Rheumatol. 1999 Mar-Apr. 17(2):227-31. [Medline].

De Silva BD, McLaren K, Doherty VR. Equestrian perniosis associated with cold agglutinins: a novel finding. Clin Exp Dermatol. 2000 Jun. 25(4):285-8. [Medline].

Potter KN. Molecular characterization of cold agglutinins. Transfus Sci. 2000 Feb-Apr. 22(1-2):113-9. [Medline].

Jefferies LC, Carchidi CM, Silberstein LE. Naturally occurring anti-i/I cold agglutinins may be encoded by different VH3 genes as well as the VH4.21 gene segment. J Clin Invest. 1993 Dec. 92(6):2821-33. [Medline]. [Full Text].

Berentsen S, Beiske K, Tjonnfjord GE. Primary chronic cold agglutinin disease: an update on pathogenesis, clinical features and therapy. Hematology. 2007 Oct. 12(5):361-70. [Medline]. [Full Text].

Gertz MA. Management of cold haemolytic syndrome. Br J Haematol. 2007 Aug. 138(4):422-9. [Medline].

McNicholl FP. Clinical syndromes associated with cold agglutinins. Transfus Sci. 2000 Feb-Apr. 22(1-2):125-33. [Medline].

Maniatis A, Papayannopoulou T, Bertles JF. Fetal characteristics of erythrocytes in sickle cell anemia: an immunofluorescence study of individual cells. Blood. 1979 Jul. 54(1):159-68. [Medline]. [Full Text].

Sokol RJ, Booker DJ, Stamps R. Erythropoiesis: Paroxysmal Cold Haemoglobinuria: A Clinico-Pathological Study of Patients with a Positive Donath-Landsteiner Test. Hematology. 1999. 4 (2):137-164. [Medline].

Sokol RJ, Booker DJ, Stamps R, Walewska R. Cold haemagglutinin disease: clinical significance of serum haemolysins. Clin Lab Haematol. 2000 Dec. 22(6):337-44. [Medline].

Maura F, Visco C, Falisi E, Reda G, Fabris S, Agnelli L, et al. B-cell receptor configuration and adverse cytogenetics are associated with autoimmune hemolytic anemia in chronic lymphocytic leukemia. Am J Hematol. 2012 Sep 26. [Medline].

Khan FY, A yassin M. Mycoplasma pneumoniae associated with severe autoimmune hemolytic anemia: case report and literature review. Braz J Infect Dis. 2009 Feb. 13(1):77-9. [Medline].

Delval A, Stojkovic T, Vermersch P. Relapsing sensorimotor neuropathy with ophthalmoplegia, antidisialosyl antibodies, and extramembranous glomerulonephritis. Muscle Nerve. 2006 Feb. 33(2):274-7. [Medline].

Siddiqui K, Cahalane E, Keogan M, Hardiman O. Chronic ataxic neuropathy with cold agglutinins: atypical phenotype and response to anti-CD20 antibodies. Neurology. 2003 Nov 11. 61(9):1307-8. [Medline].

Skorupa A, Chaudhary UB, Lazarchick J. Cold agglutinin induced autoimmune hemolytic anemia and NK-cell leukemia: a new association. Am J Hematol. 2007 Jul. 82(7):668-71. [Medline]. [Full Text].

Cao L, Kaiser P, Gustin D, Hoffman R, Feldman L. Cold agglutinin disease in a patient with uterine sarcoma. Am J Med Sci. 2000 Nov. 320(5):352-4. [Medline].

Michaux L, Dierlamm J, Wlodarska L, et al. Trisomy 3q11-q29 is recurrently observed in B-cell non-Hodgkin's lymphomas associated with cold agglutinin syndrome. Ann Hematol. 1998 May. 76(5):201-4. [Medline].

Chng WJ, Chen J, Lim S, et al. Translocation (8;22) in cold agglutinin disease associated with B-cell lymphoma. Cancer Genet Cytogenet. 2004 Jul 1. 152(1):66-9. [Medline].

Kitamura T, Mizuta K, Kawarasaki H, Sugawara Y, Makuuchi M. Severe hemolytic anemia related to production of cold agglutinins following living donor liver transplantation: a case report. Transplant Proc. 2003 Feb. 35(1):399-400. [Medline].

Tamura T, Kanamori H, Yamazaki E, et al. Cold agglutinin disease following allogeneic bone marrow transplantation. Bone Marrow Transplant. 1994 Mar. 13(3):321-3. [Medline].

Thomson AW, Bonham CA, Zeevi A. Mode of action of tacrolimus (FK506): molecular and cellular mechanisms. Ther Drug Monit. 1995 Dec. 17(6):584-91. [Medline].

Oshima M, Maeda H, Morimoto K, Doi M, Kuwabara M. Low-titer cold agglutinin disease with systemic sclerosis. Intern Med. 2004 Feb. 43(2):139-42. [Medline]. [Full Text].

Torres JR, Villegas L, Perez H, et al. Low-grade parasitaemias and cold agglutinins in patients with hyper-reactive malarious splenomegaly and acute haemolysis. Ann Trop Med Parasitol. 2003 Mar. 97(2):125-30. [Medline].

Johnson ST, McFarland JG, Kelly KJ, Casper JT, Gottschall JL. Transfusion support with RBCs from an Mk homozygote in a case of autoimmune hemolytic anemia following diphtheria-pertussis-tetanus vaccination. Transfusion. 2002 May. 42(5):567-71. [Medline].

Gunduz Gedikoglu A, Cantez T. Haemolytic-anaemia relapses after immunisation and pertussis. Lancet. 1967 Oct 21. 2(7521):894-5. [Medline].

Zupanska B, Lawkowicz W, Gorska B, et al. Autoimmune haemolytic anaemia in children. Br J Haematol. 1976 Nov. 34(3):511-20. [Medline].

Haneberg B, Matre R, Winsnes R, et al. Acute hemolytic anemia related to diphtheria-pertussis-tetanus vaccination. Acta Paediatr Scand. 1978 May. 67(3):345-50. [Medline].

Kamesaki T, Toyotsuji T, Kajii E. Characterization of direct antiglobulin test-negative autoimmune hemolytic anemia: A study of 154 cases. Am J Hematol. 2012 Oct 25. [Medline].

Schubothe H. The cold hemagglutinin disease. Semin Hematol. 1966 Jan. 3(1):27-47. [Medline].

Hamblin T. Management of cold agglutination syndrome. Transfus Sci. 2000 Feb-Apr. 22(1-2):121-4. [Medline].

Hoppe B, Gaedicke G, Kiesewetter H, Salama AR. Response to intravenous immunoglobulin G in an infant with immunoglobulin A-associated autoimmune haemolytic anaemia. Vox Sang. 2004 Feb. 86(2):151-3. [Medline].

Roy-Burman A, Glader BE. Resolution of severe Donath-Landsteiner autoimmune hemolytic anemia temporally associated with institution of plasmapheresis. Crit Care Med. 2002 Apr. 30(4):931-4. [Medline].

Teachey DT, Felix CA. Development of cold agglutinin autoimmune hemolytic anemia during treatment for pediatric acute lymphoblastic leukemia. J Pediatr Hematol Oncol. 2005 Jul. 27(7):397-9. [Medline].

Giulino LB, Bussel JB, Neufeld EJ. Treatment with rituximab in benign and malignant hematologic disorders in children. J Pediatr. 2007 Apr. 150(4):338-44, 344.e1. [Medline]. [Full Text].

Webster D, Ritchie B, Mant MJ. Prompt response to rituximab of severe hemolytic anemia with both cold and warm autoantibodies. Am J Hematol. 2004 Apr. 75(4):258-9. [Medline]. [Full Text].

Berentsen S, Ulvestad E, Tjonnfjord GE. B-lymphocytes as targets for therapy in chronic cold agglutinin disease. Cardiovasc Hematol Disord Drug Targets. 2007 Sep. 7(3):219-27. [Medline].

Berentsen S, Randen U, Vagan AM, Hjorth-Hansen H, Vik A, Dalgaard J. High response rate and durable remissions following fludarabine and rituximab combination therapy for chronic cold agglutinin disease. Blood. 2010 Oct 28. 116(17):3180-4. [Medline].

Shapiro R, Chin-Yee I, Lam S. Eculizumab as a bridge to immunosuppressive therapy in severe cold agglutinin disease of anti-Pr specificity. Clin Case Rep. 2015 Nov. 3 (11):942-4. [Medline].

Inaba H, Geiger TL, Lasater OE, Wang WC. A case of hemoglobin SC disease with cold agglutinin-induced hemolysis. Am J Hematol. 2005 Jan. 78(1):37-40. [Medline]. [Full Text].

Batalias L, Trakakis E, Loghis C, et al. Autoimmune hemolytic anemia caused by cold agglutinins in a young pregnant woman. J Matern Fetal Neonatal Med. 2006 Apr. 19(4):251-3. [Medline].

Atkinson VP, Soeding P, Horne G, Tatoulis J. Cold agglutinins in cardiac surgery: management of myocardial protection and cardiopulmonary bypass. Ann Thorac Surg. 2008 Jan. 85(1):310-1. [Medline].

Aoki A, Kay GL, Zubiate P, Ruggio J, Kay JH. Cardiac operation without hypothermia for the patient with cold agglutinin. Chest. 1993 Nov. 104(5):1627-9. [Medline].

Barbara DW, Mauermann WJ, Neal JR, Abel MD, Schaff HV, Winters JL. Cold agglutinins in patients undergoing cardiac surgery requiring cardiopulmonary bypass. J Thorac Cardiovasc Surg. 2013 Sep. 146(3):668-80. [Medline].

Hippe E, Jensen KB, Olesen H, Lind K, Thomsen PE. Chlorambucil treatment of patients with cold agglutinin syndrome. Blood. 1970 Jan. 35(1):68-72. [Medline]. [Full Text].

O'Connor BM, Clifford JS, Lawrence WD, Logue GL. Alpha-interferon for severe cold agglutinin disease. Ann Intern Med. 1989 Aug 1. 111(3):255-6. [Medline].
Medscape Reference © 2011 WebMD, LLC