Complement Deficiencies
Author: Robert A Schwartz, MD, MPH; Chief Editor: Michael A Kaliner, MD more...
Updated: Jul 15, 2016
What would you like to print?
Background
The complement system is part of the innate immune system. The complement system plays an important part in defense against pyogenic organisms. It promotes the inflammatory response, eliminates pathogens, and enhances the immune response. Deficiencies in the complement cascade can lead to overwhelming infection and sepsis.
In addition to playing an important role in host defense against infection, the complement system is a mediator in both the pathogenesis and prevention of immune complex diseases, such as systemic lupus erythematosus (SLE). These findings underscore the duality of the complement system. It has a protective effect when functioning in moderation against pathogens; at the same time, the inflammation promoted by complement activation can result in cellular damage when not kept in check.
Complement deficiencies are said to comprise between 1 and 10% of all primary immunodeficiencies.[1] The genetic deficiency of early components of the classical pathway (C1q, C1r/s, C2, C4) tend to be linked with autoimmune diseases[2] , whereas C5 to C9 may have enhanced susceptibilty to meningococcal disease. Some new clinical entities are linked with partial complement defects.
Cases of complement deficiency have helped defined the role of complement in host defense.[3] A registry of complement deficiencies has been established as a means to promote joint projects on treatment and prevention of diseases associated with defective complement function. Knowledge about the complement system is expanding. New studies point to the complex interplay between the complement cascade and adaptive immune response, and complement is also being studied in association with ischemic injury as a target of therapy. Although the complement system is part of the body's innate, relatively nonspecific defense against pathogens, its role is hardly primitive or easily understood. This article outlines some of the disease states associated with complement deficiencies and their clinical implications.[4]
Genes that encode the proteins of complement components or their isotypes are distributed throughout different chromosomes, with 19 genes comprising 3 significant complement gene clusters in the human genome.[5] Genetic deficiency of C1q, C1r/s, C2, C4, and C3 is associated with autoimmune diseases, whereas deficiency of C5, C6, C7, C8, C9 increase susceptibility to infections.
Pathophysiology
The complement cascade consists of 3 separate pathways that converge in a final common pathway. The pathways include the classical pathway (C1qrs, C2, C4), the alternative pathway (C3, factor B, properdin), and the lectin pathway (mannan-binding lectin [MBL]). The classical pathway is triggered by interaction of the Fc portion of an antibody (immunoglobulin [Ig] M, IgG1, IgG2, IgG3) or C-reactive protein with C1q. The alternative pathway is activated in an antibody-independent manner. Lectins activate the lectin pathway in a manner similar to the antibody interaction with complement in the classical pathway. These 3 pathways converge at the component C3. Although each branch is triggered differently, the common goal is to deposit clusters of C3b on a target. This deposition provides for the assembly of the membrane attack complex (MAC), components C5b-9. The MAC exerts powerful killing activity by creating perforations in cellular membranes. See the image below.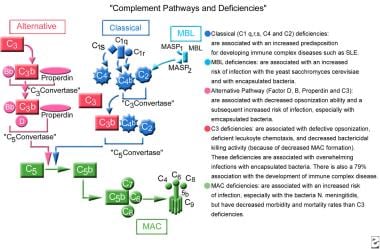 Complement pathways and deficiencies.
Deficiencies in complement predispose patients to infection via 2 mechanisms: (1) ineffective opsonization and (2) defects in lytic activity (defects in MAC). Specific complement deficiencies are also associated with an increased risk of developing autoimmune disease, such as SLE.
An intricate system regulates complement activity. The important components of this system are various cell membrane–associated proteins such as complement receptor 1 (CR1), complement receptor 2 (CR2), and decay accelerating factor (DAF).
In addition to these cell surface–associated proteins, other plasma proteins regulate specific steps of the classic or alternative pathway; for example, the proteins factor H and factor I inhibit the formation of the enzyme C3 convertase of the alternative pathway. Similarly, the enzyme C1q esterase acts as an inhibitor of the classic pathway serine proteases C1r and C1s. Deficiency of any of these regulatory proteins results in a state of overactivation of the complement system, with damaging inflammatory effects.[6] Two clinical manifestations of such deficiencies are paroxysmal nocturnal hemoglobinuria and hereditary angioedema, both of which are discussed in other Medscape Reference articles (see Paroxysmal Nocturnal Hemoglobinuria and Angioedema).
Epidemiology
Frequency
International
Complement deficiencies are relatively rare worldwide, and estimates of prevalence are based on results from screening high-risk populations. Retrospective studies of persons with frequent meningococcal infections report varying prevalence based on geographic location. In populations with recurrent meningococcal infection, the prevalence rate is as high as 30%. Individuals with C1q deficiency have a 93% chance of developing SLE. Similarly, C1rs deficiency has a 57% association with SLE and C4 deficiency has a 75% association with SLE.
Mortality/Morbidity
See the list below:
Individuals with complement deficiencies that hinder opsonization present with frequent recurrent infections and a high rate of morbidity and mortality. Deficiency of C3, the major opsonin, results in recurrent pyogenic infections, particularly with encapsulated bacteria.

Deficiencies of early classical pathway components (C1, C4, C2) do not usually predispose individuals to severe infections but are associated with autoimmune disorders, especially SLE.

Patients with a defect in formation of the MAC have a lesser degree of morbidity and mortality than, for example, patients with a defect in C3; the deficiency in the lytic component of the complement cascade is thought to have some protective effect against the generation of full-blown sepsis. These patients are at high risk for recurrent infection with Neisseria gonorrhoeae or Neisseria meningitidis. Severe pyogenic infections and sepsis occur in children and neonates who have a deficiency of a MAC component.
Race
See the list below:
While no definitive racial patterns of association have been established for the majority of complement deficiencies, ethnic predispositions have been described for certain complement deficiencies. For example, deficiencies in properdin and C2 have been associated with the white race, C6 deficiencies have been shown to have a possible predisposition in African populations, and deficiencies in C8 and C9 have been associated with an Asian racial background. More specifically, 2 functionally distinct C8 deficiency states have been described: C8 alpha-gamma deficiency seen mostly in persons of Afro-Caribbean, Hispanic, and Japanese descent; and C8beta, mainly evident in persons of Caucasian descent.

[7]

However, for most of these deficiencies, the absolute number of patients studied has been quite small.
Sex
See the list below:
Most complement deficiencies affect both sexes equally.

The majority of complement deficiencies are inherited in an autosomal recessive pattern (although MBL deficiency has been described as having both an autosomal dominant and recessive pattern). An exception to the autosomal pattern of inheritance is properdin deficiency, which is an X-linked trait.
Age
See the list below:
Individuals with complement deficiencies that hinder opsonization often present at an early age (months to a few years) because of increased susceptibility to overwhelming infection.

Patients with deficiencies in formation of the MAC tend to present when slightly older (late-teenage years).

Complement deficiencies associated with immune complex diseases, such as SLE, do not show a clear pattern of age at first presentation.
References
Grumach AS, Kirschfink M. Are complement deficiencies really rare? Overview on prevalence, clinical importance and modern diagnostic approach. Mol Immunol. 2014 Oct. 61(2):110-117. [Medline].

Bryan AR, Wu EY. Complement deficiencies in systemic lupus erythematosus. Curr Allergy Asthma Rep. 2014 Jul. 14(7):448. [Medline].

Botto M, Kirschfink M, Macor P, Pickering MC, Wurzner R, Tedesco F. Complement in human diseases: Lessons from complement deficiencies. Mol Immunol. 2009 Sep. 46(14):2774-83. [Medline].

Skattum L, van Deuren M, van der Poll T, Truedsson L. Complement deficiency states and associated infections. Mol Immunol. 2011 Aug. 48(14):1643-55. [Medline].

Mayilyan KR. Complement genetics, deficiencies, and disease associations. Protein Cell. 2012 Jul. 3(7):487-96. [Medline].

Roumenina LT, Sène D, Radanova M, Blouin J, Halbwachs-Mecarelli L, Dragon-Durey MA, et al. Functional complement C1q abnormality leads to impaired immune complexes and apoptotic cell clearance. J Immunol. 2011 Oct 15. 187(8):4369-73. [Medline].

Arnold DF, Roberts AG, Thomas A, Ferry B, Morgan BP, Chapel H. A novel mutation in a patient with a deficiency of the eighth component of complement associated with recurrent meningococcal meningitis. J Clin Immunol. 2009 Sep. 29(5):691-5. [Medline].

Sonea MJ, Moroz BE, Reece ER. Leiner's disease associated with diminished third component of complement. Pediatr Dermatol. 1987 Aug. 4(2):105-7. [Medline].

Goodyear HM, Harper JI. Leiner's disease associated with metabolic acidosis. Clin Exp Dermatol. 1989 Sep. 14(5):364-6. [Medline].

Arnaout R, Al Shorbaghi S, Al Dhekri H, et al. C5 Complement Deficiency in a Saudi Family, Molecular Characterization of Mutation and Literature Review. J Clin Immunol. 2013 Feb 1. [Medline].

Degn SE, Jensenius JC, Thiel S. Disease-causing mutations in genes of the complement system. Am J Hum Genet. 2011 Jun 10. 88(6):689-705. [Medline]. [Full Text].

Peerschke EI, Yin W, Alpert DR, Roubey RA, Salmon JE, Ghebrehiwet B. Serum complement activation on heterologous platelets is associated with arterial thrombosis in patients with systemic lupus erythematosus and antiphospholipid antibodies. Lupus. 2009 May. 18(6):530-8. [Medline]. [Full Text].

Dellepiane RM, Dell'Era L, Pavesi P, Macor P, Giordano M, De Maso L, et al. Invasive meningococcal disease in three siblings with hereditary deficiency of the 8(th) component of complement: evidence for the importance of an early diagnosis. Orphanet J Rare Dis. 2016 May 17. 11 (1):64. [Medline].

Kotilainen H, Lokki ML, Paakkanen R, Seppänen M, Tukiainen P, Meri S, et al. Complement C4 deficiency--a plausible risk factor for non-tuberculous mycobacteria (NTM) infection in apparently immunocompetent patients. PLoS One. 2014. 9(3):e91450. [Medline]. [Full Text].

Janzi M, Sjoberg R, Wan J, et al. Screening for C3 deficiency in newborns using microarrays. PLoS One. 2009. 4(4):e5321. [Medline]. [Full Text].

Audemard-Verger A, Descloux E, Ponard D, Deroux A, Fantin B, et al. Infections Revealing Complement Deficiency in Adults: A French Nationwide Study Enrolling 41 Patients. Medicine (Baltimore). 2016 May. 95 (19):e3548. [Medline].

Beynon HL, Davies KA, Haskard DO, Walport MJ. Erythrocyte complement receptor type 1 and interactions between immune complexes, neutrophils, and endothelium. J Immunol. 1994 Oct 1. 153(7):3160-7. [Medline].

Brandtzaeg P, Mollnes TE, Kierulf P. Complement activation and endotoxin levels in systemic meningococcal disease. J Infect Dis. 1989 Jul. 160(1):58-65. [Medline].

Carroll MC. The role of complement in B cell activation and tolerance. Adv Immunol. 2000. 74:61-88. [Medline].

Davies KA, Erlendsson K, Beynon HL, et al. Splenic uptake of immune complexes in man is complement-dependent. J Immunol. 1993 Oct 1. 151(7):3866-73. [Medline].

Davies KA, Peters AM, Beynon HL, Walport MJ. Immune complex processing in patients with systemic lupus erythematosus. In vivo imaging and clearance studies. J Clin Invest. 1992 Nov. 90(5):2075-83. [Medline].

Dempsey PW, Allison ME, Akkaraju S, et al. C3d of complement as a molecular adjuvant: bridging innate and acquired immunity. Science. 1996 Jan 19. 271(5247):348-50. [Medline].

Densen P, Weiler JM, Griffiss JM, Hoffmann LG. Familial properdin deficiency and fatal meningococcemia. Correction of the bactericidal defect by vaccination. N Engl J Med. 1987 Apr 9. 316(15):922-6. [Medline].

Doody GM, Dempsey PW, Fearon DT. Activation of B lymphocytes: integrating signals from CD19, CD22 and Fc gamma RIIb1. Curr Opin Immunol. 1996 Jun. 8(3):378-82. [Medline].

Fauci A, Braunwald E, Isselbacher KJ. Meningococcal Infections. Fauci A, Braunwald E, Isselbacher KJ, Wilson JD, Martin JB, Kasper DL, Hauser SL, Longo DL, Harrison TR. Harrison's Principles of Internal Medicine. 14th ed. New York, NY: McGraw-Hill; 1998. 910-5.

Figueroa JE, Densen P. Infectious diseases associated with complement deficiencies. Clin Microbiol Rev. 1991 Jul. 4(3):359-95. [Medline]. [Full Text].

Frank MM. Complement deficiencies. Pediatr Clin North Am. 2000 Dec. 47(6):1339-54. [Medline].

Girardin E, Grau GE, Dayer JM, et al. Tumor necrosis factor and interleukin-1 in the serum of children with severe infectious purpura. N Engl J Med. 1988 Aug 18. 319(7):397-400. [Medline].

Goodnow CC. Pathways for self-tolerance and the treatment of autoimmune diseases. Lancet. 2001 Jun 30. 357(9274):2115-21. [Medline].

Kang HJ, Kim HS, Lee YK, Cho HC. High incidence of complement C9 deficiency in Koreans. Ann Clin Lab Sci. 2005. 35(2):144-8. [Medline].

Kuby J. The Complement System. Immunology. 3rd ed. New York, NY: WH Freeman; 1997. 335-55.

Lehner PJ, Davies KA, Walport MJ, et al. Meningococcal septicaemia in a C6-deficient patient and effects of plasma transfusion on lipopolysaccharide release. Lancet. 1992 Dec 5. 340(8832):1379-81. [Medline].

Leitao MF, Vilela MM, Rutz R, et al. Complement factor I deficiency in a family with recurrent infections. Immunopharmacology. 1997 Dec. 38(1-2):207-13. [Medline].

Lutz HU. How pre-existing, germline-derived antibodies and complement may help induce a primary immune response to nonself. Scand J Immunol. 1999 Mar. 49(3):224-8. [Medline].

Manzi S, Ahearn JM, Salmon J. New insights into complement: a mediator of injury and marker of disease activity in systemic lupus erythematosus. Lupus. 2004. 13(5):298-303. [Medline].

Medof ME, Iida K, Mold C, Nussenzweig V. Unique role of the complement receptor CR1 in the degradation of C3b associated with immune complexes. J Exp Med. 1982 Dec 1. 156(6):1739-54. [Medline].

Pickering MC, Botto M, Taylor PR, et al. Systemic lupus erythematosus, complement deficiency, and apoptosis. Adv Immunol. 2000. 76:227-324. [Medline].

Prodinger WM. Complement receptor type two (CR2,CR21): a target for influencing the humoral immune response and antigen-trapping. Immunol Res. 1999. 20(3):187-94. [Medline].

Ross GD, Yount WJ, Walport MJ, et al. Disease-associated loss of erythrocyte complement receptors (CR1, C3b receptors) in patients with systemic lupus erythematosus and other diseases involving autoantibodies and/or complement activation. J Immunol. 1985 Sep. 135(3):2005-14. [Medline].

Rother K, Till GO, Hansch GM, eds. The Complement System. New York, NY: Springer-Verlag; 1997.

Schlesinger M, Nave Z, Levy Y, et al. Prevalence of hereditary properdin, C7 and C8 deficiencies in patients with meningococcal infections. Clin Exp Immunol. 1990 Sep. 81(3):423-7. [Medline].

Soderstrom C, Braconier JH, Danielsson D, Sjoholm AG. Bactericidal activity for Neisseria meningitidis in properdin-deficient sera. J Infect Dis. 1987 Jul. 156(1):107-12. [Medline].

Sullivan KE, Winkelstein JA. Genetically Determined Deficiencies of the Complement System. Ochs HD, Edvard Smith CI, Puck J. Primary Immunodeficiency Diseases: A Molecular and Genetic Approach. New York, NY: Oxford University Press; 1999. 397-416.

Sumiya M, Super M, Tabona P, et al. Molecular basis of opsonic defect in immunodeficient children. Lancet. 1991 Jun 29. 337(8757):1569-70. [Medline].

Summerfield JA, Sumiya M, Levin M, Turner MW. Association of mutations in mannose binding protein gene with childhood infection in consecutive hospital series. BMJ. 1997 Apr 26. 314(7089):1229-32. [Medline].

Super M, Thiel S, Lu J, et al. Association of low levels of mannan-binding protein with a common defect of opsonisation. Lancet. 1989 Nov 25. 2(8674):1236-9. [Medline].

Tolnay M, Tsokos GC. Complement receptor 2 in the regulation of the immune response. Clin Immunol Immunopathol. 1998 Aug. 88(2):123-32. [Medline].

Turner MW. Mannose-binding lectin: the pluripotent molecule of the innate immune system. Immunol Today. 1996 Nov. 17(11):532-40. [Medline].

Volanakis JE, Frank MM, eds. The Human Complement System in Health and Disease. New York, NY: Marcel Dekker; 1998.

Walport MJ. Complement. First of two parts. N Engl J Med. 2001 Apr 5. 344(14):1058-66. [Medline].

Walport MJ. Complement. Second of two parts. N Engl J Med. 2001 Apr 12. 344(15):1140-4. [Medline].

Walport MJ, Davies KA, Botto M. C1q and systemic lupus erythematosus. Immunobiology. 1998 Aug. 199(2):265-85. [Medline].

Walport MJ, Lachmann PJ. Erythrocyte complement receptor type 1, immune complexes, and the rheumatic diseases. Arthritis Rheum. 1988 Feb. 31(2):153-8. [Medline].

Wisnieski JJ, Baer AN, Christensen J, et al. Hypocomplementemic urticarial vasculitis syndrome. Clinical and serologic findings in 18 patients. Medicine (Baltimore). 1995 Jan. 74(1):24-41. [Medline].

Zipfel PF, Heinen S, Jozsi M, Skerka C. Complement and diseases: defective alternative pathway control results in kidney and eye diseases. Mol Immunol. 2006 Jan. 43(1-2):97-106.
Medscape Reference © 2011 WebMD, LLC