Pediatric Fixed Knee Flexion Deformities Treatment & Management
Author: Peter M Stevens, MD; Chief Editor: Dennis P Grogan, MD more...
Updated: Aug 16, 2013
What would you like to print?
Medical Therapy
Medical therapy for fixed knee flexion deformity (FKFD) usually consists of Botox injections in the hamstrings or baclofen administered orally or through an intrathecal pump (for cerebral palsy). This is only useful for the dynamic component of crouch gait; it may be an adjunct to osteotomy or guided growth. The patient is often working with a physical therapist on hamstring stretching, quadriceps strengthening, and gait training. This is suitable for younger patients, but after the age of 10 years, deformities are likely to progress despite concerted efforts to the contrary.
Surgical Therapy
Posterior capsulotomy/hamstring recession
This relatively invasive soft tissue procedure poses some risks to the posterior neurovascular structures and requires immobilization with braces, casts, or frames.
Osteotomy
Supracondylar extension osteotomy of the femora has a long track record and is the default mode for many surgeons. Unfortunately, there are associated drawbacks, not the least of which is recurrence with growth, thus mitigating the temporary benefit of this maximally invasive treatment. The varied techniques, tricks, results, and complications have been well described in standard textbooks and journals.
Frame distraction
With or without soft tissue release, some authors favor frame distraction as a means of gradual correction of fixed knee flexion deformity (FKFD). However, the bilateral nature of these problems makes this method relatively expensive and unwieldy. Furthermore, even with protracted bracing, recurrence is relatively common.
Guided growth
Guided growth is a new concept that consists of anterior hemiepiphysiodesis of the distal femora. Originally accomplished with staples, it became apparent that some children were relatively small for the Blount staples.[20] These rigid devices would occasionally migrate or permit relatively slow correction. Using a pair of 8-plates as an alternative has resolved the problem of hardware migration and enabled more rapid correction. The titanium plates, though intracapsular, are nonarticular, being placed medial and lateral to the patellofemoral sulcus. Thus, they are well tolerated, even by young children.
Preoperative Details
Guided growth
If one elects to employ guided growth, it is important to ascertain whether the distal femoral physes are open and whether there is, ideally, 12 months or more of predicted growth remaining. The decision to undertake concomitant multilevel reconstructive procedures, including hamstring recession for dynamic contracture, is left to the discretion of the surgeon.
Note, however, that as fixed knee flexion deformity (FKFD) gradually corrects, there may be beneficial effects upon the hip, spine, and ankle. Therefore, it may be wise to await full knee extension and address residual deformities at the time of 8-plate removal.
Intraoperative Details
Guided growth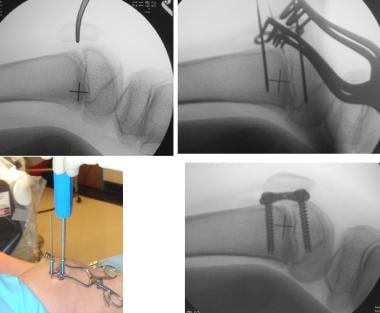 With the C-arm in the lateral, horizontal position, the physis is localized. A Keith needle is placed in the physis, and two 1.6-mm guide pins are inserted: one medial and one lateral to the sulcus. The cannulated 4.5-mm screws are then inserted. They need not be parallel, but they should not transgress the physis, joint, or posterior cortex.
See the list below:
Supine position with knee flexed on bolster

Tourniquet control

Image intensifier: parked in cross-table, horizontal position

Two incisions (3 cm long), medial and lateral to the patella

Open capsule and synovium

Place Keith or similar needle (sequentially) into anteromedial and anterolateral physis

Apply 8-plate (Orthofix): usually 16-mm size

Introduce 1.6 guide pins: first the epiphyseal, then metaphyseal

Pins need not be parallel but should avoid the physis and joint

Predrill cortex (5-mm depth)

Insert the 4.5-mm titanium, self-tapping, cannulated screws (24- or 32-mm size)

Soft dressing
Postoperative Details
See the list below:
Typically, either as outpatient or with an overnight stay

Immediate range of motion and weight bearing are encouraged

Resume bracing and physical therapy as indicated

One study found that in children with cerebral palsy, the pain pump is effective in postoperative pain management after lower extremity orthopedic procedures.

[23]
Follow-up
See the list below:
At 3-month intervals, to measure fixed knee flexion deformity (FKFD) and assess gait

Functional limb length and stride length will improve as the knee straightens

Remove plates if/when knee is fully extended (avoid recurvatum)

Reinsert plates as needed if FKFD recurs with growth

Follow-up until skeletal maturity
Complications
Posterior capsulotomy
See the list below:
Neurovascular damage

Undercorrection or overcorrection (PCL release)

Recurrent deformity
Supracondylar osteotomy
See the list below:
Neurovascular damage

Loss of fixation

Undercorrection or overcorrection: 2 º varus or valgus

Pathologic fracture

Recurrent deformity
Frame distraction
See the list below:
Pin tract problems

Infection

Recurrent deformity
Guided growth
See the list below:
Undercorrection: if not enough growth remaining

Overcorrection: if lost to follow-up

Recurrent deformity

Premature growth arrest will not occur if the periosteum is protected
When compared to the other options, guided growth has far fewer risks and complications and is more cost-effective. The procedure is well tolerated, and the recovery is rapid. It may be repeated as necessary and is readily combined with other procedures as indicated.
Outcome and Prognosis
The natural history of fixed knee flexion deformity (FKFD) is insidious progression despite bracing, therapy, and even repeated surgical intervention. The goal of treatment is to maintain standing and, hopefully, walking ability while minimizing complications and encumbrance.
One must weigh the risk-to-benefit ratio of any invasive treatment, recognizing that it may need to be repeated. Like so many conditions, it is appealing to consider early intervention, before the onset of secondary problems such as patellar migration or fragmentation. With this in mind, repeated guided growth may be the pathway of least harm and maximum benefit.
In a clinical series of 18 patients with 29 cases of FKFD, the rate of correction was 1.74 º per month; the highest rate noted was nearly 4 º per month. Without the need for immobilization, these children have experienced rapid recovery with minimal setbacks from the surgery.
Future and Controversies
There may eventually be other methods of temporary physeal restraint. The allure of biodegradable implants or remote-control techniques by electronic or radiofrequency methodology will undoubtedly spur further research.
References
van der Krogt MM, Bregman DJ, Wisse M, Doorenbosch CA, Harlaar J, Collins SH. How crouch gait can dynamically induce stiff-knee gait. Ann Biomed Eng. 2010 Apr. 38(4):1593-606. [Medline].

Dias LS. Surgical management of knee contractures in myelomeningocele. J Pediatr Orthop. 1982 Jun. 2(2):127-31. [Medline].

Wright JG, Menelaus MB, Broughton NS, Shurtleff D. Natural history of knee contractures in myelomeningocele. J Pediatr Orthop. 1991 Nov-Dec. 11(6):725-30. [Medline].

McNee AE, Shortland AP, Eve LC, Robinson RO, Gough M. Lower limb extensor moments in children with spastic diplegic cerebral palsy. Gait Posture. 2004 Oct. 20(2):171-6. [Medline].

Thomson JD, Segal LS. Orthopedic management of spina bifida. Dev Disabil Res Rev. 2010. 16(1):96-103. [Medline].

O'Sullivan R, Walsh M, Kiernan D, O'Brien T. The knee kinematic pattern associated with disruption of the knee extensor mechanism in ambulant patients with diplegic cerebral palsy. Clin Anat. 2010 Jul. 23(5):586-92. [Medline].

Palocaren T, Thabet AM, Rogers K, Holmes L Jr, Donohoe M, King MM, et al. Anterior distal femoral stapling for correcting knee flexion contracture in children with arthrogryposis--preliminary results. J Pediatr Orthop. 2010 Mar. 30(2):169-73. [Medline].

Allison AS, Anderson FC, Pandy MG, Delp SL. Muscular Contributions to Hip and Knee Extension During the Single Limb Stance Phase of Normal Gait: a Framework for Investigating the Causes of Crouch Gait. Journal of Biomechanics. 2005. 38:2181-2189.

Delp SL, Arnold AS, Piazza SJ. Graphics-based modeling and analysis of gait abnormalities. Biomed Mater Eng. 1998. 8(3-4):227-40. [Medline].

Wren TA, Rethlefsen S, Kay RM. Prevalence of specific gait abnormalities in children with cerebral palsy: influence of cerebral palsy subtype, age, and previous surgery. J Pediatr Orthop. 2005 Jan-Feb. 25(1):79-83. [Medline].

Williams JJ, Graham GP, Dunne KB, Menelaus MB. Late knee problems in myelomeningocele. J Pediatr Orthop. 1993 Nov-Dec. 13(6):701-3. [Medline].

Thompson NS, Baker RJ, Cosgrove AP, Saunders JL, Taylor TC. Relevance of the popliteal angle to hamstring length in cerebral palsy crouch gait. J Pediatr Orthop. 2001 May-Jun. 21(3):383-7. [Medline].

Gaurav K, Vilas J. A new approach to the management of fixed flexion deformity of the knee using Ilizarov's principle of distraction histogenesis: a preliminary communication. Int J Low Extrem Wounds. 2010 Jun. 9(2):70-3. [Medline].

Hoffinger SA, Rab GT, Abou-Ghaida H. Hamstrings in cerebral palsy crouch gait. J Pediatr Orthop. 1993 Nov-Dec. 13(6):722-6. [Medline].

van der Krogt MM, Doorenbosch CA, Harlaar J. Muscle length and lengthening velocity in voluntary crouch gait. Gait Posture. 2007 Oct. 26(4):532-8. [Medline].

Delp SL, Arnold AS, Speers RA, Moore CA. Hamstrings and psoas lengths during normal and crouch gait: implications for muscle-tendon surgery. J Orthop Res. 1996 Jan. 14(1):144-51. [Medline].

Rodda JM, Graham HK, Nattrass GR, Galea MP, Baker R, Wolfe R. Correction of severe crouch gait in patients with spastic diplegia with use of multilevel orthopaedic surgery. J Bone Joint Surg Am. 2006 Dec. 88(12):2653-64. [Medline].

Kavitha R, Benjamin J, Susan B, Vineet M, Binay R. Physiological Cost Index in Cerebral Palsy: Its Role in Evaluating the Efficiency of Ambulation. J Pediatr Orthop. 2007. 27:130-136.

Devalia KL, Fernandes JA, Moras P, Pagdin J, Jones S, Bell MJ. Joint distraction and reconstruction in complex knee contractures. J Pediatr Orthop. 2007 Jun. 27(4):402-7. [Medline].

Kramer A, Stevens PM. Anterior femoral stapling. J Pediatr Orthop. 2001 Nov-Dec. 21(6):804-7. [Medline].

Gannotti ME, Gorton GE 3rd, Nahorniak MT, Masso PD, Landry B, Lyman J, et al. Postoperative gait velocity and mean knee flexion in stance of ambulatory children with spastic diplegia four years or more after multilevel surgery. J Pediatr Orthop. 2007 Jun. 27(4):451-6. [Medline].

Nene AV, Evans GA, Patrick JH. Simultaneous multiple operations for spastic diplegia. Outcome and functional assessment of walking in 18 patients. J Bone Joint Surg Br. 1993 May. 75(3):488-94. [Medline].

Muthusamy K, Recktenwall SM, Friesen RM, Zuk J, Gralla J, Miller NH, et al. Effectiveness of an anesthetic continuous-infusion device in children with cerebral palsy undergoing orthopaedic surgery. J Pediatr Orthop. 2010 Dec. 30(8):840-5. [Medline].

Gage JR. Gait Analysis in Cerebral Palsy (Clinics in Medicine [Mac Keith Press]). Cambridge University Press; 1991.

Gage JR. Surgical treatment of knee dysfunction in cerebral palsy. Clin Orthop Relat Res. 1990 Apr. 45-54. [Medline].

Klatt J, Stevens PM. Guided growth for fixed knee flexion deformity. J Pediatr Orthop. 2008 Sep. 28(6):626-31. [Medline].

Maquet PG. Biomechanics of the Knee. Springer-Verlag Berlin and Heidelberg GmbH and Co. KG; 1989. 306pp.

Mielke CH, Stevens PM. Hemiepiphyseal stapling for knee deformities in children younger than 10 years: a preliminary report. J Pediatr Orthop. 1996 Jul-Aug. 16(4):423-9. [Medline].

Nakase T, Kitano M, Kawai H, Ueda T, Higuchi C, Hamada M, et al. Distraction osteogenesis for correction of three-dimensional deformities with shortening of lower limbs by Taylor Spatial Frame. Arch Orthop Trauma Surg. 2008 Sep 11. [Medline].

Paley D, Herzenberg JE. Principles of Deformity Correction: Exercise Workbook. Springer; 2003. 460pp.

Pauwels F. Biomechanics of the Locomotor Apparatus. Springer Verlag Berlin and Heidelberg GmBH and Co. KG; 1980. 518pp.

Stout JL, Gage JR, Schwartz MH, Novacheck TF. Distal femoral extension osteotomy and patellar tendon advancement to treat persistent crouch gait in cerebral palsy. J Bone Joint Surg Am. 2008 Nov. 90(11):2470-84. [Medline].
Medscape Reference © 2011 WebMD, LLC