Compartment Pressure Measurement Periprocedural Care
Author: Liudvikas Jagminas, MD, FACEP; Chief Editor: Erik D Schraga, MD more...
Updated: May 16, 2016
What would you like to print?
Equipment
The equipment employed for compartment pressure monitoring includes the following:
Stryker Intra-Compartmental Pressure Monitor System (Stryker Surgical, Kalamazoo, MI; see the first image below)

Syringe, prefilled with saline

Side-port needle

Diaphragm chamber

Arterial line transducer system (see the second image below) - This system, used with a simple or side-port needle, provides a high degree of accuracy for simple episodic readings; the commercially available Stryker system (see the first image below) provides consistent accurate readings for episodic and extended monitoring situations; the mercury manometer system is the least accurate measurement system, is no longer available, and therefore is not described here

Intracompartment needle - Needles available for placement into the compartment for pressure measurement include a simple 18-gauge needle, an 18-gauge spinal needle (for deep compartments), and the side-port needle (Stryker); the side-port needle and slit catheter have comparable efficacy in this setting, whereas a simple 18-gauge needle is less precise

High-pressure tubing

Pressure transducer with cable

Pressure monitor/module

Sterile saline

Transducer stand that allows variable height

Two three-way stopcocks

Syringe, 20 mL

Stryker.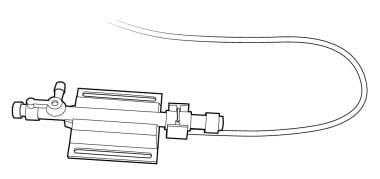 Arterial line transducer.
Patient Preparation
Anesthesia
The skin should be anesthetized with a small amount of local anesthetic, with care taken to avoid injection into muscle or fascia. Excessive deep infiltration may falsely elevate the compartment pressure reading. Lidocaine 1-2% without epinephrine is sufficient to provide local anesthesia (see Local Anesthetic Agents, Infiltrative Administration).
Consider procedural sedation and analgesia in any patient who may be uncooperative and unable to hold the extremity still during the procedure. Any struggling or movement that requires restraint of the extremity may falsely elevate the compartment pressure.
Positioning
The positioning of the patient and the extremity for compartment pressure measurement depends on the extremity being studied, the compartment being studied, and the presence or absence of coexisting injury.
Patients should be comfortable, usually in the supine or prone position. The compartment to be measured should be at the same level as the heart. The patient and extremity should be positioned so that the needle can be introduced perpendicularly to the muscular compartment being measured. Remove any obstructions at the needle's entry point into the skin, as well as all structures that may put pressure on the compartment and falsely elevate the pressure.
References
Matsen FA. Compartmental syndromes. Grune & Stratton; 1980.

Roed C, Bayer L, Lebech AM, Poulsen JB, Katzenstein T. [Compartment syndrome following adder bites]. Ugeskr Laeger. 2009 Jan 26. 171(5):327-8. [Medline].

Von Volkmann R. Verletzungen und Krankheiten der Bewegungsorgane. Hanbude der Allgemeinen und Speciellen Chirurgie. 1872.

Liu HL, Wong DS. Gluteal compartment syndrome after prolonged immobilisation. Asian J Surg. 2009 Apr. 32(2):123-6. [Medline].

Frink M, Hildebrand F, Krettek C, Brand J, Hankemeier S. Compartment Syndrome of the Lower Leg and Foot. Clin Orthop Relat Res. 2009 May 27. [Medline].

Olson SA, Glasgow RR. Acute compartment syndrome in lower extremity musculoskeletal trauma. J Am Acad Orthop Surg. 2005 Nov. 13(7):436-44. [Medline].

Badhe S, Baiju D, Elliot R, Rowles J, Calthorpe D. The 'silent' compartment syndrome. Injury. 2009 Feb. 40(2):220-2. [Medline].

Whitesides TE, Haney TC, Morimoto K, Harada H. Tissue pressure measurements as a determinant for the need of fasciotomy. Clin Orthop Relat Res. 1975 Nov-Dec. 43-51. [Medline].

McQueen MM, Christie J, Court-Brown CM. Acute compartment syndrome in tibial diaphyseal fractures. J Bone Joint Surg Br. 1996 Jan. 78(1):95-8. [Medline].

Simon RR, Koenigsknecht SJ. Emergency Orthopedics of the Extremities. 4th. New York: McGraw-Hill Publishing; 2001.

Mubarak SJ, Owen CA, Hargens AR, Garetto LP, Akeson WH. Acute compartment syndromes: diagnosis and treatment with the aid of the wick catheter. J Bone Joint Surg Am. 1978 Dec. 60(8):1091-5. [Medline].

Hargens AR, Schmidt DA, Evans KL, et al. Quantitation of skeletal-muscle necrosis in a model compartment syndrome. J Bone Joint Surg Am. 1981 Apr. 63(4):631-6. [Medline].

Finkelstein JA, Hunter GA, Hu RW. Lower limb compartment syndrome: course after delayed fasciotomy. J Trauma. 1996 Mar. 40(3):342-4. [Medline].

Katz LM, Nauriyal V, Nagaraj S, Finch A, Pearlstein K, Szymanowski A. Infrared imaging of trauma patients for detection of acute compartment syndrome of the leg. Crit Care Med. 2008 Jun. 36(6):1756-61. [Medline].
Medscape Reference © 2011 WebMD, LLC