Partial Orchiectomy Workup
Author: Samuel G Deem, DO; Chief Editor: Bradley Fields Schwartz, DO, FACS more...
Updated: Mar 04, 2014
What would you like to print?
Laboratory Studies
An evaluation of serum tumor markers (alpha-fetoprotein [AFP], beta-human chorionic gonadotropin [bHCG], lactate dehydrogenase [LDH], testosterone) is mandatory in the assessment of any testicular mass. If the marker levels are elevated, testicle-sparing surgery is not an option; the appropriate management is radical orchiectomy. When the marker levels are within the reference range in patients with nonpalpable testicular masses detected incidentally, open excisional biopsy can be offered.
Imaging Studies
The frequency of testicular ultrasonography performed for reasons other than evaluating a testicular mass has been increasing. Other indications for testicular ultrasonography include orchalgia, epididymitis, hydrocele, varicocele, and testicular trauma, among many other conditions. A hypoechoic area within the confines of the tunica albuginea is suspicious for testicular cancer.[9, 10] If this mass is nonpalpable, partial orchiectomy can be considered as a treatment option.[11] See the images below.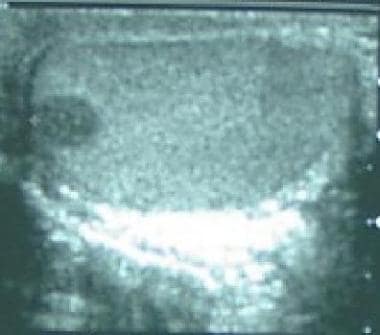 Scrotal sonogram showing a 0.5-cm X 0.6-cm, hypoechoic, parenchymal mass in the left testis of a 24-year-old man with no palpable lesions. Findings of tumor marker studies and abdominal and pelvic CT scanning were negative. He was treated with an open ultrasound-guided excisional biopsy through an inguinal incision.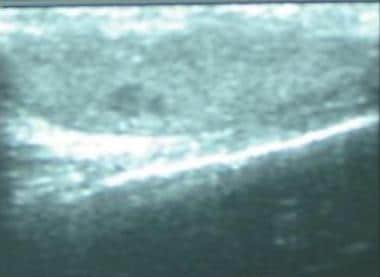 Scrotal sonogram showing a 0.5-cm X 0.4-cm hypoechoic parenchymal mass in the left testis of a 30-year-old man with a nonpalpable testicular mass. Tumor marker results were negative.
Further workup for a testicular mass includes an abdominal CT scanning and chest radiography.
Diagnostic Procedures
Intraoperative ultrasonography with needle localization is used at the time of surgery. Preoperative biopsy is usually not offered in order to prevent altering lymphatic drainage and patterns of lymphatic spread by creating a tract through the scrotum.
Histologic Findings
In some cases, frozen-section analysis at the time of surgery yields false-negative results. Final pathology can reveal testicular carcinoma.
In a study by Powell and Tarter (2006), 50% of patients undergoing open excisional biopsy for a nonpalpable, incidentally detected testicular mass required delayed radical orchiectomy.[12]
In a review of 8 published studies on nonpalpable, incidentally detected testicular masses, cancer was present in 32% (14 of 44) cases.[12, 13, 14, 15, 16, 17, 18, 19] All neoplasms were seminoma except one mature teratoma. This is an important finding in counseling patients, as up to 50% of final pathology specimens can reveal testicular cancer, necessitating radical orchiectomy. See the images below.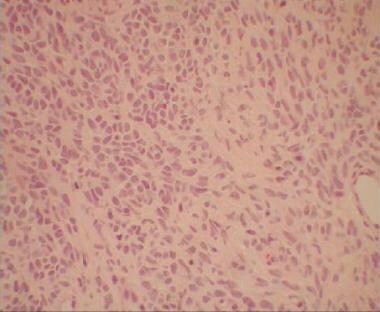 Final pathology showing a sex cord stromal tumor. The testis was spared due to low malignant potential of the neoplasm.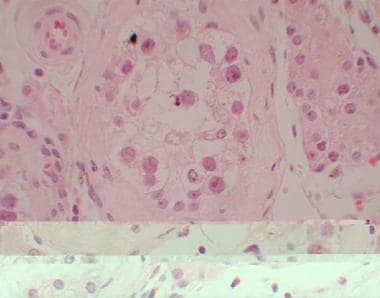 Final pathology showing seminoma. Frozen section revealed a lymphocytic infiltrate with epithelioid cells consistent with granulomatous disease. Treatment was radical orchiectomy. No residual invasive seminoma was found in the orchiectomy specimen.
Staging
The following is the tumor, node, and metastases (TNM) staging system for testicular cancer, developed by the American Joint Committee on Cancer (AJCC):
Primary tumor (T)
See the list below:
pTX - Primary tumor cannot be assessed

pT0 - No evidence of primary tumor

pTis - Intratubular germ cell neoplasia

[20]

pT1 - Tumor limited to the testis and epididymis and no vascular/lymphatic invasion

pT2 - Tumor limited to the testis and epididymis with vascular/lymphatic invasion or tumor extending through the tunica albuginea with involvement of tunica vaginalis

pT3 - Tumor invades the spermatic cord with or without vascular/lymphatic invasion

pT4 - Tumor invades the scrotum with or without vascular/lymphatic invasion
Pathologic regional lymph nodes (N)
See the list below:
pN0 - No regional lymph node metastasis

pN1 - Lymph node mass, 2 cm or less in greatest dimension and 6 or fewer positive nodes, none larger than 2 cm in greatest dimension

pN2 - Lymph node mass, more than 2 cm but not more than 5 cm in greatest dimension; more than 5 nodes positive, none larger than 5 cm; evidence of extranodal extension of tumor

pN3 - Lymph node mass more than 5 cm in greatest dimension
Distant metastases (M)
See the list below:
M0 - No evidence of distant metastases

M1 - Nonregional nodal or pulmonary metastases

M2 - Nonpulmonary visceral masses
References
Rosenfield AT, Hammers LW. Imaging of the testicle: the painful scrotum and nonpalpable masses. Urol Radiol. 1992. 14:229. [Medline].

Richie JP, Steele GS. Neoplasms of the testis. Kavoussi LR, Novick AC, Partin AW, Peters CA, Wein AJ, eds. Campbells-Walsh Urology. 9th ed. Philadelphia, PA: Elsevier; 2007. Vol 1: 893-935.

Richie JP. Detection and treatment of testicular cancer. Cancer J Clin. 1993. 43:151. [Medline].

Lawrentschuk N, Zuniga A, Grabowksi AC, Rendon RA, Jewett MA. Partial orchiectomy for presumed malignancy in patients with a solitary testis due to a prior germ cell tumor: a large North American experience. J Urol. 2011 Feb. 185(2):508-13. [Medline].

Richie JP. Simultaneous bilateral testis tumors with unorthodox management. World J Urol. 1984. 2:74.

American Cancer Society. Cancer Facts and Figures 2012. Available at http://www.cancer.org/research/cancerfactsfigures/cancerfactsfigures/cancer-facts-figures-2012. Accessed: November 5, 2012.

Walsh TJ, Croughan MS, Schembri M, Chan JM, Turek PJ. Increased risk of testicular germ cell cancer among infertile men. Arch Intern Med. 2009 Feb 23. 169(4):351-6. [Medline].

Heidenreich A, Weissbach L, Höltl W, Albers P, Kliesch S, Köhrmann KU, et al. Organ sparing surgery for malignant germ cell tumor of the testis. J Urol. 2001 Dec. 166(6):2161-5. [Medline].

Peterson LJ, Catalona WJ, Koehler RE. Ultrasonic localization of a non-palpable testis tumor. Journal of Urology. 1983. 122:843. [Medline].

Bockrath JM, Schaeffer AJ, Kies MS, Neiman HL. Ultrasound identification of impalpable testicle tumor. J Urol. 1983. 130:355-6. [Medline].

Moudy PC, Makhija JS. Ultrasonic demonstration of a non-palpable testicular tumor. J Clin Ultrasound. 1983 Jan. 11(1):54-5. [Medline].

Powell TM, Tarter TH. Management of nonpalpable incidental testicular masses. J Urol. 2006. 176:96-8. [Medline].

Buckspan MB, Klotz PG, Goldfinger M, Stoll S, Fernandes B. Intraoperative ultrasound in the conservative resection of testicular neoplasms. J Urol. 1989. 141:326-7. [Medline].

Carmignani L, Gadda F, Gazzano G, Nerva F, Mancini M, Ferruti M, et al. High incidence of benign testicular neoplasms diagnosed by ultrasound. J Urol. 2003. 170:1783-6. [Medline].

Comiter CV, Carol JB, Capelouto CC, Kantoff P, Shulman L, Richie JP, et al. Nonpalpable intratesticular masses detected sonographically. J Urol. 1995. 154:1367-9. [Medline].

Corrie D, Mueller EJ, Thompson IM. Management of ultrasonically detected nonpalpable testis masses. Urology. 1991 Nov. 38(5):429-31. [Medline].

Csapo Z, Bornhof C, Giedl J. Impalpable testicular tumors diagnosed by scrotal ultrasonography. Urology. 1988. 32:549-52. [Medline].

Hopps CV, Goldstein M. Ultrasound guided needle localization and microsurgical exploration for incidental nonpalpable testicular tumors. J Urol. 2002. 168:1084-7. [Medline].

Horstman WG, Haluszka MM, Burkhard TK. Management of testicular masses incidentally discovered by ultrasound. J Urol. 1994. 151:1263-5. [Medline].

Bazzi WM, Raheem OA, Stroup SP, Kane CJ, Derweesh IH, Downs TM. Partial orchiectomy and testis intratubular germ cell neoplasia: World literature review. Urol Ann. 2011 Sep. 3(3):115-8. [Medline]. [Full Text].
Medscape Reference © 2011 WebMD, LLC