Cardiac Tamponade Workup
Author: Chakri Yarlagadda, MD, FACC, FSCAI, FASNC, CCDS; Chief Editor: Richard A Lange, MD, MBA more...
Updated: Jan 27, 2015
What would you like to print?
Approach Considerations
As previously stated, prompt diagnosis is key to reducing the mortality risk for patients with cardiac tamponade. Although cardiac tamponade is a clinical diagnosis, further assessment of the patient's condition and diagnosis of the underlying cause of the tamponade can be obtained through lab studies, imaging studies, and electrocardiography.
Echocardiography, for example, can be used to visualize ventricular and atrial compression abnormalities as blood cycles through the heart, while lab studies can demonstrate signs of myocardial infarction, cardiac trauma, and infectious disease.
In July 2014, the European Society of Cardiology (ESC) Working Group on Myocardial and Pericardial Diseases released a stepwise scoring system for treating patients with cardiac tamponade. The system is used to identify patients who need immediate pericardiocentesis and patients who can safely be transferred to a specialized institution.[14, 15]
According to the guidelines, patients with suspected cardiac tamponade should undergo echocardiography without delay. After diagnosis, patients are scored according to disease etiology, clinical presentation, and imaging findings. A score of 6 or more requires the patient to undergo immediate pericardial drainage. A lower score indicates that drainage can be postponed for up to 12 to 48 hours.[14, 15]
Imaging Studies
Chest radiography
Chest radiography findings may show cardiomegaly, a water bottle–shaped heart, pericardial calcifications, or evidence of chest wall trauma. (See the image below.)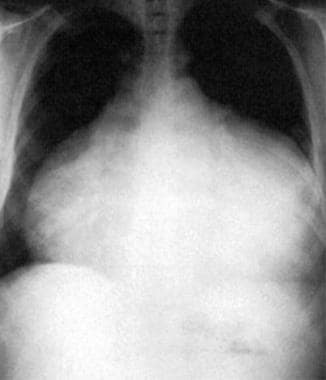 This anteroposterior-view chest radiograph shows a massive, bottle-shaped heart and conspicuous absence of pulmonary vascular congestion. Reproduced with permission from Chest, 1996: 109:825.
A bowed catheter sign on chest radiography in children after central venous catheter insertion may be suggestive of tamponade.[16]
CT scanning
Gold et al reported compression of the coronary sinus as observed through CT scanning as an earlier marker for cardiac tamponade in 46% of patients.[17]
Echocardiography
Although echocardiography provides useful information, cardiac tamponade is a clinical diagnosis. The following may be observed with 2-dimensional (2-D) echocardiography:
An echo-free space posterior and anterior to the left ventricle and behind the left atrium - After cardiac surgery, a localized, posterior fluid collection without significant anterior effusion may occur and may readily compromise cardiac output

Swinging of the heart in its sac

LV pseudohypertrophy

A greater than 40% relative inspiratory augmentation of right-side flow

A greater than 25% relative decrease in inspiratory flow across the mitral valve
Conditions that may simulate pericardial effusion on 2-D echocardiography include the following:
A large left pleural effusion

Any tumor surrounding the heart

Mitral annular calcification

A descending thoracic aorta

A catheter in the right ventricle

An enlarged left atrium

An annular subvalvular LV aneurysm

A bronchogenic cyst
Lab Studies
The following studies aid in the assessment of patients with cardiac tamponade:
Creatine kinase and isoenzymes - levels are elevated in patients with myocardial infarction and cardiac trauma

Renal profile and complete blood count (CBC) with differential - These tests are useful in the diagnosis of uremia and certain infectious diseases associated with pericarditis

Coagulation panel - The prothrombin time and activated partial thromboplastin time are useful for determining bleeding risk during interventions, such as pericardial drainage and/or the placement of pericardial windows

Antinuclear antibody assay, erythrocyte sedimentation rate, and rheumatoid factor - Although nonspecific, results from these tests may give clues to a connective tissue disease predisposing to the development of pericardial effusion.

HIV testing - Approximately 24% of all pericardial effusions are reported to be associated with HIV infection

Purified protein derivative testing - This is used to diagnose tuberculosis, which is an important and not uncommon cause of pericardial effusion and tamponade.
Electrocardiography
With a 12-lead electrocardiogram (see the image below), the following findings suggest, but are not diagnostic for, pericardial tamponade:
Sinus tachycardia

Low-voltage QRS complexes

Electrical alternans - Also observed during supraventricular and ventricular tachycardia
Electrical alternans
Alternation of QRS complexes, usually in a 2:1 ratio, on electrocardiographic findings is called electrical alternans. It is caused by movement of the heart in the pericardial space. Electrical alternans is also observed in patients with myocardial ischemia, acute pulmonary embolism, and tachyarrhythmias.
Pulse Oximetry
Respiratory variability in pulse-oximetry waveform is noted in patients with pulsus paradoxus. In a small group of patients with tamponade, Stone et al noted increased respiratory variability in pulse-oximetry waveform in all patients.[18] This finding should raise the suspicion for hemodynamic compromise. In patients with atrial fibrillation, pulse-oximetry may aid in detecting the presence of pulsus paradoxus.
Swan-Ganz Catheterization
Before or after insertion of the Swan-Ganz catheter, the system must be zeroed after positioning the transducer at the midpoint of the left atrium. Then calibrate the monitoring system. Prior to insertion, test the balloon and flush all of the ports. Then insert the catheter into one of the major veins.
At a depth of 20 cm, inflate the balloon and slowly advance the catheter, while continuously monitoring the pressure from the distal lumen. Always deflate the balloon before withdrawing the Swan-Ganz catheter. The waveforms help to indicate the position of the catheter tip if fluoroscopy is not readily accessible.
At approximately the 40-50 cm mark, the wedge pressure is usually recorded. Secure the catheter position, and obtain a chest radiograph to confirm the position.
In tamponade, near equalization (within 5 mm Hg) of the right atrial, right ventricular diastolic, pulmonary arterial diastolic, and pulmonary capillary wedge pressure (reflecting left atrial pressure) occurs. The right atrial pressure tracings display a prominent systolic x descent and abolished systolic y descent.
Boltwood et al described the diastolic equalization of pulmonary capillary and right atrial pressures as predominantly inspiratory; this is known as the inspiratory traction sign.[19] It results from inspiratory traction of the taut pericardium by the diaphragm.
Histologic Findings
Occasionally, a pericardial biopsy is performed when the etiology of the pericardial effusion that caused the tamponade is unclear. This is especially useful in cases of tuberculous pericardial effusions, because cultures of the pericardial fluid in these cases rarely yield a positive result for mycobacteria. However, granulomas seen on pericardial biopsy specimens are often seen in patients with tuberculous pericarditis.
In general, cytopathologic findings from pericardial fluid and histologic findings from pericardial biopsy specimens depend on the underlying pathology. Cytologic examination identifies the etiopathologic cause of tamponade in about 75% of cases.[20]
References
Reddy PS, Curtiss EI, Uretsky BF. Spectrum of hemodynamic changes in cardiac tamponade. Am J Cardiol. 1990 Dec 15. 66(20):1487-91. [Medline].

Saito Y, Donohue A, Attai S, Vahdat A, Brar R, Handapangoda I, et al. The syndrome of cardiac tamponade with "small" pericardial effusion. Echocardiography. 2008 Mar. 25(3):321-7. [Medline].

Parvez N, Carpenter JL. Cardiac tamponade in Still disease: a review of the literature. South Med J. 2009 Aug. 102(8):832-7. [Medline].

Ernst E, Zhang J. Cardiac tamponade caused by acupuncture: a review of the literature. Int J Cardiol. 2011 Jun 16. 149(3):287-9. [Medline].

Rylski B, Siepe M, Schoellhorn J, et al. Endoscopic treatment for delayed cardiac tamponade. Eur J Cardiothorac Surg. 2009 Sep 17. [Medline].

Holmes DR Jr, Nishimura R, Fountain R, et al. Iatrogenic pericardial effusion and tamponade in the percutaneous intracardiac intervention era. JACC Cardiovasc Interv. 2009 Aug. 2(8):705-17. [Medline].

Haneya A, Diez C, Kolat P, et al. Re-exploration for bleeding or tamponade after cardiac surgery: impact of timing and indication on outcome. Thorac Cardiovasc Surg. 2015 Feb. 63(1):51-7. [Medline].

Le J, Buth KJ, Hirsch GM, Légaré JF. Does more than a single chest tube for mediastinal drainage affect outcomes after cardiac surgery?. Can J Surg. 2015 Feb 1. 58(1):006814-6814. [Medline].

Cornily JC, Pennec PY, Castellant P, Bezon E, Le Gal G, Gilard M, et al. Cardiac tamponade in medical patients: a 10-year follow-up survey. Cardiology. 2008. 111(3):197-201. [Medline].

Lee YM, Kim HJ, Lee JE, et al. Cardiac tamponade following insertion of an internal jugular vein catheter for hemodialysis. Clin Nephrol. 2009 Sep. 72(3):220-3. [Medline].

Roy CL, Minor MA, Brookhart MA, Choudhry NK. Does this patient with a pericardial effusion have cardiac tamponade?. JAMA. April 2007. 297(16):9. [Medline].

Ikematsu Y. Incidence and characteristics of dysphoria in patients with cardiac tamponade. Heart Lung. 2007 Nov-Dec. 36(6):440-9. [Medline].

Sagristà-Sauleda J, Angel J, Sambola A, Alguersuari J, Permanyer-Miralda G, Soler-Soler J. Low-pressure cardiac tamponade: clinical and hemodynamic profile. Circulation. 2006 Aug 29. 114(9):945-52. [Medline].

Busko, M. ESC Group Issues Triage Strategy to Manage Cardiac Tamponade. Medscape Medical News. Accessed July 21, 2014.

Ristic AD, Imazio M, Adler Y, et al. Triage strategy for urgent management of cardiac tamponade: A position statement of the European Society of Cardiology Working Group on Myocardial and Pericardial Diseases. Eur Heart J 2014; DOI:10.1093/eurheartj/ehu217.

Towbin R. The bowed catheter sign: a risk for pericardial tamponade. Pediatr Radiol. 2008 Mar. 38(3):331-5. [Medline].

Gold MM, Spindola-Franco H, Jain VR, Spevack DM, Haramati LB. Coronary sinus compression: an early computed tomographic sign of cardiac tamponade. J Comput Assist Tomogr. 2008 Jan-Feb. 32(1):72-7. [Medline].

Stone MK, Bauch TD, Rubal BJ. Respiratory changes in the pulse-oximetry waveform associated with pericardial tamponade. Clin Cardiol. 2006 Sep. 29(9):411-4. [Medline].

Boltwood C, Rieders D, Gregory KW. Inspiratory tracking sign in pericardial disease. Circulation. 1984. (suppl II) 70:103.

Petcu DP, Petcu C, Popescu CF, Bataiosu C, Alexandru D. Clinical and cytological correlations in pericardial effusions with cardiac tamponade. Rom J Morphol Embryol. 2009. 50(2):251-6. [Medline].

Sagristà-Sauleda J, Angel J, Sambola A, Permanyer-Miralda G. Hemodynamic effects of volume expansion in patients with cardiac tamponade. Circulation. 2008 Mar 25. 117(12):1545-9. [Medline].

Motas C, Motas N, Rus O, Horvat T. Left paraxiphoidian approach for drainage of pericardial effusions. Interact Cardiovasc Thorac Surg. 2010 Jan. 10(1):4-5. [Medline].

Monaco F, Barone M, David A, et al. [Cardiac tamponade: a modified video-assisted thoracoscopic approach]. Chir Ital. 2009 May-Jun. 61(3):321-6. [Medline].
Medscape Reference © 2011 WebMD, LLC