Laparoscopic Right Colectomy (Right Hemicolectomy)
Author: Jana L Lewis, MD; Chief Editor: Kurt E Roberts, MD more...
Updated: Oct 15, 2015
What would you like to print?
Background
Laparoscopy has emerged as the preferred operative approach for most intra-abdominal pathologic conditions. Nonetheless, even though the first laparoscopic colectomy was reported almost 20 years ago, most colectomies in the United States are still being performed via the open approach.[1]
This delayed acceptance can be attributed mainly to initial concerns regarding the adequacy of oncologic margins and trocar site recurrences believed to occur with laparoscopy—concerns now largely laid to rest by the results of large randomized controlled trials such as the Clinical Outcomes of Surgical Therapy (COST) trial.[2] Evidence such as this may finally start to turn the tide in favor of laparoscopy.
The benefits of laparoscopic hemicolectomy include the following:
Smaller wounds and improved cosmesis

Shorter hospital stay

Less postoperative pain

Earlier return to normal activity

Quicker recovery of pulmonary function

Lower incidence and quicker resolution of postoperative ileus

Lower incidence of surgical site complications

Lower incidence of postoperative adhesions

[3]
The goals of laparoscopic right hemicolectomy (right colectomy) performed in the setting of colon cancer are the same as those for open surgery. They involve appropriate vessel ligation, creation of sufficient luminal margins, and adequate lymph node sampling. In addition, a thorough inspection of the abdominal cavity and liver surface is expected, together with the creation of a reliable anastomosis.
Laparoscopic colectomy for resectable colon cancer has been reported to be technically and oncologically feasible. The general consensus, based on the literature over the past several years, is that there is no significant difference in lymph node harvest between laparoscopic and open right hemicolectomies for cancer when strict oncologic principles of resection are followed. To date, patient survival, disease progression, and cancer recurrence at port sites have been found to be equivalent between laparoscopic colectomy and traditional open colectomy.
Several short-term benefits similar to those described for colon cancer have been associated with laparoscopic segmental colon resection for inflammatory bowel disease (IBD). In addition, theoretical long-term advantages include formation of fewer adhesions, decreased rates of bowel obstruction, decreased likelihood of chronic pain, and decreased incidence of infertility or wound hernias. Two randomized controlled trials demonstrated some short-term benefits to laparoscopic ileocolic resection for Crohn disease. On the other hand, current evidence on laparoscopic surgery for ulcerative colitis does not support its routine use among nonexpert surgeons outside of specialized centers.
Laparoscopic colonic resection for diverticular disease appears to provide several short-term benefits, though these advantages may not translate to cases of complicated diverticulitis.
Indications
The indications for laparoscopic right hemicolectomy are similar to those for open colectomy, as follows:
Adenomatous polyps not amenable to colonoscopic resection

Crohn disease and its complications

Bleeding secondary to diverticulosis or arteriovenous malformation

Diverticulitis

Obstruction

Colon tumors (benign or malignant)
Contraindications
There are few contraindications to performing a laparoscopic right hemicolectomy.
Absolute contraindications include the following:
Tumor infiltration into adjacent structures (T4)

Large phlegmonous mass

Obstruction, perforation, or ileus leading to massive bowel distention and loss of domain

Carcinomatosis
Relative contraindications (depending on local expertise) include the following:
Morbid obesity

Multiple previous abdominal surgical procedures

Extensive abdominal adhesions

Primary tumor with resectable liver metastasis

[4]
Laparoscopic right colectomy for a neoplasm was not associated with a higher conversion rate or hgiher morbidity in patients with prior abdominal surgery; therefore, prior abdominal surgery is not a contraindication to laparoscopic right colectomy.[5]
Indications for conversion to open surgery in the COST trial included the following[2] :
Extensive abdominal adhesions

Inability for the surgeon to mobilize and define the tumor extent

Resectable metastases
Ultimately, the method of resection (laparoscopic vs open) cannot compromise the oncologic adequacy of resection, which is why a very well-defined stepwise technique is so vital.
Technical Considerations
Anatomic considerations
The right colon is derived embryologically from the endoderm roof of the yolk sac, which develops into the primitive gut tube. In the beginning of the week 3 of gestation, the gut tube separates into the midgut, foregut, and hindgut segments. The midgut gives rise to the segment of the gastrointestinal (GI) tract extending from the distal duodenum to the distal transverse colon. It derives its blood supply from the superior mesenteric artery (SMA).
The terminal ileum empties into the cecum through the ileocecal valve. The cecum measures approximately 7.5 cm in diameter and 10 cm in length. The appendix extends from the cecum and measures 8-10 cm in length. The ascending colon is 15 cm long. The posterior surface is fixed against the retroperitoneum along the white line of Toldt. The lateral and anterior surfaces are intraperitoneal. The transverse colon is 45 cm in length. It is fixed by the nephrocolic ligament at the hepatic flexure and by the phrenocolic ligament at the splenic flexure. It is completely invested in visceral peritoneum.
The colon has specific characteristics that distinguish it from other parts of the GI tract. Omental appendices are bodies of fat enclosed by peritoneum. Taeniae coli are three bands of longitudinal muscle; haustra form between the bands.
All vascular structures and lymph nodes are located in the mesocolon. It is easiest to visualize the colon mesentery as being no different than small bowel mesentery. Both mesenteries attach at a 90º angle and contain arterial, venous, and lymphatic channels. The right colon differs from small bowel only in that the bowel and its mesentery are "plastic-wrapped" to the retroperitoneum. This distinction is important because in order to resect this bowel, the colon and its mesentery must first be mobilized from its retroperitoneal attachments; only then can a segmental resection with lymphadenectomy be performed.
The arterial supply branches from the SMA to the ileocolic, right colic, and middle colic arteries. The SMA territory ends at the distal transverse colon, where the inferior mesenteric artery (IMA) takes over to supply the left colon. A marginal artery network is the anastomotic web between these vessels along the mesenteric border. Vasa recta branches of the marginal artery directly supply the bowel wall.
The most common pattern of arterial supply relevant to a right hemicolectomy consists of the three arterial branches arising from the SMA (ileocolic artery, right colic artery, and middle colic artery). The ileocolic artery, the most constant tributary of the SMA, supplies the terminal ileum, cecum, and appendix. The right colic artery supplies the ascending colon and hepatic flexure of the transverse colon. (See the image below.)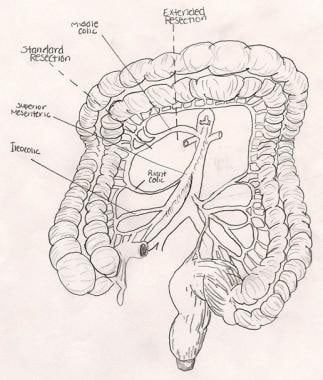 Arterial supply of the right colon.
The middle colic artery is the most proximal branch of the SMA, supplying the proximal and distal transverse colon via the right and left branches. The middle colic artery is completely absent in as many as 25% of individuals; it is replaced by a large right colic artery.[6] The arc of Riolan (meandering mesenteric artery) is a collateral artery that directly connects the proximal SMA to the proximal IMA and may serve as a vital conduit when arterial occlusion occurs.
Many variations of the right colic artery anatomy exist (see the image below). It arises directly from the SMA in approximately 40% of individuals, from the middle colic artery in 30%, and from the ileocolic artery in 12%. It is completely absent in 20% of individuals.[7]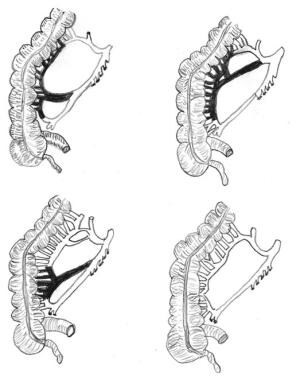 Variations of the right colic artery anatomy.
Venous drainage mimics the arterial tree, with ileocolic and right colic veins draining into the superior mesenteric vein (SMV). The lymphatic drainage follows the arteries and drains into the para-aortic nodal chain. Other lymph nodes involved include epicolic nodes along the bowel wall, paracolic nodes adjacent to the marginal artery, intermediate nodes along the arterial and venous branches, and primary nodes at the SMA and SMV.[8, 9, 10]
Relevant definitions and terminology
The Gerota fascia is perinephric fascia that encloses the kidneys and adrenal glands. Superiorly, it tapers over the inferior diaphragmatic surface. Medially, the fascia crosses the midline and is contiguous with the contralateral fascia. Laterally, the Gerota fascia is an open potential space that contains the ureter and gonadal vessels.
The white line of Toldt represents the fusion of colic mesentery with the posterior peritoneum.
An adenomatous polyp is a mass projecting into the lumen of the bowel. These polyps are classified by their gross appearance as pedunculated or sessile and further classified by histology as tubular or villous. The most common colonic polyp is a tubular adenoma. The incidence of carcinoma in a polyp depends on size and histology.
Diverticulosis describes the presence of colonic diverticula. A diverticulum is an abnormal protrusion of mucosa through the muscular layers of the colonic wall. Diverticula are associated with increasing age and low-fiber diets.[9]
Complication prevention
Because of the close proximity of the duodenal sweep to the ileocolic pedicle, the duodenum is at risk for sharp or cauterization injuries. To prevent such injury, the duodenum should be identified and gently swept away prior to dissection and division of the ileocolic pedicle.
The right ureter is most commonly injured over the right iliac vessels during cecal mobilization; accordingly, care should be taken to ensure that the dissection plane is not overly posterior. As a rule, the ureter should remain underneath the Toldt retroperitoneal fascia. However, if the Toldt fascia cannot be clearly visualized via a medial approach and the dissection plane is unclear during the isolation of the ileocolic pedicle, it is advisable to switch to an inferior approach. The ileum is mobilized off the retroperitoneum so that the right ureter can be identified and traced toward the duodenum before the pedicle is divided.[3]
Aggressive blunt dissection around the origin of the ileocolic vein makes the SMV susceptible to avulsion injury. A short stump should be left during ligation of the ileocolic pedicle in order to avoid encroachment into the superior mesenteric vessels.[3]
Aberrant anatomy must be taken into account. In 10%-30% of cases, an additional right colic vein arises from the ascending colon and drains into the SMV below the third portion of the duodenum.
In some patients, fusion of Gerota fat to the posterior aspect of colon can increase the risk of either entering Gerota fat or dissecting posterior to the kidney during lateral mobilization. This problem is prevented by pushing down on Toldt retroperitoneal fascia and ensuring that the dissection planes remain anterior to it.
Proximal ligation of the right colic vein places the right gastroepiploic vein at risk for injury or division. This type of injury is prevented by lifting the transverse colon anteriorly and dividing only the veins that travel to the colon. The vasculature traveling underneath the colon toward the stomach is preserved.[3]
During anastomosis, the terminal ileum or the transverse colon may become twisted around its mesentery. Often, the twisting is not visible through the minilaparotomy incision and consequently goes unnoticed. To prevent this complication, place two seromuscular stay sutures into the ileum, one proximal and one distal, after the right colon is exteriorized and the terminal ileum and mesentery divided. These stay sutures are clamped individually and are never crossed. Another technique involves placing a laparoscopic grasper on the terminal ileum. Once the anastomosis has been created, a final look through the laparoscope can confirm that the mesenteric orientation is correct.[3]
Outcomes
The COST Study Group evaluated laparoscopic resections used to treat colorectal cancer in the United States. The study concluded that cancer recurrence rates were similar between the laparoscopically assisted colectomy and open colectomy groups, suggesting that the laparoscopic approach is an equivalent alternative to open surgery for colon cancer.[2]
A systematic review and meta-analysis by Arezzo et al, which examined the safety and oncologic adequacy of laparoscopic right colectomy against those of open right colectomy in 3049 rectal cancer patients, found that morbidity and mortality were significantly lower with the laparoscopic technique.[11]
Shorter hospitalization and fewer postoperative complications might be expected to reduce overall procedural costs, but these are offset by the increased cost of longer operative times and more costly instrumentation. Bouvet et al found similar total hospital charges when comparing laparoscopy versus laparotomy for colectomy.[12] Likewise, Philipson et al did not show any cost benefit of laparoscopic-assisted right hemicolectomies compared with the open technique.[13]
References
Drake R, et al. Anatomy of the colon. Mastery of Surgery. 2007. 128.

Nelson H. A comparison of laparoscopically assisted and open colectomy for colon cancer. N Engl J Med. 2004 May 13. 350(20):2050-9. [Medline].

Sonoda T, Milsom J. Segmental colon resection. ACS Surgery Principles & Practice. 34.

Larson DW, Nelson H. Laparoscopic colectomy for cancer. J Gastrointest Surg. 2004 Jul-Aug. 8(5):636-42. [Medline].

Offodile AC 2nd, Lee SW, Yoo J, Whelan RL, Moradi D, Baxter R. Does prior abdominal surgery influence conversion rates and outcomes of laparoscopic right colectomy in patients with neoplasia?. Dis Colon Rectum. 2008 Nov. 51(11):1669-74. [Medline].

Sakorafas GH, Zouros E, Peros G. Applied vascular anatomy of the colon and rectum: clinical implications for the surgical oncologist. Surg Oncol. 2006 Dec. 15(4):243-55. [Medline].

Sagar PM. Topographic anatomy. Diseases of the colon and rectum. 1997. 1-18.

Garcia-Ruiz A, Milsom JW, Ludwig KA, Marchesa P. Right colonic arterial anatomy. Implications for laparoscopic surgery. Dis Colon Rectum. 1996 Aug. 39(8):906-11. [Medline].

Fry RD. Colon and Rectum. Sabiston Textbook of Surgery- The Biological Basics of Modern Surgical Practice. 18th ed. 2008. 1348- 57.

Laparoscopic right colectomy. Available at http://www.websurg.com.

Arezzo A, Passera R, Ferri V, Gonella F, Cirocchi R, Morino M. Laparoscopic right colectomy reduces short-term mortality and morbidity. Results of a systematic review and meta-analysis. Int J Colorectal Dis. 2015 Jul 4. [Medline].

Bouvet M, Mansfield PF, Skibber JM, Curley SA, Ellis LM, Giacco GG. Clinical, pathologic, and economic parameters of laparoscopic colon resection for cancer. Am J Surg. 1998 Dec. 176(6):554-8. [Medline].

Philipson BM, Bokey EL, Moore JW, Chapuis PH, Bagge E. Cost of open versus laparoscopically assisted right hemicolectomy for cancer. World J Surg. 1997 Feb. 21(2):214-7. [Medline].

Smith AJ, Driman DK, Spithoff K, Hunter A, McLeod RS, Simunovic M, et al. Guideline for optimization of colorectal cancer surgery and pathology. J Surg Oncol. 2010 Jan 1. 101(1):5-12. [Medline].

Baca I, Perko Z, Bokan I, Mimica Z, Petricevic A, Druzijanic N. Technique and survival after laparoscopically assisted right hemicolectomy. Surg Endosc. 2005 May. 19(5):650-5. [Medline].

Khera SY, Kostyal DA, Deshmukh N. A comparison of chlorhexidine and povidone-iodine skin preparation for surgical operations. ACS. July 1999. 56:341-43.

Su Y, Wu, Kong J, Yu H, Fan Y, Tian Y. Single Incision Laparoscopic Colorectal Surgery Using Conventional Laparoscopic Instruments: Initial Experience with 44 Cases. J Invest Surg. 2015 Jul 23. [Medline].

Yun JA, Kim HC, Park JS, Cho YB, Yun SH, Lee WY. Perioperative and oncologic outcomes of single-incision laparoscopy compared with conventional laparoscopy for colon cancer: an observational propensity score-matched study. Am Surg. 2015 Mar. 81 (3):316-23. [Medline].

Park Y, Yong YG, Yun SH, Jung KU, Huh JW, Cho YB, et al. Learning curves for single incision and conventional laparoscopic right hemicolectomy: a multidimensional analysis. Ann Surg Treat Res. 2015 May. 88 (5):269-75. [Medline].

Tonouchi H, Ohmori Y, Kobayashi M, Kusunoki M. Trocar site hernia. Arch Surg. 2004 Nov. 139(11):1248-56. [Medline].

Varela JE, Asolati M, Huerta S, Anthony T. Outcomes of laparoscopic and open colectomy at academic centers. Am J Surg. 2008 Sep. 196(3):403-6. [Medline].

Rondelli F, Trastulli S, Avenia N, Schillaci G, Cirocchi R, Gullà N, et al. Is laparoscopic right colectomy more effective than open resection? A meta-analysis of randomized and nonrandomized studies. Colorectal Dis. 2012 Aug. 14(8):e447-69. [Medline].

Lin KM, Ota DM. Laparoscopic colectomy for cancer: an oncologic feasible option. Surg Oncol. 2000 Nov. 9(3):127-34. [Medline].

Moloo H, Mamazza J, Poulin EC, Burpee SE, Bendavid Y, Klein L, et al. Laparoscopic resections for colorectal cancer: does conversion survival?. Surg Endosc. 2004 May. 18(5):732-5. [Medline].

Yun JA, Yun SH, Park YA, Cho YB, Kim HC, Lee WY, et al. Single-incision laparoscopic right colectomy compared with conventional laparoscopy for malignancy: assessment of perioperative and short-term oncologic outcomes. Surg Endosc. 2013 Jun. 27(6):2122-30. [Medline].

Pedraza R, Aminian A, Nieto J, Faraj C, Pickron TB, Haas EM. Single-incision laparoscopic colectomy for cancer: short-term outcomes and comparative analysis. Minim Invasive Surg. 2013. 2013:283438. [Medline]. [Full Text].

Lacy AM, García-Valdecasas JC, Delgado S, Castells A, Taurá P, Piqué JM. Laparoscopy-assisted colectomy versus open colectomy for treatment of non-metastatic colon cancer: a randomised trial. Lancet. 2002 Jun 29. 359(9325):2224-9. [Medline].

Drake R. Anatomy of the colon. Mastery of Surgery. 2007. chap 128.

Fabozzi M, Allieta R, Contul RB, Grivon M, Millo P, Lale-Murix E, et al. Comparison of short- and medium-term results between laparoscopically assisted and totally laparoscopic right hemicolectomy: a case-control study. Surg Endosc. 2010 Sep. 24(9):2085-91. [Medline].

Hamel CT. Laparoscopic-assisted right hemicolectomy in inflammatory versus noninflammatory conditions of the large bowel. Techniques in coloproctology. 2000. 4:163- 7.

Martel G, Boushey RP. Laparoscopic colon surgery: past, present and future. Surg Clin North Am. 2006 Aug. 86(4):867-97. [Medline].
Medscape Reference © 2011 WebMD, LLC