Mitral Stenosis Workup
Author: Claudia Dima, MD, FACC; Chief Editor: Richard A Lange, MD, MBA more...
Updated: Nov 06, 2014
What would you like to print?
Laboratory Studies
Perform routine baseline tests such as CBC count, electrolyte status, and renal and liver function tests.
Imaging Studies
Chest radiographic findings suggestive of mitral stenosis include left atrial enlargement (eg, double shadow in the cardiac silhouette, straightening of left cardiac border due to the large left atrial appendage, and upward displacement of the mainstem bronchi), prominent pulmonary vessels, redistribution of pulmonary vasculature to the upper lobes, mitral valve calcification, and interstitial edema (Kerley A and B lines).
Echocardiography is the most specific and sensitive method of diagnosing and quantifying the severity of mitral stenosis.[3, 4] Using a transthoracic 2-dimensional echocardiogram, Doppler study, and color-flow Doppler imaging, the anatomic abnormalities of the stenotic valve (ie, thickening, mobility, motion, calcification), involvement of the subvalvular apparatus and the characteristic fusion of the commissures can be well defined.[5]
With echocardiography, the size of the mitral valve orifice can be precisely quantified. Important information about the ventricular and atrial chamber sizes, the presence of a left atrial thrombus, measurement of transvalvular gradient, and pulmonary arterial pressure can also be obtained.
With the use of Doppler echocardiography, sufficient information can be obtained to develop a therapeutic plan, and, consequently, most patients do not require invasive procedures such as cardiac catheterization.
Transesophageal echocardiography (TEE) provides better quality images than transthoracic echocardiography (TTE) and is more accurate in assessing the anatomic features of the valve and the presence of left atrial appendage thrombus. Recent studies showed that mitral valve area planimetry is feasible in the majority of patients with rheumatic mitral stenosis using 3-dimensional TEE; also, 3-dimensional TEE allows excellent assessment of commissural fusion[6] and commissural opening after catheter-balloon commissurotomy.
See the image and videos below.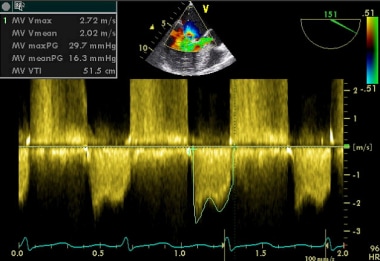 Transesophageal echocardiogram with continuous wave Doppler interrogation across the mitral valve demonstrating an increased mean gradient of 16 mm Hg consistent with severe mitral stenosis.
Magnified view of the mitral valve in apical 4-chamber view revealing restricted opening of both leaflets.
Transesophageal echocardiogram in an apical 3-chamber view showing calcification and doming of the anterior mitral leaflet and restricted opening of both leaflets.
Transesophageal echocardiogram in an apical 3-chamber view with color Doppler interrogation of the mitral valve revealing aliasing, which is consistent with increased gradient across the mitral valve secondary to stenosis. Also shown in this image, a posteriorly directed jet of severe mitral regurgitation.
Other Tests
In patients with moderate-to-severe mitral stenosis, the ECG can show signs of left atrial enlargement (P wave duration in lead II >0.12 seconds, P wave axis of +45 to -30 marked terminal negative component to the P wave in V1 [1 mm wide and 1 mm deep]) and, commonly, atrial fibrillation. A mean QRS axis in the frontal plane is greater than 80 and an R-to-S ratio of greater than 1 in lead V1 indicates the presence of right ventricular hypertrophy. As the severity of the pulmonary hypertension increases, the mean QRS axis in the frontal plane moves toward the right.
Procedures
Cardiac catheterization was routine performed in the past. However, the accuracy of echocardiographic findings has resulted in only selective use of catheterization. Cardiac catheterization is now indicated in the following situations:
When a discrepancy exists between clinical and echocardiographic findings

The patient with associated severe lung disease and pulmonary hypertension, in whom mitral stenosis has contributed to their symptoms, needs to be ascertained.

In older patients with severe mitral stenosis, cardiac catheterization is strongly indicated to rule out the presence of concomitant coronary artery disease.

In patients who developed serious symptoms after mitral commissurotomy.
Table 1. Duration of Secondary Rheumatic Fever Prophylaxis
Category
Duration After Last Attack
Rating*
Rheumatic fever with carditis and residual heart disease (persistent valvular disease† )
10 y or until age 40 y (whichever is longer); sometimes lifelong prophylaxis
IC
Rheumatic fever with carditis but no residual heart disease (no valvular disease† )
10 y or until age 21 y (whichever is longer)
IC
Rheumatic fever without carditis
5 y or until age 21 y (whichever is longer)
IC
*Rating indicates classification of recommendation and level of evidence (eg, IC indicates Class I, level of Evidence C).



†Clinical or echocardiographic evidence.




Table 2. Secondary Prevention of Rheumatic Fever (Prevention of Recurrent Attacks)
Agent
Dose
Mode
Rating*
Benzathine penicillin G
Children 27 kg (60 lb): 600,000 U



Patients >27 kg: 1,200,000 every 4 wk†




Intramuscular
IA
Penicillin V
250 mg bid
Oral
IB
Sulfadiazine
Children 27 kg: 0.5 g qd



Patients >27 kg: 1 g qd




Oral
IB
Macrolide or azalide (for individuals allergic to penicillin and sulfadiazine)
Variable
Oral
IC
*Rating indicates classification of recommendation and level of evidence (eg, IA indicates Class I, level of Evidence A).



†In high-risk situations, administration every 3 weeks is justified and recommended.




Table 3. Primary Prevention of Rheumatic Fever (Treatment of Streptococcal Tonsillopharyngitis*)
Agent
Dose
Mode
Duration
Rating †
Penicillins
Penicillin V (phenoxymethyl penicillin)
Children 27 kg (60 lb): 250 mg bid or tid



Patients >27 kg: 500 mg bid or tid




Oral
10 d
IB
Amoxicillin
50 mg/kg qd (maximum 1 g)
Oral
10 d
IB
Benzathine penicillin G
Children 27 kg (60 lb): 600,000 U



Patients >27 kg: 1,200,000 U




Intramuscular
Once
IB
For individuals allergic to penicillin
Narrow-spectrum cephalosporin (cephalexin, cefadroxil)
Variable
Oral
10 d
IB
Clindamycin
20 mg/kg/d divided in 3 doses (maximum 1.8 g/d)
Oral
10 d
IIaB
Azithromycin
12 mg/kg qd (maximum 500 mg)
Oral
5 d
IIaB
Clarithromycin
15 mg/kg/d divided bid (maximum 250 mg bid)
Oral
10 d
IIaB
*Sulfonamides, trimethoprim, tetracyclines, and fluoroquinolones are not acceptable.



† Rating indicates classification of recommendation and level of evidence (eg, IB indicates Class I, level of Evidence B)




Medscape Reference © 2011 WebMD, LLC