Acute Pericarditis Clinical Presentation
Author: Sean Spangler, MD; Chief Editor: Richard A Lange, MD, MBA more...
Updated: Oct 06, 2014
What would you like to print?
History
Palpitations may be the presenting complaint, but chest pain is the cardinal symptom of pericarditis, usually precordial or retrosternal with referral to the trapezius ridge, neck, left shoulder, or arm. The quality of the pain is usually pleuritic, but it range from sharp, dull, aching, burning, or pressing, and the intensity varies from barely perceptible to severe. The pain is worse during inspiration, when lying flat, or during swallowing and with body motion, and it may be relieved by leaning forward while seated.
Common associated signs and symptoms include low-grade intermittent fever, dyspnea/tachypnea (a frequent complaint and may be severe with myocarditis, pericarditis, and tamponade), cough, and dysphagia. In tuberculous pericarditis, fever, night sweats, and weight loss were commonly noted (80%).
Children may present with abdominal pain.
Interestingly, symptomatic rheumatoid arthritis–pericardial disease tends to occur in patients with arthritis, pleuritis, and other complications who are already being treated with anti-inflammatory agents such as corticosteroids, gold, and antimalarial drugs.
In uremic patients, heart rates may be deceptively slow with tamponade, fever, and hypotension due to autonomic impairment. Symptoms of neoplastic pericarditis develop over days to weeks; dyspnea is common and is the most significant symptom.
Patients with cardiac tamponade may present subacutely with symptoms of anxiety, dyspnea, fatigue, or altered mental status. They may have a history of medical illnesses associated with pericardial involvement, particularly end-stage renal disease (ESRD).
A waxing and waning clinical picture may be present in intermittently decompressing tamponade, and traumatic tamponade may present with acute dyspnea or altered mental status.
Physical Examination
Physical findings in acute pericarditis and cardiac tamponade are discussed in this section.
Acute pericarditis
A pericardial friction rub is pathognomonic for acute pericarditis; the rub has a scratching, grating sound similar to leather rubbing against leather. Serial examinations may be necessary for detection, as a friction rub may be transient from one hour to the next and is present in approximately 50% of cases.
Auscultation with the diaphragm of the stethoscope over the left lower sternal edge or apex during end expiration with the patient sitting up and leaning forward (or on hands and knees) allows the best detection of the rub and increases the likelihood of observing this finding.
More than 50% of pericardial friction rubs are triphasic: (1) An atrial systolic rub that precedes S1, (2) a ventricular systolic rub occurs between S1 and S2 and is coincident with the peak carotid pulse, and (3) an early diastolic rub occurs after S2 (usually the faintest).
The biphasic to-and-fro rub is less common (24%). It can occur with tachycardia and is due to summation of the atrial and early diastolic rub. Monophasic rubs (the ventricular systolic) are the least common but may occur in patients with atrial fibrillation.
Especially when the pericardial friction rub is monophasic, it can be mistaken for a systolic murmur. Pericardial rubs may be differentiated if the rub does not change with usual respiratory or positional maneuvers, if 3 components are present, and if the findings on the electrocardiograms are typical. That is, a friction rub has a changing character from heartbeat to heartbeat and with patient position changes. In addition, a friction rub is closer to the ear on auscultation than a murmur.
Other physical findings may include dyspnea/tachypnea, particularly in patients with sizable effusions, and Ewart sign (dullness and bronchial breathing between the tip of the left scapula and the vertebral column) Fever (usually low grade but occasionally reach 104°F [40°C]), cyanosis, and varying degrees of consciousness may also be present, as well as hepatomegaly and ascites. Tachycardia and cardiac arrhythmias, such as premature atrial and ventricular contractions, are occasionally present.
Cardiac tamponade
Cardiac tamponade is influenced by the volume and rate of fluid accumulation. The Beck triad (ie, hypotension; elevated systemic venous pressure, often with jugular venous distention; muffled heart sounds) may occur in affected patients, especially from sudden intrapericardial hemorrhage.
Pulsus paradoxus occurs in 70-80% of patients with pericardial tamponade and is measured by careful auscultation with a blood pressure cuff. The first sphygmomanometer reading is recorded at the point when the beats are audible during expiration and disappear with inspiration. The second reading is taken when each beat is audible during the respiratory cycle.
A difference of more than 10 mm Hg defines pulsus paradoxus. This decrease is important in patients with more slowly developing tamponade, because they may lack findings of the Beck triad. If an associated hemorrhage is outside pericardial sac, hypotension and tachycardia without elevated jugular venous distension may be found.
Pulsus paradoxus also occurs in patients with severe asthma, constrictive pericarditis, and severe congestive heart failure. See the image below.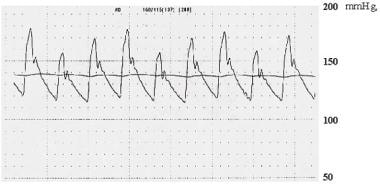 Recording of aortic pressure showing pulsus paradoxus. During inspiration, systolic pressure declines 20 mm Hg. Courtesy of Zhi Zhou, MD.
References
Bhardwaj R, Berzingi C, Miller C, Hobbs G, Gharib W, Beto RJ, et al. Differential diagnosis of acute pericarditis from normal variant early repolarization and left ventricular hypertrophy with early repolarization: an electrocardiographic study. Am J Med Sci. 2013 Jan. 345(1):28-32. [Medline].

Markel G, Imazio M, Brucato A, et al. Prevention of recurrent pericarditis with colchicine in 2012. Clin Cardiol. 2013 Mar. 36(3):125-8. [Medline].

Alabed S, Cabello JB, Irving GJ, et al. Colchicine for pericarditis. Cochrane Database Syst Rev. 2014 Aug 28. 8:CD010652. [Medline].

Tseng JR, Lee MJ, Yen KC, Weng CH, Liang CC, Wang IK, et al. Course and outcome of dialysis pericarditis in diabetic patients treated with maintenance hemodialysis. Kidney Blood Press Res. 2009. 32(1):17-23. [Medline].

Imazio M, Brucato A, Maestroni S, et al. Risk of constrictive pericarditis after acute pericarditis. Circulation. 2011 Sep 13. 124(11):1270-5. [Medline].

Chraibi S, Ibnabdeljalil H, Habbal R, Bennis A, Tahiri A, Chraibi N. Pericardial tamponade as the first manifestation of dermatopolymyositis. Ann Med Interne (Paris). 1998 Nov. 149(7):464-6. [Medline].

Soler-Soler J, Permanyer-Miralda G, Sagristà-Sauleda J. A systematic diagnostic approach to primary acute pericardial disease. The Barcelona experience. Cardiol Clin. 1990 Nov. 8(4):609-20. [Medline].

Friman G, Fohlman J. The epidemiology of viral heart disease. Scand J Infect Dis Suppl. 1993. 88:7-10. [Medline].

Silva-Cardoso J, Moura B, Martins L, Mota-Miranda A, Rocha-Gonçalves F, Lecour H. Pericardial involvement in human immunodeficiency virus infection. Chest. 1999 Feb. 115(2):418-22. [Medline].

Feinstein Y, Falup-Pecurariu O, Mitrica M, Berezin EN, Sini R, Krimko H, et al. Acute pericarditis caused by Streptococcus pneumoniae in young infants and children: three case reports and a literature review. Int J Infect Dis. 2010 Feb. 14(2):e175-8. [Medline].

Mastroianni A, Coronado O, Chiodo F. Tuberculous pericarditis and AIDS: case reports and review. Eur J Epidemiol. 1997 Oct. 13(7):755-9. [Medline].

Imazio M, Negro A, Belli R, Beqaraj F, Forno D, Giammaria M, et al. Frequency and prognostic significance of pericarditis following acute myocardial infarction treated by primary percutaneous coronary intervention. Am J Cardiol. 2009 Jun 1. 103(11):1525-9. [Medline].

Salisbury AC, Olalla-Gómez C, Rihal CS, Bell MR, Ting HH, Casaclang-Verzosa G, et al. Frequency and predictors of urgent coronary angiography in patients with acute pericarditis. Mayo Clin Proc. 2009. 84(1):11-5. [Medline]. [Full Text].

Eckart RE, Love SS, Atwood JE, Arness MK, Cassimatis DC, Campbell CL, et al. Incidence and follow-up of inflammatory cardiac complications after smallpox vaccination. J Am Coll Cardiol. 2004 Jul 7. 44(1):201-5. [Medline].

Lin AH, Phan HA, Barthel RV, Maisel AS, Crum-Cianflone NF, Maves RC, et al. Myopericarditis and pericarditis in the deployed military member: a retrospective series. Mil Med. 2013 Jan. 178(1):18-20. [Medline].

Murthy SC, Rozas MS, Adelstein DJ, Mason DP, Calhoun R, Rybicki LA, et al. Induction chemoradiotherapy increases pleural and pericardial complications after esophagectomy for cancer. J Thorac Oncol. 2009 Mar. 4(3):395-403. [Medline].

Lorell BH. Pericardial diseases. Braunwald E, ed. Heart Disease: A Textbook of Cardiovascular Medicine. 5th. Philadelphia, Pa: WB Saunders; 1997. 1478-534.

Brady WJ, Perron AD, Martin ML, Beagle C, Aufderheide TP. Cause of ST segment abnormality in ED chest pain patients. Am J Emerg Med. 2001 Jan. 19(1):25-8. [Medline].

Mercé J, Sagristà Sauleda J, Permanyer Miralda G, Carballo J, Olona M, Soler Soler J. [Pericardial effusion in the elderly: A different disease?]. Rev Esp Cardiol. 2000 Nov. 53(11):1432-6. [Medline].

Sagristà-Sauleda J, Barrabés JA, Permanyer-Miralda G, Soler-Soler J. Purulent pericarditis: review of a 20-year experience in a general hospital. J Am Coll Cardiol. 1993 Nov 15. 22(6):1661-5. [Medline].

Imazio M, Brucato A, Adler Y, Brambilla G, Artom G, Cecchi E, et al. Prognosis of idiopathic recurrent pericarditis as determined from previously published reports. Am J Cardiol. 2007 Sep 15. 100(6):1026-8. [Medline].

Estok L, Wallach F. Cardiac tamponade in a patient with AIDS: a review of pericardial disease in patients with HIV infection. Mt Sinai J Med. 1998 Jan. 65(1):33-9. [Medline].

Rossello X, Wiegerinck RF, Alguersuari J, et al. New electrocardiographic criteria to differentiate acute pericarditis and myocardial infarction. Am J Med. 2014 Mar. 127(3):233-9. [Medline].

[Guideline] Maisch B, Seferovic PM, Ristic AD, Erbel R, Rienmüller R, Adler Y, et al. Guidelines on the diagnosis and management of pericardial diseases executive summary; The Task force on the diagnosis and management of pericardial diseases of the European society of cardiology. Eur Heart J. 2004 Apr. 25(7):587-610. [Medline].

Imazio M, Brucato A, Maestroni S, Cumetti D, Dominelli A, Natale G, et al. Prevalence of C-reactive protein elevation and time course of normalization in acute pericarditis: implications for the diagnosis, therapy, and prognosis of pericarditis. Circulation. 2011 Mar 15. 123(10):1092-7. [Medline].

Imazio M, Demichelis B, Cecchi E, Belli R, Ghisio A, Bobbio M, et al. Cardiac troponin I in acute pericarditis. J Am Coll Cardiol. 2003 Dec 17. 42(12):2144-8. [Medline].

Machado S, Roubille F, Gahide G, Vernhet-Kovacsik H, Cornillet L, Cung TT, et al. Can troponin elevation predict worse prognosis in patients with acute pericarditis?. Ann Cardiol Angeiol (Paris). 2010 Feb. 59(1):1-7. [Medline].

Kim SH, Song JM, Jung IH, Kim MJ, Kang DH, Song JK. Initial echocardiographic characteristics of pericardial effusion determine the pericardial complications. Int J Cardiol. 2009 Aug 14. 136(2):151-5. [Medline].

Hammer MM, Raptis CA, Javidan-Nejad C, et al. Accuracy of computed tomography findings in acute pericarditis. Acta Radiol. 2013 Dec 10. [Medline].

Yared K, Baggish AL, Picard MH, Hoffmann U, Hung J. Multimodality imaging of pericardial diseases. JACC Cardiovasc Imaging. 2010 Jun. 3(6):650-60. [Medline].

Imazio M, Demichelis B, Parrini I, Giuggia M, Cecchi E, Gaschino G, et al. Day-hospital treatment of acute pericarditis: a management program for outpatient therapy. J Am Coll Cardiol. 2004 Mar 17. 43(6):1042-6. [Medline].

Imazio M, Brucato A, Mayosi BM, Derosa FG, Lestuzzi C, Macor A, et al. Medical therapy of pericardial diseases: part I: idiopathic and infectious pericarditis. J Cardiovasc Med (Hagerstown). 2010 Oct. 11(10):712-22. [Medline].

Iyoda M, Ajiro Y, Sato K. A case of refractory uremic pleuropericarditis--successful corticosteroid treatment. Clin Nephrol. Apr 2006. 65(4):290-3. [Full Text].

Inanç M, Akpek M, Inanç MT, Kaya MG. Acute pericarditis during 5-fluorouracil, docetaxel and cisplatin therapy. Turk Kardiyol Dern Ars. 2012 Oct. 40(6):532-5. [Medline].

Imazio M, Trinchero R, Brucato A, Rovere ME, Gandino A, Cemin R, et al. COlchicine for the Prevention of the Post-pericardiotomy Syndrome (COPPS): a multicentre, randomized, double-blind, placebo-controlled trial. Eur Heart J. 2010 Nov. 31(22):2749-54. [Medline].

Nakayama Y, Ohtani Y, Kobayakawa N, Kobayashi J, Kaneko Y, Aoyagi T. A case of early phase dialysis associated effusive constrictive pericarditis with distinct surgical findings. Int Heart J. 2009 Sep. 50(5):685-91. [Medline].

Thompson JL, Burkhart HM, Dearani JA, Cetta F, Oh JK, Schaff HV. Pericardiectomy for pericarditis in the pediatric population. Ann Thorac Surg. 2009 Nov. 88(5):1546-50. [Medline].

Bennett JA, Haramati LB. CT of bronchopericardial fistula: an unusual complication of multidrug-resistant tuberculosis in HIV infection. AJR Am J Roentgenol. 2000 Sep. 175(3):819-20. [Medline].

Adler Y, Finkelstein Y, Guindo J, Rodriguez de la Serna A, Shoenfeld Y, Bayes-Genis A, et al. Colchicine treatment for recurrent pericarditis. A decade of experience. Circulation. 1998 Jun 2. 97(21):2183-5. [Medline].

Adler Y, Guindo J, Finkelstein Y, Khouri A, Assali A, Bayes-Genis A, et al. Colchicine for large pericardial effusion. Clin Cardiol. 1998 Feb. 21(2):143-4. [Medline].

Kuo I, Pearson GJ, Koshman SL. Colchicine for the primary and secondary prevention of pericarditis: an update. Ann Pharmacother. 2009 Dec. 43(12):2075-81. [Medline].

Imazio M, Brucato A, Cemin R, et al. Colchicine for Recurrent Pericarditis (CORP) A Randomized Trial. Ann Intern Med. 2011 Oct 4. 155(7):409-414. [Medline].
Medscape Reference © 2011 WebMD, LLC