Acute Pericarditis Treatment & Management
Author: Sean Spangler, MD; Chief Editor: Richard A Lange, MD, MBA more...
Updated: Oct 06, 2014
What would you like to print?
Approach Considerations
Oxygen and a cardiac monitor should be provided. Rule out other life-threatening causes of chest pain, such as myocardial infarction (MI) or aortic dissection. Evaluate for evidence of hemodynamic instability.
Consider whether further management is safe to continue on an outpatient basis. In one study, fever of more than 100.4°F (38°C), subacute onset, immunosuppression, trauma, oral anticoagulation therapy, aspirin or nonsteroidal anti-inflammatory drug (NSAID) treatment failure, myopericarditis, severe pericardial effusion, and cardiac tamponade were designated as poor prognostic predictors.[31] Patients without these factors were treated on an outpatient basis without serious complications after a mean follow-up of 38 months.[31]
Avoid NSAIDs and corticosteroids in acute MI pericarditis, because they may interfere with ventricular healing, remodeling, or both.
Patients may require transfer to a hospital setting in which hemodialysis and cardiothoracic surgery are available.
Form more information, see the Medscape Reference topics Constrictive Pericarditis, Constrictive-Effusive Pericarditis, and Pediatric Infective Pericarditis.
Prehospital Care
Patients with chest pain, regardless of etiology, should routinely be treated with oxygen and cardiac monitor.
Patients suspected of having pericarditis should have routine care as for patients with acute cardiac conditions The initial prehospital care for suspected cardiac tamponade is the same as for any major trauma. The diagnosis may also be suspected based on the location of any penetrating wounds. The possibility of a tension pneumothorax should also be considered.
Emergency Department Care
The emergency care of the patient centers on prompt diagnosis and treatment of potentially life-threatening entities. Thoracotomy and pericardiotomy may be required if the patient has rapid deterioration or cardiac arrest.
Pericarditis
Ideally, echocardiography should be readily available to determine the presence or absence of a pericardial effusion (see Echocardiography under Workup). If no pericardial effusion is noted, stable patients with presumptive viral pericarditis may be discharged with appropriate instructions and follow-up care.
If a small- to medium-sized effusion is present, the patient should be admitted for observation and serial echocardiography. If a large effusion is present, the stable patient may undergo an urgent pericardiocentesis or placement of a pericardial window (see Surgical Intervention).
Cardiac tamponade
Treatment for this condition depends on the patient's stability. Unstable patients require immediate treatment of the increase in pericardial pressure with pericardiocentesis (see Surgical Intervention). Removing as little as 30-50 mL may produce dramatic hemodynamic improvement.
Patients may have subacute tamponade (intermittently decompressing) and may benefit from decompression in the operating room with cardiothoracic care available to treat cardiac injuries.
Treatment of Specific Types of Pericarditis
The treatment for specific types of pericarditis are briefly discussed in this section.
Idiopathic pericarditis
Treatment for this condition is similar to viral pericarditis and includes anti-inflammatory drugs to control symptoms and inflammation.[32] Pericardiectomy should be considered in recurrent cases of chronic idiopathic pericarditis:, because it yields good long-term effects. However, high-dose prednisone may prevent recurrent pericarditis resistant to NSAIDs.
Infectious pericarditis
The treatment of viral pericarditis is based on the symptoms present, with observation for the development of tamponade. Treatment for bacterial pericarditis includes appropriate antibiotics for at least 4 weeks and drainage of pericardial fluid.
For fungal infection, the ESC 2004 guideline recommends fluconazole, ketoconazole, itraconazole, amphotericin B, liposomal amphotericin B, or amphotericin B lipid complex for treatment of fungal infection. Corticosteroids and NSAIDs can be used to support the antifungal drug treatment.[24]
Intrapericardial fibrinolysis can be a useful treatment to assist with drainage of thick, loculated fluid, but open surgical drainage is preferred. Occasionally, patients require partial to total pericardiectomy.
Tubercular infection is managed with the usual antituberculous chemotherapy.
Controversy exists regarding the use of steroids in the treatment of tuberculous pericarditis. The ESC 2004 guideline advises using corticosteroid therapy only in patients with secondary tuberculous pericarditis, and only as an adjunct to tuberculostatic treatment. A meta-analysis of patients with effusive and constrictive TBC pericarditis found that tuberculostatic treatment, combined with steroids, might be associated with fewer deaths, less frequent need for pericardiocentesis or pericardiectomy.[18] .
Use of adjunctive prednisolone in patients with acquired immunodeficiency syndrome (AIDS) may reduce mortality in this population.
Inflammatory pericarditis
Only symptomatic rheumatoid arthritis (RA) pericarditis should be treated. However, treat lupus pericarditis with anti-inflammatory agents and optimize systemic lupus erythematosus (SLE) treatment.
Rheumatic fever pericarditis resolves with anti-inflammatory treatment.
Metabolic pericarditis
The development of pericarditis in a patient with severe acute or chronic renal failure is an absolute indication for intensive dialysis. In most patients, relief of chest pain and reduction in the size of any effusion occurs within 1-2 weeks.
If no improvement is noted after 7-10 days or if the patient has hemodynamic instability, proceed with pericardiocentesis or pericardiectomy (see Surgical Intervention). The ESC 2004 guideline recommends pericardiocentesis for treating cardiac tamponade and large chronic effusions resistant to dialysis.[18] Intensive dialysis is beneficial to most patients with uremia who develop pericarditis before dialysis. Dialysis-induced pericarditis fails to respond to more intensive dialysis in 25-33% of patients.
Both hemodialysis and peritoneal dialysis are efficacious in the treatment of uremic pericarditis, though each technique has unique advantages and disadvantages. Hemodialysis may cause hypotension, which may be dangerous in the setting of tamponade. In addition, some physicians advocate heparin-free hemodialysis to reduce the risk of intrapericardial hemorrhage. Peritoneal dialysis may compromise respiratory function because of the effect of intraperitoneal fluid on the diaphragm.
In dialysis-associated pericarditis, an increased intensity of dialysis for 10-14 days is recommended. Close monitoring of fluid volume and electrolytes is mandatory to detect and correct hypophosphatemia and hypokalemia, which may occur with intensive dialysis. The response of dialysis-associated pericarditis is not predictable. In some instances, consider a switch to peritoneal dialysis if heparin-free dialysis cannot be performed.
NSAIDs and steroids may offer symptomatic relief but are not effective without dialysis. Indomethacin ameliorates fever, but it does not accelerate resolution of the effusion.
Early intervention with dialysis may prevent the development of uremic pericarditis. Maintenance of adequate dialysis therapy lessens the likelihood of a patient developing dialysis-associated pericarditis.
Treatment in hypothyroidism-associated pericarditis is hormone replacement.
The ESC 2004 guideline also recommends thyroid hormone therapy to decrease pericardial effusion.[24]
Cardiovascular pericarditis
Pericarditis does not contraindicate thrombolytic or anticoagulant therapy for an acute MI. However, anticoagulation should be discontinued if pericardial effusion develops or effusion size increases. Treatment is with aspirin.
In Dressler syndrome, anticoagulant therapy should be stopped because of the risk of hemorrhagic pericarditis. Treatment is with NSAIDs.
Miscellaneous conditions
With neoplasm-associated pericarditis, initial treatment includes relief of tamponade, confirmation of the diagnosis, and systemic treatment of the neoplasm. Further treatment options include sclerosis of the pericardial space, instillation of chemotherapeutic agents into the pericardial space, local radiation, or pericardiectomy.
The ESC 2004 guideline adds that prevention of recurrences of neoplastic pericarditis may be achieved via intrapericardial instillation of sclerosing, cytotoxic agents, or immunomodulators. Intrapericardial treatment tailored to the type of tumor shows that administration of cisplatin is most effective in secondary lung cancer and intrapericardial instillation of thiotepa was more effective in breast cancer or pericardial metastases.[33, 34]
The ESC 2004 guideline states that treatment of cardiac tamponade is a class I indication for pericardiocentesis in the presence of neoplastic pericarditis. In suspected neoplastic pericardial effusion without tamponade, the following are recommended:[24]
Systemic antineoplastic treatment as baseline therapy

Pericardiocentesis to relieve symptoms and to confirm diagnosis

Intrapericardial instillation of cytostatic/sclerosing agent
Drug-induced pericarditis treatment includes stopping the administration of the offending agent and anti-inflammatory therapy as needed. Treatment is with aspirin or NSAIDs.
Colchicine is effective in the prevention of postpericardiotomy syndrome and may halve the risk of developing this syndrome when used following cardiac surgery.[35]
Diet and activity
Patients on dialysis require a daily diet restricted to 1.2 g/kg of protein, 2 g of sodium, and 2 g of potassium. Patients on peritoneal dialysis may require less stringent protein restriction.
Activity should be limited to avoid strenuous activities or trauma, which may increase the risk of hypotension or arrhythmias.
Pericardiectomy and Other Surgical Procedures
Surgical procedures for pericarditis include pericardiectomy, pericardiocentesis, pericardial window placement, and pericardiotomy.
Pericardiectomy
Pericardiectomy is the most effective surgical procedure for managing large effusions, because it has the lowest associated risk of recurrent effusions. This procedure is used for constrictive pericarditis, effusive pericarditis, or recurrent pericarditis with multiple attacks, steroid dependence, and/or intolerance to other medical management.
Pericardiectomy requires general anesthesia and a thoracotomy; therefore, pericardiectomy should be considered only if pericardiotomy cannot be performed or has been unsuccessful.[36]
Studies demonstrate that failure rates are proportional to the amount of pericardium removed (ie, the more pericardium removed, the less likely the procedure will fail). In effusive pericarditis, the higher failure rate associated with a pericardial window procedure or partial pericardiectomy is likely secondary to the continued fluid production from the remaining pericardium, with sealing of the remaining pericardium to the heart.
The operative mortality rate was 14% in one series, with a range of 1% for New York Heart Association (NYHA) class 1-2, 10% for class 3, and 46% for class 4. The 5-year survival rate was 80% for class 3-4 and approximately 95% for 1-2.
As with pericardiocentesis, studies involving pericardiectomy note a greatly improved diagnostic yield if pericardial biopsy is performed as part of a therapeutic procedure. Diagnostic biopsies yielded 5%, whereas therapeutic biopsies were at 22-54%.
A study by Thompson et al indicated that complete pericardiectomy can produce good outcomes in properly selected pediatric patients with pericarditis.[37] The report involved 27 pediatric patients (mean age, 16.7 y), including 16 patients with inflammatory pericarditis and 11 with constrictive pericarditis. The median presurgical period of symptom duration for these patients was 1 year. Before the pericardiectomies were performed, 10 patients had been hospitalized for treatment of symptoms, 15 had undergone pericardiocentesis, and 3 had already undergone a partial pericardiectomy.[37]
The procedures in the above study consisted of complete pericardiectomy (21 patients), biventricular pericardiectomy (3 patients), and completion pericardiectomy (3 patients). The postoperative course was, for most of the patients, uneventful, although one patient with radiation-induced heart disease died of acute hepatic failure 155 days after undergoing pericardiectomy.[37] At follow-up (median period, 1 y), 89% of the patients had experienced complete symptom resolution.
Pericardiocentesis
People with effusions larger than 250 mL, effusions in which size increases despite intensive dialysis for 10-14 days, or effusions with evidence of tamponade are candidates for pericardiocentesis (for the technique, see Pericardiocentesis under Workup).
The image below shows preprocedure and postprocedure images of a cardiac silhouette.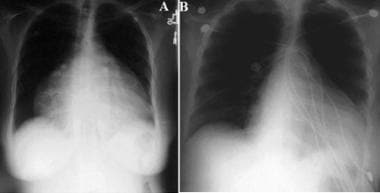 Chest radiographs revealing markedly enlarged cardiac silhouette and normal-appearing lung parenchyma in prepericardiocentesis (A) and postpericardiocentesis (B). Courtesy of Zhi Zhou, MD.
Pericardial window placement
In critically ill patients, a balloon catheter may be used to create a pericardial window, in which only 9 cm2 or less of pericardium is resected. This procedure is a modification of balloon valvuloplasty in which an uninflated balloon is passed inside the pericardial space, where it is opacified, inflated, and then pulled through the pericardium to create a window through which pericardial fluid drains into the peritoneal or pleural space.
Pericardial window placement is used for effusive pericarditis therapy. Some studies note the need for repeat operation in nearly 25% of patients who undergo the procedure at 2 years.
Pericardiotomy
Consider subxyphoidsubxiphoid pericardiotomy for large effusions that do not resolve. This procedure may be performed under local anesthesia and has a lower risk of complications compared with pericardiectomy.
The ESC 2004 guideline recommends percutaneous balloon pericardiotomy, which creates a pleuro-pericardial direct communication, allowing for drainage of fluid into the pleural space. In large malignant pericardial effusions and recurrent tamponade, it appears to be a safe and effective (90-97%) intervention.[24]
Complications
The following conditions are possible complications of acute pericarditis itself or treatment used in its management:
Recurrence in 15-32% of patients

Cardiac tamponade

Constrictive pericarditis. In addition, liver disease has been reported in asymptomatic constrictive pericarditis

Combination of effusive and constrictive pericarditis

Noncompressive effusion

Cardiac perforation with pericardiocentesis
Bronchopericardial fistula has been reported as a complication of multi–drug-resistant tuberculosis in a patient with human immunodeficiency virus (HIV) infection.[38]
Consultations and Long-Term Monitoring
Consult a cardiologist or internist for acute and idiopathic cases of pericarditis. In complicated cases (eg, tuberculous, traumatic pericardial injury, purulent uremic etiologies require multidisciplinary involvement) obtain consultations with a cardiologist, cardiac and/or trauma surgeon, and medical subspecialists (eg, infectious diseases specialist, nephrologist).
Consult with a cardiothoracic surgeon for all patients with large effusions. Development of tamponade is unpredictable, and it is important for the surgeon to be aware of the patient if an emergent procedure is necessary.
In patients with uremic or dialysis-associated pericarditis, carefully monitor the patient at follow-up hemodialysis visits for recurrence of signs or symptoms. Up to 15% of these patients may have recurrence of pericarditis.
References
Bhardwaj R, Berzingi C, Miller C, Hobbs G, Gharib W, Beto RJ, et al. Differential diagnosis of acute pericarditis from normal variant early repolarization and left ventricular hypertrophy with early repolarization: an electrocardiographic study. Am J Med Sci. 2013 Jan. 345(1):28-32. [Medline].

Markel G, Imazio M, Brucato A, et al. Prevention of recurrent pericarditis with colchicine in 2012. Clin Cardiol. 2013 Mar. 36(3):125-8. [Medline].

Alabed S, Cabello JB, Irving GJ, et al. Colchicine for pericarditis. Cochrane Database Syst Rev. 2014 Aug 28. 8:CD010652. [Medline].

Tseng JR, Lee MJ, Yen KC, Weng CH, Liang CC, Wang IK, et al. Course and outcome of dialysis pericarditis in diabetic patients treated with maintenance hemodialysis. Kidney Blood Press Res. 2009. 32(1):17-23. [Medline].

Imazio M, Brucato A, Maestroni S, et al. Risk of constrictive pericarditis after acute pericarditis. Circulation. 2011 Sep 13. 124(11):1270-5. [Medline].

Chraibi S, Ibnabdeljalil H, Habbal R, Bennis A, Tahiri A, Chraibi N. Pericardial tamponade as the first manifestation of dermatopolymyositis. Ann Med Interne (Paris). 1998 Nov. 149(7):464-6. [Medline].

Soler-Soler J, Permanyer-Miralda G, Sagristà-Sauleda J. A systematic diagnostic approach to primary acute pericardial disease. The Barcelona experience. Cardiol Clin. 1990 Nov. 8(4):609-20. [Medline].

Friman G, Fohlman J. The epidemiology of viral heart disease. Scand J Infect Dis Suppl. 1993. 88:7-10. [Medline].

Silva-Cardoso J, Moura B, Martins L, Mota-Miranda A, Rocha-Gonçalves F, Lecour H. Pericardial involvement in human immunodeficiency virus infection. Chest. 1999 Feb. 115(2):418-22. [Medline].

Feinstein Y, Falup-Pecurariu O, Mitrica M, Berezin EN, Sini R, Krimko H, et al. Acute pericarditis caused by Streptococcus pneumoniae in young infants and children: three case reports and a literature review. Int J Infect Dis. 2010 Feb. 14(2):e175-8. [Medline].

Mastroianni A, Coronado O, Chiodo F. Tuberculous pericarditis and AIDS: case reports and review. Eur J Epidemiol. 1997 Oct. 13(7):755-9. [Medline].

Imazio M, Negro A, Belli R, Beqaraj F, Forno D, Giammaria M, et al. Frequency and prognostic significance of pericarditis following acute myocardial infarction treated by primary percutaneous coronary intervention. Am J Cardiol. 2009 Jun 1. 103(11):1525-9. [Medline].

Salisbury AC, Olalla-Gómez C, Rihal CS, Bell MR, Ting HH, Casaclang-Verzosa G, et al. Frequency and predictors of urgent coronary angiography in patients with acute pericarditis. Mayo Clin Proc. 2009. 84(1):11-5. [Medline]. [Full Text].

Eckart RE, Love SS, Atwood JE, Arness MK, Cassimatis DC, Campbell CL, et al. Incidence and follow-up of inflammatory cardiac complications after smallpox vaccination. J Am Coll Cardiol. 2004 Jul 7. 44(1):201-5. [Medline].

Lin AH, Phan HA, Barthel RV, Maisel AS, Crum-Cianflone NF, Maves RC, et al. Myopericarditis and pericarditis in the deployed military member: a retrospective series. Mil Med. 2013 Jan. 178(1):18-20. [Medline].

Murthy SC, Rozas MS, Adelstein DJ, Mason DP, Calhoun R, Rybicki LA, et al. Induction chemoradiotherapy increases pleural and pericardial complications after esophagectomy for cancer. J Thorac Oncol. 2009 Mar. 4(3):395-403. [Medline].

Lorell BH. Pericardial diseases. Braunwald E, ed. Heart Disease: A Textbook of Cardiovascular Medicine. 5th. Philadelphia, Pa: WB Saunders; 1997. 1478-534.

Brady WJ, Perron AD, Martin ML, Beagle C, Aufderheide TP. Cause of ST segment abnormality in ED chest pain patients. Am J Emerg Med. 2001 Jan. 19(1):25-8. [Medline].

Mercé J, Sagristà Sauleda J, Permanyer Miralda G, Carballo J, Olona M, Soler Soler J. [Pericardial effusion in the elderly: A different disease?]. Rev Esp Cardiol. 2000 Nov. 53(11):1432-6. [Medline].

Sagristà-Sauleda J, Barrabés JA, Permanyer-Miralda G, Soler-Soler J. Purulent pericarditis: review of a 20-year experience in a general hospital. J Am Coll Cardiol. 1993 Nov 15. 22(6):1661-5. [Medline].

Imazio M, Brucato A, Adler Y, Brambilla G, Artom G, Cecchi E, et al. Prognosis of idiopathic recurrent pericarditis as determined from previously published reports. Am J Cardiol. 2007 Sep 15. 100(6):1026-8. [Medline].

Estok L, Wallach F. Cardiac tamponade in a patient with AIDS: a review of pericardial disease in patients with HIV infection. Mt Sinai J Med. 1998 Jan. 65(1):33-9. [Medline].

Rossello X, Wiegerinck RF, Alguersuari J, et al. New electrocardiographic criteria to differentiate acute pericarditis and myocardial infarction. Am J Med. 2014 Mar. 127(3):233-9. [Medline].

[Guideline] Maisch B, Seferovic PM, Ristic AD, Erbel R, Rienmüller R, Adler Y, et al. Guidelines on the diagnosis and management of pericardial diseases executive summary; The Task force on the diagnosis and management of pericardial diseases of the European society of cardiology. Eur Heart J. 2004 Apr. 25(7):587-610. [Medline].

Imazio M, Brucato A, Maestroni S, Cumetti D, Dominelli A, Natale G, et al. Prevalence of C-reactive protein elevation and time course of normalization in acute pericarditis: implications for the diagnosis, therapy, and prognosis of pericarditis. Circulation. 2011 Mar 15. 123(10):1092-7. [Medline].

Imazio M, Demichelis B, Cecchi E, Belli R, Ghisio A, Bobbio M, et al. Cardiac troponin I in acute pericarditis. J Am Coll Cardiol. 2003 Dec 17. 42(12):2144-8. [Medline].

Machado S, Roubille F, Gahide G, Vernhet-Kovacsik H, Cornillet L, Cung TT, et al. Can troponin elevation predict worse prognosis in patients with acute pericarditis?. Ann Cardiol Angeiol (Paris). 2010 Feb. 59(1):1-7. [Medline].

Kim SH, Song JM, Jung IH, Kim MJ, Kang DH, Song JK. Initial echocardiographic characteristics of pericardial effusion determine the pericardial complications. Int J Cardiol. 2009 Aug 14. 136(2):151-5. [Medline].

Hammer MM, Raptis CA, Javidan-Nejad C, et al. Accuracy of computed tomography findings in acute pericarditis. Acta Radiol. 2013 Dec 10. [Medline].

Yared K, Baggish AL, Picard MH, Hoffmann U, Hung J. Multimodality imaging of pericardial diseases. JACC Cardiovasc Imaging. 2010 Jun. 3(6):650-60. [Medline].

Imazio M, Demichelis B, Parrini I, Giuggia M, Cecchi E, Gaschino G, et al. Day-hospital treatment of acute pericarditis: a management program for outpatient therapy. J Am Coll Cardiol. 2004 Mar 17. 43(6):1042-6. [Medline].

Imazio M, Brucato A, Mayosi BM, Derosa FG, Lestuzzi C, Macor A, et al. Medical therapy of pericardial diseases: part I: idiopathic and infectious pericarditis. J Cardiovasc Med (Hagerstown). 2010 Oct. 11(10):712-22. [Medline].

Iyoda M, Ajiro Y, Sato K. A case of refractory uremic pleuropericarditis--successful corticosteroid treatment. Clin Nephrol. Apr 2006. 65(4):290-3. [Full Text].

Inanç M, Akpek M, Inanç MT, Kaya MG. Acute pericarditis during 5-fluorouracil, docetaxel and cisplatin therapy. Turk Kardiyol Dern Ars. 2012 Oct. 40(6):532-5. [Medline].

Imazio M, Trinchero R, Brucato A, Rovere ME, Gandino A, Cemin R, et al. COlchicine for the Prevention of the Post-pericardiotomy Syndrome (COPPS): a multicentre, randomized, double-blind, placebo-controlled trial. Eur Heart J. 2010 Nov. 31(22):2749-54. [Medline].

Nakayama Y, Ohtani Y, Kobayakawa N, Kobayashi J, Kaneko Y, Aoyagi T. A case of early phase dialysis associated effusive constrictive pericarditis with distinct surgical findings. Int Heart J. 2009 Sep. 50(5):685-91. [Medline].

Thompson JL, Burkhart HM, Dearani JA, Cetta F, Oh JK, Schaff HV. Pericardiectomy for pericarditis in the pediatric population. Ann Thorac Surg. 2009 Nov. 88(5):1546-50. [Medline].

Bennett JA, Haramati LB. CT of bronchopericardial fistula: an unusual complication of multidrug-resistant tuberculosis in HIV infection. AJR Am J Roentgenol. 2000 Sep. 175(3):819-20. [Medline].

Adler Y, Finkelstein Y, Guindo J, Rodriguez de la Serna A, Shoenfeld Y, Bayes-Genis A, et al. Colchicine treatment for recurrent pericarditis. A decade of experience. Circulation. 1998 Jun 2. 97(21):2183-5. [Medline].

Adler Y, Guindo J, Finkelstein Y, Khouri A, Assali A, Bayes-Genis A, et al. Colchicine for large pericardial effusion. Clin Cardiol. 1998 Feb. 21(2):143-4. [Medline].

Kuo I, Pearson GJ, Koshman SL. Colchicine for the primary and secondary prevention of pericarditis: an update. Ann Pharmacother. 2009 Dec. 43(12):2075-81. [Medline].

Imazio M, Brucato A, Cemin R, et al. Colchicine for Recurrent Pericarditis (CORP) A Randomized Trial. Ann Intern Med. 2011 Oct 4. 155(7):409-414. [Medline].
Medscape Reference © 2011 WebMD, LLC