Multifetal Pregnancy Workup
Author: Asha J Heard, MD, MPH, FACOG; Chief Editor: Ronald M Ramus, MD  more...
Updated: Mar 09, 2016
What would you like to print?
Ultrasound
Ultrasound examination remains the most reliable method for diagnosis of multiple gestations. Chorionicity should be established as soon as possible during pregnancy because it can affect future management decisions. The optimal time for diagnosis is in the first trimester or early second trimester.[11]
The most reliable predictor of a dichorionic gestation is the presence of two separate placentas. However, if the placentas have fused by the time an ultrasound examination is performed, a dichorionic, diamniotic gestation can show evidence of a "twin peak" or "lambda" sign on ultrasound. This refers to a triangular portion of the chorion fused between two layers of amnion. See the images below.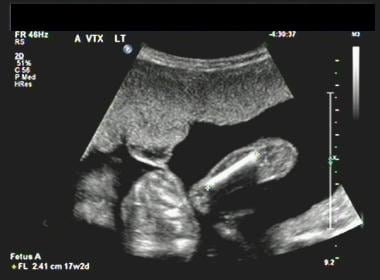 Twin peak sign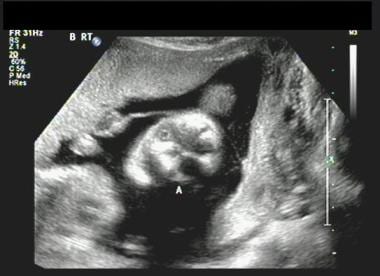 Twin peak sign
A monochorionic, diamniotic gestation can have the presence of a "T" sign, which is the appearance of the amnion as it comes off the placenta at a 90° angle. See the image below.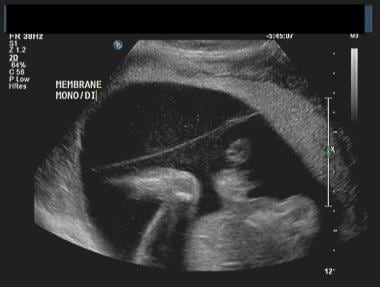 "T" sign
These signs can be more difficult to appreciate as the pregnancy progresses.
References
Malone FD, D'Alton ME. Multiple gestation: clinical characteristics and management. Creasy RK, Resnik R. Maternal Fetal Medicine, Principles and Practices. Sixth edition. Philadelphia, PA: Saunders; 2009. 454-476.

Schieve LA, Peterson HB, Meikle SF, Jeng G, Danel I, Burnett NM, et al. Live-birth rates and multiple-birth risk using in vitro fertilization. JAMA. 1999 Nov 17. 282(19):1832-8. [Medline].

Nylander PP. The factors that influence twinning rates. Acta Genet Med Gemellol (Roma). 1981. 30(3):189-202. [Medline].

Soma H, Takayama M, Kiyokawa T, Akaeda T, Tokoro K. Serum gonadotropin levels in Japanese women. Obstet Gynecol. 1975 Sep. 46(3):311-2. [Medline].

Benirschke K, Kim CK. Multiple pregnancy. 1. N Engl J Med. 1973 Jun 14. 288(24):1276-84. [Medline].

Martin JA, Hamilton BE, Osterman MJ. Three decades of twin births in the United States, 1980-2009. NCHS Data Brief. 2012.

Lambalk CB, De Koning CH, Braat DD. The endocrinology of dizygotic twinning in the human. Mol Cell Endocrinol. 1998 Oct 25. 145(1-2):97-102. [Medline].

Ettner SL, Christiansen CL, Callahan TL, Hall JE. How low birthweight and gestational age contribute to increased inpatient costs for multiple births. Inquiry. 1997-1998 Winter. 34(4):325-39. [Medline].

Grether JK, Nelson KB, Cummins SK. Twinning and cerebral palsy: experience in four northern California counties, births 1983 through 1985. Pediatrics. 1993 Dec. 92(6):854-8. [Medline].

American College of Obstetricians and Gynecologists, Society for Maternal-Fetal Medicine. ACOG Practice Bulletin No. 144: Multifetal gestations: twin, triplet, and higher-order multifetal pregnancies. Obstet Gynecol. 2014 May. 123 (5):1118-32. [Medline].

Shetty A, Smith AP. The sonographic diagnosis of chorionicity. Prenat Diagn. 2005 Sep. 25(9):735-9. [Medline].

Evans MI, Dommergues M, Wapner RJ, Goldberg JD, Lynch L, Zador IE. International, collaborative experience of 1789 patients having multifetal pregnancy reduction: a plateauing of risks and outcomes. J Soc Gynecol Investig. 1996 Jan-Feb. 3(1):23-6. [Medline].

Haas J, Hourvitz A, Dor J, et al. Pregnancy outcome of early multifetal pregnancy reduction: triplets to twins versus triplets to singletons. Reprod Biomed Online. 2014 Dec. 29(6):717-21. [Medline].

Shinagawa S, Suzuki S, Chihara H, Otsubo Y, Takeshita T, Araki T. Maternal basal metabolic rate in twin pregnancy. Gynecol Obstet Invest. 2005. 60(3):145-8. [Medline].

Weight gain during pregnancy: reexamining the guidelines. Institute of Medicine of the National Academies. May 28, 2009.

Goodnight W, Newman R,. Optimal nutrition for improved twin pregnancy outcome. Obstet Gynecol. 2009 Nov. 114(5):1121-34. [Medline].

Blake GD, Knuppel RA, Ingardia CJ, Lake M, Aumann G, Hanson M. Evaluation of nonstress fetal heart rate testing in multiple gestations. Obstet Gynecol. 1984 Apr. 63(4):528-32. [Medline].

Lodeiro JG, Vintzileos AM, Feinstein SJ, Campbell WA, Nochimson DJ. Fetal biophysical profile in twin gestations. Obstet Gynecol. 1986 Jun. 67(6):824-7. [Medline].

Curnow KJ, Wilkins-Haug L, Ryan A, et al. Detection of triploid, molar, and vanishing twin pregnancies by a single-nucleotide polymorphism-based noninvasive prenatal test. Am J Obstet Gynecol. 2015 Jan. 212(1):79.e1-9. [Medline].

Minakami H, Sato I. Reestimating date of delivery in multifetal pregnancies. JAMA. 1996 May 8. 275(18):1432-4. [Medline].

Whitworth NS, Magann EF, Morrison JC. Evaluation of fetal lung maturity in diamniotic twins. Am J Obstet Gynecol. 1999 Jun. 180(6 Pt 1):1438-41. [Medline].

Hack KE, Derks JB, Elias SG, Franx A, Roos EJ, Voerman SK. Increased perinatal mortality and morbidity in monochorionic versus dichorionic twin pregnancies: clinical implications of a large Dutch cohort study. BJOG. 2008 Jan. 115(1):58-67. [Medline].

Lee YM, Wylie BJ, Simpson LL, D'Alton ME. Twin chorionicity and the risk of stillbirth. Obstet Gynecol. 2008 Feb. 111(2 Pt 1):301-8. [Medline].

Glinianaia SV, Obeysekera MA, Sturgiss S, Bell R. Stillbirth and neonatal mortality in monochorionic and dichorionic twins: a population-based study. Hum Reprod. 2011 Jul 4. [Medline].

Hogle KL, Hutton EK, McBrien KA, Barrett JF, Hannah ME. Cesarean delivery for twins: a systematic review and meta-analysis. Am J Obstet Gynecol. 2003 Jan. 188(1):220-7. [Medline].

Chasen ST, Spiro SJ, Kalish RB, Chervenak FA. Changes in fetal presentation in twin pregnancies. J Matern Fetal Neonatal Med. 2005 Jan. 17(1):45-8. [Medline].

Chauhan SP, Roberts WE, McLaren RA, Roach H, Morrison JC, Martin JN Jr. Delivery of the nonvertex second twin: breech extraction versus external cephalic version. Am J Obstet Gynecol. 1995 Oct. 173(4):1015-20. [Medline].

Glinianaia SV, Rankin J, Wright C. Congenital anomalies in twins: a register-based study. Hum Reprod. 2008 Jun. 23(6):1306-11. [Medline].

Cameron AH, Edwards JH, Derom R, Thiery M, Boelaert R. The value of twin surveys in the study of malformations. Eur J Obstet Gynecol Reprod Biol. 1983 Feb. 14(5):347-56. [Medline].

Meyers C, Adam R, Dungan J, Prenger V. Aneuploidy in twin gestations: when is maternal age advanced?. Obstet Gynecol. 1997 Feb. 89(2):248-51. [Medline].

Sibai BM, Hauth J, Caritis S, Lindheimer MD, MacPherson C, Klebanoff M. Hypertensive disorders in twin versus singleton gestations. National Institute of Child Health and Human Development Network of Maternal-Fetal Medicine Units. Am J Obstet Gynecol. 2000 Apr. 182(4):938-42. [Medline].

Roach VJ, Lau TK, Wilson D, Rogers MS. The incidence of gestational diabetes in multiple pregnancy. Aust N Z J Obstet Gynaecol. 1998 Feb. 38(1):56-7. [Medline].

Effect of corticosteroids for fetal maturation on perinatal outcomes. NIH Consens Statement. 1994 Feb 28-Mar 2. 12(2):1-24. [Medline].

Mauldin JG, Newman RB. Neurologic morbidity associated with multiple gestation. Female Pat. 1998. 23(4):27-8, 30, 35-6, passim.

Roberts D, Neilson JP, Kilby M, Gates S. Interventions for the treatment of twin-twin transfusion syndrome. Cochrane Database Syst Rev. 2008 Jan 23. CD002073. [Medline].

Rouse DJ, Caritis SN, Peaceman AM, Sciscione A, Thom EA, Spong CY, et al. A trial of 17 alpha-hydroxyprogesterone caproate to prevent prematurity in twins. N Engl J Med. 2007 Aug 2. 357 (5):454-61. [Medline].

Caritis SN, Rouse DJ, Peaceman AM, Sciscione A, Momirova V, Spong CY, et al. Prevention of preterm birth in triplets using 17 alpha-hydroxyprogesterone caproate: a randomized controlled trial. Obstet Gynecol. 2009 Feb. 113 (2 Pt 1):285-92. [Medline].

Garchet-Beaudron A, Dreux S, Leporrier N, Oury JF, Muller F, ABA Study Group, et al. Second-trimester Down syndrome maternal serum marker screening: a prospective study of 11 040 twin pregnancies. Prenat Diagn. 2008 Dec. 28 (12):1105-9. [Medline].

Committee Opinion No. 640: Cell-Free DNA Screening For Fetal Aneuploidy. Obstet Gynecol. 2015 Sep. 126 (3):e31-7. [Medline].
Medscape Reference © 2011 WebMD, LLC