Hypertensive Encephalopathy Clinical Presentation
Author: Irawan Susanto, MD, FACP; Chief Editor: Michael R Pinsky, MD, CM, Dr(HC), FCCP, MCCM  more...
Updated: Aug 16, 2016
What would you like to print?
History
Most patients with hypertensive encephalopathy have a history of hypertension. In patients who do not have a prior history of hypertension, place emphasis on the past medical history, the medication list, and medication compliance. Actively seek drug-induced causes, for example, sympathomimetic agents and illicit drugs such as cocaine.[5]
Patients usually have vague neurologic symptoms and may present with symptoms of headache, confusion, visual disturbances, seizures, nausea, and vomiting. Headaches are usually anterior and constant in nature. The onset of symptoms usually occurs over 24-48 hours, with neurologic progression over 24-48 hours.
Patients also may present with symptoms resulting from other end-organ damage.[6] Examples of these symptoms include the following:
Cardiovascular symptoms of aortic dissection, congestive heart failure, angina, palpitations, irregular heartbeat, or dyspnea

Renal hematuria and acute renal failure
Physical Examination
A thorough and complete neurologic and ophthalmoscopic (funduscopic) examination is essential in the evaluation of patients. On ophthalmoscopy, grade IV retinal changes are associated with hypertensive encephalopathy,[7] including papilledema, hemorrhage, exudates, and cotton-wool spots (see the images below). Although papilledema is usually considered a more severe finding, it actually does not confer worse survival than hemorrhages and exudates alone.[8]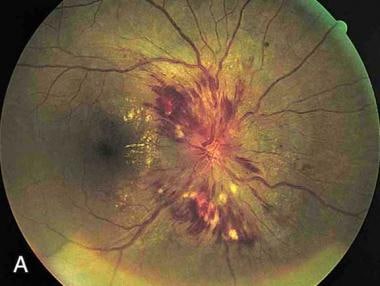 Papilledema. Note the swelling of the optic disc, with blurred margins.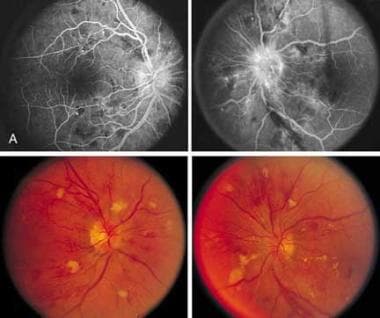 Hypertensive retinopathy. Note the flame-shaped hemorrhages, soft exudates, and early disc blurring.
Neurologic examination reveals transient and migratory neurologic nonfocal deficits ranging from nystagmus to weakness and an altered mental status ranging from confusion to coma.
In addition, include a careful vascular examination to evaluate for vasculopathy; radiologic examinations might not acutely identify ischemic stroke.
Other target-organ damage that may be found includes the following:
Cardiovascular - S3, elevated neck veins, peripheral edema, murmurs, abdominal pulsations, and diminished pulses

Renal - Acute renal failure, pulmonary edema, and peripheral edema

Pulmonary - Pulmonary edema, rales, and wheezes
Complications
Complications of hypertensive encephalopathy result in neurologic deficits from hemorrhage and strokes, which can progress to death. Complications of hypertension include the following:
Coma

Death

Stroke

Nephropathy

Myocardial ischemia or infarction

Nephropathy

Retinopathy

Peripheral vascular disease
References
Aggarwal M. Hypertensive crisis: hypertensive emergencies and urgencies. Cardiol Clin. 2006. 24:135-46. [Medline].

Bales A. Hypertensive crisis. How to tell if it's an emergency or an urgency. Postgrad Med. 1999 May 1. 105(5):119-26, 130. [Medline].

Immink RV, van den Born BJ, van Montfrans GA, Koopmans RP, Karemaker JM, van Lieshout JJ. Impaired cerebral autoregulation in patients with malignant hypertension. Circulation. 2004 Oct 12. 110(15):2241-5. [Medline].

Schwartz RB, Jones KM, Kalina P, et al. Hypertensive encephalopathy: findings on CT, MR imaging, and SPECT imaging in 14 cases. AJR Am J Roentgenol. 1992 Aug. 159(2):379-83. [Medline].

Grossman E, Messerli FH. High blood pressure. A side effect of drugs, poisons, and food. Arch Intern Med. 1995 Mar 13. 155(5):450-60. [Medline].

Frohlich E.D. Target organ involvement in hypertension: a realistic promise of prevention and reversal. Med Clin North Am. 2004. 88:1-9. [Medline].

Amraoui F, van Montfrans GA, van den Born BJ. Value of retinal examination in hypertensive encephalopathy. J Hum Hypertens. 2009 Oct 29. [Medline].

Ahmed ME, Walker JM, Beevers DG, Beevers M. Lack of difference between malignant and accelerated hypertension. Br Med J (Clin Res Ed). 1986 Jan 25. 292(6515):235-7. [Medline]. [Full Text].

Lambert CR, Hill JA, Nichols WW, Feldman RL, Pepine CJ. Coronary and systemic hemodynamic effects of nicardipine. Am J Cardiol. 1985 Mar 1. 55(6):652-6. [Medline].

Gavras H, Brunner HB, Vaughan ED, Laragh JH. Angiotensin-sodium interaction in blood pressure maintenance of renal hypertensive and normotensive rats. Science. 1973 Jun 29. 180(4093):1369-71. [Medline].
Medscape Reference © 2011 WebMD, LLC