Autoimmune Lymphoproliferative Syndrome Treatment & Management
Author: Luke M Webb, MD; Chief Editor: Harumi Jyonouchi, MD more...
Updated: Aug 15, 2014
What would you like to print?
Approach Considerations
Upon confirmation of a diagnosis of autoimmune lymphoproliferative syndrome (ALPS), patients should undergo counseling aimed at specifically addressing the risks associated with this condition. Emphasize to patients and their parents or guardians (if ALPS is diagnosed in a pediatric patient) that immediate medical attention should be sought for systemic constitutional symptoms or signs of low platelets like petechiae or mucosal bleeding.
Furthermore, they should be educated on the risks associated with the other significant cytopenias that can develop (eg, anemia and neutropenia). The increased risk of lymphomas and other malignancies should also be addressed, and patients should be encouraged to seek further evaluation for any severe or sudden fluctuations in lymph node or spleen size.
In ALPS patients with intracellular FAS mutations, the risk of lymphoma should be particularly emphasized. Likewise, in asplenic ALPS patients with, stress the infection risks, including the pneumococcal sepsis associated with asplenia (which may be compounded by lack of memory B cells and autoimmune neutropenia).
The massive lymphadenopathy seen in children with ALPS can evoke considerable anxiety in patients and families, and as a result, clinicians may feel inclined to treat these patients for cosmetic purposes alone. However, corticosteroids or immunosuppressive drugs (eg, azathioprine, cyclosporine, or mycophenolate mofetil) do not consistently shrink the lymph nodes and spleens of ALPS patients, and their use to treat these patients for solely cosmetic purposes is not indicated.[7, 10]
Typically, the surgical care required for patients with ALPS is limited. Exceptions may include lymph node biopsies and, at times, splenectomy. Stem cell transplantation may be an option in cases of severe recalcitrant ALPS.
Patients with ALPS are admitted to the hospital on a limited basis—generally, only to treat a critical care emergency (eg, fever, sepsis, mucocutaneous bleeding, profound anemia, or thrombocytopenia). Conditions associated with ALPS, such as Hodgkin lymphoma and non-Hodgkin lymphoma, may require more extensive hospitalization. Other treatments are usually provided in an outpatient or home setting.
Outpatient care must be individualized. A team approach with appropriate consultants (see Consultations) should emphasize activities of daily living (to include school attendance), good nutrition, and a healthy and positive attitude. Treatment teams should monitor medications used, as well as medication compliance, and admit patients to the hospital only for definitive medical or surgical treatment. Patients who have undergone splenectomy should wear medical alert bracelets or necklaces or carry wallet cards outlining their risk for sepsis.[18]
Pharmacologic Therapy
All ALPS patients who are asplenic should be treated with long-term antibiotic (eg, penicillin V) prophylaxis against pneumococcal sepsis. Because of deficient memory B-cell function, these patients are often unable to produce or maintain protective antibodies against polysaccharide antigens after vaccination.[7] Nevertheless, they should be vaccinated against encapsulated organisms such as pneumococcus, meningococcus, and Haemophilus influenzae type B (Hob) and should wear an appropriate alert bracelet citing their increased risk of infection.
An important aspect of caring for ALPS patients is medical treatment of the chronic and refractory autoimmune cytopenias that frequently cause morbidity and even mortality in these patients. Initial management of ALPS-related autoimmune cytopenias, which may include autoimmune hemolytic anemia (AIHA), autoimmune thrombocytopenia (AITP), and autoimmune neutropenia (AIN), is similar to that of cytopenias in other patient populations.
For AIHA or ITP, this includes the use of high-dose methylprednisolone (5-30 mg/kg/day for 1-2 days) followed by lower-dose prednisone (1-2 mg/kg/day) tapered slowly over months. High-dose (1-2 g/kg) intravenous immunoglobulin (IVIg) may be considered for concomitant use with pulse-dose steroids in those with severe AIHA. Some patients with autoimmune neutropenias who experience associated infection may be treated with low-dose granulocyte colony-stimulating factor (G-CSF) 1-2 µg/kg subcutaneously 3 times weekly.[7]
In patients with refractory autoimmune cytopenias that necessitate long-term steroid therapy, mycophenolate mofetil has been shown to be an effective steroid-sparing agent that maintains adequate blood cell counts and either reduces the required dose of other immunosuppressive agents or renders them unnecessary.[19]
A small retrospective study that looked at the use of rituximab for the treatment of autoimmune cytopenias in ALPS found that whereas some ALPS patients with AITP showed improvement, ALPS patients with AIHA failed to show a significant improvement.[7, 20] Furthermore, the use of rituximab in patients with ALPS-associated cytopenias led to significant toxicities, including hypogammaglobulinemia and neutropenia.
Given the preexisting increased risk of infection in these patients, particularly those who are asplenic, the investigators concluded that rituximab should be avoided in this setting until all other immunosuppressive medication options have been exhausted.[7, 20]
A report by Teachey et al showed significant improvement in ALPS patients who had associated cytopenias after treatment with sirolimus.[21] Although these results were encouraging, the authors felt that further studies of long-term outcomes were warranted before recommendations could be made regarding which patients would benefit most from this therapy. A suggested treatment algorithm for autoimmune cytopenias associated with ALPS has been developed (see the image below).[20]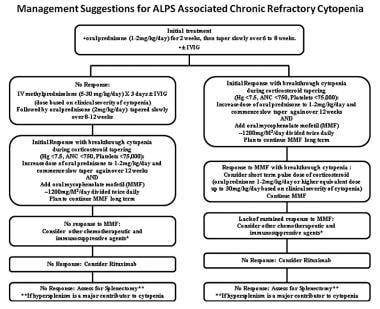 Suggested treatment algorithm for patients with autoimmune lymphoproliferative syndrome (ALPS). This schematic diagram is included only as a suggested guideline for managing children with autoimmune lymphoproliferative syndrome–associated autoimmune multilineage cytopenias. Use of granulocyte-colony stimulating factor (G-CSF) may be warranted for severe neutropenia associated with systemic infections. Similarly, use of other chemotherapeutic and immunosuppressive agents (eg, vincristine, methotrexate, mercaptopurine, azathioprine, cyclosporine, hydroxychloroquine, tacrolimus, sirolimus) besides mycophenolate mofetil (MMF) should be considered as a steroid-sparing measure or while avoiding or postponing surgical splenectomy at the discretion of the treating clinicians based on the circumstances of a specific patient.
Stem Cell Transplantation
For reasons that remain unclear, the cytopenias in most patients with ALPS improve with age. Nevertheless, stem cell transplantation has been successful in ALPS patients and can be considered a treatment option for those with severe, recalcitrant disease and a matched donor.[7] Sibling donors should be screened for and should be free of a mutation in the apoptosis pathway.
The mortality of a matched unrelated donor-derived allogeneic bone marrow transplant is too high to warrant the procedure in most ALPS patients, many of whom have a near-normal life expectancy. Most patients with cytopenias secondary to ALPS can be managed with immunosuppressive agents. Few patients with recalcitrant autoimmune cytopenias are sick enough as a result of their cytopenias to justify the risks and mortality associated with allogeneic bone marrow transplantation.
Consultations
As with many chronic illnesses in pediatric or adult medicine, a team approach is required to best serve the patient. A pediatric hematologist experienced in diagnosing and treating patients with ALPS and associated cytopenias should act as the treatment team leader. The team should also include a geneticist, an immunologist, a rheumatologist, an occupational therapist, a general pediatrician or internist, and a social worker.
School attendance, compliance with prescribed medications, and plans of action for febrile episodes in asplenic individuals should be discussed and reinforced. Telemedicine may play a role in long-distance consultation and treatment of patients with ALPS who reside at greater distances from full-service institutions.
Diet and Activity
No specific diets, dietary supplements, or dietary avoidances have been shown to have a significant effect on the course of ALPS.
Physical activity is encouraged in patients with ALPS. Patients with associated splenomegaly should avoid contact sports (eg, football, ice hockey) because of the increased risk of splenic rupture.
To help reduce the risk of traumatic splenic rupture, spleen guards made of fiberglass by an occupational therapist familiar with making such devices for children should be considered in ALPS patients who have massive splenomegaly. This is particularly important for those who are physically active (ie, nearly every toddler) and for children involved in competitive sports.
Prevention
Although specific mutations that cause ALPS have been identified, no environmental exposures or risk factors have yet been associated with an increased prevalence of the disease. Certainly, any patient with a personal or family history of ALPS should be encouraged to undergo genetic counseling and testing by a geneticist. No other preventive recommendations are currently available for patients with ALPS, except for diligent adherence to care plans in patients who have undergone splenectomy.
References
Canale VC, Smith CH. Chronic lymphadenopathy simulating malignant lymphoma. J Pediatr. 1967 Jun. 70(6):891-9. [Medline].

Fisher GH, Rosenberg FJ, Straus SE, et al. Dominant interfering Fas gene mutations impair apoptosis in a human autoimmune lymphoproliferative syndrome. Cell. 1995 Jun 16. 81(6):935-46. [Medline].

John MJ, Rajasekhar R, Mathews V. Autoimmune lymphoproliferative syndrome (ALPS): a rare cause of immune cytopenia. Indian Pediatr. 2008 Feb. 45(2):148-50. [Medline].

Watanabe-Fukunaga R, Brannan CI, Copeland NG, Jenkins NA, Nagata S. Lymphoproliferation disorder in mice explained by defects in Fas antigen that mediates apoptosis. Nature. 1992 Mar 26. 356(6367):314-7. [Medline].

Sneller MC, Straus SE, Jaffe ES, Jaffe JS, Fleisher TA, Stetler-Stevenson M. A novel lymphoproliferative/autoimmune syndrome resembling murine lpr/gld disease. J Clin Invest. 1992 Aug. 90(2):334-41. [Medline]. [Full Text].

Holzelova E, Vonarbourg C, Stolzenberg MC, Arkwright PD, Selz F, Prieur AM. Autoimmune lymphoproliferative syndrome with somatic Fas mutations. N Engl J Med. 2004 Sep 30. 351(14):1409-18. [Medline].

Rao VK, Straus SE. Autoimmune Lymphoproliferative Syndrome. Young NS, Gerson SL, High KA. Clinical Hematology. 2006. Chapter 58.

Oliveira JB, Bidere N, Niemela JE, et al. NRAS mutation causes a human autoimmune lymphoproliferative syndrome. Proc Natl Acad Sci U S A. 2007 May 22. 104(21):8953-8. [Medline].

Oliveira JB, Bleesing JJ, Dianzani U, Fleisher TA, Jaffe ES, Lenardo MJ, et al. Revised diagnostic criteria and classification for the autoimmune lymphoproliferative syndrome (ALPS): report from the 2009 NIH International Workshop. Blood. 2010 Oct 7. 116(14):e35-40. [Medline]. [Full Text].

Rao VK, Straus SE. Causes and consequences of the autoimmune lymphoproliferative syndrome. Hematology. 2006 Feb. 11(1):15-23. [Medline].

Bristeau-Leprince A, Mateo V, Lim A, Magerus-Chatinet A, Solary E, Fischer A. Human TCR alpha/beta+ CD4-CD8- double-negative T cells in patients with autoimmune lymphoproliferative syndrome express restricted Vbeta TCR diversity and are clonally related to CD8+ T cells. J Immunol. 2008 Jul 1. 181(1):440-8. [Medline].

Fleisher TA. The autoimmune lymphoproliferative syndrome: an experiment of nature involving lymphocyte apoptosis. Immunol Res. 2008. 40(1):87-92. [Medline].

Oliveira JB, Fleisher TA. Autoimmune Lymphoproliferative Syndrome. Curr Opin All Clin Immunol. 2004. 4:497-503.

Ferrer R. Lymphadenopathy: differential diagnosis and evaluation. Am Fam Physician. 1998 Oct 15. 58(6):1313-20. [Medline].

Blessing J, Johnson J, Zhang K. Gene Reviews: Autoimmune Lymphoproliferative Syndrome. Gene Reviews. Available at http://www.ncbi.nlm.nih.gov/books/NBK1108/. Accessed: June 15, 2009.

Rao VK, Carrasquillo JA, Dale JK, Bacharach SL, Whatley M, Dugan F. Fluorodeoxyglucose positron emission tomography (FDG-PET) for monitoring lymphadenopathy in the autoimmune lymphoproliferative syndrome (ALPS). Am J Hematol. 2006 Feb. 81(2):81-5. [Medline].

Rao VK, Dowdell KC, Dale JK, Dugan F, Pesnicak L, Bi LL. Pyrimethamine treatment does not ameliorate lymphoproliferation or autoimmune disease in MRL/lpr-/- mice or in patients with autoimmune lymphoproliferative syndrome. Am J Hematol. 2007 Dec. 82(12):1049-55. [Medline].

Turbyville J, Mikita C, Mudra K. Asplenia. Medscape Reference. Available at http://emedicine.medscape.com/article/885226-overview. Accessed: June 30, 3009.

Rao VK, Dugan F, Dale JK, Davis J, Tretler J, Hurley JK. Use of mycophenolate mofetil for chronic, refractory immune cytopenias in children with autoimmune lymphoproliferative syndrome. Br J Haematol. 2005 May. 129(4):534-8. [Medline].

Rao VK, Price S, Perkins K, Aldridge P, Tretler J, Davis J. Use of rituximab for refractory cytopenias associated with autoimmune lymphoproliferative syndrome (ALPS). Pediatr Blood Cancer. 2009 Jul. 52(7):847-52. [Medline]. [Full Text].

Teachey DT, Greiner R, Seif A, et al. Treatment with sirolimus results in complete responses in patients with autoimmune lymphoproliferative syndrome. Br J Haematol. 2009 Apr. 145(1):101-6. [Medline]. [Full Text].

Price S, Shaw PA, Seitz A, Joshi G, Davis J, Niemela JE, et al. Natural history of autoimmune lymphoproliferative syndrome associated with FAS gene mutations. Blood. 2014 Mar 27. 123(13):1989-99. [Medline]. [Full Text].
Medscape Reference © 2011 WebMD, LLC