Esophagitis Workup
Author: Deepika Devuni, MBBS; Chief Editor: BS Anand, MD more...
Updated: Nov 12, 2015
What would you like to print?
Approach Considerations
Laboratory tests are usually unhelpful unless complications are present (eg, upper GI hemorrhage). Routine radiography is not indicated unless complications (eg, perforation, obstruction, bleeding) are suspected. Electrocardiography (ECG) and troponin or other cardiac markers are needed when acute coronary syndrome is in the differential diagnosis.
Double-contrast esophageal barium studies are recommended as the initial imaging study in patients presenting with dysphagia. However, a case can be made for initial upper endoscopy (esophagogastroduodenoscopy [EGD]) because this approach would reveal more diagnostic information (eg, inflammatory characteristics, ability to obtain samples for pathological examination, cytological examination, and viral and bacterial cultures).
The authors do not recommend barium studies for patients with absolute dysphagia or odynophagia. Upper endoscopy would be recommended under these circumstances. The authors view barium studies and upper endoscopy as complementary rather than competing tests in the evaluation of patients with dysphagia.
Diagnosis of metastatic cancer is best made by means of barium contrast radiography and computed tomography (CT) scanning.
Go to Pediatric Esophagitis for complete information on this topic.
Laboratory Studies
A complete blood count (CBC) is performed in patients with neutropenia or who are immunosuppressed.
A CD4 count and HIV test are performed in patients with risk factors for HIV.
A collagen workup (eg, antinuclear antibody [ANA], anti-dsDNA) may be performed based on the underlying disease.
Barium Studies
Double-contrast esophageal barium studies are recommended as the initial imaging study in patients presenting with dysphagia. A double-contrast esophageal barium study is also useful to investigate structural complications such as strictures and tumors. In other circumstances (eg, patients with absolute dysphagia or odynophagia), an initial upper endoscopy would be recommended; barium studies are less accurate for mucosal detail and can also reduce the capability of obtaining positive cultures.
Candida esophagitis
Because Candida esophagitis is primarily a mucosal disease, it often is difficult to recognize with single-contrast esophagography. By contrast, double-contrast esophagography has a sensitivity of 90% in detecting the condition.
On double-contrast studies, Candida esophagitis initially is manifested by discrete plaquelike lesions in the esophagus. Usually, the plaques are oriented longitudinally, appearing en face as linear or irregular filling defects with normal intervening mucosa (see the image below). The plaques may be localized or diffuse and usually are located in the upper or mid esophagus. Some patients may have multiple tiny plaques, which produce a finely granular or nodular appearance of the mucosa.
In advanced Candida esophagitis, the esophagus may have a grossly irregular or shaggy appearance as a result of innumerable plaques and pseudomembranes, with trapping of barium between the lesions (see the image below). This appearance is most commonly seen in patients with AIDS; therefore, the presence of a shaggy esophagus should suggest the possibility of AIDS in patients who are not yet known to be HIV positive.
Some of the plaques and pseudomembranes may eventually be sloughed off, producing 1 or more areas of ulceration on a background of diffuse plaque formation. Occasionally, barium may also dissect beneath the pseudomembranes, resulting in an intramural dissection tract or double-barrel esophagus.
In patients with chronic stasis, such as those with advanced achalasia or scleroderma involving the esophagus, superimposed Candida esophagitis may manifest as tiny nodules, polypoid folds, or a lacy appearance in the esophagus. Other patients with scleroderma or achalasia may have a foamy esophagus with innumerable bubbles layering out in the barium column as a result of a yeast form of the infection (see the image below). Other rare complications of esophageal candidiasis include perforation, tracheobronchial fistulas, and aortoesophageal fistulas.
Herpes esophagitis
On double-contrast esophagrams, herpes esophagitis usually manifests as multiple, small, superficial ulcers in the upper or mid esophagus on an otherwise normal background mucosa (see the image below).
The ulcers can have a punctate, linear, stellate, or volcano-like appearance, often with a thin halo of edema at the margins. The ulcers may be clustered together or widely separated with normal intervening mucosa. Severe herpes esophagitis may produce extensive ulceration and plaque formation, mimicking the appearance of Candida esophagitis.
Cytomegalovirus esophagitis
On double-contrast esophagrams, cytomegalovirus (CMV) esophagitis is typically manifested by 1 or more giant and relatively flat ulcers, sometimes associated with small satellite ulcers (see the image below).
These ulcers may be ovoid, elongated, or diamond shaped, and they are frequently surrounded by a radiolucent rim of edematous mucosa. Less commonly, CMV esophagitis appears as small superficial ulcers that are indistinguishable from the ulcers of herpes esophagitis on barium studies.
Go to Cytomegalovirus Esophagitis for complete information on this topic.
HIV esophagitis
The lesions usually appear on double-contrast esophagrams as 1 or more giant, flat ulcers (>1 cm in diameter) of the esophagus (see the image below). This finding is sometimes associated with a cluster of small satellite ulcers. The ulcers are often surrounded by a radiolucent rim of edema.
Tuberculous esophagitis
Barium studies or computed tomography (CT) may reveal extrinsic compression or displacement of the esophagus due to enlarged collections of nodes in the adjacent mediastinum. In some patients, traction diverticula may develop in the upper or mid esophagus.
Graft versus host disease
Barium contrast radiographs may reveal webs, rings, and tight strictures in the upper and mid esophagus.
Upper Endoscopy
Direct upper endoscopy (ie, EGD) allows mucosal visualization and procurement of mucosal biopsies and brushings (see the image below). It is a useful procedure in evaluating the degree of mucosal damage and is indicated in patients with hematemesis, heme-positive stools, or suspected esophageal obstruction.[1] Definitive diagnosis of infectious esophagitis requires esophagoscopy with biopsy for histologic and microbiologic evaluation.[5]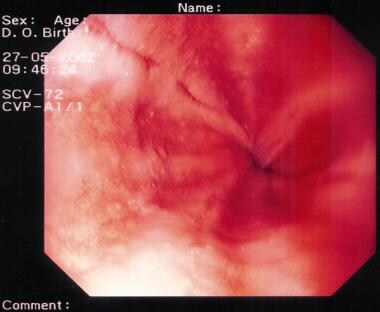 Peptic esophagitis. A rapid urease test (RUT) was performed on the esophageal biopsy sample. The result was positive for Helicobacter pylori.
Endoscopy is indicated in patients older than 50 years with new onset of symptoms, in those with features suggesting more serious disease (eg, abdominal mass, anemia, vomiting, dysphagia), and in patients in whom repeated trials of medical therapy have failed. Endoscopy may be indicated on an emergency basis in cases of upper GI hemorrhage, obstruction, or perforation. Endoscopy with biopsy and cultures is required for the diagnosis of infectious esophagitis.
EGD is preferred in patients with odynophagia because this is a specific symptom of esophagitis. EGD is the main diagnostic tool used for esophagitis. As noted earlier, upper endoscopy should be thought of as complementary to, rather than competing with, barium studies in the evaluation of patients with dysphagia.
A wide variety of endoscopic findings are possible, depending on the underlying cause. For instance, in patients with tuberculous esophagitis, esophageal symptoms result from direct extension from adjacent mediastinal structures. EGD reveals shallow ulcers, heaped-up lesions mimicking neoplasia, and extrinsic compression of the esophagus. Specimens should be sent for acid-fast stains and mycobacterial culture.
In patients with graft versus host disease (GVHD), generalized desquamation is visible on EGD.
In patients with metastatic cancer, EGD is used to exclude primary esophageal cancer.
In patients with pill esophagitis, EGD findings range from reddened edematous mucosa to small superficial ulcers to large ulcers with heaped up inflamed margins, often with exudate.
Blind Brush Cytology
Blind brush cytology has been used in the past; however, with the availability of EGD, its use has diminished. It is performed by passing a cytology brush in a sheath similar to a nasogastric or orogastric tube. Once the end of the catheter is in the mid esophagus, the brush is extended and brushings are taken. Finally, the brush is withdrawn back into the sheath. This is performed without any direct visualization, as occurs when brushings are performed during an EGD.
Histologic Findings
Histologic findings vary according to the etiology. For example, fungal and viral infections occur at differing locations in esophagitis-associated ulcers (see the image below).[1]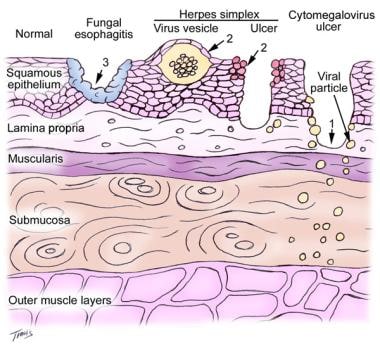 Esophagitis. Location of fungal and viral infections in ulcers.
Candida esophagitis
Oral thrush is a frequent finding and is often an indicator of esophageal involvement. Oral thrush can be absent in 25% of cases of Candida esophagitis. Candida infection is frequently asymptomatic.
The grading scale for candidal esophagitis is as follows:
Grade 1 - Few raised white plaques up to 2 mm in size, no ulceration

Grade 2 - Multiple raised white plaques more than 2 mm in size, no ulceration

Grade 3 - Confluent, linear, nodular, elevated plaques with ulceration

Grade 4 - Grade 3 with narrowed lumen
Candida plaques are typically creamy white or pale yellow, with underlying raw mucosa. Brushings should be obtained with a sheathed cytology brush, spread onto slides, and stained with periodic acid-Schiff, silver, or Gram stains. The presence of mycelial forms and masses of budding yeast is consistent with candidal infection. Cultures are seldom indicated because Candida species are commensal organisms, and differentiating normal flora from infection is difficult. Cultures are useful for resistant Candida or Aspergillus.
Herpes esophagitis
The diagnosis of herpes simplex virus (HSV) esophagitis is made at endoscopy. The earliest esophageal lesions are rounded 1- to 3-mm vesicles in the middle to distal esophagus. The centers slough to form discrete circumscribed ulcers with raised edges.
Advanced HSV esophagitis may be indistinguishable from candidal esophagitis. Plaques, cobblestoning, or a shaggy ulcerative appearance is observed.
HSV preferentially infects epithelial cells. Biopsy should be performed from ulcer margins of islands of squamous mucosa for histology and culture. The ulcer base is devoid of epithelial cells and is inadequate to diagnose HSV esophagitis.
The epithelial cells at the edge of the ulcers are characterized by the following:
Multinucleated giant cells

Ballooning degeneration

Ground glass intranuclear Cowdry type A inclusion bodies

Margination of chromatin
Immunologic staining of centrifugation cultures is more sensitive than routine histology. Immunohistologic stains using monoclonal antibodies to HSV antigens or in situ hybridization techniques may improve the yield in difficult cases.
Cytomegalovirus esophagitis
CMV infects submucosal fibroblasts and endothelial cells, not the squamous epithelium. Diagnosis depends on biopsies obtained by EGD. Superficial erosions with serpiginous nonraised borders in the middle to distal esophagus are observed. With infection progression, shallow ulcerations may deepen and expand for 5-10 cm. Tissue is needed for confirmation of the diagnosis; obtain multiple biopsies from the ulcer base.
The most constant feature of CMV esophagitis is mucosal ulceration; the ulcers may be single or multiple. These lesions can be shallow or deep, and not infrequently, they are several centimeters or more in diameter. Infected epithelial cells in the esophagus become enlarged by a factor of 2-4 times (hence the term cytomegalic cells), and they contain eccentrically placed intranuclear inclusion bodies with surrounding halos.
In contrast to herpes esophagitis, small granular cytoplasmic inclusions are seen in endothelial cells or fibroblasts near the base of the ulcers. A lymphomonocytic inflammatory response is also seen at the site of infection.
Go to Cytomegalovirus Esophagitis for complete information on this topic.
Varicella-zoster virus esophagitis
Varicella-zoster virus (VZV) can cause severe esophagitis. The key to diagnosis is finding concurrent dermatologic VZV lesions. The appearance on EGD ranges from occasional vesicles to discrete ulcerative lesions to a confluence of ulcerations with necrosis.
On histologic examination, epithelial cells with VZV show edema, ballooning degeneration, and multinucleated giant cells with intranuclear eosinophilic inclusion bodies. Immunohistochemical staining using monoclonal antibodies is helpful to differentiate VZV from HSV.
Epstein-Barr virus esophagitis
Histologic features of esophageal lesions associated with Epstein-Barr virus are similar to those of oral hairy leukoplakia.
HIV esophagitis
Multiple, small, aphthoid lesions are observed during the period of transient fever, chills, malaise, and rash of early HIV infection. Later, giant deep ulcers extending up several centimeters are observed. Fistula formation, perforation, hemorrhage, or superinfection may complicate large ulcers.
Human papillomavirus esophagitis
Human papillomavirus (HPV) esophagitis is asymptomatic. Lesions are typically found in the middle to distal esophagus. They may appear as erythematous macules, white plaques, nodules, or exuberant frondlike lesions. The diagnosis of HPV esophagitis is made based on histology. Koilocytosis, giant cells, and cytologic atypia are visible on immunohistochemical stains.
Esophagitis from drug-induced skin disease
Drug-induced skin diseases can affect the esophagus with a blistering process and desquamation of large areas of epithelium. Both focal and long strictures and webs may form.
Behçet disease esophagitis
Esophageal involvement is rare. Esophageal lesions include ulcerations that can tunnel the mucosa, strictures, fistulous tracts, and perforations.
Graft versus host disease esophagitis
Histologic changes in acute GVHD are observed in the squamous epithelium, including the esophagus. Chronic GVHD damages the esophagus more extensively.
Inflammatory bowel disease esophagitis
The esophagus can be involved in Crohn disease. Aphthous ulcers are observed in the esophagus. Inflammatory strictures, sinus tracts, filiform polyps, and fistulas to adjacent structures may be observed. Histology shows diffuse and nodular lymphoid aggregates; 50% of EGD biopsy specimens show noncaseating granulomas.
References
Dellon ES, Gibbs WB, Fritchie KJ, Rubinas TC, Wilson LA, Woosley JT, et al. Clinical, endoscopic, and histologic findings distinguish eosinophilic esophagitis from gastroesophageal reflux disease. Clin Gastroenterol Hepatol. 2009 Dec. 7(12):1305-13; quiz 1261. [Medline]. [Full Text].

Howden CW, Hornung CA. A systematic review of the association between Barrett's esophagus and colon neoplasms. Am J Gastroenterol. 1995 Oct. 90(10):1814-9. [Medline].

Uygun I. Caustic oesophagitis in children: prevalence, the corrosive agents involved, and management from primary care through to surgery. Curr Opin Otolaryngol Head Neck Surg. 2015 Dec. 23 (6):423-32. [Medline].

Lowe RC, Wolfe MM. The pharmacological management of gastroesophageal reflux disease. Minerva Gastroenterol Dietol. 2004 Sep. 50(3):227-37. [Medline].

O'Rourke A. Infective oesophagitis: epidemiology, cause, diagnosis and treatment options. Curr Opin Otolaryngol Head Neck Surg. 2015 Dec. 23 (6):459-63. [Medline].

Patel NC, Caicedo RA. Esophageal infections: an update. Curr Opin Pediatr. 2015 Oct. 27 (5):642-8. [Medline].

Rothenberg ME. Biology and treatment of eosinophilic esophagitis. Gastroenterology. 2009 Oct. 137(4):1238-49. [Medline].

Winstead NS, Bulat R. Pill Esophagitis. Curr Treat Options Gastroenterol. 2004 Feb. 7(1):71-76. [Medline].

Fields J, Go JT, Schulze KS. Pill properties that cause dysphagia and treatment failure. Curr Ther Res Clin Exp. 2015 Dec. 77:79-82. [Medline].

Liacouras CA, Ruchelli E. Eosinophilic esophagitis. Curr Opin Pediatr. 2004 Oct. 16(5):560-6. [Medline].

Mann NS, Leung JW. Pathogenesis of esophageal rings in eosinophilic esophagitis. Med Hypotheses. 2005. 64(3):520-3. [Medline].

Oyoshi MK. Recent research advances in eosinophilic esophagitis. Curr Opin Pediatr. 2015 Dec. 27 (6):741-7. [Medline].

Johnson JB, Boynton KK, Peterson KA. Co-occurrence of eosinophilic esophagitis and potential/probable celiac disease in an adult cohort: a possible association with implications for clinical practice. Dis Esophagus. 2015 Nov 6. [Medline].

Bradley J, Movsas B. Radiation esophagitis: Predictive factors and preventive strategies. Semin Radiat Oncol. 2004 Oct. 14(4):280-6. [Medline].

Quarto G, Sivero L, Somma P, De Rosa G, Mosella F, Nunziata G, et al. A case of infectious esophagitis caused by human papilloma virus. Minerva Gastroenterol Dietol. 2008 Sep. 54(3):317-21. [Medline].

Haron E, Vartivarian S, Anaissie E, Dekmezian R, Bodey GP. Primary Candida pneumonia. Experience at a large cancer center and review of the literature. Medicine (Baltimore). 1993 May. 72(3):137-42. [Medline].

Levine MS, Macones AJ Jr, Laufer I. Candida esophagitis: accuracy of radiographic diagnosis. Radiology. 1985 Mar. 154(3):581-7. [Medline].

Walsh TJ, Hamilton SR, Belitsos N. Esophageal candidiasis. Managing an increasingly prevalent infection. Postgrad Med. 1988 Aug. 84(2):193-6, 201-5. [Medline].

Kliemann DA, Pasqualotto AC, Falavigna M, Giaretta T, Severo LC. Candida esophagitis: species distribution and risk factors for infection. Rev Inst Med Trop Sao Paulo. 2008 Sep-Oct. 50(5):261-3. [Medline].

Vidal AP, Pannain VL, Bottino AM. [Esophagitis in patients with acquired human immunodeficiency syndrome: an histological and immunohistochemistry study]. Arq Gastroenterol. 2007 Oct-Dec. 44(4):309-14. [Medline].

Bianchi Porro G, Parente F, Cernuschi M. The diagnosis of esophageal candidiasis in patients with acquired immune deficiency syndrome: is endoscopy always necessary?. Am J Gastroenterol. 1989 Feb. 84(2):143-6. [Medline].

Sam JW, Levine MS, Rubesin SE, Laufer I. The "foamy" esophagus: a radiographic sign of Candida esophagitis. AJR Am J Roentgenol. 2000 Apr. 174(4):999-1002. [Medline].

Prasad GA, Alexander JA, Schleck CD, Zinsmeister AR, Smyrk TC, Elias RM, et al. Epidemiology of eosinophilic esophagitis over three decades in Olmsted County, Minnesota. Clin Gastroenterol Hepatol. 2009 Oct. 7(10):1055-61. [Medline].

Nurko S, Rosen R, Furuta GT. Esophageal dysmotility in children with eosinophilic esophagitis: a study using prolonged esophageal manometry. Am J Gastroenterol. 2009 Dec. 104(12):3050-7. [Medline].

McColl KE. Review article: Helicobacter pylori and gastro-oesophageal reflux disease--the European perspective. Aliment Pharmacol Ther. 2004 Dec. 20 Suppl 8:36-9. [Medline].

Chen LI, Chang JM, Kuo MC, Hwang SJ, Chen HC. Combined herpes viral and candidal esophagitis in a CAPD patient: case report and review of literature. Am J Med Sci. 2007 Mar. 333(3):191-3. [Medline].

DeGaeta L, Levine MS, Guglielmi GE, Raffensperger EC, Laufer I. Herpes esophagitis in an otherwise healthy patient. AJR Am J Roentgenol. 1985 Jun. 144(6):1205-6. [Medline].

Levine MS, Laufer I, Kressel HY, Friedman HM. Herpes esophagitis. AJR Am J Roentgenol. 1981 May. 136(5):863-6. [Medline].

Levine MS, Loevner LA, Saul SH, Rubesin SE, Herlinger H, Laufer I. Herpes esophagitis: sensitivity of double-contrast esophagography. AJR Am J Roentgenol. 1988 Jul. 151(1):57-62. [Medline].

Shortsleeve MJ, Levine MS. Herpes esophagitis in otherwise healthy patients: clinical and radiographic findings. Radiology. 1992 Mar. 182(3):859-61. [Medline].

Borowitz SM. Diagnosis: herpes simplex esophagitis. Clin Pediatr (Phila). 2007 Jul. 46(6):557-9. [Medline].

Geagea A, Cellier C. Scope of drug-induced, infectious and allergic esophageal injury. Curr Opin Gastroenterol. 2008 Jul. 24(4):496-501. [Medline].

Baroco AL, Oldfield EC. Gastrointestinal cytomegalovirus disease in the immunocompromised patient. Curr Gastroenterol Rep. 2008 Aug. 10(4):409-16. [Medline].

Buckner FS, Pomeroy C. Cytomegalovirus disease of the gastrointestinal tract in patients without AIDS. Clin Infect Dis. 1993 Oct. 17(4):644-56. [Medline].

Bonacini M, Young T, Laine L. Histopathology of human immunodeficiency virus-associated esophageal disease. Am J Gastroenterol. 1993 Apr. 88(4):549-51. [Medline].

Bonacini M, Young T, Laine L. The causes of esophageal symptoms in human immunodeficiency virus infection. A prospective study of 110 patients. Arch Intern Med. 1991 Aug. 151(8):1567-72. [Medline].

Calore EE, Cavaliere JM, Perez NM, Campos Sales PS, Warnke KO. Esophageal ulcers in AIDS. Pathologica. 1997 Apr. 89(2):155-8. [Medline].

Edwards P, Wodak A, Cooper DA, Thompson IL, Penny R. The gastrointestinal manifestations of AIDS. Aust N Z J Med. 1990 Apr. 20(2):141-8. [Medline].

Levine MS, Loercher G, Katzka DA, Herlinger H, Rubesin SE, Laufer I. Giant, human immunodeficiency virus-related ulcers in the esophagus. Radiology. 1991 Aug. 180(2):323-6. [Medline].

Levine MS, Woldenberg R, Herlinger H, Laufer I. Opportunistic esophagitis in AIDS: radiographic diagnosis. Radiology. 1987 Dec. 165(3):815-20. [Medline].

Raufman JP. Infectious esophagitis in AIDS: what have we learned in the last decade?. Am J Gastroenterol. 1995 Nov. 90(11):1914-5. [Medline].

Sor S, Levine MS, Kowalski TE, Laufer I, Rubesin SE, Herlinger H. Giant ulcers of the esophagus in patients with human immunodeficiency virus: clinical, radiographic, and pathologic findings. Radiology. 1995 Feb. 194(2):447-51. [Medline].

Villanueva JL, Torre-Cisneros J, Jurado R, Villar A, Montero M, López F, et al. Leishmania esophagitis in an AIDS patient: an unusual form of visceral leishmaniasis. Am J Gastroenterol. 1994 Feb. 89(2):273-5. [Medline].

Yangco BG, Kenyon VS. Epidemiology and infectious complications of human immunodeficiency virus antibody positive patients. Adv Exp Med Biol. 1993. 335:235-40. [Medline].

Mimidis K, Papadopoulos V, Margaritis V, Thomopoulos K, Gatopoulou A, Nikolopoulou V, et al. Predisposing factors and clinical symptoms in HIV-negative patients with Candida oesophagitis: are they always present?. Int J Clin Pract. 2005 Feb. 59(2):210-3. [Medline].

Hiremath GS, Hameed F, Pacheco A, Olive A, Davis CM, Shulman RJ. Esophageal food impaction and eosinophilic esophagitis: a retrospective study, systematic review, and meta-analysis. Dig Dis Sci. 2015 Nov. 60 (11):3181-93. [Medline].

DeVault KR, Castell DO. Updated guidelines for the diagnosis and treatment of gastroesophageal reflux disease. Am J Gastroenterol. 2005 Jan. 100(1):190-200. [Medline].

Amaro R, Poniecka AW, Goldberg RI. Herpes esophagitis. Gastrointest Endosc. 2000 Jan. 51(1):68. [Medline].

Nonevski IT, Downs-Kelly E, Falk GW. Eosinophilic esophagitis: an increasingly recognized cause of dysphagia, food impaction, and refractory heartburn. Cleve Clin J Med. 2008 Sep. 75(9):623-6, 629-33. [Medline].

Dellon ES, Gonsalves N, Hirano I, et al. ACG clinical guideline: evidenced based approach to the diagnosis and management of esophageal eosinophilia and eosinophilic esophagitis (EoE). Am J Gastroenterol. 2013 May. 108(5):679-92; quiz 693. [Medline].

Hakansson B, Montgomery M, Cadiere GB, et al. Randomised clinical trial: transoral incisionless fundoplication vs. sham intervention to control chronic GERD. Aliment Pharmacol Ther. 2015 Dec. 42 (11-12):1261-70. [Medline].

Wilheim AB, Miranda-Filho Dde B, Nogueira RA, Rêgo RS, Lima Kde M, Pereira LM. The resistance to fluconazole in patients with esophageal candidiasis. Arq Gastroenterol. 2009 Jan-Mar. 46(1):32-7. [Medline].

Straumann A, Conus S, Degen L, Felder S, Kummer M, Engel H, et al. Budesonide is effective in adolescent and adult patients with active eosinophilic esophagitis. Gastroenterology. 2010 Nov. 139(5):1526-37, 1537.e1. [Medline].

Reuters Health. Elimination diet helps adult eosinophilic esophagitis: study. Medscape Medical News. February 15, 2013. Available at http://www.medscape.com/viewarticle/779438. Accessed: March 4, 2013.

Lucendo AJ, Arias A, González-Cervera J, et al. Empiric 6-food elimination diet induced and maintained prolonged remission in patients with adult eosinophilic esophagitis: A prospective study on the food cause of the disease. J Allergy Clin Immunol. 2013 Mar. 131(3):797-804. [Medline].

Agency for Healthcare Research and Quality. Comparative Effectiveness of Management Strategies for Gastroesophageal Reflux Disease. AHRQ: Agency for Healthcare Research and Quality. Available at http://effectivehealthcare.ahrq.gov/healthInfo.cfm?infotype=rr&ProcessID=1&DocID=42. Accessed: January 30, 2009.

Donnellan C, Sharma N, Preston C, Moayyedi P. Medical treatments for the maintenance therapy of reflux oesophagitis and endoscopic negative reflux disease. Cochrane Database Syst Rev. 2005 Apr 18. CD003245. [Medline].

Harrison L. Patients With Previous Food Allergies at Risk for Esophagitis. Medscape Medical News. Available at http://www.medscape.com/viewarticle/821762. Accessed: March 17, 2014.

Maggadottir SM, Hill D, Brown-Whitehorn TF, Spergel JM. Development Of Eosinophilic Esophagitis To Food After Development Of IgE Tolerance To The Same Food. American Academy of Allergy, Asthma & Immunology (AAAAI) 2014 Annual Meeting. Available at http://www.jacionline.org/webfiles/images/journals/ymai/AAAAI_2014_Abstracts_Tuesday_March_4.pdf. Accessed: March 18, 2014.

Malfertheiner P, Lind T, Willich S, Vieth M, Jaspersen D, Labenz J, et al. Prognostic influence of Barrett's oesophagus and Helicobacter pylori infection on healing of erosive gastro-oesophageal reflux disease (GORD) and symptom resolution in non-erosive GORD: report from the ProGORD study. Gut. 2005 Jun. 54(6):746-51. [Medline]. [Full Text].

Medical Economics Staff. Physicians' Desk Reference. 55th ed. Medical Economics Company: Montvale, NJ; 2001.
Medscape Reference © 2011 WebMD, LLC