Giardiasis Workup
Author: Hisham Nazer, MB, BCh, FRCP, , DTM&H; Chief Editor: Burt Cagir, MD, FACS more...
Updated: Feb 15, 2016
What would you like to print?
Approach Considerations
The traditional basis of diagnosis is identification of Giardia intestinalis trophozoites or cysts in the stool of infected patients via a stool ova and parasite (O&P) examination. However, in more recent years, the advent of more objective techniques (eg, immnoassays, nucleic acid amplification techniques [NAATs]) has led to an increase in their use versus those that rely on subjective microscopic examination of fecal specimens for Giardia cysts.[52]
Stool examination may be performed on fresh specimens or after preservation with polyvinyl alcohol or 10% formalin (with appropriate staining). Ideally, 3 specimens from different days should be examined because of potential variations in fecal excretion of cysts. G intestinalis is identified in 50-70% of patients after a single stool examination and in more than 90% after 3 stool examinations.
Stool O&P testing aids in the diagnosis of giardiasis in 80-85% of patients. It remains the diagnostic method with which other tests are compared. Aspiration of duodenal contents and demonstration of trophozoites also have been used for diagnosis but this is more invasive than stool examination and, in direct comparison studies to stool microscopy, may have a lower diagnostic yield.
Stool antigen enzyme-linked immunosorbent assays also are available.[53] These tests are similar to the stool O&P test in terms of cost and have a sensitivity of 88-98% and a specificity of 87-100%. These tests are best used as a screening test in high-incidence settings such as day-care centers or for identification of subjects during an epidemic, but they should not take the place of stool microscopy.
If the results from 3 O&P tests are negative and giardiasis is still suspected, stool antigen enzyme-linked immunosorbent assay (ELISA) may be helpful. If both of these methods result in negative findings but the patient has symptoms consistent with small bowel diarrhea/malabsorption, upper endoscopy with biopsies and duodenal aspirate is a reasonable alternative.
Stool culture is not routinely used because of the difficulty of reproducibly isolating Giardia from patient fecal samples. However, stool cultures are beneficial in ruling out other pathogens as the cause of a patient's symptoms.
Routine laboratory tests (eg, CBC count, electrolyte levels) usually show normal results. Eosinophilia is an uncommon feature of infection.
Because immunoglobulin G (IgG) levels remain elevated for long periods, they are not beneficial in making the diagnosis of acute giardiasis. Serum anti-Giardia immunoglobulin M (IgM) can be beneficial in distinguishing between acute infections and past infections.
Stool Examination
Stool examination (see the images below) for trophozoites or cysts is the traditional method for diagnosing giardiasis. At least 3 stools taken at 2-day intervals should be examined for ova and parasites. Trophozoites may be found in fresh, watery stools but disintegrate rapidly. If the stool is not fresh or is semiformed to formed, trophozoites will not be found.
Cysts are passed in soft and formed stools. Fresh stool can be mixed with an iodine solution or methylene blue and examined for cysts on a wet mount. If not immediately examined, stool should be preserved in polyvinyl, alcohol, or 10% formalin, with subsequent trichrome or iron hematoxylin staining. Cyst passage is extremely variable, not related to clinical symptoms, and may lag behind the onset of symptoms by a week or more.
Cysts are smooth walled and oval, measuring 8-12 μm long and 7-10 μm wide. Iodine stains the cysts brown and accentuates their intracystic structures, especially their curved median bodies, axonemes, and nuclei. By focusing through the plane of the sample, 4 nuclei may be visualized, representing 2 daughter trophozoites.
Trophozoites are leaf-shaped, measuring 9-21 μm long and 5-15 μm wide. Stained organisms have a characteristic facelike image with 2 nuclei and 4 pairs of flagella.[22]
Because many antibiotics, enemas, laxatives, and barium studies mask or cause the disappearance of parasites from the stools, microscopic examination should be postponed for 5-10 days following these interventions.
Fecal leukocytes should not be visualized in stool samples of patients with giardiasis.
Giardia intestinalis trophozoites on stool examination from a patient with diarrhea.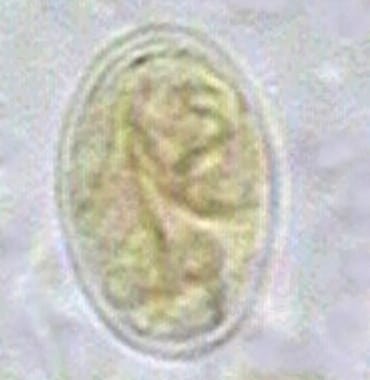 Giardia cyst.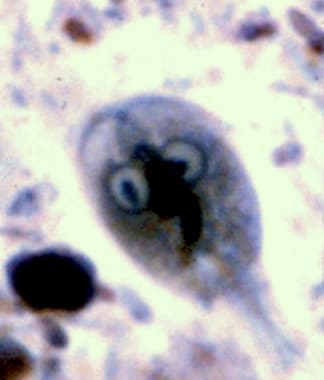 Giardia trophozoite
Stool Antigen Detection
Several tests to detect Giardia antigen in the stool are commercially available.[12, 33, 54] These utilize either an immunofluorescent antibody (IFA) assay or a capture enzyme-linked immunosorbent assay (ELISA) against cyst or trophozoite antigens. These tests have a sensitivity of 85-98% and a specificity of 90-100%.
Polymerase chain reaction (PCR) techniques may detect giardia in stool samples with parasites concentrations as low as 10 parasites/100 mcL. PCR may also be a valuable tool for screening of water supplies.[55] Real-time PCR has also the advantage of being able to detect both mild and asymptomatic infections.[56]
While more sensitive than stool examination, these examinations are limited to the detection of Giardia; isolated use might result in missing an alternative or concurrent parasitic infection.
A 2009 study evaluated a screening test for Giardia and Cryptosporidium on 136 fecal samples. The results showed the test to be 98.4% sensitive and 100% specific; the positive and negative predictive values were 98.7% and 99.3%, respectively.[57]
Abdominal Radiography
No imaging studies are required in the workup of giardiasis. Small-bowel plain films may show nonspecific thickening and distortion of the mucosal folds of the duodenum and jejunum, hypersecretion, and hypermotility.[10, 33] These changes are reversible with therapy. Barium studies should be avoided because barium can obscure identification of parasites for as long as 10 days.
String Test
The string test (Entero-test) consists of a gelatin capsule containing a nylon string with a weight attached to it. The patient tapes one end of the string to his or her cheek and swallows the capsule. After the gelatin dissolves in the stomach, the weight carries the string into the duodenum.
The string is left in place for 4-6 hours or overnight while the patient is fasting. After removal, it is examined for bilious staining, which indicates successful passage into the duodenum. The mucus from the string is examined for trophozoites in an iodine or saline wet mount or after fixation and staining.
Other Tests
Fecal fat quantification or a qualitative fecal fat analysis with Sudan stain may confirm steatorrhea. Serum carotene, folate, and vitamin B-12 levels may be variably depressed as a result of malabsorption. The findings from D-xylose absorption tests may be abnormal.
Disaccharidase deficiency is common during and after treatment and can be diagnosed with the aid of a lactose tolerance breath test.[58]
Serum electrophoresis can help diagnose immunoglobulin A, immunoglobulin M, and, occasionally, immunoglobulin G deficiency states.
Serologic studies are being investigated.
Endoscopy and Biopsy
Esophagogastroduodenoscopy (EGD) may be employed in patients in whom the diagnosis is suspected but unproven after stool microscopy and ELISA. This also may be used for patients who continue to manifest symptoms of malabsorption after adequate therapy.
Endoscopy may be used to assess the small bowel architecture and obtain a duodenal aspirate or biopsy. While rarely necessary, duodenal biopsy may be the most sensitive test. This has several benefits over the string test. An aspirate can be cultured to assess for overgrowth of the small intestine. Other small bowel parasites, such as microsporidia and cryptosporidia, may be detected in biopsy samples. Spruelike lesions, which may occur with giardiasis, can be detected with this technique.
Biopsy can also be used to visualize changes in histologic features. Intestinal biopsy shows flattened, mild lymphocytic infiltration and trophozoites on the surface.[19, 25]
Biopsy specimens from duodenum are often teeming with sickle-shaped Giardia trophozoites, which are tightly bound by the concave attachment disc to the villus surface of the intestinal epithelial cells. In cases where trophozoites are difficult to recognize in biopsy samples, specific anti-Giardia immunoperoxidase stains aid in the detection of the organisms, although these stains are not readily available.
Many patients exhibit atrophy of the small intestinal villi with a mixed inflammatory infiltrate in the lamina propria. The brush borders of the surface absorptive epithelial cells are irregular, and virtual absence of villi may be noted, as in celiac disease.
Histologic Findings
No classic universal histologic abnormalities result from infection with G intestinalis. Patients with giardiasis who undergo endoscopy and small bowel biopsy are likely to have similar findings compared to controls.
Patients with immunoglobulin deficiency states and giardiasis may demonstrate various degrees of villous atrophy that bear a striking resemblance to celiac sprue. These conditions can be differentiated from sprue by the absence of plasma cells in the lamina propria.
References
Daly ER, Roy SJ, Blaney DD, et al. Outbreak of giardiasis associated with a community drinking-water source. Epidemiol Infect. 2010 Apr. 138(4):491-500. [Medline].

Robertson L, Gjerde B, Hansen EF, Stachurska-Hagen T. A water contamination incident in Oslo, Norway during October 2007; a basis for discussion of boil-water notices and the potential for post-treatment contamination of drinking water supplies. J Water Health. 2009 Mar. 7(1):55-66. [Medline].

Eisenstein L, Bodager D, Ginzl D. Outbreak of giardiasis and cryptosporidiosis associated with a neighborhood interactive water fountain--Florida, 2006. J Environ Health. 2008 Oct. 71(3):18-22; quiz 49-50. [Medline].

Nishi L, Baesso ML, Santana RG, Fregadolli P, Falavigna DL, Falavigna-Guilherme AL. Investigation of Cryptosporidium spp. and Giardia spp. in a public water-treatment system. Zoonoses Public Health. 2009 Jun. 56(5):221-8. [Medline].

Hill DR. Giardia lamblia. Mandell GL, Bennett JE, Dolin R. Principles and Practice of Infectious Diseases. 2. 6th ed. Philadelphia, Pennsylvania: Churchill Livingstone An Imprint of Elsevier Inc.; 2005. 277: 3198-3203.

Huston CD. Sleisenger & Fordtran's Gastrointestinal and Liver Disease. Feldman M, Friedman LS, Brandt LJ. Intestinal Protozoa. 8th ed. Philadelphia, PA: Saunders, An imprint of Elsevier Inc; 2006. 2: 2420-2423 / 106.

Robertson LJ, Forberg T, Gjerde BK. Giardia cysts in sewage influent in Bergen, Norway 15-23 months after an extensive waterborne outbreak of giardiasis. J Appl Microbiol. 2008 Apr. 104(4):1147-52. [Medline].

Ryu H, Alum A, Mena KD, Abbaszadegan M. Assessment of the risk of infection by Cryptosporidium and Giardia in non-potable reclaimed water. Water Sci Technol. 2007. 55(1-2):283-90. [Medline].

Farthing MJ. Giardiasis. Gastroenterol Clin North Am. 1996 Sep. 25(3):493-515. [Medline].

Sears CL. Giardiasis. Goldman L, Ausiello D. Cecil Medicine. 23rd ed. Philadelphia, PA: Saunders , An Imprint of Elsevier Inc; 2007. 372: 2402-2404.

Monis PT, Thompson RC. Cryptosporidium and Giardia-zoonoses: fact or fiction?. Infect Genet Evol. 2003 Nov. 3(4):233-44. [Medline].

Huang DB, White AC. An updated review on Cryptosporidium and Giardia. Gastroenterol Clin North Am. 2006 Jun. 35(2):291-314, viii. [Medline].

Thompson RC, Palmer CS, O'Handley R. The public health and clinical significance of Giardia and Cryptosporidium in domestic animals. Vet J. 2008 Jul. 177(1):18-25. [Medline].

Ballweber LR, Xiao L, Bowman DD, Kahn G, Cama VA. Giardiasis in dogs and cats: update on epidemiology and public health significance. Trends Parasitol. 2010 Apr. 26(4):180-9. [Medline].

John CC. Giardiasis and Balantidiasis. Kliegman RM, Behrman BE, Jenson HB, Stanton BF. Nelson Textbook of Pediatrics. 279. Philadelphia, PA: Saunders, An imprint of Elsevier Inc; 2007. 18th ed: 1462-1464.

Buret AG. Mechanisms of epithelial dysfunction in giardiasis. Gut. 2007 Mar. 56(3):316-7. [Medline]. [Full Text].

Hill DR. Giardiasis. Issues in diagnosis and management. Infect Dis Clin North Am. 1993 Sep. 7(3):503-25. [Medline].

Hanevik K, Hausken T, Morken MH, et al. Persisting symptoms and duodenal inflammation related to Giardia duodenalis infection. J Infect. 2007 Dec. 55(6):524-30. [Medline].

Buret AG. Pathophysiology of enteric infections with Giardia duodenalius. Parasite. 2008 Sep. 15(3):261-5. [Medline].

Faubert G. Immune response to Giardia duodenalis. Clin Microbiol Rev. 2000 Jan. 13(1):35-54. [Medline]. [Full Text].

Buret AG. Immunopathology of giardiasis: the role of lymphocytes in intestinal epithelial injury and malfunction. Mem Inst Oswaldo Cruz. 2005 Mar. 100 Suppl 1:185-90. [Medline].

Garcia LS. Intestinal Protozoa: Flagellates and Ciliates. Diagnostic Medical Parasitology. 5th ed. Washington, D.C: ASM Press; 2007. 3: 36-49.

Roxstrom-Lindquist K, Palm D, Reiner D, Ringqvist E, Svard SG. Giardia immunity--an update. Trends Parasitol. 2006 Jan. 22(1):26-31. [Medline].

Panaro MA, Cianciulli A, Mitolo V, et al. Caspase-dependent apoptosis of the HCT-8 epithelial cell line induced by the parasite Giardia intestinalis. FEMS Immunol Med Microbiol. 2007 Nov. 51(2):302-9. [Medline].

Liu C, Crawford JM. The Gastrointestinal Tract. Kumar V, Abbas AK, Fausto N. Robbins and Cotran: Pathologic Basis of Disease. 7th ed. Philadelphia: Saunders, An Imprint of Elsevier; 2005. 17: 840. [Full Text].

Sponge H, Caccio SM, van der Giessen JW,ZOOPNET network and partners. Identification of zoonotic genotypes of Giardia duodenalis. PLoS Negl Trop Dis. 2009. 3:e558.

Lebbad M, Petersson I, Karlsson L, et al. Multilocus genotyping of human Giardia isolates suggest limited zoonotic transmission and association between assemblage B and flatulence in children. PLoS Negl TGrop Dis. 2011 Aug. 5(8):e1262.

Caccio SM, Ryan U. Molecular epidemiology of giardiasis. Mol Biochem Parasitol. 2008 Aug. 160(2):75-80. [Medline].

Minvielle MC, Molina NB, Polverino D, Basualdo JA. First genotyping of Giardia lamblia from human and animal feces in Argentina, South America. Mem Inst Oswaldo Cruz. 2008 Feb. 103(1):98-103. [Medline].

Robertson LJ, Forberg T, Hermansen L, Gjerde BK, Langeland N. Molecular characterisation of Giardia isolates from clinical infections following a waterborne outbreak. J Infect. 2007 Jul. 55(1):79-88. [Medline].

Abdul-Wahid A, Faubert G. Characterization of the local immune response to cyst antigens during the acute and elimination phases of primary murine giardiasis. Int J Parasitol. 2008 May. 38(6):691-703. [Medline].

Dawson D. Foodborne protozoan parasites. Int J Food Microbiol. 2005 Aug 25. 103(2):207-27. [Medline].

Fort GG, Mikolich DJ, Policar M. Giardiasis. Ferri FF. Clinical Advisor. 3rd ed. Philadelphia, PA: Mosby, An Imprint of Elsevier; 2009. 358.

Yoder JS, Beach MJ. Giardiasis surveillance--United States, 2003-2005. MMWR Surveill Summ. 2007 Sep 7. 56(7):11-8. [Medline].

Pickering LK. Giardia lamblia (Giardiasis). Long SS. Principles and Practice of Pediatric Infectious Diseases. 3rd ed. Philadelphia, PA: Churchill Livingstone An imprint of Elsevier Inc; 2008. 265: 1241-1245.

Caccio SM, Thompson RC, McLauchlin J, Smith HV. Unravelling Cryptosporidium and Giardia epidemiology. Trends Parasitol. 2005 Sep. 21(9):430-7. [Medline].

Giangaspero A, Berrilli F, Brandonisio O. Giardia and Cryptosporidium and public health: the epidemiological scenario from the Italian perspective. Parasitol Res. 2007 Oct. 101(5):1169-82. [Medline].

Laupland KB, Church DL. Population-based laboratory surveillance for Giardia sp. and Cryptosporidium sp. infections in a large Canadian health region. BMC Infect Dis. 2005 Sep 16. 5:72. [Medline]. [Full Text].

Hoque ME. Conn's Current Therapy. Rakel RE, Bope ET. Giardiasis. 60th ed. Philadelphia, PA: Saunders, An imprint of Elsevier, Inc; 2008. 64: 67/15.

Dib HH, Lu SQ, Wen SF. Prevalence of Giardia lamblia with or without diarrhea in South East, South East Asia and the Far East. Parasitol Res. 2008 Jul. 103(2):239-51. [Medline].

Gelanew T, Lalle M, Hailu A, Pozio E, Caccio SM. Molecular characterization of human isolates of Giardia duodenalis from Ethiopia. Acta Trop. 2007 May. 102(2):92-9. [Medline].

Quihui L, Morales GG, Mendez RO, Leyva JG, Esparza J, Valencia ME. Could giardiasis be a risk factor for low zinc status in schoolchildren from northwestern Mexico? A cross-sectional study with longitudinal follow-up. BMC Public Health. 2010 Feb 20. 10(1):85. [Medline]. [Full Text].

Thompson SC. Giardia lamblia in children and the child care setting: a review of the literature. J Paediatr Child Health. 1994 Jun. 30(3):202-9. [Medline].

Escobedo AA, Almirall P, Alfonso M, Cimerman S, Rey S, Terry SL. Treatment of intestinal protozoan infections in children. Arch Dis Child. 2009 Jun. 94(6):478-82. [Medline].

Jimenez JC, Pinon A, Dive D, Capron M, Dei-Cas E, Convit J. Antibody response in children infected with Giardia intestinalis before and after treatment with Secnidazole. Am J Trop Med Hyg. 2009 Jan. 80(1):11-5. [Medline].

Dizdar V, Gilja OH, Hausken T. Increased visceral sensitivity in Giardia-induced postinfectious irritable bowel syndrome and functional dyspepsia. Effect of the 5HT3-antagonist ondansetron. Neurogastroenterol Motil. 2007 Dec. 19(12):977-82. [Medline].

Penrose AS, Wells EV, Aiello AE. Infectious causation of chronic disease: examining the relationship between Giardia lamblia infection and irritable bowel syndrome. World J Gastroenterol. 2007 Sep 14. 13(34):4574-8. [Medline].

Hanevik K, Dizdar V, Langeland N, Hausken T. Development of functional gastrointestinal disorders after Giardia lamblia infection. BMC Gastroenterol. 2009 Apr 21. 9:27. [Medline]. [Full Text].

Hanevik K, Wensaas KA, Rortveit G, et al. Irritable bowel syndrome and chronic fatigue 6 years after Giardia infection: a controlled prospective cohort study. Clin Infect Dis. 2014 Nov 15. 59(10):1394-400. [Medline].

Quihui L, Morales GG, Mendez RO, Leyva JG, Esparza J, Valencia ME. Could giardiasis be a risk factor for low zinc status in schoolchildren from northwestern Mexico? A cross-sectional study with longitudinal follow-up. BMC Public Health. 2010 Feb 20. 10(1):85. [Medline]. [Full Text].

Ouattara M, N'guessan NA, Yapi A, N'goran EK. Prevalence and spatial distribution of Entamoeba histolytica/dispar and Giardia lamblia among schoolchildren in Agboville area (Côte d'Ivoire). PLoS Negl Trop Dis. 2010 Jan 19. 4(1):e574. [Medline]. [Full Text].

Heyworth MF. Diagnostic testing for Giardia infections. Trans R Soc Trop Med Hyg. 2014 Mar. 108 (3):123-5. [Medline].

Nagaty IM, Hegazi MM. Dot-ELISA copro-antigen and direct stool examination in diagnosis of giardiasis patients. J Egypt Soc Parasitol. 2007 Aug. 37(2):641-8. [Medline].

Strand EA, Robertson LJ, Hanevik K, Alvsvag JO, Morch K, Langeland N. Sensitivity of a Giardia antigen test in persistent giardiasis following an extensive outbreak. Clin Microbiol Infect. 2008 Nov. 14(11):1069-71. [Medline].

Mayer CL, Palmer CJ. Evaluation of PCR, nested PCR, and fluorescent antibodies for detection of Giardia and Cryptosporidium species in wastewater. Appl Environ Microbiol. 1996 Jun. 62(6):2081-5. [Medline].

Praesertbun R, Sukthana Y, Popruk S. Real. time PCR: Benefits for Detection of Mild and Symptomatic Giardia Infections. Trop Med Health. 2012 Jun. 40(2):31-5.

Youn S, Kabir M, Haque R, Petri WA Jr. Evaluation of a screening test for detection of giardia and cryptosporidium parasites. J Clin Microbiol. 2009 Feb. 47(2):451-2. [Medline]. [Full Text].

Morken MH, Nysaeter G, Strand EA, Hausken T, Berstad A. Lactulose breath test results in patients with persistent abdominal symptoms following Giardia lamblia infection. Scand J Gastroenterol. 2008. 43(2):141-5. [Medline].

Busatti HG, Santos JF, Gomes MA. The old and new therapeutic approaches to the treatment of giardiasis: where are we?. Biologics. 2009. 3:273-87. [Medline]. [Full Text].

Busatti HG, Vieira AE, Viana JC, et al. Effect of metronidazole analogues on Giardia lamblia cultures. Parasitol Res. 2007 Dec. 102(1):145-9. [Medline].

Monajemzadeh SM, Monajemzadeh M. Comparison of iron and hematological indices in Giardia lamblia infection before and after treatment in 102 children in Ahwaz, Iran. Med Sci Monit. 2008 Jan. 14(1):CR19-23. [Medline].

Escobedo AA, Ballesteros J, Gonzalez-Fraile E, Almirall P. A meta-analysis of the efficacy of albendazole compared with tinidazole as treatments for Giardia infections in children. Acta Trop. 2016 Jan. 153:120-7. [Medline].

Nabarro LE, Lever RA, Armstrong M, Chiodini PL. Increased incidence of nitroimidazole-refractory giardiasis at the Hospital for Tropical Diseases, London: 2008-2013. Clin Microbiol Infect. 2015 Aug. 21 (8):791-6. [Medline].

van den Bijllaardt W, Overdevest IT, Buiting AG, Verweij JJ. Rapid clearance of Giardia lamblia DNA from the gut after successful treatment. Clin Microbiol Infect. 2014 Nov. 20 (11):O972-4. [Medline].

Kiser JD, Paulson CP, Brown C. Clinical inquiries. What's the most effective treatment for giardiasis?. J Fam Pract. 2008 Apr. 57(4):270-2. [Medline].

Gardner TB, Hill DR. Treatment of giardiasis. Clin Microbiol Rev. 2001 Jan. 14(1):114-28. [Medline].

Wright JM, Dunn LA, Upcroft P, Upcroft JA. Efficacy of antigiardial drugs. Expert Opin Drug Saf. 2003 Nov. 2(6):529-41. [Medline].

Mahmud MA, Chappell CL, Hossain MM, Huang DB, Habib M, DuPont HL. Impact of breast-feeding on Giardia lamblia infections in Bilbeis, Egypt. Am J Trop Med Hyg. 2001 Sep. 65(3):257-60. [Medline].

Escobedo AA, Cimerman S. Giardiasis: a pharmacotherapy review. Expert Opin Pharmacother. 2007 Aug. 8(12):1885-902. [Medline].

Rayan P, Matthews B, McDonnell PA, Cock IE. Terminalia ferdinandiana extracts as inhibitors of Giardia duodenalis proliferation: a new treatment for giardiasis. Parasitol Res. 2015 Jul. 114 (7):2611-20. [Medline].

Lopez-Romero G, Quintero J, Astiazarán-García H, Velazquez C. Host defences against Giardia lamblia. Parasite Immunol. 2015 Aug. 37 (8):394-406. [Medline].

Astiazaran-García H, Inigo-Figueroa G, Quihui-Cota L, Anduro-Corona I. Crosstalk between zinc status and Giardia infection: a new approach. Nutrients. 2015 Jun 3. 7 (6):4438-52. [Medline].
Medscape Reference © 2011 WebMD, LLC