Hiatal Hernia Workup
Author: Waqar A Qureshi, MD; Chief Editor: Julian Katz, MD more...
Updated: Jan 03, 2016
What would you like to print?
Laboratory Studies
The typical reasons for evaluation are symptoms of GERD or a chest radiograph suggesting a paraesophageal hernia.
Imaging Studies
Barium upper gastrointestinal series
Although a chest radiograph may reveal a large hiatal hernia (see the first image below), and many incidentally diagnosed hiatal hernias are discovered in this manner, a barium study of the esophagus helps establish the diagnosis with greater accuracy (see the second image below).
Typical findings include an outpouching of barium at the lower end of the esophagus, a wide hiatus through which gastric folds are seen in continuum with those in the stomach, and, occasionally, free reflux of barium.
A barium study helps distinguish a sliding from a paraesophageal hernia (see the images below).
In rare cases, the entire stomach may herniate into the chest (see the image below).
The stomach may then undergo volvulus (see the image below) and subsequent incarceration and strangulation.
Procedures
Endoscopy
Hiatal hernia is diagnosed easily using upper gastrointestinal endoscopy.
The diagnosis of a hiatal hernia actually is incidental, and endoscopy is used to diagnose complications such as erosive esophagitis, ulcers in the hiatal hernia, Barrett esophagus, or tumor.
A hiatal hernia is confirmed when the endoscope is about to enter the stomach or on retrograde view once inside the stomach (see the image below). If any doubt remains, the patient may be asked to sniff through the nose, which causes the diaphragmatic crura to approximate, seen as a pinch, closing the lumen.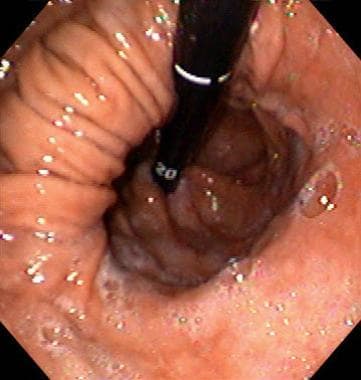 A retrograde view of a hiatal hernia seen at endoscopy shows the gastric folds to the left of the scope shaft extending up into the hernia. Courtesy of David Y. Graham, MD.
Endoscopy also permits biopsy of any abnormal or suspicious area.
Esophageal manometry
Traditionally, esophageal manometry has had a low sensitivity for diagnosing hiatal hernia, as compared to endoscopy, and was therefore not appropriate in helping to establish a diagnosis.[6]
More recent studies with esophageal high-resolution manometry (HRM) appear to be more accurate for detecting hiatal hernias. In one study that evaluated the HRM recordings, endoscopy reports, and barium esophagograms of 90 patients, HRM had a 92% sensitivity and 95% specificity for identifying hiatal hernias compared with a 73% sensitivity each for endoscopy and radiography.[7]
References
Polomsky M, Peters JH, Schwartz SI. Hiatal hernia and disorders of the spine: a historical perspective. Dis Esophagus. 2011 Oct 25. [Medline].

Burkitt DP, James PA. Low-residue diets and hiatus hernia. Lancet. 1973 Jul 21. 2(7821):128-30. [Medline].

Sihvo EI, Salo JA, Rasanen JV, Rantanen TK. Fatal complications of adult paraesophageal hernia: a population-based study. J Thorac Cardiovasc Surg. 2009 Feb. 137(2):419-24. [Medline].

Larusson HJ, Zingg U, Hahnloser D, Delport K, Seifert B, Oertli D. Predictive factors for morbidity and mortality in patients undergoing laparoscopic paraesophageal hernia repair: age, ASA score and operation type influence morbidity. World J Surg. 2009 May. 33(5):980-5. [Medline].

Fernandez Mdel C, Diaz M, Lopez F, Marti-Obiol R, Ortega J. Cardiac complications after laparoscopic large hiatal hernia repair. Is it related with staple fixation of the mesh? -Report of three cases. Ann Med Surg (Lond). 2015 Dec. 4 (4):395-8. [Medline].

Salvador R, Dubecz A, Polomsky M, Gellerson O, Jones CE, Raymond DP, et al. A new era in esophageal diagnostics: the image-based paradigm of high-resolution manometry. J Am Coll Surg. 2009 Jun. 208(6):1035-44. [Medline].

Weijenborg PW, van Hoeij FB, Smout AJ, Bredenoord AJ. Accuracy of hiatal hernia detection with esophageal high-resolution manometry. Neurogastroenterol Motil. 2015 Feb. 27 (2):293-9. [Medline].

Barclay L. Hiatal hernia management guidelines issued. Medscape Medical News. June 24, 2013;. Available at http://www.medscape.com/viewarticle/806792. Accessed: October 21, 2014.

Kohn GP, Price RR, Demeester SR, et al. Guidelines for the management of hiatal hernia. Available at http://www.sages.org/publications/guidelines/guidelines-for-the-management-of-hiatal-hernia/. Accessed: October 21, 2014.

Hazebroek EJ, Leibman S, Smith GS. Erosion of a composite PTFE/ePTFE mesh after hiatal hernia repair. Surg Laparosc Endosc Percutan Tech. 2009 Apr. 19(2):175-7. [Medline].

Soricelli E, Basso N, Genco A, Cipriano M. Long-term results of hiatal hernia mesh repair and antireflux laparoscopic surgery. Surg Endosc. 2009 Apr 3. [Medline].

Wassenaar EB, Mier F, Sinan H, Petersen RP, Martin AV, Pellegrini CA, et al. The safety of biologic mesh for laparoscopic repair of large, complicated hiatal hernia. Surg Endosc. 2011 Nov 16. [Medline].

Diaz DF, Roth JS. Laparoscopic paraesophageal hernia repair with acellular dermal matrix cruroplasty. JSLS. 2011 Jul-Sep. 15(3):355-60. [Medline]. [Full Text].

Memon MA, Memon B, Yunus RM, Khan S. Suture cruroplasty versus prosthetic hiatal herniorrhaphy for large hiatal hernia: a meta-analysis and systematic review of randomized controlled trials. Ann Surg. 2015 Oct 1. [Medline].

Lugaresi M, Mattioli B, Perrone O, Daddi N, Di Simone MP, Mattioli S. Results of left thoracoscopic Collis gastroplasty with laparoscopic Nissen fundoplication for the surgical treatment of true short oesophagus in gastro-oesophageal reflux disease and Type III-IV hiatal hernia. Eur J Cardiothorac Surg. 2016 Jan. 49 (1):e22-30. [Medline].

Tam V, Winger DG, Nason KS. A systematic review and meta-analysis of mesh vs suture cruroplasty in laparoscopic large hiatal hernia repair. Am J Surg. 2016 Jan. 211 (1):226-38. [Medline].

Wennergren J, Levy S, Bower C, et al. Revisional paraesophageal hernia repair outcomes compare favorably to initial operations. Surg Endosc. 2015 Dec 10. [Medline].

DeMeester TR, Peters JH. Surgical treatment of gastroesophageal reflux disease. In: DO Castell, ed. The Esophagus. Boston, Mass:. Little, Brown and Company. 1995:577-617.

Frantzides CT, Madan AK, Carlson MA, Zeni TM, Zografakis JG, Moore RM, et al. Laparoscopic revision of failed fundoplication and hiatal herniorraphy. J Laparoendosc Adv Surg Tech A. 2009 Apr. 19(2):135-9. [Medline].

Cai W, Watson DI, Lally CJ, Devitt PG, Game PA, Jamieson GG. Ten-year clinical outcome of a prospective randomized clinical trial of laparoscopic Nissen versus anterior 180( degrees ) partial fundoplication. Br J Surg. 2008 Dec. 95(12):1501-5. [Medline].

Petersen LF, McChesney SL, Daly SC, et al. Permanent mesh results in long-term symptom improvement and patient satisfaction without increasing adverse outcomes in hiatal hernia repair. Am J Surg. 2014 Mar. 207(3):445-8; discussion 448. [Medline].

Hashmi S, Rao SS, Summers RW, Schulze K. Esophageal pressure topography, body position, and hiatal hernia. J Clin Gastroenterol. 2014 Mar. 48 (3):224-30. [Medline].
Medscape Reference © 2011 WebMD, LLC