Intestinal Fistulas Treatment & Management
Author: David E Stein, MD; Chief Editor: Julian Katz, MD more...
Updated: Dec 16, 2014
What would you like to print?
Approach Considerations
Several elements are required to successfully treat patients with an intestinal fistula: adequate nutrition, control and maintenance of the fistula drainage site, appropriate treatment of infection, and avoidance of sepsis.[11, 12]
Spontaneous closure of a proportion of GI fistulas with nonoperative management is well documented. Although dependent on the etiology of the fistula, 60% or more close if they are iatrogenic, if no distal obstruction is present, if no foreign body is involved, if the tract is long, if there is a low output, and if there is no active infection. Numerous studies have delineated the important determinants associated with decreasing the time to closure of a fistula and decreasing a patient's overall associated morbidity and mortality.
Conservative management of enteric fistulas has been described for periods of up to 3 months.[13] One study demonstrated that 90% of the fistulas that spontaneously closed did so within the first month, once management of sepsis had been established.[12] Of note, none of the fistulas spontaneously closed after 3 months.
Factors to consider for fistulas that do not spontaneously close include the following:
Malignancy

Foreign bodies in the fistula tract

Short fistula tracts with epithelialization

Undrained abscess cavities

Distal obstruction

Radiation enteritis

Active IBD of the involved bowel segment

High-output status for the fistula
In these cases, surgical repair may be the definitive treatment. (See the image below.)[14]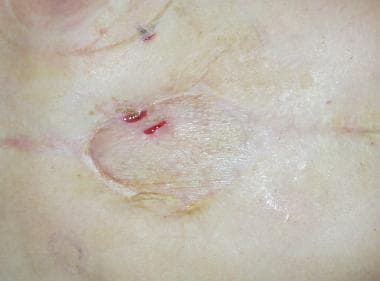 Status post-pancreatic debridement for necrotizing pancreatitis. The patient had a colonic injury with attempted closure using a skin graft. The patient later underwent definitive repair.
Consultations
The following consultations can aid in treatment:
Nutritionist

Enterostomal or wound care nurse

Surgeon - Gynecologic or urologic surgeon if the fistula involves either the vagina or the bladder
Diet
In the initial period, patients are maintained on total parenteral nutrition (TPN) and are given nothing by mouth (NPO).
In patients with low-output, distal fistulas, elemental diets may be initiated as long as they do not profoundly increase the fistula output.
Activity
Aggressive physical therapy provides long-term benefits to patients. Typically, patients do not require prolonged bedrest (which only adds to comorbidities) unless this is necessary for some other reason.
Follow-up
Follow-up care is based on disease etiology. In patients with chronic inflammatory conditions, such as Crohn disease, ongoing follow-up care is required.
If patients are simply waiting for definitive surgical therapy and being maintained on TPN, they do not need to be in the hospital. Home infusion or placement in a rehabilitation facility is perfectly acceptable. Close contact is needed, as line sepsis and other infectious complications may occur, and early and aggressive treatment is essential to ensure a good outcome.
In patients who have undergone surgical repair, normal postoperative follow-up care is required. Once the incisions are healed and the drains are removed, the patient may be discharged from care.
Patients with Crohn disease may require ongoing outpatient maintenance therapy with medication.
Stabilization
Initial fistula management should address each of the following resuscitation and stabilization issues in patients with a GI fistula.[15]
Nutrition
TPN has long been regarded as an essential therapy (especially in high-output fistulas) to decrease output and to maintain good nutritional status.
Malnutrition is a significant cause of morbidity and mortality, especially with enterocutaneous fistulas. Typically, patients with low-output (< 200 mL/24 h) fistulas should receive their full resting expenditure, 1-1.5 g of protein/kg daily and a lipid intake that accounts for approximately 30% of daily caloric intake. Patients with high-output (>500 mL/24 h) fistulas should receive 1.5-2 times their resting energy expenditure, 1.5-2.5 g of protein/kg daily, and twice the recommended daily allowance of lipids.
Skin care and drainage control
Control of enteric contents draining from the fistula continues to be a topic of ongoing research and development. Standard ostomy supplies and other methods of skin care and drainage control can be used in an attempt to reduce or eliminate the persistent tissue inflammation and infection surrounding the fistula, which can lead to sepsis. Use of the vacuum-assisted closure (VAC) device to better manage output has been reported to help improve the perifistular environment.[16] All of these techniques and devices are used not to close the fistula, but rather to help keep the surrounding tissues healthy and to allow the fistula to heal on its own.
Identification and drainage of fluid collections
The use of CT scanning and ultrasonography can help to determine if fluid collections or abscesses are present along the abscess tract. Identification of these fluid collections often allows for CT-guided drainage of these loci to prevent infection. Along with better drainage control and appropriate antibiotic treatment, this helps to decrease the morbidity and mortality associated with enteric fistulas and allows for a safer period of conservative management. Radiologically placed catheters have been demonstrated to safely and successfully drain most abscesses.
Fluid volume depletion
In patients with proximal, high-output fistulas, the volume depletion associated with the drainage can be a significant problem. Whether medications such as octreotide (a synthetic substitute of somatostatin that suppresses the release of many GI hormones) help to close fistulas remains unclear.[17] Research has demonstrated significant and nonsignificant effects of medication on the closure of fistulas, yet these studies agree that octreotide does decrease overall fistula output.[17]
A meta-analysis of the literature by Rahbour et al suggested that somatostatin and its analogs are effective in the treatment of enterocutaneous fistulas. Among patients in the somatostatin group and those in the analog group, fistulas were more likely to close, and to do so faster, than they were in the control group, although comparison with the controls suggested that neither somatostatin nor its analogs affect mortality. Because the risk ratio for somatostatin was higher than that for the somatostatin analogs, it may be that somatostatin can close more fistulas, and do so more quickly, than its analogs.[18]
In a retrospective review of 48 Crohn disease patients with enterocutaneous fistula, Amiot et al found that anti-tumor necrosis factor (anti-TNF) therapy may be effective in up to one third of such patients, particularly those without complex fistulas and stenosis. The study, which had a median follow-up period of 3 years, involved patients with enterocutaneous fistulas of the small bowel, duodenum, or colon (those with perianal fistulas were excluded). Fistulas closed completely in 16 patients (33%), although eight of these individuals relapsed during the follow-up period. Multivariate analysis linked lack of complete fistula closure to the presence of multiple fistula tracts and associated stenosis.[19]
Resection and Anastomosis
The period of nonoperative management of an enteric fistula, while allowing for spontaneous closure of the fistula, also provides time to optimize nutritional status and to heal the wound site from the patient's initial surgery (if the enteric fistula occurred postoperatively). Thus, definitive surgery for fistula repair is generally delayed for several months until physiologic deficits have been restored and intra-abdominal conditions are less hostile. However, if diffuse peritonitis with ongoing sepsis is observed, immediate operative exploration may be necessary to stabilize the patient.
The preferred procedure involves excision of the fistula tract, with segmental resection of involved bowel and anastomosis of the remaining bowel.[20] If an unexpected abscess is encountered or the quality of the bowel wall is suboptimal, some surgeons may consider a primary anastomosis unsafe, instead choosing to perform a staged procedure, with exteriorization of the ends of the bowel during the first procedure. A staged repair may also be more appropriate in cases in which advanced malignancy or severe radiation changes are expected. If the procedure is performed for a malignancy, preferably, the involved segment of bowel is removed to negative margins.
The abdominal wall may not be able to be closed due to a lack of fascia. In these cases, biologic meshes, which are manufactured from porcine or bovine dermis, human cadaveric dermis, or porcine small intestinal submucosa, may be used to help close the abdominal cavity. These meshes are not at risk for infection.
Perianal abscesses should be drained and anal strictures dilated. Patients with low anal fistulas can be treated with fistulotomy. Some surgeons are in favor of a noncutting seton, especially in the presence of an active inflammation of the rectosigmoid colon. Noncutting setons may be placed in fistula tracts in patients with rectal inflammation, and endorectal advancement flap procedures for high perianal fistulas and rectovaginal fistulas may be performed in patients without rectal inflammation. Another option that preserves sphincteric function is using a fistula plug, which provides a matrix for soft-tissue healing.[21, 22]
If a rectovaginal fistula persists after the patient has received medical therapy and anorectal stricture or active rectal disease is not evident, then surgical repair may be performed with either (1) transanal or transvaginal advancement flaps or (2) laparotomy with primary closure or sleeve advancement flap.[23]
Patients with colovesical fistulas can almost always be treated with resection of the involved segment of colon and primary reanastomosis, with or without closure of the bladder defect. Healing of the bladder is usually managed easily with temporary urethral catheter drainage.
The overall incidence of aortoenteric fistulas has changed with the advent of endovascular repairs of abdominal aortic aneurysms, but the criterion standard remains open excisional repair and extra-anatomic bypass for revascularization in the case of secondary aortoenteric fistulas (which occur after open repair of abdominal aortic aneurysms). Endovascular repair of primary aortoenteric fistulas in high-risk patients (ie, those at risk for chronic infection of the endograft) has been reported.
Complications
Intestinal fistulas carry high morbidity and mortality rates. If medical and nonoperative treatments are not effective, the risks of surgery need to be discussed with patients and their families.
Complications are routine, as dense, fibrotic adhesions are likely to be encountered during surgery. Infection, bleeding, and injury to adjacent organs, as well as recurrence of the fistula, are all possibilities. To reduce these complications, patients must receive optimal nutrition and must be treated by an experienced surgeon.
References
Elliott TB, Yego S, Irvin TT. Five-year audit of the acute complications of diverticular disease. Br J Surg. 1997 Apr. 84(4):535-9. [Medline].

Berry SM, Fischer JE. Classification and pathophysiology of enterocutaneous fistulas. Surg Clin North Am. 1996 Oct. 76(5):1009-18. [Medline].

Kyle J, Lee ECG, Nolan DJ. Fistulae in Crohn's Disease. Clinical Surgery International: Surgery of Inflammatory Bowel Disorders. 1987. Vol 14:190-6.

Annibali R, Pietri P. Fistulous complications of Crohn's disease. Int Surg. 1992 Jan-Mar. 77(1):19-27. [Medline].

Lavery IC. Colonic fistulas. Surg Clin North Am. 1996 Oct. 76(5):1183-90. [Medline].

Donner CS. Pathophysiology and therapy of chronic radiation-induced injury to the colon. Dig Dis. 1998 Jul-Aug. 16(4):253-61. [Medline].

Böttger TC, Junginger T. Factors influencing morbidity and mortality after pancreaticoduodenectomy: critical analysis of 221 resections. World J Surg. 1999 Feb. 23(2):164-71; discussion 171-2. [Medline].

Falconi M, Pederzoli P. The relevance of gastrointestinal fistulae in clinical practice: a review. Gut. 2001 Dec. 49 Suppl 4:iv2-10. [Medline].

Pontari MA, McMillen MA, Garvey RH, et al. Diagnosis and treatment of enterovesical fistulae. Am Surg. 1992 Apr. 58(4):258-63. [Medline].

Rots WI, Mokoena T. Successful endoscopic closure of a benign gastrocolonic fistula using human fibrin sealant through gastroscopic approach: a case report and review of the literature. Eur J Gastroenterol Hepatol. 2003 Dec. 15(12):1351-6. [Medline].

Hancock BD. ABC of colorectal diseases. Haemorrhoids. BMJ. 1992 Apr 18. 304(6833):1042-4. [Medline].

Rolandelli R, Roslyn JJ. Surgical management and treatment of sepsis associated with gastrointestinal fistulas. Surg Clin North Am. 1996 Oct. 76(5):1111-22. [Medline].

Pederzoli P, Bassi C, Falconi M, et al. Conservative treatment of external pancreatic fistulas with parenteral nutrition alone or in combination with continuous intravenous infusion of somatostatin, glucagon or calcitonin. Surg Gynecol Obstet. 1986 Nov. 163(5):428-32. [Medline].

Wedell J, Banzhaf G, Chaoui R, et al. Surgical management of complicated colonic diverticulitis. Br J Surg. 1997 Mar. 84(3):380-3. [Medline].

Levy C, Tremaine WJ. Management of internal fistulas in Crohn's disease. Inflamm Bowel Dis. 2002 Mar. 8(2):106-11. [Medline].

Goverman J, Yelon JA, Platz JJ, et al. The "Fistula VAC," a technique for management of enterocutaneous fistulae arising within the open abdomen: report of 5 cases. J Trauma. 2006 Feb. 60(2):428-31; discussion 431. [Medline].

Dorta G. Role of octreotide and somatostatin in the treatment of intestinal fistulae. Digestion. 1999. 60 Suppl 2:53-6. [Medline].

Rahbour G, Siddiqui MR, Ullah MR, et al. A meta-analysis of outcomes following use of somatostatin and its analogues for the management of enterocutaneous fistulas. Ann Surg. 2012 Dec. 256(6):946-54. [Medline].

Amiot A, Setakhr V, Seksik P, et al. Long-term outcome of enterocutaneous fistula in patients with Crohn's disease treated with anti-TNF therapy: a cohort study from the GETAID. Am J Gastroenterol. 2014 Sep. 109(9):1443-9. [Medline].

Greenstein AJ. The surgery of Crohn's disease. Surg Clin North Am. 1987 Jun. 67(3):573-96. [Medline].

Von Koperen PJ, Bemelman WA, Gerhards MF, Janssen LW, van Tets WF, van Dalsen AD, et al. The anal fistual plug treatment compared with the mucosal advancement flap for cryptoglandular high transsphincteric perianal fistula: a double-blinded multicenter randomized trial. Dis Colon Rectum. Apr 2011. 54(4):387-93. [Medline].

Butchberg B, Masoomi H, Choi J, Bergman H, Mills S, Stamos MJ. A tale of two (anal fistula) plugs: is there a difference in short-term outcomes?. Am Surg. Oct 2010. 76(10):1150-3. [Medline].

Zhu YF, Tao GQ, Zhou N, Xiang C. Current treatment of rectovaginal fistula in Crohn's disease. World J Gastroenterol. Feb 2011. 17(8):963f-7. [Medline].

Present DH, Rutgeerts P, Targan S, et al. Infliximab for the treatment of fistulas in patients with Crohn's disease. N Engl J Med. 1999 May 6. 340(18):1398-405. [Medline].

Ellis CN. Sphincter-preserving fistula management: what patients want. Dis Colon Rectum. Dec 2010. (53(12):1652-5. [Medline].

Lindberg E, Jarnerot G, Huitfeldt B. Smoking in Crohn's disease: effect on localisation and clinical course. Gut. 1992 Jun. 33(6):779-82. [Medline].

Meissner K. Late radiogenic small bowel damage: guidelines for the general surgeon. Dig Surg. 1999. 16(3):169-74. [Medline].

Practice parameters for treatment of fistula-in-ano--supporting documentation. The Standards Practice Task Force. The American Society of Colon and Rectal Surgeons. Dis Colon Rectum. 1996 Dec. 39(12):1363-72. [Medline].

Schecter WP. Management of enterocutaneous fistulas. Surg Clin North Am. Jun 2011. 91(3):481-91. [Medline].
Medscape Reference © 2011 WebMD, LLC