Pancreatic Necrosis and Pancreatic Abscess Workup
Author: Abraham Mathew, MD, MS; Chief Editor: BS Anand, MD more...
Updated: Apr 01, 2015
What would you like to print?
Laboratory Studies
No specific hematologic studies define infected necrosis or pancreatic abscess. A persistently elevated white blood cell count with a left shift and positive blood cultures is suggestive of this diagnosis.
The degree of pancreatic enzyme elevation does not directly indicate the degree of necrosis.
Imaging Studies
The presence of air in necrotic tissue in a pseudocyst on imaging studies is specific for infection. The absence of a communication to the gut (often by spontenous drainage into the gut lumen) is also a sign of infection.
Abdominal computed tomography (CT) scanning with intravenous (IV) contrast; ultrasonography, either endoscopic or transabdominal; and magnetic resonance imaging (MRI) (with gadolinium) are potential modes for imaging pancreatic necrosis or abscess.
MRI is becoming the imaging study of choice due to concerns regarding the use of iodinated contrast, which is said, by some, to devitalize marginal tissue, increasing the burden of necrotic tissue.
Computed Tomography Scanning and Magnetic Resonance Imaging
The current criterion standard for initial evaluation is contrast-enhanced CT scan (see the following image), which may reveal ischemic pancreatic tissue as evidenced by the lack of uptake of contrast. There is some suggestion that early CT scan may be detrimental in ANP, with IV contrast worsening ischemia.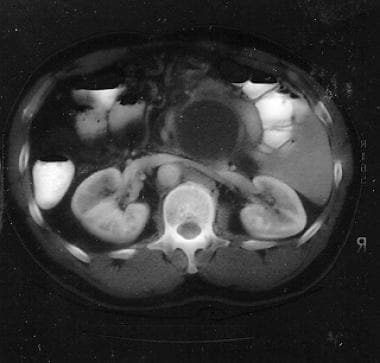 Contrast-enhanced CT scan of infected pancreatic pseudocyst.
Consider repeat imaging in all patients with ANP who develop worsening abdominal pain, develop signs or symptoms of obstruction, or have a prolonged clinical course.
MRI may be of some additional benefit in the acute evaluation of ANP; gadolinium does not cause a worsening of ischemia in experimental models.
Splenic vein thrombosis is seen in 40% of patients with WOPN.
Pancreatic necrosis appears as devitalized tissue with decreased IV contrast present on CT scan or MRI. A pancreatic pseudocyst has a rim of fibrous tissue surrounding a pocket of peripancreatic fluid.
Earlier accumulations of fluid without the fibrous capsule, or peripancreatic fluid collections, and the surrounding inflammatory tissue were referred to as a phlegmon, but this term is now obselete.
Demonstrable necrotic tissue in the pseudocyst may exist. Typically, this develops more than 3 weeks after the initial bout of pancreatitis.
Procedures
In the absence of cholangitis or jaundice, the 2013 American College of Gastroenterology (ACG) guidelines recommend magnetic resonance cholangiopancreatography (MRCP) or endoscopic ultrasonography, rather than diagnostic endoscopic retrograde cholangiopancreatography (ERCP) to screen for choledocholithiasis as the suspected etiology of acute pancreatitis.[7]
Endoscopic drainage
EUS-guided transgastric drainage of a pancreatic abscess, with insertion of 2 double-pigtail catheters has also been reported to be useful.[8]
Endoscopic necrosectomy and draining may give impressive and immediate symptom relief.[6, 9]
No randomized trials have evaluated the minimally invasive techniques for infected pancreatic necrosis, and not all guidelines from professional organizations show "consensus to recommend this minimally invasive management of pancreatic abscess."[10, 11]
This lack of agreement likely relates to the fact that successful treatment of symptomatic, sterile or infected walled-off pancreatic necrosis with transoral/transmural endoscopic drainage needs to be followed by percutaneous drainage in 40% or by operative interventions in 20%.[12, 13, 14]
In cases of WOPN, creating multiple gateways for drainage of necrotic debris improves treatment success.[15]
Endoscopic drainage of pancreatic fluid collections in persons with acute or chronic pancreatitis is an accepted alternative treatment option to surgical intervention; it provides a successful drainage of the fluid and relief of symptoms in almost 90% of patients.[16] Complications occur in 11% of patients, including death in 5%. Not removing the transmural stents decreases the recurrence of pancreatic fluid collection.[15]
In persons with SAP having intervention for infected reasons of infection or abscess, 20% will develop an external pancreatic fistula (EPF).[17]
Spontaneous closure of the EPF occurs in 88% of persons in a median of 70 days. Of these 88% whose EPF closes, approximately 24% develop a pancreatic pseudocyst requiring surgical management.
CT-guided or ultrasonography-guided needle aspiration
The presence of either bacterial or fungal flora in pancreatic fluid collections usually aspirated via CT-guided needle biopsy is the sine qua non of pancreatic abscess. The presence of organisms on either Gram stain or culture is essential to establish a diagnosis of abscess.
The presence of either bacterial or fungal microbiota in pancreatic fluid collections (usually aspirated via CT-guided needle biopsy) is essential to establish a diagnosis of pancreatic abscess.
Pancreatic fluid collections are frequent sequelae of pancreatitis, and endoscopic drainage of these collections is gaining acceptance as an alternative to surgical drainage. Endoscopic ultrasound (EUS)-guided drainage should be reserved for prepancreatic fluid collections located at the pancreatic tail. These fluid collections should be evaluated by EUS before attempts at endoscopic drainage.
In the last two decades, the indications for surgery have become less aggressive, focusing more on the treatment of complications such as necrosis, abscess, and pseudocyst.[18]
Surgical drainage
Even with aggressive intravenous fluid replacement, nutritional support and early intervention of pancreatic necrosis or abscess, the hospital mortality rate of SAP is about 20%.
Sterile necrosis may be followed with serial CT-guided drainage and continued antibiotics.
Surgical drainage of infected necrosis or an abscess is the procedure for cure. Placement of indwelling drains after the initial procedure may be necessary for complete resolution.
Medscape Reference © 2011 WebMD, LLC