Percutaneous Nephrostomy Technique
Author: Nasir H Siddiqi, MD; Chief Editor: Bradley Fields Schwartz, DO, FACS more...
Updated: Nov 11, 2014
What would you like to print?
Percutaneous Nephrostomy Catheter Placement
After appropriate patient preparation (see Periprocedural Care), a small skin nick is made at the puncture site to facilitate passage of the needle into the skin.
Puncture site selection is crucial for minimizing the risk of hemorrhage.[11] The best route for needle entry into the renal collecting system is via an oblique posterolateral approach along the Brödel line into the end of a posterior calyx. This line is near the posterior axillary line and is about 2-3 cm below the 12th rib. A percutaneous nephrostomy tract that approaches along the Brödel line is associated with the smallest risk of substantial arterial injury and subsequent hemorrhage.
The needle (22 or 21 gauge) is angled toward a posterior lower-pole or middle-pole calyx under ultrasonographic guidance. If the collecting system is not dilated, intravenous (IV) administration of contrast medium may be required to achieve adequate visualization of the target. Once the needle is inserted into the calyx and into the collecting system (see the image below), the stylet is removed, and urine is returned if an obstruction is present.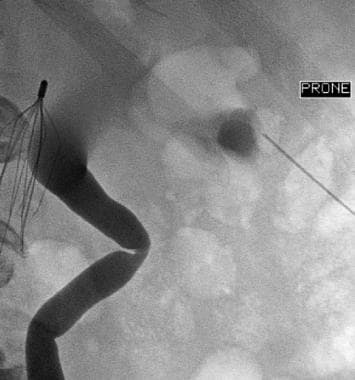 Percutaneous nephrostomy. The needle is positioned in the mid-pole posterior calyx, filled with air. A filter in the inferior vena cava.
If no urine is present, there are a few maneuvers that may be tried. A 10-mL syringe should be attached to the needle hub, and the needle and syringe should be retracted slightly. If urine is aspirated, the tip is probably within the collecting system.
Otherwise, a 0.018-in platinum-tipped wire (see the image below) may be used to probe the region, or a small amount of contrast agent may be injected to check the positioning. Injection of 10 mL of medical-grade carbon dioxide or room air may be done to confirm that the needle is positioned in the posterior calyx. With the patient in the prone position, the posterior calyces will be filled with the gas, whereas the anterior calyces will be filled with the contrast agent.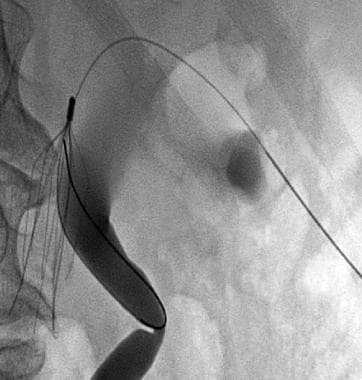 A 0.018-inch guidewire has been advanced through the needle into the ureter.
After the collecting system has been accessed, a urine sample may be obtained and sent for routine culture and sensitivity testing. Contrast material should be gently injected into the collecting system to confirm the location. Overdistention of the system with contrast material or withdrawal of too much urine for culturing should be avoided because these can cause bacterial seeding or render access difficult if the wire is inadvertently lost. As a rule, the amount of contrast agent used for injection is equal to the amount of urine removed.
Once access into the collecting system has been obtained, successful wire exchanges should continue until a 0.035-in. J-tip wire is placed into the renal pelvis or down the ureter. The tract should then be dilated with polytetrafluoroethylene dilators (some authors have used metal dilators[12, 13] or cutting balloons[14] ). The drainage catheter should be flushed, and the trocar that comes with the kit should be inserted.
The catheter should be advanced into the proximal renal parenchyma over the 0.035-in. guide wire, the trocar should be loosened, and the catheter should be slipped off the trocar and into the renal pelvis. The internal wire should be pulled to lock the pigtail catheter, and the catheter should be seated appropriately within the renal pelvis (see the image below).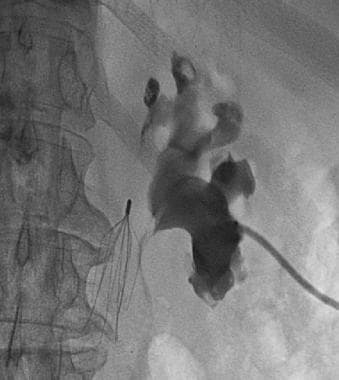 An 8F locking pigtail catheter has been placed in the renal pelvis.
The position of the catheter should be confirmed with the use of contrast material, and the catheter should be tied to the skin with suture (2-0 silk or 2-0 polypropylene) and attached to an external drainage bag.[15]
In a retrospective study of 333 patients who underwent a percutaneous nephrolithotomy using a retrograde technique, stone clearance and complication rates were comparable to percutaneous nephrolithotomy with antegrade access.[16]
Complications
Major complications with percutaneous nephrostomy tube placement include the following:
Bleeding

Sepsis

Injury to an adjacent organ
Other major complications, though somewhat rare, have been reported to occur in as many as 5% of patients. Complications of percutaneous nephrostomy and their frequencies are as follows:
Massive hemorrhage requiring transfusion, surgery, or embolization (1-3%)

[17]

Pneumothorax (< 1%)

Microscopic hematuria (common)

Pain (common)

Extravasation of urine (< 2%)

Inability to remove the nephrostomy tube because of crystallization around the tube site

Death (0.2%)

Sepsis (1.3%)

Catheter dislodgement during the first month (< 1%)
Misra and colleagues undertook a detailed retrospective case review to assess survival and complication rates of 36 patients who underwent percutaneous nephrostomy for ureteric obstruction due to pelvic malignancy. Median survival was 78 days (range 4-1,137), with dislodgement of the nephrostomy tube the most common serious complication which led to the greatest morbidity, sometimes requiring repeat nephrostomy insertion. With a median of hospital stay of 23 (range 3-89) days, 29 % of their remaining lifetime was spent in hospital. Because percutaneous nephrostomy in patients with advanced pelvic malignancy does not always prolong life, and is associated with serious complications, the researchers recommend the decision to undergo the procedure must be include a full informed discussion with the patient and their family.[18]
References
Goodwin WE, Casey WC, Woolf W. Percutaneous trocar (needle) nephrostomy in hydronephrosis. JAMA. 1955. 157:891.

Dyer RB, Assimos DG, Regan JD. Update on interventional uroradiology. Urol Clin North Am. 1997 Aug. 24(3):623-52. [Medline].

Kandarpa K, Aruny JE. Percutaneous Nephrostomy and Antegrade Ureteral Stenting. Handbook of Interventional Radiologic Procedures. 2nd ed. 1996. 201.

Luo H, Liu X, Wu T, Zhang X. Clinical application of percutaneous nephrostomy in some urologic diseases. J Huazhong Univ Sci Technolog Med Sci. 2008 Aug. 28(4):439-42. [Medline].

Kilic S, Oguz F, Kahraman B, Altunoluk B, Ergin H. Prospective evaluation of the alterations in the morphology and vascular resistance of the renal parenchyma with color Doppler ultrasonography after percutaneous nephrolithotomy. J Endourol. 2008 Apr. 22(4):615-21. [Medline].

Egilmez H, Oztoprak I, Atalar M, et al. The place of computed tomography as a guidance modality in percutaneous nephrostomy: analysis of a 10-year single-center experience. Acta Radiol. 2007 Sep. 48(7):806-13. [Medline].

Hausegger KA, Portugaller HR. Percutaneous nephrostomy and antegrade ureteral stenting: technique-indications-complications. Eur Radiol. 2006 Sep. 16(9):2016-30. [Medline].

von der Recke P, Nielsen MB, Pedersen JF. Complications of ultrasound-guided nephrostomy. A 5-year experience. Acta Radiol. 1994 Sep. 35(5):452-4. [Medline].

Kumar P. Radiation safety issues in fluoroscopy during percutaneous nephrolithotomy. Urol J. 2008 Winter. 5(1):15-23. [Medline].

Chuang MT, Lu CH, Tsai YS, Tsai HM, Kuo TN, Liu YS. Comparative study of percutaneous nephrostomy using catheters with and without locking strings. Clin Nephrol. 2011 Sep. 76(3):226-32. [Medline].

Dyer RB, Regan JD, Kavanagh PV, Khatod EG, Chen MY, Zagoria RJ. Percutaneous nephrostomy with extensions of the technique: step by step. Radiographics. 2002 May-Jun. 22(3):503-25. [Medline].

Shen CH, Cheng MC, Lin CT, Jou YC, Chen PC. Innovative metal dilators for percutaneous nephrostomy tract: report on 546 cases. Urology. 2007 Sep. 70(3):418-21; discussion 421-2. [Medline].

Ozok HU, Sagnak L, Senturk AB, Karakoyunlu N, Topaloglu H, Ersoy H. A Comparison of Metal Telescopic Dilators and Amplatz Dilators for Nephrostomy Tract Dilation in Percutaneous Nephrolithotomy. J Endourol. 2011 Oct 14. [Medline].

Williams SK, Bird VG, Maurici G, Leveillee RJ. Borrowing from interventional radiology: novel technique to dilate scarred nephrostomy tract. Urology. 2008 Nov. 72(5):1156-8. [Medline].

Pollard AJ, Nicholson DA. Percutaneous nephrostomy: how to do it. J Intervent Radiol. 1994. 9:129-41.

Sivalingam S, Al-Essawi T, Hosking D. Percutaneous nephrolithotomy with retrograde nephrostomy access: a forgotten technique revisited. J Urol. 2013 May. 189(5):1753-6. [Medline].

Tokue H, Takeuchi Y, Arai Y, Tsushima Y, Endo K. Anchoring system-assisted coil tract embolization: a new technique for management of arterial bleeding associated with percutaneous nephrostomy. J Vasc Interv Radiol. 2011 Nov. 22(11):1625-9. [Medline].

Misra S, Coker C, Richenberg J. Percutaneous nephrostomy for ureteric obstruction due to advanced pelvic malignancy: have we got the balance right?. Int Urol Nephrol. 2013 Jun. 45(3):627-32. [Medline].
Medscape Reference © 2011 WebMD, LLC