Femorofemoral Bypass
Author: Cheong Jun Lee, MD; Chief Editor: Vincent Lopez Rowe, MD more...
Updated: Aug 13, 2015
What would you like to print?
Overview
Background
Femorofemoral (femoral-femoral) bypass is a method of surgical revascularization used in the setting of unilateral common and/or external iliac artery occlusive disease. The technique is dependent upon a patent iliac arterial system without hemodynamically significant disease to supply adequate inflow of blood to both lower extremities. It is a commonly used means of extra-anatomic vascular reconstruction for patients with disabling claudication or critical limb ischemia (CLI) in whom underlying anatomic constraints rule out endovascular means of restoring in-line flow and those who do not qualify for anatomic reconstruction because of comorbidities that preclude a more invasive open approach.
Femorofemoral bypass may also be used as a component of endovascular repair of abdominal aortic aneurysms (AAAs), whereupon one aortoiliac system is occluded on an emergency or elective basis to ensure exclusion of the aortic aneurysm. Primary patency rates of femorofemoral bypasses are estimated to be in the range of 65-70% at 5 years.[1, 2, 3] The bypass patency rates, however, are inferior to in-line reconstruction benchmarks set by the aortofemoral and iliofemoral bypass operations.
Indications
Indications for femorofemoral bypass are as follows:
Symptomatic lower-extremity ischemia (disabling claudication, rest pain, tissue loss) due to acute or chronic occlusion of a unilateral iliac artery system

Adjunct to an endovascular unilateral aortoiliac exclusion of an AAA

Unavailability of endovascular options for management of iliac occlusive disease

High-risk patients with significant comorbidities (cardiopulmonary, multiple prior abdominal operations, prior radiation therapy to the abdomen, abdominal stoma) that preclude in-line reconstruction with inflow from the proximal iliac artery or the aorta
In a retrospective study of 82 consecutive patients with CLI from unilateral iliofemoral artery occlusion, Ma et al found that femorofemoral bypass to the deep femoral artery appeared to be safe, durable, and effective for limb salvage after attempted percutaneous endovascular intervention had failed.[4]
Contraindications
Contraindications for femorofemoral bypass are as follows:
Compromised inflow aortoiliac arterial segment

Significant obesity that may cause unfavorable graft geometry

Extreme medical risks for surgery
Technical considerations
Complication prevention
The inflow aortoiliac arterial system must be thoroughly preoperatively assessed. The outflow common, superficial, or deep femoral artery must be thoroughly assessed as well.
Strict attention to sterile technique should be used when handling prosthetic grafts. A wide sterile field is necessary to manage intraoperative bleeding or other unexpected complications that can arise while performing the procedure.
The geometry of the graft tunneling should be carefully assessed; the graft should be in an inverted C (or gentle S) configuration to prevent undue tension and kinking at the anastomoses.
Periprocedural Care
Preprocedural evaluation
Preoperative workup should begin with noninvasive arterial physiologic studies, including ankle-brachial index (ABI) and arterial wave form analysis by duplex ultrasonography. If iliac occlusive disease is suspected, at least one imaging study should be performed for assessment of the arterial anatomy. Computed tomography angiography (CTA), magnetic resonance angiography (MRA), or arteriography provides anatomic information for the needed revascularization procedure.
If femorofemoral bypass is indicated, a thorough imaging assessment of the inflow iliac system is critical to plan for possible adjunctive procedures (ie, endovascular interventions or limited endarterectomy) to ensure success of the reconstruction and augment overall long-term graft patency.[5]
Equipment
Equipment employed for a femorofemoral bypass is as follows:
Standard vascular clamps and instruments

Tunneling device (ie, Gore tunneler; W. L. Gore and Associates, Flagstaff, AZ)

Polytetrafluoroethylene (PTFE) or Dacron-based aortic grafts (8-10 mm) of appropriate length and configuration

Continuous wave Doppler device to assess blood flow intraoperatively
Most femorofemoral bypasses are constructed with prosthetic grafts. Dacron or PTFE-based grafts are most commonly used for the procedure. Autogenous (vein) and biologic grafts (cadaveric vein or artery) may also be used if prosthetic reconstruction is contraindicated because of the presence of an active infection or contamination of the surgical field. Studies have not shown differences in patency rates among the various types of graft used; however, externally supported grafts may facilitate graft tunneling and lie.[6]
Patient preparation
Anesthesia
Femorofemoral bypass is most often performed with general anesthesia because tunneling of the graft can be difficult to tolerate. In cases where underlying cardiopulmonary disease precludes general anesthesia, however, the procedure can be performed with regional (spinal) or local anesthesia and sedation.
Positioning
The procedure is performed with the patient positioned supine, and a wide sterile field is prepared from the abdomen to the lower anterior thighs.
Monitoring and follow-up
The utility of routine graft surveillance with duplex ultrasonography has not yet been proved, but some studies showed that peak systolic velocities higher than 300 cm/sec at the inflow anastomosis, or midgraft velocities lower than 60 cm/sec, were predictive of impending graft thrombosis.[7] Routine measurement of the ABI is recommended at follow-up. If the ABI falls by more than 0.15, further investigation is warranted.
Technique
Femorofemoral bypass
Exposure of femoral arteries
Bilateral exposures of the femoral arteries are obtained in standard longitudinal or oblique fashion. Longitudinal incisions afford better access to both proximal and distal femoral arteries, especially if the deep femoral (profunda femoris) artery is deemed the main outflow vessel. Incision is carried along the femoral pulse at the level of the common femoral artery (inguinal ligament). Subcutaneous tissues are dissected and the femoral sheath entered. The artery lies lateral to the femoral vein. The common, superficial, and deep femoral arteries are dissected and controlled. Circumflex branches are controlled and preserved.
Tunneling of graft
Before systemic heparinization, subcutaneous tunneling or tunneling in the space of Retzius (preperitoneal) is performed. Tunneling of the femorofemoral bypass can be challenging because one must pay careful attention to the geometry of the graft lie in order to avoid undue tension and kinking of the graft at the graft-to-artery anastomoses. The graft is tunneled from one groin incision to the other by using blunt finger dissection, a large clamp, or a graft tunneling device over the prefascial subcutaneous plane within the abdominal wall superior to the pubis (see the image below).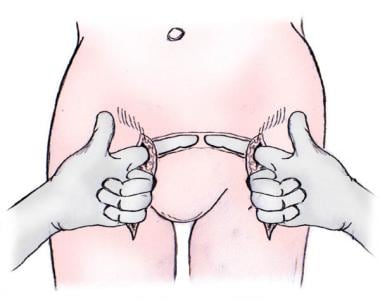 Tunneling of the femoral-femoral bypass.
At times, the graft may have to be tunneled in the preperitoneal plane (space of Retzius) because of damaged skin, abdominal scarring, or other abdominal wall conditions that prohibit the use of the prefascial subcutaneous plane. Care must be taken in the preperitoneal tunneling to avoid visceral injury, namely to the bowel or bladder. The polytetrafluoroethylene (PTFE) or Dacron graft is then passed through the tunnel and configured as an inverted C or U so that the graft is directed longitudinally at the anastomoses (see the image below).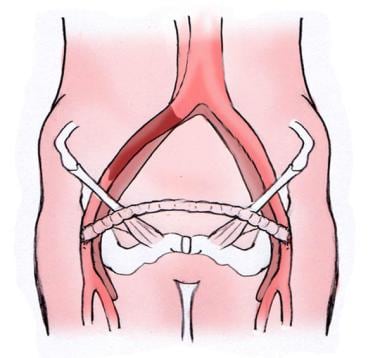 Femoral-femoral bypass configuration.
Femoral anastomoses
The patient is systemically heparinized, and vascular clamps are applied thereafter. In nearly all cases, the anastomoses are fashioned in an end-to side configuration (see the image below).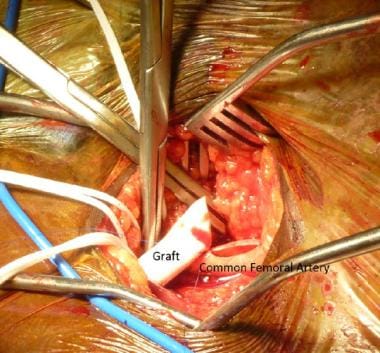 End-to-side graft to femoral anastomosis.
If the external iliac artery is occluded, however, an end-to-end configuration may create a better lie of the bypass. A longitudinal arteriotomy is created to some component of the femoral arterial system, depending on the quality of the inflow and outflow artery. The graft is spatulated accordingly. The inflow anastomosis is typically to the common femoral artery. If significant disease of the superficial femoral artery exists in the outflow femoral system, the anastomosis may have to be performed in such a manner as to incorporate the deep femoral artery.
In general, spatulation of the anastomosis onto the deep femoral artery is recommended. Concomitant endarterectomy of the femoral artery may be indicated if significant disease exists. It is important to allow some redundancy of the graft so that unfavorable geometry does not occur with bending at the lower abdomen. The graft is flushed well before the completion of the anastomoses, and enhanced flow is confirmed with Doppler examination in the recipient femoral system, as well as continued flow in the outflow vessels distal to the donor femoral artery.
Postoperative care
Perioperative hemodynamic monitoring is essential to good outcomes. In view of the prosthetic burden, surgical wounds should be monitored diligently for early signs of infection, which should be managed promptly. Prophylactic antibiotics should be administered prior to future surgical intervention that may disseminate bacteria, such as dental procedures.
Complications
Complications of femorofemoral bypass include the following:
Femoral nerve injury

Hematoma

Graft thrombosis and distal emboli

Graft infection

Early graft thrombosis and delayed pseudoaneurysm of the graft may be a sign of underlying graft infection
Medscape Reference © 2011 WebMD, LLC