Iliofemoral Bypass
Author: Dale K Mueller, MD; Chief Editor: Vincent Lopez Rowe, MD more...
Updated: Jun 07, 2013
What would you like to print?
Overview
Background
In cases of isolated iliac or proximal common femoral artery occlusive disease, several options exist when patients present with symptoms of claudication or, less commonly, limb-threatening ischemia (eg, nonhealing ulcers or gangrene; see the images below). Additional indications include isolated iliac aneurysm and proximal common femoral aneurysm.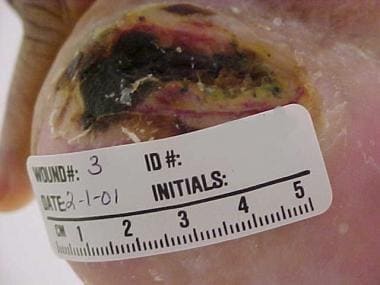 Pressure ulcer of the heel exacerbated by arterial occlusive disease.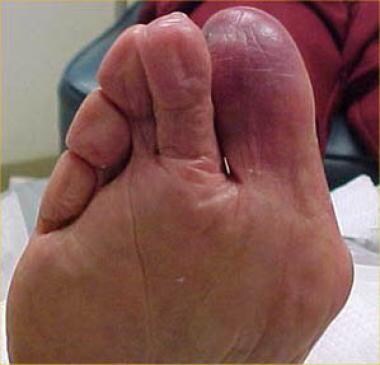 Cyanosis of the first toe and dependent rubor of the foot characteristic of arterial insufficiency.
Peripheral interventions, including angioplasty and stenting, remain the mainstay of treatment. However, when these measures are unsuccessful or inadvisable, operative treatment is indicated.
Surgical procedures performed in this setting include femorofemoral bypass, aortic bifemoral bypass, unilateral axillofemoral bypass, and isolated unilateral iliofemoral bypass.[1] Although femorofemoral bypass has been a more popular option than iliofemoral bypass, some studies have found iliofemoral bypass grafting to yield better patency, a finding that may justify more widespread use of this procedure.[2]
Indications and Contraindications
Iliofemoral bypass may be considered in cases of isolated iliac or proximal common femoral artery occlusive disease, provided that the aorta and the proximal ipsilateral common iliac artery are free of severe occlusive disease.[1] In addition, iliofemoral bypass is preferred in certain scenarios where femorofemoral bypass is contraindicated—for example, when the contralateral donor iliac artery may not provide adequate inflow because of proximal disease, or when there is heavy scarring or infection in the contralateral femoral region.
All methods of iliofemoral revascularization may be combined with other procedures, such as profundaplasty or distal bypass. Iliofemoral and associated distal bypass or iliodistal bypass may be indicated when a surgeon wishes to limit the extent of the procedure and to avoid approaching the contralateral femoral artery in the setting of multilevel unilateral disease.[3]
Contraindications for iliofemoral bypass include severe aortic or proximal ipsilateral common iliac artery occlusive disease.[1]
Outcomes
The morbidity and mortality of iliofemoral bypass are low, provided that the patient is from a low-risk group. In one study, the patency rate for this procedure was approximately 96% at 1 year and 92% at 3 years.[1] For the subgroup of patients whose operative indication was limb salvage (those with rest pain, ulcer, or gangrene), the salvage rate was 86% at 1 year and 76% at 3 years.
A subsequent study of iliofemoral bypass in 40 patients with unilateral aortoiliac occlusive disease found that this procedure achieved excellent technical and functional outcomes, particularly in patients treated for vasculogenic claudication.[4] Secondary patency was 97.5% at 1 year and 93.3% at 5 years. The limb salvage rate in patients with critical limb ischemia was 85.1% at 1 year and 79.1% at 5 years. Limb amputation was performed because of infection in 2 patients and because of failed iliofemoral bypass in 2 patients.
Periprocedural Care
Equipment and Patient Preparation
Standard vascular instrumentation is preferable. Ideally, the procedure is done in an endovascular operating room or with endovascular imaging immediately available as needed.
General anesthesia is used under most circumstances. Spinal anesthesia is an alternative but is uncommonly used.
Supine positioning is employed, with the abdomen and both lower extremities prepared.
Technique
Operative Exposure
An oblique lower quadrant incision is created, with the medial portion below the umbilicus angling superiorly. This incision affords ample exposure all the way to the distal aorta if necessary. Extraperitoneal exposure to the iliac artery is achieved with the help of several Deaver or Bookwalter retractors.
Exposure of the femoral artery is obtained in a standard longitudinal or oblique fashion. Longitudinal incisions provide better access to both proximal and distal femoral arteries, especially if the deep femoral artery (profunda femoris) is deemed the main outflow vessel. Subcutaneous tissues are dissected, and the femoral sheath is entered. The artery lies lateral to the femoral vein. The common, superficial, and deep femoral arteries are dissected and controlled. Circumflex branches are controlled and preserved.
Tunneling of Graft
Before heparinization, a tunnel is created with blunt dissection from the retroperitoneum to the femoral artery. Care should be taken not to avulse an artery, and the tunnel should run directly on top of the iliac artery.
Creation of Anastomoses
Systemic anticoagulation, usually with heparin, is employed. Proximally, the graft is anastomosed to the common or external iliac artery, usually in an end-to-side fashion (see the image below). The graft is then tunneled under the inguinal ligament (unless this was transected during the dissection), and the distal anastomosis is placed as indicated.[1] In the case of iliac artery aneurysm, the aneurysm is excluded before the bypass procedure.[2]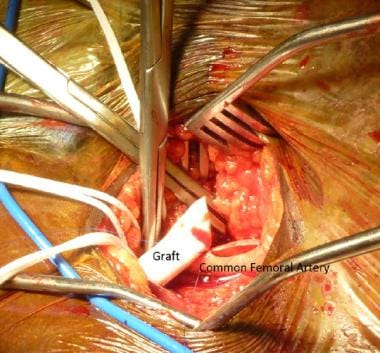 End-to-side graft to femoral anastomosis
References
Kalman PG, Hosang M, Johnston KW, Walker PM. Unilateral iliac disease: the role of iliofemoral bypass. J Vasc Surg. 1987 Aug. 6(2):139-43. [Medline].

Perler BA, Burdick JF, Williams GM. Femoro-femoral or ilio-femoral bypass for unilateral inflow reconstruction?. Am J Surg. 1991 Apr. 161(4):426-30. [Medline].

Aortoiliac disease. Rutherford RB, ed. Rutherford's Vascular Surgery. 6th ed. Philadelphia: WB Saunders; 2005.

Carsten CG 3rd, Kalbaugh CA, Langan EM 3rd, Cass AL, Cull DL, Snyder BA, et al. Contemporary outcomes of iliofemoral bypass grafting for unilateral aortoiliac occlusive disease: a 10-year experience. Am Surg. 2008 Jun. 74(6):555-9; discussion 559-60. [Medline].
Medscape Reference © 2011 WebMD, LLC