Wet Macular Degeneration Injection
Author: David T Wong, MD, FRCSC; Chief Editor: Hampton Roy, Sr, MD more...
Updated: Apr 04, 2016
What would you like to print?
Overview
Intravitreal injection with anti-vascular endothelial growth factor (anti-VEGF) therapy has become the criterion standard for treatment of choroidal neovascular membranes (CNVs) associated with age-related macular degeneration (ARMD).[1, 2] Treatment options in wet ARMD include bevacizumab (Avastin, Genentech, San Francisco, CA), which is a full-length anti-VEGF antibody, ranibizumab (Lucentis, Genentech), which is an affinity-matured fragment, pegaptanib sodium (Macugen, OSI/Eyetech Inc.), and aflibercept (Eylea, Regeneron, Tarrytown, NY), another anti-VEGF trap.[3, 4] With the exception of bevacizumab, which is used on an off-label basis, all of the other aforementioned drugs are FDA approved for ARMD.
The image below illustrates wet age-related macular degeneration.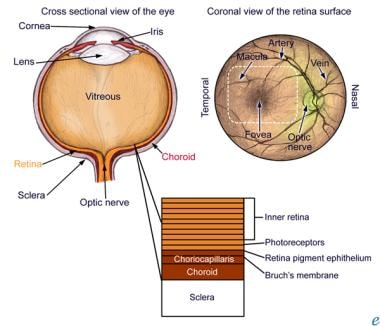 Wet age-related macular degeneration (ARMD).
Contraindications
Absolute contraindications are as follows:
Active blepharitis or external ocular surface infection is an absolute contraindication for intravitreal injections. These conditions should be treated appropriately first.

[5]
Relative contraindications are as follows:
History of significant acute inflammation related to the agent injected.

[6]

Recent history of adverse thromboembolic event such as stroke.
Many patients take anti-platelet or anti-coagulant agents. It is not necessary to stop these before injection.
Equipment
Equipment is as follows:
Povidine/iodine 5% and/or 10%

Speculum

Scleral marker (calipers)

Tuberculin syringe

30- or 32-gauge needle (27-gauge for triamcinolone)

Cotton swab

Sterile gloves (optional)

Sterile drape (optional)

Mask (optional)
Various sterile packs with required equipment are available.
Preparation
In many countries, including United States, Canada, and Australia, performing this procedure in a minor procedure room or examination room under sterile conditions is common practice. However, some countries or centers recommend this procedure in an operating room.
Currently, preinjection antibiotics are not used in most cases. The frequency of conjunctival bacterial growth was found to be similar with preinjection povidone-iodine, with or without a 3-day course of topical antibiotic.[7]
Anesthesia
Commonly used methods for local anesthesia include the following[8] :
Topical anesthetic drops

Application of cotton swabs soaked in tetracaine or lidocaine

Lidocaine 2% gel

Subconjunctival lidocaine following the instillation of topical anesthetic
Technique
Confirm the eye undergoing treatment.
Apply anesthetic of choice.
Instill povidone-iodine solution. The authors use Povidine-iodine 5%. It is applied to the conjunctival sac, lids, and lashes following the instillation of anesthetic. After a few minutes, a further drop is instilled over the site.
Insert speculum (see image below).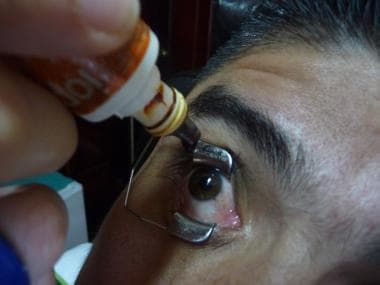 After a subconjunctival injection of lidocaine 1% and topical anesthesia, a lid speculum is placed. A 5% povidone iodine solution is used to clean the conjunctival surface.
Use the scleral marker to mark the injection site at 3.5 mm for a pseudophakic eye and 4 mm for a phakic eye. The author prefers the superotemporal quadrant, although some protocols describe an inferotemporal approach.
Inject gently into the mid-vitreous. An oblique entry (tunneled approach) may reduce the risk of reflux and aid in the construction of a self-sealing wound.[9] This can be particularly relevant in vitrectomized eyes.
Gently apply the sterile cotton tip to tamponade the injection site following withdrawal of the needle for 10 seconds with a gentle rub. This helps reduce reflux.
Check vision and central retinal artery perfusion.
Flush the eye with lubricants/balance salt solution to remove any residual povidone-iodine to reduce postinjection irritation. Topical antibiotics are optional, although evidence is growing that they are unnecessary and potentially increase the risk of bacterial resistance.[10, 11, 12]
The patient needs to be aware that severe pain, visual loss, or injection of the globe requires urgent re-assessment by the ophthalmologist. A mechanism must be in place to allow the patient to contact the treating ophthalmologist or a member of the team urgently after hours.
A recent survey of intravitreal techniques by retinal specialists in the United States found only one third of participants wear sterile gloves for intravitreal injections.[13] Most (83%) did not displace the conjunctiva prior to injection, and most used a 30-gauge needle for injection of ranibizumab or bevacizumab. Although most respondents in this study did not use prophylactic topical antibiotics pre-injection, 81% used topical antibiotics post injection.
Pearls
Allow sufficient time for the anesthetic to take effect.
Aim to reduce the time between speculum insertion and injection to reduce corneal exposure time. This may reduce the amount of corneal desiccation and epitheliopathy.
Eye washout with normal saline following the procedure may reduce discomfort in patients sensitive to Povidine-iodine and/or anesthetic.
Warn patients about subconjunctival hemorrhage, which can otherwise be anxiety provoking.
Reduce the risk of endophthalmitis by wearing a mask or by not speaking during the procedure.
Bilateral injections increase efficiency and convenience to the patient with no apparent risk increase.[14]
Complications
Complications are summarized as follows[5, 15, 16] :
Endophthalmitis: In recent multicenter clinical trials of anti-VEGF therapy, the incidence of endophthalmitis has ranged from 0.7% to 1.6%. Non-infectious (sterile) endophthalmitis occurs in response to anti-VEGF.

Retinal detachment: This complication is rare. ANCHOR and MARINA demonstrated a 0.01% per-injection detachment rate.

Cataract

Transient raised IOP and possible progression of glaucoma damage in susceptible eyes

Hypotony

Adverse thromboembolic events

[17]

Infection: The FDA issued a safety alert regarding repackaged intravitreal injections of bevacizumab (Avastin), an anti-VEGF antibody. Serious eye infections caused by

Streptococcus endophthalmitis

have been reported in 12 patients who received the injections. The infections were the result of contamination that occurred during the repackaging of bevacizumab from 100 mg/4 mL single-use, preservative-free vials into individual 1-mL syringes for off-label use to treat wet macular degeneration.

[18]
Medscape Reference © 2011 WebMD, LLC