Rectocele Repair Technique
Author: Barbara Samm Frank, MD; Chief Editor: Kris Strohbehn, MD more...
Updated: Jan 25, 2015
What would you like to print?
Approach Considerations
Rectocele repair can be accomplished via many surgical techniques.
A randomized control trial in 2006 comparing 3 different surgical techniques for rectocele repair concluded that each method resulted in significant improvement in symptoms, quality of life, and sexual function.[6]
Two randomized trials have compared vaginal and transanal approaches and concluded that the transvaginal approach yielded a lower reoperation rate and led to better anatomic results based on pelvic organ prolapse (POP-Q) examination during the follow-up period.[7, 8]
A study by Zhang et al, however, indicated that endoscopic stapled transanal rectal resection (STARR) is an effective treatment for rectocele. The study involved 61 patients with severe rectocele who underwent the procedure, with the investigators finding significant improvement between the preoperative and postoperative Longo obstructed defecation syndrome scores and significant reduction or disappearance of the rectocele on defecography.[9]
The two transvaginal approaches include posterior colporrhaphy and site-specific posterior vaginal repair. Graft or mesh augmentation can be used with either technique, although no studies have shown improved outcomes; complications associated with mesh are discussed below.
The abdominal approach is not discussed, as this has fallen out of favor for rectocele repair alone.
Studies disagree which procedure yields the best outcome. One study concludes that site-specific rectocele repair is associated with higher anatomic recurrence rates than a standard posterior colporrhaphy and similar rates of dyspareunia and bowel symptoms.[10] Another randomized control trial concluded that posterior colporrhaphy and site-specific rectocele repair result in similar anatomic and functional outcomes and that the addition of porcine-derived graft did not improve outcomes.[6]
A study out of Cleveland Clinic found that posterior colporrhaphy and site-specific repair yielded similar anatomic and functional outcomes after 1 year of follow-up but were overall superior to graft augmentation. Bowel, sexual function, and quality of life significantly improved in all 3 groups.[6]
Transvaginal Rectocele Repair
To begin either transvaginal technique, the authors recommend injection of lidocaine with a dilute vasoconstrictor below the vaginal epithelium to aid with hydrodissection and hemostasis.
Next, two Allis clamps are placed at the mucocutaneous junction of the widened introitus to allow for horizontal stretch; caution must be used to avoid placing the clamps too far apart, resulting in excess excision of tissue and introital narrowing.
Using sharp or electrocautery dissection, an incision should be made horizontally between the two clamps.
If perineorrhaphy is to be incorporated, which is typical, an inverted isosceles triangle of skin should be denuded from the perineum. If the perineum is short, defined as less than 2 cm, the triangular incision may not be possible. The goal of this incision is to prevent redundant skin that will bunch after the repair is complete.
With the posterior vaginal wall on tension, the vaginal epithelium is stripped off the underlying tissue with Mayo scissors. The surgeon's nondominant index finger is used to gauge the thickness of the tissue being dissected. In most cases, the dissection should continue only to the point slightly above the defect and should always be carried out to the sidewalls.
Posterior colporrhaphy and site-specific defect repair are discussed below.
Closure
Excision of the excess tissue and then closure of the vaginal epithelium completes the procedure. Reattachment of the rectovaginal connective tissue to the perineal body is recommended in all repairs when separation is observed.
Perineorrhaphy
Perineorrhaphy should be performed with any posterior repair where there is separation of the perineal muscles. This is done by dissecting the free ends of the superficial perineal and bulbocavernosus muscles and then reapproximation in the midline.
Posterior Colporrhaphy
Using Allis clamps to grasp the retracted fascia and bring it down to the distal portion of the tear, the surgeon can use delayed absorbable sutures in a figure-of-eight or interrupted fashion to plicate the defect in a transverse fashion. The surgeon should place a finger in the rectum to prevent the tissue from bunching and that the defects have been resolved (see image below).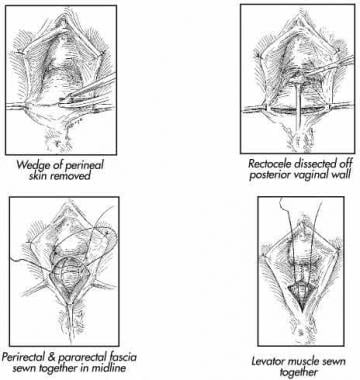 Posterior Colporrhaphy
Site-Specific Defect Repair
This is best performed with the surgeon placing one finger in the rectum as guidance in repairing palpable defects. Delayed absorbable suture placed in a figure-of-eight fashion is used to plicate the tissue over the surgeon's rectal finger. With multiple sutures, bulking of this tissue will be felt, eventually resulting in scar formation and creation of a stronger fascial plane (see image below).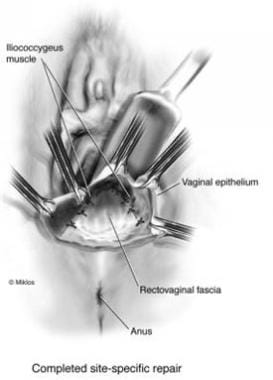 Site Specific Repair
Graft or Mesh Augmentation
Several randomized studies have shown no benefit in adding graft or mesh augmentation to posterior colporrhaphy. If it is used, prior to closure of the vaginal epithelium, the graft is placed over the fibromuscularis plication in the traditional posterior colporrhaphy or over the corrected defects after the site-specific repair. The graft can be attached to the apical support sutures if the patient is undergoing an anterior repair at the time of posterior repair. The graft material should also be attached bilaterally to the endopelvic attachment on the levator ani muscles. The surgeon should rule out tension on the graft, as this will cause further contracture during the healing process. Finally, the distal portion of the graft is attached to the perineal body.
On July 13, 2011, the Food and Drug Administration (FDA) issued a statement that serious complications are not rare with the use of surgical mesh in transvaginal repair of pelvic organ prolapse. The FDA reviewed the literature from 1996-2011 to evaluate safety and effectiveness and found surgical mesh in the transvaginal repair of pelvic organ prolapse does not improve symptoms or quality of life more than nonmesh repair. The review found that the most common complication was erosion of the mesh through the vagina, which may require multiple surgeries to repair and can be debilitating in some women. Mesh contraction, which causes vaginal shortening, tightening, and pain, was also reported.
The FDA's update states, "Both mesh erosion and mesh contraction may lead to severe pelvic pain, painful sexual intercourse, or an inability to engage in sexual intercourse. Also, men may experience irritation and pain to the penis during sexual intercourse when the mesh is exposed in mesh erosion." See the full update regarding surgical mesh in pelvic organ prolapse here: FDA Safety Communication: Update on Serious Complications Associated with Transvaginal Placement of Surgical Mesh for Pelvic Organ Prolapse
References
Age and Sex in the United States: (2007, March 26). Retrieved April 6, 2011, from U.S. Census Bureau. Available at http://www.census.gov/population/www/socdemo/age/age_sex_2009.html. Accessed: 2009.

U.S. Census Bureau (2000). Retrieved March 6, 2011, from U.S. interim projections by age, sex, race, and Hispanic origin. Available at http://www.census.gov/ipc/www/usinterimproj. Accessed: 2011.

Gynecology TA. ACOG Practice Bulletin Number 85. Pelvic Organ Prolapse. 2009.

Cundiff, G. W., & Fenner, D. Evaluation and treatemtn of women with rectocele: focus on associated defecatory and sexual dysfunction. Journal of Obstetrics and Gynecology. 2004. 104:1403-21.

Maher CF, Qatawneh AM, Baessler K, Schluter PJ. Midline rectovaginal fascial plication for repair of rectocele and obstructed defecation. Obstet Gynecol. 2004 Oct. 104(4):685-9. [Medline].

Paraiso MF, Barber MD, Muir TW, Walters MD. Rectocele repair: a randomized trial of three surgical techniques including graft augmentation. Am J Obstet Gynecol. 2006 Dec. 195(6):1762-71. [Medline].

Kahn MA, Stanton,SL, Kumar D, Fox SD. Posterior colporrhaphy is superior to the transanal repair for treatment of posterior vaginal wall prolapse. Neurourology and Urodynamics. 1999. 18:70.

Nieminen K, Hiltunen KM, Laitinen J, Oksala J, Heinonen PK. Transanal or vaginal approach to rectocele repair: a prospective, randomized pilot study. Dis Colon Rectum. 2004 Oct. 47(10):1636-42. [Medline].

Zhang ZG, Yang G, Pan D, et al. Efficacy of endoscopic stapled transanal rectal resection for the treatment of rectocele. Eur Rev Med Pharmacol Sci. 2014 Dec. 18(24):3921-6. [Medline].

Abramov Y, Gandhi S, Goldberg RP, Botros SM, Kwon C, Sand PK. Site-specific rectocele repair compared with standard posterior colporrhaphy. Obstet Gynecol. 2005 Feb. 105(2):314-8. [Medline].
Medscape Reference © 2011 WebMD, LLC