Primary Sclerosing Cholangitis Workup
Author: Vikas Khurana, MD, FACP, FACG; Chief Editor: Julian Katz, MD more...
Updated: Jan 03, 2016
What would you like to print?
Approach Considerations
Liver function tests and histology are used in the evaluation of patients with suspected primary sclerosing cholangitis (PSC).[2]
Liver function tests are the most valuable in the laboratory workup, including serum alkaline phosphatase, serum aminotransferase, and hypergammaglobulinemia. The most important imaging study is endoscopic retrograde cholangiopancreatography (ERCP). Transhepatic cholangiography and magnetic resonance cholangiopancreatography may also be utilized. The most common characteristic histologic feature is onion skin fibrosis (concentric periductal fibrosis) (see the image below). Liver biopsy is rarely diagnostic of PSC, although it does help determine both the stage and the prognosis of the disease.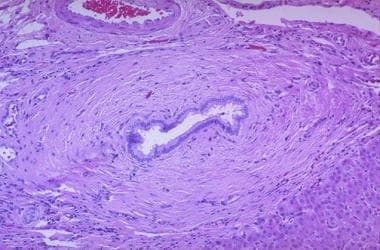 Periductal onion skin fibrosis seen in primary sclerosing cholangitis.
Laboratory Studies
Liver function tests
The most valuable lab studies in PSC are liver function tests. Serum alkaline phosphatase dominates the profile, which is cholestatic in nature. levels are usually 3-5 times reference-range values. Alkaline phosphatase can be divided into its various fractions to ascertain its origin from liver disease, as opposed to bone disease. Serum gamma-glutamyl transpeptidase levels mirror this rise and can help differentiate cholestasis from bone disease. Some patients with hypothyroidism, hypophosphatemia, or zinc or magnesium deficiency may have normal alkaline phosphatase levels.
Serum aminotransferase levels are increased but not markedly so. Serum bilirubin levels, with the conjugated component, are usually increased, but fluctuations in the level can occur. Serum albumin levels decrease later in the course of the disease, and the presence of hypoalbuminemia earlier in the disease may indicate active inflammatory bowel disease (IBD).
Hypergammaglobulinemia is present in 30% of patients, and 50% have increased immunoglobulin (IgM) levels. Perinuclear antineutrophil cytoplasmic antibodies (p-ANCA) are present in 84% of patients; anticardiolipin (aCL) antibodies, in 66%; and antinuclear antibodies (ANA), in 53%.
Imaging Studies
Endoscopic retrograde cholangiopancreatography (ERCP) is considered the criterion standard for confirming a diagnosis of primary sclerosing cholangitis. ERCP findings include multiple strictures and dilations of the intrahepatic and extrahepatic biliary ducts. Transhepatic cholangiography is performed when ERCP is unsuccessful. Because it is noninvasive, magnetic resonance cholangiopancreatography (MRCP) is rapidly developing as the preferred study to evaluate the bile ducts. As image quality continues to improve, MRCP may become the preferred study.
See the related images below.
Magnetic resonance elastography (MRE) measurement of liver stiff appears to show promise as a potential biomarker in chronic liver disease.[21] In a retrospective review of 266 patients with primary sclerosing cholangitis, MRE not only showed a 100% sensitivity and 94% specificity for detecting cirrhosis, but it was also predictive of the development of decompensated liver disease. The investigators noted that advanced liver stiffness was unlikely in the presence of a serum alkaline phosphatase level less than 1.5 times the upper limit of normal.[21]
Histologic Findings
A variety of histopathologic liver changes are noted in patients with PSC. The most common characteristic feature is onion skin fibrosis (see the image below), which describes the appearance of periductal concentric fibrosis around the interlobular and septal bile ducts. This is present in only half of all biopsy specimens from patients with otherwise typical primary sclerosing cholangitis, whereas concentric fibrosis with obliteration of the small ducts (obliterative fibrous cholangitis)—a virtually diagnostic histopathologic lesion—is found in less than 10% of biopsy specimens. Periductal fibrosis may be accompanied by infiltrates of inflammatory cells. Piecemeal necrosis, as occurs in patients with chronic hepatitis, may be observed as well.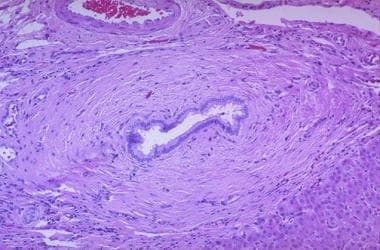 Periductal onion skin fibrosis seen in primary sclerosing cholangitis.
Medscape Reference © 2011 WebMD, LLC