Hepaticojejunostomy
Author: Fazia Mir, MD; Chief Editor: Kurt E Roberts, MD more...
Updated: Jul 22, 2015
What would you like to print?
Overview
Background
Oskar Sprengel published the first report of a choledochoenterostomy in 1891.[1] He found that in one case, attempting to clear the distal common bile duct of stones would be impossible through standard methods. At this time, he made a choledochotomy in the common bile duct and anastomosed it to the duodenum. Attempts to repeat this operation resulted in multiple deaths, likely from sequelae related to bile leaks.[2, 3] By the early 1900s, two basic principles had been formulated that helped popularize this procedure. These principles were as follows:
The anastomosis should be made without tension

Mucosa-to-mucosa contact is needed for appropriate healing
Laparoscopic and robot-asisted approaches to hepaticojejunostomy have also been described; additional study is needed to determine their appropriate utilization.[4, 5, 6]
Indications
The major indications for hepaticojejunostomy are as follows[7, 8] :
Benign or iatrogenic strictures

Injuries to the biliary system
Additionally, obstruction from malignancies of the biliary system caused by pancreatic or duct wall tumors may necessitate this operation. Rare indications are trauma and dilated areas occurring in sclerosing cholangitis. In the pediatric population, choledochal cysts are also an indication for reconstruction with hepaticojejunostomy.[9] Because each unsuccessful attempt at repair can cause increased morbidity for the patient, providing long-term functional and anatomic stability is paramount during the reconstruction.[10]
Contraindications
Patients with severe systemic illness (eg, severe cardiac or pulmonary dysfunction) should be cleared preoperatively to confirm that they are able to tolerate this procedure. The presence of proximal obstruction to bile flow in a given patient is also a contraindication for this procedure.
Periprocedural Care
Preprocedural evaluation
Right-upper-quadrant ultrasonography is a useful preoperative study to look for biloma or fluid collections. Computed tomography (CT) can help delineate intra-abdominal structures and anatomy. Magnetic resonance cholangiopancreatography (MRCP) or endoscopic retrograde cholangiopancreatography (ERCP) is also useful to help with identifying the remaining biliary anatomy. Such imaging shows the surgeon where the injury or lesion is and helps in preoperative planning.
If the patient has a biliary disruption from injury or complete obstruction, interventional radiology can be called upon to perform a percutaneous transhepatic cholangial drainage (PTCD), which helps decompress the biliary system and can be useful for preoperative imaging of the anatomy.
Patient preparation
Anesthesia
General anesthesia is recommended for patients undergoing a biliary bypass procedure. Spinal anesthesia can be a helpful adjunct in some cases, especially for postoperative pain control.
Positioning
Typically, the patient should be supine on the operating table. The arms may be tucked or not, depending on the individual surgeon's preference. Enough room should be available to allow placement of a self-retaining retractor.
Technique
Procedure
In operating on the biliary tract, various incisions can be used to gain proper exposure. Common approaches include the following:
Right subcostal incision

Right paramedian incision

Midline incision
Some authors believe the best possible exposure is given by the bilateral subcostal incision.
Upon entry into the abdomen, adhesions to the biliary structures are often encountered, and these must be meticulously dissected and taken down so as to free up the duodenum, and possibly the colon, from the biliary tree. The hepatoduodenal ligament must be dissected free of these adhesions, and adequate kocherization of the duodenum must exist.
A useful trick that can help identify a dilated common bile duct is to use a finder needle. Aspirating the portal structures with a fine (eg, 25-gauge) needle can facilitate identification of the common duct. In dissecting the portal structures, finding the hepatic artery medially is beneficial. Variations in hepatic arterial supply can occur in as many as 45% of patients, and it is vital to be aware of these important differences. A case in point is a replaced right hepatic artery that originates from the superior mesenteric artery; this artery can pass posterior and lateral to the portal vein and common bile duct.
When the common duct has been identified, two traction sutures of 4-0 monofilament are placed on either side of the dilated bile duct. The distal common duct is ligated with two 0-0 ties, and the common duct is divided below the traction sutures. The end of the common duct is then trimmed to achieve maximal diameter. Excessive dissection of the common duct must be avoided because the arterial supply runs at the 9 o'clock and 3 o'clock positions.[11] (See the image below.)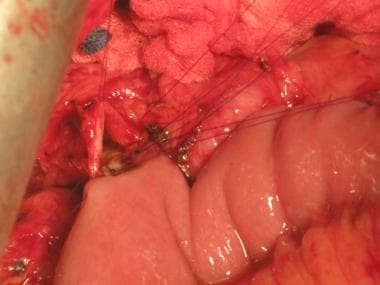 Posterior wall of hepaticojejunostomy anastomosis completed, with anterior wall retracted by stay sutures.
At this point, a bile specimen is obtained for culture and sensitivity testing, any debris present is removed from the bile duct, and the area is irrigated with saline run through a No.5 or No. 8 pediatric feeding tube.
Occasionally, one encounters a biliary stricture or bile duct injury at the confluence of the right and left hepatic ducts. In this situation, not enough tissue is present to allow anastomosis of the common bile duct to the jejunum. Knowledge of the anatomy is crucial for this procedure. One must be aware that the extrahepatic part of the left hepatic duct runs parallel to the liver hilum and that the right hepatic duct dives directly into the liver parenchyma. Because the extrahepatic left hepatic duct does not cross vasculature and does not receive biliary ducts, a side-to-side anastomosis between it and a jejunal limb is ideal.
For anastomosis to either the common bile duct or the confluence of the hepatic ducts, it is necessary to fashion a Roux-en-Y jejunal limb.[12, 13] This limb is identified and transected with a stapling device 30-35 cm from the ligament of Treitz. Transection at this point along the jejunum provides sufficient bowel mesentery length to reach the hepatic hilum when an antecolic Roux procedure is performed. A single-layered anastomosis can be performed with a permanent 4-0 monofilament suture.
The key point to remember is that to achieve a stable anastomosis, mucosal contact must exist between the bowel and the biliary tree. For a choledochoenterostomy, such contact can be achieved by performing an end-to-side anastomosis with 4-0 monofilament suture. For a hepaticojejunostomy, this is achieved by performing a side-to-side anastomosis to the Roux limb as first described by Hepp and Couinaud, again with a 4-0 monofilament suture.
Postoperative care
If drainage is necessary, a closed suction drain is preferable because of the reduced risk of infection. This drain can typically be removed in 3-5 days, depending on output. If bile output increases, a bile leak should be assumed, and the drain should remain in place as long as needed. Most biliary fistulas of this sort close in less than 3 weeks.
A nasogastric tube should be in place after the operation and should be attached to wall suction. The patient should also receive intravenous fluids for the first few days after surgery. Subsequently, the intravenous fluid therapy and nasogastric tube suctioning are discontinued as warranted by the patient's clinical appearance and progression of bowel activity.
Complications
Complications during hepaticojejunostomy can arise from any of the following three major points during the operation:
Isolation of the bile duct

Resection of the bile duct

Creation of the biliary-enteric anastomosis
Any of the portal structures, including the common hepatic artery, can be injured during isolation of the common bile duct. Unintentional injury to the common hepatic artery (most commonly due to anatomic variation[14] ) results in hemorrhage and accidental ligation, and division of this vessel can cause ischemia to the right lobe of the liver. If a lateral injury occurs to the vessel, proximal and distal control should be obtained, and the artery should be repaired in a transverse fashion with a monofilament suture so as to avoid stricture or stenosis. If complete transection occurs, an end-to-end anastomosis should be performed.[15] If injury occurs and is identified, proximal and distal control should be gained, and primary repair should be performed.[16, 17]
Leakage can occur at the biliary-enteric anastomotic site, most often secondary to a technical error such as imprecise suture placement or an anastomosis performed under tension. When tension is likely to be present, a Roux-en-Y anastomosis of appropriate length is preferred to remove the tension.
In a hepaticojejunostomy, the biliary-enteric anastomosis is usually to smaller ducts, which can be multiple if the injury or stricture is above the bifurcation of the right and left ducts. In such cases, a small accessory duct can be missed and give rise to bile leakage and all the sequelae that occur with this complication. These missed ducts commonly necessitate reoperation with additional anastomosis formation. These complications can be minimized or eliminated by obtaining a thorough understanding of the biliary anatomy preoperatively with the help of imaging modalities such as magnetic resonance cholangiopancreaticography (MRCP) or percutaneous transhepatic cholangiography (PTC).[18, 19]
AbdelRafee et al carried out a retrospective cohort study in which 120 patients with postcholecystectomy bile duct injuries that were treated by means of Roux-en-Y hepaticojejunostomy were followed for a mean of 149 months (range, 70-246 months).[20] Of the 120, 88.3% had successful long-term outcomes, and 29% had long-term complications. Anastomotic stricture developed in 11.6%, and 14.2% experienced recurrent episodes of cholangitis. Predictors of poor outcome included post-ERCP pancreatitis, grreater number of anastomoses, longer operating time, early postoperative complications, and postoperative bile leakage.
References
Sprengel O. Uber eienen fall von exstirpation der gallenblase mit anlegung einer kommunikation zwischen duodenum und ductus choledochus. Zentralbl Chir. 1891. 18:121-122.

Sasse F. Uber choledochoduodenostomie. Zentralbl Chir. 1913. 40:942-943.

Santore MT, Behar BJ, Blinman TA, Doolin EJ, Hedrick HL, Mattei P. Hepaticoduodenostomy vs hepaticojejunostomy for reconstruction after resection of choledochal cyst. J Pediatr Surg. 2011 Jan. 46(1):209-13. [Medline].

Cuendis-Velázquez A, Morales-Chávez C, Aguirre-Olmedo I, Torres-Ruiz F, Rojano-Rodríguez M, Fernández-Álvarez L, et al. Laparoscopic hepaticojejunostomy after bile duct injury. Surg Endosc. 2015 Jun 20. [Medline].

Lai EC, Tang CN. Robot-assisted laparoscopic hepaticojejunostomy for advanced malignant biliary obstruction. Asian J Surg. 2015 Mar 18. [Medline].

Prasad A, De S, Mishra P, Tiwari A. Robotic assisted Roux-en-Y hepaticojejunostomy in a post-cholecystectomy type E2 bile duct injury. World J Gastroenterol. 2015 Feb 14. 21 (6):1703-6. [Medline].

Lubikowski J, Post M, Bialek A, Kordowski J, Milkiewicz P, Wójcicki M. Surgical management and outcome of bile duct injuries following cholecystectomy: a single-center experience. Langenbecks Arch Surg. 2011 Feb 19. [Medline].

Schmidt SC, Fikatas P, Denecke T, Schmaucher G, et al. Hepatic resection for patients with cholecystectomy related complex bile duct injury. Eur Surg. 2010. 42:77-82.

Hung MN, Lin LH, Chen DF, Huang CS. Choledochal cysts in infants and children: experiences over a 20-year period at a single institution. Eur J Pediatr. 2011.

Toumi Z, Aljarabah M, Ammori BJ. Role of the laparoscopic approach to biliary bypass for benign and malignant biliary diseases: a systematic review. Surg Endosc. 2011 Feb 7. [Medline].

Northover JM, Terblanche J. A new look at the arterial supply of the bile duct in man and its surgical implications. Br J Surg. 1979 Jun. 66(6):379-84. [Medline].

Felder SI, Menon VG, Nissen NN, Margulies DR, Lo S, Colquhoun SD. Hepaticojejunostomy using short-limb Roux-en-Y reconstruction. JAMA Surg. 2013 Mar. 148(3):253-7; discussion 257-8. [Medline].

Diao M, Li L, Li Q, Ye M, Cheng W. Single-incision versus conventional laparoscopic cyst excision and roux-y hepaticojejunostomy for children with choledochal cysts: a case-control study. World J Surg. 2013 Jul. 37(7):1707-13. [Medline].

Abdullah SS, Mabrut JY, Garbit V, De La Roche E, Olagne E, Rode A, et al. Anatomical variations of the hepatic artery: study of 932 cases in liver transplantation. Surg Radiol Anat. 2006 Oct. 28(5):468-73. [Medline].

Gupta N, Solomon H, Fairchild R, Kaminski DL. Management and outcome of patients with combined bile duct and hepatic artery injuries. Arch Surg. 1998 Feb. 133(2):176-81. [Medline].

Dawson DL, Johansen KH, Jurkovich GJ. Injuries to the portal triad. Am J Surg. 1991 May. 161(5):545-51. [Medline].

Katsinelos P, Paroutoglou G, Beltsis A, Tsolkas P, Arvaniti M, Katsiba D, et al. Endobiliary endoprosthesis without sphincterotomy for the treatment of biliary leakage. Surg Endosc. 2004 Jan. 18(1):165-6. [Medline].

Michelassi F, Ranson JH. Bile duct disruption by blunt trauma. J Trauma. 1985 May. 25(5):454-7. [Medline].

Sawaya DE Jr, Johnson LW, Sittig K, McDonald JC, Zibari GB. Iatrogenic and noniatrogenic extrahepatic biliary tract injuries: a multi-institutional review. Am Surg. 2001 May. 67(5):473-7. [Medline].

AbdelRafee A, El-Shobari M, Askar W, Sultan AM, El Nakeeb A. Long-term follow-up of 120 patients after hepaticojejunostomy for treatment of post-cholecystectomy bile duct injuries: A retrospective cohort study. Int J Surg. 2015 Jun. 18:205-10. [Medline].

Bruno D, Fishbein T. Resection and reconstruction of the biliary tract. Evans. Surgical Pitfalls Prevention and Management. Philadelphia, PA: Saunders; 2009. 395.

Jurkovich GJ, Hoyt DB, Moore FA, Ney AL, Morris JA Jr, Scalea TM, et al. Portal triad injuries. J Trauma. 1995 Sep. 39(3):426-34. [Medline].

Koops A, Wojciechowski B, Broering DC, Adam G, Krupski-Berdien G. Anatomic variations of the hepatic arteries in 604 selective celiac and superior mesenteric angiographies. Surg Radiol Anat. 2004 Jun. 26(3):239-44. [Medline].

Mathisen O, Søreide O, Bergan A. Laparoscopic cholecystectomy: bile duct and vascular injuries: management and outcome. Scand J Gastroenterol. 2002 Apr. 37(4):476-81. [Medline].

Schmidt SC, Settmacher U, Langrehr JM, Neuhaus P. Management and outcome of patients with combined bile duct and hepatic arterial injuries after laparoscopic cholecystectomy. Surgery. 2004 Jun. 135(6):613-8. [Medline].
Medscape Reference © 2011 WebMD, LLC