Pylorus-Preserving Pancreaticoduodenectomy (Whipple Procedure)
Author: Roshni L Venugopal, MD, MS; Chief Editor: Kurt E Roberts, MD more...
Updated: Nov 24, 2014
What would you like to print?
Overview
Background
Some background information regarding pylorus-preserving pancreaticoduodenectomy (PPPD), also commonly referred to as the Whipple procedure, is provided below.
Pancreaticoduodenectomy has evolved since Kausch performed the first successful procedure as a two-stage operation in 1912. He was preceded by Codivilla in Italy, who performed the first pancreaticoduodenectomy in the 1890s; however, the patient unfortunately died in the immediate postoperative period.
The modern colloquial name for this operation refers to Dr Allen Oldfather Whipple, the surgeon who reported his series of pancreaticoduodenectomies in 1935. He had performed the procedure on three patients as a two-stage operation for periampullary neoplasms, then later refined his methodology to a one-stage procedure.
In 1937, Brunschwig extended the indications for pancreaticoduodenectomy by performing the operation for pancreatic head lesions.
In 1946, Waugh and Clagett described a formal en-bloc resection of the gallbladder with the common bile duct (CBD), gastric antrum, duodenum, and head of pancreas performed as a one-stage procedure, which we recognize today as the classic pancreaticoduodenectomy. However, the operation, though refined since Codivilla and Kausch, was utilized sparingly; perioperative mortality continued to be prohibitive, estimated as being close to 25% into the 1960s.
As advances in medicine yielded better perioperative outcomes across surgical applications, interest in the Whipple procedure was revitalized, and pancreaticoduodenectomy was performed increasingly often. In an effort to decrease postgastrectomy syndromes in post-Whipple patients, Traverso and Longmire described a pylorus-preserving modification in 1978. Important subsequent advances included the application of new technologies (ie, laparoscopic and robotic approaches to pancreaticoduodenectomy).[1, 2, 3, 4]
Although innumerable details of pancreaticoduodenectomy yield to continued innovation, a comprehensive discussion of intraoperative variants (ie, duct to mucosa vs invagination of the pancreaticojejunal anastomosis, diverse approaches to vein reconstructions, nuances of each enteric anastomosis, and modifications of Roux-en-Y reconstructions, to name a few) is beyond the scope of this article. We will focus on the technical aspects and perioperative impacts of the Traverso modification.
See also Ampullary Carcinoma, Pancreatic Cancer, Pancreatic Trauma, and Carcinoma of the Ampulla of Vater.
Relevant Anatomy
The pancreas is prismoid in shape and appears triangular in cut section, with superior, inferior, and anterior borders as well as anterosuperior, anteroinferior, and posterior surfaces.
The head of the pancreas lies in the duodenal C loop in front of the inferior vena cava (IVC) and the left renal vein (see the images below). The uncinate process is an extension of the lower (inferior) half of the head toward the left; it is of varying size and is wedged between the superior mesenteric vessels (vein on the right, artery on the left) in front and the aorta behind it.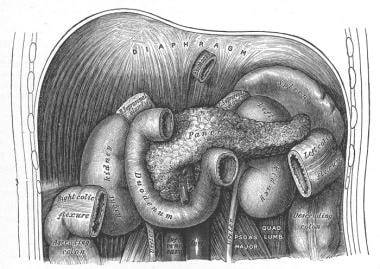 The duodenum and pancreas.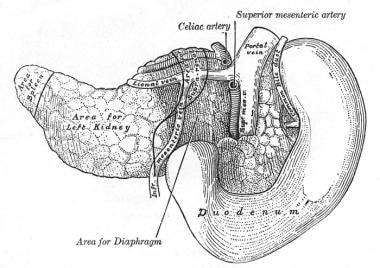 The pancreas and duodenum, posterior view.
For more information about the relevant anatomy, see Pancreas Anatomy.
See Pancreatic Adenocarcinoma Imaging: What You Need to Know, a Critical Images slideshow, to help identify which imaging studies to use to identify and evaluate this disease.
Indications
Benign and malignant disease may be indications for PPPD (Whipple procedure).
PPPD is indicated for the following benign conditions:
Benign periampullary neoplasms not amenable to local resection with ampullectomy

Duodenal neoplasms

Trauma (rare)
PPPD is also indicated for the following malignant conditions:
Pancreatic ductal adenocarcinoma

Pancreatic islet cell carcinoma

Malignant intraductal papillary-mucinous neoplasm (IPMN) (pancreatic mucinous cystic neoplasms)

Ampullary carcinoma

Distal CBD carcinoma (cholangiocarcinoma)

Duodenal carcinoma
Contraindications
Resectability is best described as the absence of contraindications to resection (see Determination of resectability in Technical Considerations). Computed tomography (CT) with thin collimation will detect anatomic contraindications to surgical resection.
Technical Considerations
Technical considerations include procedural planning, determination of resectability, and complication prevention.
Procedure planning
Head-to-head comparison between the classically described pancreaticoduodenectomy and PPPD has not detected any significant differences with regard to operative time, perioperative morbidity, perioperative mortality, and long-term survival at 1, 3, and 5 years. Operative blood loss is slightly lower with PPPD , but the clinical significance of this is not clear.
Thus, PPPD can be considered a technical variant of pancreaticoduodenectomy, in which blood supply to the proximal duodenum is preserved. Therefore, it is important to emphasize that broad indications for resection will not differ between the two approaches.[1, 2, 3, 4] The two main points of difference between pancreaticoduodenectomy and PPPD that merit discussion are the following:
Postoperative delayed gastric emptying (DGE)

Achievement of R0 oncologic resection (ie, surgical margins negative for tumor)
Patients who undergo PPPD have a much higher incidence of DGE than those who undergo classic pancreaticoduodenectomy. This is the primary morbidity with PPPD patients, leading to more medical interventions and thus increased cost postoperatively, related to hospital stay, cost of jejunal feedings, and jejunal tube maintenance (eg, home nursing for tube care, emergency department [ED] visits for dislodgment, and tube replacement for dysfunction). If aspiration then complicates the matter, there can be a threat to the patient's life as well.
From an oncologic perspective, PPPD should not be performed with large, bulky tumors, or any tumor that may involve the first or second portion of the duodenum. In addition, with the gastric antrectomy performed in pancreaticoduodenectomy, an average of four more nodes are harvested than would be with PPPD. These will be positive for nodal metastases approximately 5% of the time. The question therefore arises as to whether the incidence of non-R0 resection in this small cadre of patients should bias the surgeon against PPPD.
In view of the aforementioned considerations and the lack of statistical difference with regard to patient morbidity, mortality, and survival after pancreaticoduodenectomy and the pylorus-preserving modification, the individual patient profile and specific tumor characteristics should weight the surgeon's choice of approach.
Determination of resectability
Tumor resectability must be assessed well before the patient arrives at the operating room. The tumor is considered resectable if it is locally confined (ie, if there is no distant disease). Preoperative imaging studies are the cornerstone of evaluation.
As noted, CT with thin collimation is the most effective tool for identifying local extension. The tumor can be evaluated in relation to important vascular structures. A fat plane should be seen between the low-density tumor and surrounding structures.
The disease is considered resectable if the following conditions are met:
The tumor does not encase celiac axis or SMA (cannot involve >180º circumference)

There exists a patent superior mesenteric vein (SMV), portal vein (PV), and superior mesenteric-portal vein (SMPV) confluence (no thrombosis)

There is no extraregional nodal disease

There is no distant metastatic disease
Additional imaging is usually not necessary, but in certain cases endoscopic ultrasonography (EUS), fine-needle aspiration (FNA), or both may be employed for tissue diagnosis before the initiation of neoadjuvant therapy.
Complication prevention
The following are considerations in preventing complications:
Thorough preoperative evaluation (see Periprocedural Care)

Intravenous antibiotics for cholangitis or biliary sepsis

Prophylactic mechanical bowel preparation

Sequential compression devices for deep venous thrombosis (DVT) prevention

Preoperative biliary decompression if delay to surgery or preoperative cholangitis

Nasogastric decompression

Promotility agents, selective mu-receptor antagonists, pancreatic enzyme replacement
Outcomes
A 2014 Cochrane review examined six RCTs comparing classic Whipple pancreaticoduodenectomy with PPPD in a total of 465 patients with periampullary or pancreatic carcinoma.[5] The authors found no relevant differences in mortality, morbidity and survival between the two operations.
Periprocedural Care
Preprocedural Planning
Preprocedural planning for pylorus-preserving pancreaticoduodenectomy (PPPD; Whipple procedure) includes a thorough preoperative evaluation, consisting of a history and physical assessment, laboratory studies, and possible diagnostic procedures.
History and physical examination
Key elements of the patient's history and physical examination include the following information:
Unintended weight loss

Pancreatitis

Biliary obstruction

Painless jaundice

Social (smoking, tobacco)

Family history of pancreatic cancer

Familial syndromes (Peutz-Jegher, familial atypical multiple mole melanoma [FAMMM], hereditary nonpolyposis colorectal cancer [HNPCC])

Body habitus (temporal wasting, cachexia)

Icterus, jaundice

Lymphadenopathy

Ascites, hypoalbuminemia

Elevated tumor markers (elevated CA 19-9 in the absence of biliary obstruction)
Laboratory analysis
The following laboratory and imaging studies should be obtained to help determine the patient's fitness for surgery:
Complete blood count (CBC), basic metabolic panel (BMP), liver function tests (LFTs), and a coagulation panel

Tumor markers, such as CA 19-9 and carcinoembryonic antigen (CEA)
Diagnostic procedures
Abdominal ultrasonography - Primary imaging modality for evaluation of biliary obstruction and/or ascites

Chest x-ray (CXR) or chest CT - Metastatic workup
Endoscopic ultrasonography (EUS), fine-needle aspiration (FNA), or both are occasionally performed in a patient who is being considered for PPPD.
Although not routinely employed, EUS is helpful when pancreatic head masses are poorly detected on CT . Tumor aspiration is not routinely employed for preoperative tissue diagnosis, because FNA results do not affect surgical decision making; however, confirmation of malignancy can be useful in the setting of neoadjuvant therapy. Also, there is a finite risk of seeding the peritoneum with malignant disease from needle biopsy.
Endoscopic retrograde cholangiopancreatography (ERCP) may be performed for preoperative endobiliary stent placement in the setting of cholangitis or biliary obstruction with anticipated delay to surgery.
Patients will be restaged after neoadjuvant therapy before the surgical procedure.
Equipment
Equipment needed for PPPD includes the following:
Arterial and central venous lines for hemodynamic monitoring

Nasogastric tube

Foley catheter

Closed-suction transcutaneous drains
The patient and surgical team should also be prepared for total pancreatectomy if intraoperative pathologic analysis reveals evidence of malignancy at the pancreatic margin.
Patient Preparation
Anesthesia and patient positioning are included in patient preparation for PPPD.
The procedure is performed under general anesthesia. Preoperative anesthesia evaluation includes the following:
Cardiac risk factors

Nutritional status

Functional status

American Society of Anesthesiologists (ASA) class
For this procedure, the patient is placed in the supine position.
Monitoring and Follow-up
After the operation, obtain the following laboratory and radiologic studies as needed:
CBC, BMP, serum amylase, drain amylase, LFTs to monitor total bilirubin, and albumin; other laboratory tests may be indicated in the specific clinical setting

CT for persistent fever, leukocytosis, or sepsis with concern for pancreatic leak
Close follow-up of the patient by the surgeon is mandated for at least 6 months postoperatively. However, patient follow-up also takes place in a multidisciplinary manner that involves surgical, medical, and hematologic/oncologic specialists.
Technique
Approach Considerations
The steps for completion of a pancreaticoduodenectomy can be thought of as a clockwise journey. The surgeon begins at the ascending colon and hepatic flexure to obtain exposure of the superior mesenteric vein (SMV), then moves to the porta hepatis for cholecystectomy and portal lymph node dissection, followed by transection of the stomach or proximal duodenum. He or she then proceeds to jejunal transection and, finally, pancreatic transection, with completion of retroperitoneal dissection and removal of the specimen en bloc.
The reconstructions can be performed in a counterclockwise direction: The surgeon starts with creation of jejunal feeding access and then proceeds to creation of the pancreaticojejunal, choledochojejunal, and enterojejunal anastomoses. Venous reconstructions are also undertaken in select patients.
Whipple Procedure
Pylorus-preserving pancreaticoduodenectomy (PPPD), also commonly referred to as the Whipple Procedure, is described in this section.[1]
Laparotomy and abdominal exploration
Laparotomy is performed with a generous midline incision or bilateral subcostal incisions. The liver is palpated, the peritoneum is inspected, and the paraortic lymph nodes and the root of the mesentery are evaluated.
Intraoperative hepatic ultrasonography may be used when preoperative imaging is not definitive. In addition, abdominal exploration may be undertaken as staging laparoscopy before laparotomy in patients with advanced disease who are suspected of being at risk for radiographically silent metastatic disease.
Exposure of superior mesenteric artery and extended kocherization
A self-retaining retractor facilitates general exposure of the operative field. The falciform ligament is identified and preserved for later use (to protect the gastroduodenal artery [GDA] stump). The ascending colon and hepatic flexure are mobilized by using a Cattell-Brasch maneuver or right medial visceral rotation to expose the third and fourth portions of the duodenum.
The lesser sac is then opened and entered. Here, the middle colic vein is encountered and ligated, facilitating exposure of the superior mesenteric vein (SMV). The gastroepiploic vein is often seen entering common trunk with the middle colic vein and can be ligated when encountered.
Next, an extended Kocher maneuver is performed from the right ureter and right gonadal vein junction (which is ligated and mobilized) until the aorta and the crossing left renal vein are identified. Intervening lymphatic tissues should be mobilized as well. Here, the superior mesenteric artery (SMA) should be identifiable.
Cholecystectomy and portal dissection
The celiac axis is located, and the right gastric artery is identified and preserved. The node of the common hepatic artery is removed, and the common hepatic artery is dissected proximal and distal to the GDA takeoff. This is done carefully (because the common hepatic artery is fragile), and the GDA is transected. Cholecystectomy is performed with transection of the specimen at the common hepatic duct just before the cystic duct takeoff. The common hepatic duct margin undergoes intraoperative pathologic analysis and is extended as necessary.
Given the anatomic variability of hepatic arterial circulation, the surgeon must look for a replaced right hepatic artery or replaced common hepatic artery. After the origins of the aforementioned are identified, medial retraction applied to the common hepatic artery exposes the anterior surface of the portal vein. The portal vein (PV) is followed to its junction with the pancreatic neck, with the surgeon taking great care to avoid traction injury to the posterior pancreatic duodenal vein.
Duodenal transection if PPPD permissible
In concordance with accepted oncologic principles, bulky neoplasms of the pancreatic head, tumors progressing to the first or second part of the duodenum, or clinically positive regional lymph nodes noted at this juncture preclude pylorus preservation. If PPPD is implementable, then the duodenum is transected 2-3 cm distal to the pylorus. This duodenal cuff must be made long enough to withstand later revision during creation of the duodenojejunal anastomosis.
The gastroepiploic artery and vein are divided, and the right gastric artery is once again identified and protected. The duodenum is divided 2-3 cm distal to the pylorus. The jejunum is transected at least 10 cm distal to the ligament of Treitz. The mesenteries of both transected small bowel stumps are divided as well, and the duodenum and jejunum are reflected below the mesenteric vessels.
Division of pancreas
The pancreas is transected about 2 cm distal to the pylorus at the level of the PV, thus exposing the underlying superior mesenteric-PV (SMPV) confluence. If the tumor is adherent to the PV, SMV, or SMPV confluence, the pancreatic division plane may have to be revised more distally in order to accommodate vein reconstruction. The tumor is carefully separated from the named venous structures. If the first jejunal branch of the SMV is lacerated here, the venous injury is difficult to control, and attempted repair of such an injury can damage the SMA.
The tumor is reflected rightward and separated from the right lateral border of the SMA; it is important to completely resect the uncinate process in order to achieve an R0 resection (ie, surgical margins negative for tumor). The SMA is then exposed by the retracted SMPV confluence, and it is dissected carefully to visualize the inferior pancreaticoduodenal artery. This must be ligated securely; failure to do so can cause retroperitoneal hemorrhage.
Removal and orientation of specimen
The specimen is removed en bloc and oriented for pathology. The retroperitoneal margin is inked for pathologic frozen section analysis. A grossly positive retroperitoneal margin represents a technical failure to achieve the intended R0 resection goal. A microscopically positive retroperitoneal margin can occur with 10-20% of pancreaticoduodenal resections.
Vascular reconstruction
Vascular reconstruction after PPPD is extensive and beyond the scope of this discussion. The reader is directed to the resources in the References section.
Pancreatic reconstruction
The pancreatic remnant is first mobilized along its length for a few centimeters. Then, the transected jejunum is brought through a defect in the transverse mesocolon adjacent to the middle colic vessels. A pancreaticojejunal anastomosis is created with the understanding that pancreatic fistula formation depends on the technical integrity of the anastomosis, as well as the quality of the pancreatic tissue.
A two-layer end-to-side pancreaticojejunostomy, also known as a duct-to-mucosa reconstruction, is performed. This indicates full-thickness pancreatic duct – to – jejunal wall closure.
First, the posterior outer row of interrupted seromuscular sutures is placed between the jejunal side wall and the pancreatic parenchyma. The jejunum is opened longitudinally anterior to this. The inner circumferential layer of interrupted, full-thickness sutures reapproximate the cut end of the pancreatic duct with jejunal wall. The posterior sutures are tied inside the anastomosis, a pancreatic stent is placed, and the remaining sutures are tied on the outside. The anterior outer layer of sutures is placed as a row of interrupted seromuscular sutures.
Alternatively, invagination of the distal pancreatic stump into the jejunum can be performed in an end-to-end or end-to-side manner. The inner layer of sutures is placed as described above, and the outer layer of sutures is placed to invaginate the pancreatic remnant. This is useful when the pancreatic duct is not dilated and when the parenchyma is too soft to hold against jejunal seromuscular sutures.
Biliary reconstruction
Hepaticojejunostomy is performed as a one-layer end-to-side anastomosis between the common hepatic duct remnant and a site on the jejunum distal to the pancreaticojejunal anastomosis. It is critical to align the bile duct and jejunum without tension before suture placement.
Enteric reconstruction
The jejunum is traced distal to the biliary reconstruction brought to lie antecolically. The cuff of duodenum is revised, preserving at least 1.5 cm of postpyloric duodenum to preserve the blood supply to the anastomosis. An antecolic end-to-side anastomosis between the duodenum and jejunum is created with a single layer of continuous suture.
Closing maneuvers
A feeding jejunostomy is created distal to the duodenojejunal anastomosis by using a Witzel technique to maintain postoperative enteral feeding access. Then, the falciform ligament is located and used to cover the GDA stump so as to prevent GDA pseudoaneurysm formation in the event of pancreatic leak (see Complications). As a rule, closed-suction transcutaneous drains are placed at the pancreatic anastomosis and biliary anastomosis, with additional drains per surgeon preference. The abdomen is closed in the standard fashion.
Complications of Procedure
Perioperative and long-term morbidity are reviewed in this section.
Perioperative morbidity
Delayed gastric emptying (DGE), pancreatic leak with consequence, and GDA complications are among the conditions included in perioperative morbidity.
Delayed gastric emptying
The presence of DGE may require prolonged nasogastric decompression or total parenteral nutrition (TPN) with enteral feeding access failure. Use jejunal feedings for as long as necessary, and beware of aspiration.
Pancreatic leak with consequence
Pancreatic leak with consequence may include pancreatic fluid collection, pancreatic fistula formation, intraabdominal abscess, and/or sepsis.
Gastroduodenal artery complications
GDA complications include pseudoaneurysm, GDA-enteric fistula, and GDA stump blowout with massive hemorrhage (eg, bleeding from abdominal drains, massive gastrointestinal [GI] bleeding).
GDA stump blowout with massive hemorrhage is initiated by inflammation from pancreatic leak and rarely occurs before postoperative day 10. This condition is treated with selective angiography with stenting or embolization of the hepatic artery. Reoperate only as a last resort.
Other complications
Other perioperative problems include the following:
Feeding jejunal tube management failures (luminal rotation, dislodgement, obstruction)

Prolonged ileus

Small bowel obstruction

Internal herniation of bowel

Small bowel volvulus

Critical illness such as sepsis, respiratory failure, GI bleeding, renal failure, and multisystem organ failure

Death (< 4%)
Long-term morbidity
The following are included in the possible long-term morbidity of PPPD:
Recurrence of malignancy, such as local recurrence at the retroperitoneal margin or distal recurrence in the liver, peritoneum, lungs

Pancreatic insufficiency - Exocrine (~40%), endocrine (~20%)

Pancreatic anastomotic stricture (recurrent pancreatitis, chronic pancreatic pain)

Anastomotic failure (any)

Anastomotic stricture (any)

Small bowel obstruction

Internal herniation of bowel

Small bowel volvulus
References
Nakeeb A, Lillemoe KD, Cameron JL. Gastrointestinal tract and abdomen. Procedures for benign and malignant pancreatic disease. Souba WW, Fink MP, Jurkovich GJ, et al, eds. ACS Surgery: Principles and Practice. New York, NY: WebMD Professional Publishing; 2006. [Full Text].

Hwang RF, Grau AM, Spitz FR, Bouvet M, Fuhrman GM, Berger DH. Pancreatic adenocarcinoma. Feig B, Berger D, Fuhrman G, eds. The MD Anderson Surgical Oncology Handbook. 4th ed. Philadelphia, Pa: Lippincott Williams & Wilkins; 2007. 367-90.

Jimenez RE, Warshaw AL. Pancreaticoduodenectomy for pancreatic cancer: results after Kausch–Whipple and pylorus-preserving resection. Beger H, Warshaw A, Buchler M, et al, eds. The Pancreas: An Integrated Textbook of Basic Science, Medicine, and Surgery. 2nd ed. Malden, Mass: Wiley–Blackwell; 2008. 696-706.

Yen TWF, Evans DB. Resection for neoplasms of the pancreas (proximal resection). Clavien PA, Sarr MG, Fong Y, eds. Atlas of Upper Gastrointestinal and Hepato-Pancreato-Biliary Surgery. Berlin, Germany: Springer-Verlag; 2007. 763-80.

Diener MK, Fitzmaurice C, Schwarzer G, Seiler CM, Hüttner FJ, Antes G, et al. Pylorus-preserving pancreaticoduodenectomy (pp Whipple) versus pancreaticoduodenectomy (classic Whipple) for surgical treatment of periampullary and pancreatic carcinoma. Cochrane Database Syst Rev. 2014 Nov 11. 11:CD006053. [Medline].
Medscape Reference © 2011 WebMD, LLC