Burch Colposuspension
Author: Lauren Siff, MD; Chief Editor: Edward David Kim, MD, FACS more...
Updated: Jan 28, 2015
What would you like to print?
Overview
Background
Burch colposuspension is used to treat stress urinary incontinence (SUI). Stress urinary incontinence is the involuntary leakage of urine during periods of increased intra-abdominal pressure, including exertion such as laughing, coughing, sneezing, coughing, and jumping.
In a continent individual, increased abdominal pressure is evenly distributed over the bladder, bladder neck, and urethra. The urethral sphincter is thus able to withstand this pressure and maintain continence. In a person with pure stress urinary incontinence, either the urethra is hypermobile or the sphincter is intrinsically deficient. In urethral hypermobility, the urethral vesicular junction (UVJ) is displaced extra-abdominally, and the increased intra-abdominal pressure is unevenly distributed such that the sphincter can no longer withstand the pressure and urine leaks. With intrinsic sphincter deficiency (ISD), the UVJ is not hypermobile; however, the maximal urethral closing pressure, the Valsalva leak-point pressure, or both are too low to withstand the increase in intra-abdominal pressure and, thus, urine leaks past the sphincter.
An image depicting Burch suspension can be seen below.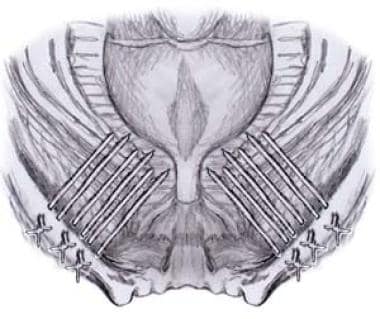 Burch colposuspension.
Both conservative management (pelvic floor muscle training, incontinence pessaries, and urethral bulking agents) as well as surgical management are acceptable approaches to treating stress urinary incontinence.
At present, the primary forms of surgical management of stress urinary incontinence are retropubic urethropexy and midurethral sling procedures. The 3 most common abdominal procedures are the Marshall-Marchetti-Krantz (MMK) procedure, the Burch procedure, and the paravaginal fascial repair. This article focuses on retropubic urethropexy, specifically Burch colposuspension.
Retropubic approaches include Burch retropubic urethropexy and the Marshall-Marchetti-Krantz (MMK) procedure. The goal of both of these procedures is to suspend and stabilize the urethra so that the urethrovesical junction (UVJ) and proximal urethra are replaced intra-abdominally. This anatomic placement allows normal pressure transmission during periods of increased intra-abdominal pressure restoring continence in a previously incontinent, hypermobile UVJ.
The Burch procedure was described in 1961.[1] Initially, Burch described attaching the paravaginal fascia to the arcus tendineus. However, he later changed the point of attachment to Cooper's ligaments because these were felt to provide more secure fixation points, and less chance of infection as seen with the prior MMK procedure.
Although its durability has been proven, the open repair is less commonly performed due to the advent of less invasive procedures. However, a role for this procedure remains when concomitant open surgery is planned in conjunction with surgical correction of stress urinary incontinence. Laparoscopic surgeons have also demonstrated that the repair can be performed via a laparoscopic approach, decreasing morbidity, while still providing a satisfactory outcome.
Indications
Eligible patients include women who decline or have persistent symptoms following a trial of conservative management. Women who have mixed urinary incontinence may be able to control their symptoms of urge incontinence and provide enough satisfaction that management of stress urinary incontinence is no longer necessary.
The patient requiring concomitant abdominal surgery that cannot be performed vaginally is a candidate for an open Burch colposuspension. A recommendation is that the procedure be performed only if the patient has adequate vaginal mobility and capacity to allow elevation and approximation of the lateral vaginal fornices to Cooper's ligament on either side. In addition, although it may be used in the setting of a prior failed repair, Amaye et al concluded that the Burch procedure should not be used after more than one previous operation due to low success rates compared to a sling procedure.[2]
Contraindications
Patients with type III stress urinary incontinence (a fixed, nonfunctioning proximal urethra) are not candidates for a Burch procedure as no hypermobility exists to correct. These patients are better served by a mid-urethral sling procedure.[3]
The Burch procedure does not allow for correction of central defect cystocele, rectocele, or introital deficiency, and, thus, consideration of an alternative treatment is indicated.[4]
Amaye et al showed that selection of surgery used can influence the outcome with treatment of recurrent urodynamic stress urinary incontinence.[2]
Women who have not completed childbearing should delay surgical management of stress urinary incontinence because pregnancy disrupts pelvic support. Both vaginal delivery and caesarian section have proven to show recurrent incontinence after anti-incontinence procedures (midurethral sling procedures were specifically reviewed by Groenen et al).[5]
Lastly, all patients should be evaluated to determine fitness for surgery, as this is an elective procedure.
Procedure Planning
The Burch procedure can be performed via open or laparoscopic approach. Historically, the Burch procedure was used when concomitant open surgery was being performed, and this can now be adjusted to accomodate a laparoscopic approach.
Outcomes
The decision to perform an open versus laparoscopic procedure depends on the skills of the surgeon. Moehrer et al published a systematic review on laparoscopic colposuspension using the Cochrane Incontinence Review Groups' registry of randomized controlled trials, including 4 studies in the meta-analysis.[6, 7, 8, 9, 10] The meta-analysis demonstrated that subjective perception of cure was no different between the groups, ranging from 85-96% in the laparoscopic group and 85-100% in the open group after 6-18 months of follow-up. When urodynamics were used to measure outcome, the success rate for the laparoscopic approach was significantly lower than that for open (RR 0.89, CI 0.82-0.98) with an additional 9% risk of failure for laparoscopic versus open colposuspension (risk diff -0.09, 95%; CI -0.16-0.02).
Several cohort studies have shown similar cure rates between laparoscopic and open Burch colposuspension.[11, 12, 13] An objective cure rate of 89-98% with follow-up to 36 months has been reported in several case series.[14, 15, 11]
A multicenter randomized trial comparing the pubovaginal sling using autologous rectus fascia and the Burch colposuspension in 665 women demonstrated a higher success rate for treatment of stress urinary incontinence with the autologous fascial sling, but it was also associated with greater morbidity.[16]
Richter et al studied patient-related factors associated with long-term urinary continence after Burch colposuspension or pubovaginal fascial sling surgery for stress urinary incontinence. They found that preoperative and postoperative urgency incontinence symptoms, prior stress urinary incontinence surgery, Burch urethropexy, and menopausal status were significantly and negatively associated with long-term continence rates.[17]
Lapitan et al reviewed 33 trials involving 2403 women who underwent open Burch colposuspension and found overall cure rates to be between 68.9% and 88.0%. Continence rates at 1 year were 85-90% but dropped to 70% 5 years after surgery.[18] Laparoscopic Burch procedures, however, have an approximately 72% cure rate in stress urinary incontinence, as reported by Hong et al in 49 patients. These cure rates decreased with time and significantly dropped at 4 years after surgery.[19]
Modifications in the technique can be used if co-existent central defect cystocele is present[20] and obliteration of the cul-de-sac can be performed to prevent posterior vaginal wall prolapse after Burch colposuspension.[21]
With respect to the selection of synthetic absorbable suture versus nonabsorbable suture, and braided versus monofilament, no prospective randomized blinded data exist to suggest superiority of one suture material over another. However, recognized risks are associated with bone anchors.[21]
Periprocedural Care
Patient Education/Informed Consent
The various options for the treatment of stress urinary incontinence should be reviewed with the patient. The rationale for selection of a Burch colposuspension should be discussed. The patient should be advised regarding the success rates and the complications associated with Burch colposuspension. The informed consent form should list the indications and risks for the surgery, which include bleeding; injury to bowel, ureter, bladder, and vagina; development of de novo detrusor overactivity and urgency urinary incontinence; and urinary retention.
Pre-Procedure Planning
Pre-operative teaching of clean intermittent catheterization may be useful in select cases.
The patient should withhold aspirin, ibuprofen containing products, and anticoagulants prior to surgery. A urine culture should be obtained prior to surgery, and, if results are positive, the patient should be appropriately treated prior to surgery.
Equipment
The equipment used varies with whether or not the procedure is being performed open or laparoscopically. If performed open, having a Balfour or other self-retaining retractor is helpful. Sponge sticks provide traction and exposure.
Anesthesia
General, spinal, or epidural anesthesia may be used based on surgeon's preference. The procedure is typically performed under general anesthesia.
Positioning
For an open Burch colposuspension, the patient is typically placed in supine position with the legs abducted, in either low or modified dorsal lithotomy position using stirrups, allowing access to the vagina during the procedure. Both the abdomen and the vaginal vault are prepped with sterile solution and draped. A Foley catheter is placed.
Monitoring and Follow-up
Patients are typically discharged home the day after surgery. If the patient is unable to void after removal of the Foley catheter (or clamping of the suprapubic tube), then she may be taught clean intermittent catheterization, have a Foley catheter replaced, or if a suprapubic tube was placed, it is opened for roughly a week, and a voiding trial is repeated. On discharge, the patient is instructed to refrain from strenuous lifting, exercise, and sexual activity for 6-8 weeks. A bowel regimen is provided to prevent constipation and resultant straining.[22]
Postoperative Complications
Complications and risks include the following:[23, 24]
Anesthetic risks

Wound complications including infection and hernia

Bleeding/hematoma formation

Deep venous thrombosis

Voiding difficulty

Urinary retention, which may require catheter drainage or clean intermittent catheterization

Development of urgency urinary incontinence

Development of vaginal wall prolapse
Detrusor overactivity is reported postoperatively in 6.6% of women (range of 1-6.6%). Nonpersistent voiding dysfunction is reported in 12.5% of females after colposuspension following primary surgery.[21] Persistent voiding difficulties were reported in 3% of 310 females who underwent Burch colposuspension with a mean of follow-up of 36 months.
Postcolposuspension syndrome, which is characterized by pain in 1 or both groins at the site of the suspension, has been reported in up to 12% of patients after Burch colposuspension.[25]
A higher volume of blood loss and longer duration of catheterization has been reported in open compared to laparoscopic Burch colposuspension.[26, 6, 7, 8, 9]
Less common complications include the following:[21]
New onset of intrinsic sphincteric deficiency

Voiding pain

Ureteral obstruction requiring reoperation

Vesicovaginal fistula

Vesicocutaneous fistula

Foreign body erosion if tacks were used for laparoscopic repair
Technique
Approach Considerations
If surgical treatment is not desired or is contraindicated, medical management may be achieved with pessaries, urethral bulking agents, and/or pelvic floor exercises with or without biofeedback.
Burch versus fascial sling
In the Albo et al multicenter randomized clinical trial comparing the experience of 655 patients with Burch colposuspension versus fascial sling to reduce urinary stress incontinence, success rates in cure of stress urinary incontinence were significantly higher in patients who had the fascial sling procedure (66%) versus the Burch colposuspension (49%). However, the rate of adverse events was significantly higher in the fascial sling procedure group (63% vs 49% in the Burch group).
Many of these adverse events were related to urinary tract infections. With urinary tract infections excluded, the rates of adverse events were more similar. However, voiding dysfunction was more common in the fascial sling group than the Burch group (14% vs 2%).[16]
The time to return to normal voiding in fascial sling versus Burch groups was significantly different between the 2 groups (p< 0.001). At the time of discharge, the number of patients with a residual volume of less than 100 mL was 44% in the fascial sling group versus 58% in the Burch group. At 6 weeks after surgery, this difference persisted, with 86% versus 97% in the fascial sling and Burch groups, respectively.
More patients were treated for postoperative urge incontinence in the fascial sling group than in the Burch group (27% vs 20% p=0.04). These differences, however, were due to persistent urge incontinence. The actual new-onset urge incontinence rate was 3% in both groups. Treatment satisfaction rates at 2 years postoperation were higher in the fascial sling (85%) vs Burch (78%) groups. Although the success rates were higher in the fascial sling group, these may be overshadowed by the higher rates of urinary tract infection, urge incontinence, voiding dysfunction, and the need for surgical revision to improve voiding.
A retrospective study compared the effectiveness of transobturator tape (TOT) and Burch colposuspension in the treatment of stress urinary incontinence (SUI). The study included 770 patients who underwent SUI surgery with Burch colposuspension or TOT. The study concluded that in terms of efficacy, TOT appears equal to Burch colposuspension; however, TOT has fewer unintended functional outcomes than Burch colposuspension.[27]
CARE Trial: "Colpopexy and urinary reduction efforts"
Many small reports have suggested a wide range of postoperative stress urinary incontinence (between 8% and 60%) after surgical treatment of pelvic organ prolapse (POP).
The CARE trial evaluated whether the addition of a modified Burch colposuspension at the time of planned abdominal sacrocolpopexy aimed to treat pelvic organ prolapse would improve the rate of stress urinary incontinence in subjects who did not experience preoperative symptoms of stress urinary incontinence (occult stress urinary incontinence). It also compared immediate and short-term complications and voiding function between patients with and without a Burch procedure.[28]
Patients who selected abdominal sacrocolpopexy for stage II-IV POP who denied stress urinary incontinence by answering "never" or "rarely" to 6 questions on a stress incontinence questionnaire were approved for the trial. They had a clinic visit, telephone survey of quality of life, and urodynamics testing (with prolapse reduction).This group was then randomized to sacrocolpopexy with and without Burch colposuspension.
These patients were monitored for 2 years with clinic visits and quality of life surveys at intervals of 6 weeks, 3 months, 6 months, 12 months, and 24 months from surgery. A positive stress urinary incontinence finding was determined by questionnaire, a positive standardized cough stress test, or any treatment/retreatment for stress urinary incontinence after surgery.[28]
Three months postoperatively, 23.8% of the women in the Burch group and 44.1% of the controls met one or more of the criteria for stress incontinence (P< 0.001). No significant difference existed between the Burch group and the control group in the frequency of urge incontinence (32.7% vs 38.4%, P=0.48). After surgery, women in the control group were more likely to report bothersome symptoms of stress incontinence than those in the Burch group who had stress incontinence (24.5% vs 6.1%, P< 0.001).
Two years after surgery, the advantage of prophylactic Burch colposuspension for stress urinary incontinence remained true with 32.0% and 45.2% of women in the Burch and control groups, respectively, showing symptoms of stress urinary incontinence. In terms of pelvic organ prolapse, the apical support was not affected by concomitant Burch with 95% of patients having good support (P =.18). Also, fewer urgency symptoms were reported in the Burch group (32.0% vs 44.5% no Burch, P =.085). Twenty participants, however, did experience mesh or suture erosions.[29]
Occult stress incontinence may be detected by urodynamic studies in which the prolapse is reduced. If this unmasks stress urinary incontinence, it may be evidence predicting postoperative stress urinary incontinence and, thus, a prophylactic anti-incontinence procedure be performed at the time of pelvic organ prolapse surgery to prevent this. These data cannot be extrapolated and applied to the use of midurethral slings (a vaginal approach) at the time of prolapse procedures (whether they are done abdominally, robotically, vaginally, laparoscopically).
Open Burch Colposuspension
A Foley catheter is inserted into the bladder to decompress it and aid in identification of the bladder neck.
The incision is either a Pfannenstiel or lower midline abdominal incision to access the retropubic space of Retzius. This incision may be as small as 5 cm. The rectus fascia is incised and the rectus muscles are separated in the midline. Gentle downward pressure behind and lateral to the pubic symphysis provides access to the pelvic sidewall and endopelvic fascia. Unless surgically indicated, care should be taken to avoid entry into the peritoneal cavity.
During the initial dissection, the peritoneal reflection is swept of the bladder. The retropubic space is dissected and the bladder neck, anterior vaginal wall, and urethra are exposed.
If adhesions are present, sharp dissection may be used to separate the rectus muscles from the underlying preperitoneal tissue and the bladder. The bladder is retracted superiorly with a moist pack and the inferior incision is retraced to expose the bladder.
The bladder neck is identified with palpation of the Foley catheter bulb. Partially filling the bladder may help in identifying the bladder neck. The attachments of the endopelvic fascia can then also be identified. The pubocervical fascia may be identified by clearing the periurethral space of overlying fat. To assist in identifying the anterior vaginal wall, an assistant can place a gloved examining finger in the vagina to tent the vagina anteriorly.[30, 31]
The bladder should be displaced medially and superiorly away from the site of suture placement using a small dissecting sponge stick or "peanut." The large veins in this area are avoided if possible, but hemostasis may be obtained with suture, clips, or cautery, if necessary. The white pubocervical fascia must be cleared and identified so that sutures may be placed.
Two to 4 sutures are placed on each side, taking a good bite of overlying fascia and anterior vaginal wall. Do not pass through the vaginal mucosa. Some surgeons recommend taking double bites of tissue to lessen the risk of the suture pulling through.[32]
The most distal suture is placed at the level of the bladder neck and about 2 cm lateral to it, although some surgeons might place sutures more distally at the midurethral level. Several sutures are placed in the fascia and anterior vaginal wall proximal to the bladder neck about 1 cm apart (see image below). The sutures are placed into corresponding sites in Cooper's ligament, as shown below. Care must be taken to leave a "suture bridge," whereby the sutures are not on excessive tension.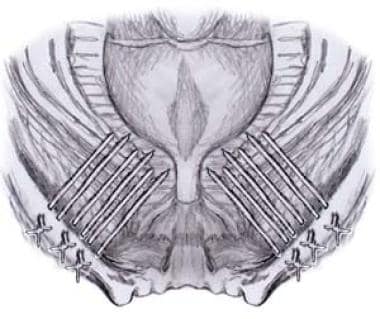 Burch colposuspension.
In some cases, the most distal sutures need to be placed in the periosteum and fibrous insertion of the rectus muscle instead of Cooper's ligament. Elevation of the vagina with a gloved hand in the vagina helps with tying the sutures. When tying the sutures, no tension should be present.[33] The goal is to approximate the vaginal wall to the lateral pelvic wall, where it will become adherent with healing. Tension may lead to pulling through of the sutures and approximation of the vaginal wall to Cooper's ligament is not essential.
Cystoscopy is performed to rule out injury to the urinary tract.
Upon completion of the repair, a drain may be placed into the retropubic space if hemostasis is not ideal. Postoperative bladder drainage is achieved with a Foley catheter or suprapubic tube, and voiding trials are commenced once the patient is ambulatory.
Laparoscopic Burch Colposuspension
The laparoscopic approach can be intraabdominal or extraperitoneal. It can be accomplished by surgeons who are comfortable with the procedure. The same techniques apply. To gain access to the space of Retzius, the authors advise retrograde filling of the bladder with saline (infused with indigo carmine). When the borders of the bladder are delineated, monopolar scissors are used to open up the peritoneum in a semilunar fashion. Dissection can then continue as in an open technique. The authors recommend using Gore-Tex sutures with extracorporeal knot tying technique, which helps with ease of laying down these stitches without undue tension.
References
BURCH JC. Urethrovaginal fixation to Cooper's ligament for correction of stress incontinence, cystocele, and prolapse. Am J Obstet Gynecol. 1961 Feb. 81:281-90. [Medline].

Amaye-Obu FA, Drutz HP. Surgical management of recurrent stress urinary incontinence: A 12-year experience. Am J Obstet Gynecol. 1999 Dec. 181(6):1296-307; discussion 1307-9. [Medline].

Bergman A, Koonings PP, Ballard CA. Negative Q-tip test as a risk factor for failed incontinence surgery in women. J Reprod Med. 1989 Mar. 34(3):193-7. [Medline].

Webster GD, Guralnick MC. Retropubic Surgery for female incontinence. Walsh PC, Retik AB, Vaughan ED, Wein AJ. Campbell's Urology. 8th. New York: Saunders; 2002. 1140-1150.

Groenen R, Vos MC, Willekes C, Vervest HA. Pregnancy and delivery after mid-urethral sling procedures for stress urinary incontinence: case reports and a review of literature. Int Urogynecol J Pelvic Floor Dysfunct. 2008 Mar. 19(3):441-8. [Medline].

Carey MP, Goh JT, Rosamilia A, et al. Laparoscopic versus open Burch colposuspension: a randomised controlled trial. BJOG. 2006 Sep. 113(9):999-1006. [Medline].

Fatthy H, El Hao M, Samaha I, Abdallah K. Modified Burch colposuspension: laparoscopy versus laparotomy. J Am Assoc Gynecol Laparosc. 2001 Feb. 8(1):99-106. [Medline].

Su TH, Wang KG, Hsu CY, Wei HJ, Hong BK. Prospective comparison of laparoscopic and traditional colposuspensions in the treatment of genuine stress incontinence. Acta Obstet Gynecol Scand. 1997 Jul. 76(6):576-82. [Medline].

Summitt R, Lucente V, Karram MM, et al. Randomized comparison of laparoscopic and transabdominal Burch urethropexy for treatment of genuine stress urinary incontinence. Obstet Gynecol. 2000. 95:4 suppl 1.

Moehrer B, Carey M, Wilson D. Laparoscopic colposuspension: a systematic review. BJOG. 2003. 23(3):277-283.

Ross JW. Multichannel urodynamic evaluation of laparoscopic Burch colposuspension for genuine stress incontinence. Obstet Gynecol. 1998 Jan. 91(1):55-9. [Medline].

Miannay E, Cosson M, Querleu D, Crépin G. Comparison of laparoscopic and laparotomy colposuspension in the treatment of urinary stress incontinence. Comparative study of 72 matched cases. Contracept Fertil Sex. 1998 May. 26(5):376-85. [Medline].

Saidi MH, Gallagher MS, Skop IP, Saidi JA, Sadler RK, Diaz KC. Extraperitoneal laparoscopic colposuspension: short-term cure rate, complications, and duration of hospital stay in comparison with Burch colposuspension. Obstet Gynecol. 1998 Oct. 92(4 Pt 1):619-21. [Medline].

Liu CY. Laparoscopic treatment for genuine urinary stress incontinence. Baillieres Clin Obstet Gynaecol. 1994 Dec. 8(4):789-98. [Medline].

Lam AM, Jenkins GJ, Hyslop RS. Laparoscopic Burch colposuspension for stress incontinence: preliminary results. Med J Aust. 1995 Jan 2. 162(1):18-21. [Medline].

Albo ME, Richter HE, Brubaker L, et al. Burch colposuspension versus fascial sling to reduce urinary stress incontinence. N Engl J Med. 2007 May 24. 356(21):2143-55. [Medline].

Richter HE, Brubaker L, Stoddard AM, Xu Y, Zyczynski HM, Norton P, et al. Patient related factors associated with long-term urinary continence after burch colposuspension and pubovaginal fascial sling surgeries. J Urol. 2012 Aug. 188(2):485-9. [Medline].

Lapitan MC, Cody DJ, Grant AM. Open retropubic colposuspension for urinary incontinence in women. Cochrane Database Syst Rev. 2003. (1):CD002912. [Medline].

Hong JH, Choo MS, Lee KS. Long-term results of laparoscopic Burch colposuspension for stress urinary incontinence in women. J Korean Med Sci. 2009 Dec. 24(6):1182-6. [Medline]. [Full Text].

Miklos JR, Kohli N. Laparoscopic paravaginal repair plus burch colposuspension: review and descriptive technique. Urology. 2000 Dec 4. 56(6 Suppl 1):64-9. [Medline].

Incontinence. Management. Chapter 20. Abrams P, Cardozo L, Khoury S, Wein A. Surgery for Urinary Incontinence in Women. Paris, France: 2005. 1297-1370.

Mostwin JL. Burch Colposuspension. Marshall FF. Textbook of Operative Urology. Philadelphia: WB Saunders Co; 1996. 741-758.

Demirci F, Yucel O, Eren S, Alkan A, Demirci E, Yildirim U. Long-term results of Burch colposuspension. Gynecol Obstet Invest. 2001. 51(4):243-7. [Medline].

Kwon CH, Culligan PJ, Koduri S, Goldberg RP, Sand PK. The development of pelvic organ prolapse following isolated Burch retropubic urethropexy. Int Urogynecol J Pelvic Floor Dysfunct. 2003 Nov. 14(5):321-5; discussion 325. [Medline].

Galloway NT, Davies N, Stephenson TP. The complications of colposuspension. Br J Urol. 1987 Aug. 60(2):122-4. [Medline].

Burton G. A randomized comparison of laparoscopic and open colposuspension (abstract). Neurourol Urodyn. 1993. 16:353-354.

Asicioglu O, Gungorduk K, Besimoglu B, Ertas IE, Yildirim G, Celebi I, et al. A 5-year follow-up study comparing Burch colposuspension and transobturator tape for the surgical treatment of stress urinary incontinence. Int J Gynaecol Obstet. 2014 Apr. 125(1):73-7. [Medline].

Brubaker L, Cundiff G, Fine P, et al. A randomized trial of colpopexy and urinary reduction efforts (CARE): design and methods. Control Clin Trials. 2003 Oct. 24(5):629-42. [Medline].

Brubaker L, Nygaard I, Richter HE, Visco A, Weber AM, Cundiff GW, et al. Two-Year Outcomes After Sacrocolpopexy With and Without Burch to Prevent Stress Urinary Incontinence. J Obstet Gynecol. 2008/07. 112(1):49-55.

Symmonds RE. The suprapubic approach to anterior vaginal relaxation and urinary stress incontinence. Clin Obstet Gynecol. 1972. 15:107-21.

Gleason DM, Reilly RJ, Pierce JA. Vesical neck suspension under vision with cystotomy enhances treatment of female incontinence. J Urol. 1976 May. 115(5):555-7. [Medline].

Jarvis GJ. Stress Incontinence. In Mundy AR, Stephenson TP, Wein AJ. Urodynamics: principles, practice and application. 2nd. New York: Churchill Livingstone; 1994. 299-326.

Tanagho EA. Colpocystourethropexy: The way we do it. J Urol. 1978. 116:751-753.

Appell RA. Retropubic procedures for female stress incontinence. Webster GD, Kirby R, King L, Goldwasser B. Reconstructive Urology. Blackwell Sciences, Oxford England: 1993. 887-894.

Bidmead J, Cardozo L, McLellan A, Khullar V, Kelleher C. A comparison of the objective and subjective outcomes of colposuspension for stress incontinence in women. BJOG. 2001 Apr. 108(4):408-13. [Medline].

Brubaker L, Cundiff GW, Fine P, Nygaard I, Richter HE, Visco AG, et al. Abdominal sacrocolpopexy with Burch colposuspension to reduce urinary stress incontinence. N Engl J Med. 2006 Apr 13. 354(15):1557-66. [Medline].

Abrams P, Cardozo L, Khoury S, Wein A. Incontinence: Basics and Evaluation. Paris France: Health Publication Ltd 2005; 2005. 1:

Nygaard IE, Kreder KJ. Complications of incontinence surgery. Int J Urogyn. 1994. 353-60.

Rock JA, Jones HW. Stress Urinary Incontinence. TeLinde's Operative Gynecology. 10th ed. Philadelphia, PA: Lippincott Williams & Wilkins; 2008. 942-7.

Ross JW. Laparoscopic Burch repair compared to laparotomy Burch for cure of urinary stress incontinence. Int Urogynecol. 1995. 6:323-8.

Shull BL, Baden WF. A six-year experience with paravaginal defect repair for stress urinary incontinence. Am J Obstet Gynecol. 1989 Jun. 160(6):1432-9; discussion 1439-40. [Medline].

Turner Warwick R, Kirby RS. Principles of sphincteroplasty. Webster GD, Kirby R, King L, Goldwasser B. Reconstructive Urology. Oxford, England: Blackwell Sciences; 1993. 657-673.
Medscape Reference © 2011 WebMD, LLC