Laparoscopic Right Adrenalectomy
Author: William W Hope, MD; Chief Editor: Kurt E Roberts, MD more...
Updated: Jun 19, 2015
What would you like to print?
Overview
Background
Perhaps no organ is better suited for laparoscopic surgery than the adrenal gland because of its small size and relatively difficult location in the retroperitoneum, which requires a large, open excision for extraction. Since its first description by Gagner et al in 1992,[1] laparoscopic adrenalectomy has become increasingly used and now has become the technique of choice for most benign adrenal lesions because of the decreased blood loss, lower morbidity, shorter hospitalization, faster recovery, and overall cost-effectiveness in comparison with the open approach.[2, 3, 4, 5, 6, 7, 8, 9, 10, 11]
Because of the anatomic differences between the right and left adrenal glands, most notably the different venous drainage patterns, surgical approaches are somewhat different for right and left adrenalectomy. Although laparoscopic right adrenalectomy is generally believed to be more difficult because of the proximity of dissection to the inferior vena cava and duodenum and the short adrenal vein, one review of laparoscopic left and right adrenalectomies reported no difference in complication or conversion rates between the two, with shorter operative times for the right.[12] Despite the similar outcomes reported, technical strategies and anatomy differ between laparoscopic right and left adrenalectomies and should be recognized by surgeons performing these procedures.
Indications
The indications for laparoscopic adrenalectomy have evolved since the initial description and widespread adaptation of this minimally invasive technique. Indications for laparoscopic adrenalectomy are the same as for open surgery except for cases of suspected or confirmed adrenocortical carcinoma. Traditionally, patients with suspected or known primary adrenal carcinoma were recommended to undergo open surgery, given the aggressive nature of the disease and the improved ability to perform an en bloc resection.[13, 14]
Currently, this recommendation is debated, with many reports at high-volume centers showing equal effectiveness of laparoscopic adrenal resection,[15, 16, 17] while others continue to recommend open surgery.[18, 19] Until more robust data are available showing the efficacy of laparoscopic adrenalectomy in the setting of adrenal carcinoma, an open approach is recommended.[20]
A commonly accepted indication for laparoscopic adrenalectomy is hormonally active tumors including aldosteronomas, pheochromocytomas, and cortisol-producing adrenal tumors. Other indications involve size criteria and include nonfunctioning tumors less than 4-6 cm and smaller nonfunctioning tumors with rapid or progressive growth. Although no definitive size criteria for removal of nonfunctioning adrenal masses exists, it is well accepted that tumors greater than 6 cm should be removed because of an increased incidence of cancer with increasing size.[21]
Typically, nonfunctioning tumors smaller than 4 cm can be monitored with serial imaging; these are unlikely to be malignant. Patients with nonfunctioning tumors 4-6 cm in size should be presented with the options of serial imaging or laparoscopic adrenalectomy. The decision regarding treatment should be individualized. Patients with a solitary adrenal metastasis without evidence of other metastatic disease are also candidates for laparoscopic adrenalectomy.[22, 23]
Contraindications
A few absolute contraindications to laparoscopic adrenalectomy exist, including the following:
Uncontrolled coagulopathy

Severe cardiopulmonary disease

Presence of a locally advanced tumor

Medically untreated pheochromocytoma
Relative contraindications to the laparoscopic transperitoneal approach include patients who have had extensive previous abdominal surgery and pregnant patients. In patients with previous abdominal surgery, a laparoscopic retroperitoneal approach may be beneficial.
Technical considerations
Anatomic considerations
The adrenal glands, also known as suprarenal glands, belong to the endocrine system. (See Suprarenal (Adrenal) Gland Anatomy.) They are a pair of triangular-shaped glands, each about 2 in. long and 1 in. wide, that sit on top of the kidneys. The suprarenal glands are responsible for the release of hormones that regulate metabolism, immune system function, and the salt-water balance in the bloodstream; they also aid in the body's response to stress.
Each suprarenal gland is composed of two distinct tissues: the suprarenal cortex and the suprarenal medulla. The suprarenal cortex serves as the outer layer of the suprarenal gland, and the suprarenal medulla serves as the inner layer. These two major regions are encapsulated by connective tissue known as the capsule.
Complication prevention
Hemorrhage from the adrenal vein or inferior vena cava is one of the most feared complications of a laparoscopic right adrenalectomy. If bleeding from the adrenal vein or cava is suspected, direct pressure usually tamponades the bleeding. During this time, planning for permanent control either by a laparoscopic or open approach can be done.
Although many arterial branches supply the adrenal gland, most can be well controlled by using electrosurgical devices. When manipulating and removing the adrenal gland, caution must be used not to disrupt the capsule, as this can cause bleeding and potential spillage of malignant cells. Although bleeding from the adrenal gland itself is usually not hemodynamically significant, it is often a nuisance and disrupts vision for the finer dissection and finding the correct surgical planes.
In patients with functional tumors, consultation with an endocrinologist and an anesthesiologist is crucial to adequately prepare the patient for surgery and to avoid intraoperative crises, most notably severe hypertension. Alpha blockade should be given to all patients with pheochromocytoma before surgery, followed by beta blockade only in patients with tachycardia.
Periprocedural Care
Equipment
A standard laparoscopic tray, including laparoscopic graspers and scissors, is used for a laparoscopic right adrenalectomy. A laparoscopic right angle dissector, laparoscopic Kittner, and hook electrocautery are often helpful in the dissection of the inferior vena cava and adrenal vein. A laparoscopic suction/irrigator is often required to ensure adequate visualization during dissection and after gland removal to ensure hemostasis.
Other useful instruments, depending on surgeon preference, include a liver retractor, specimen retrieval bag, and an electrosurgical instrument. The authors' preference for electrosurgical instruments include the Harmonic Scalpel (Ethicon Endo-Surgery, Inc, Cincinnati, OH) or LigaSure (Valleylab, Boulder, CO); however, other devices such as the Gyrus PKS Cutting Forceps (Gyrus ACMI, Maple Grove, MN) or EnSeal Tissue Sealing and Hemostasis System (SurgRx, Redwood City, CA) can be used, depending on the surgeon's preference. A 10-mm clip applier is often used to ligate the adrenal vein, but in some cases, a vascular-load endoscopic stapling device may be necessary.
Patient preparation
Anesthesia
General anesthesia is required for laparoscopic adrenalectomy with adjuncts for pain management, such an epidural or subcutaneous local anesthetic pain pump, left to the discretion of the surgeon and anesthesiologist. Constant communication with the anesthesiologist is essential in patients with hormonally or vasoactive tumors. Appropriate intraoperative monitoring includes an arterial line and urinary catheter. Careful preoperative management and control of the physiologic effects of hormonally or vaso-active tumors should involve an endocrinologist's expertise.
Patients with pheochromocytoma should undergo alpha blockade at least 7-10 days before surgery. If tachycardia persists, then beta blockade should also be instituted after appropriate alpha blockade. Remember that beta blockade should not be used before implementing alpha blockade due to the potential for unopposed alpha stimulation, which could lead to marked hypertension.
In patients with hypercortisolism, stress doses of steroids should be administered before and following surgery. Again, a team concept involving anesthesia and endocrinology is crucial for optimal outcomes in patients with vasoactive tumors.
Before surgery, patients with aldosteronomas should have hypokalemia corrected, and blood pressure should be adequately controlled. Spironolactone, an aldosterone antagonist, is often given preoperatively to assist with blood pressure control.
A urinary catheter, orogastric tube, and sequential compression devices are placed before positioning and turning. Appropriate antibiotics, usually a first-generation cephalosporin, are dosed before incision. Most patients, with attention to appropriate selection, receive pharmacologic deep vein thrombosis prophylaxis.
Positioning
For a laparoscopic transperitoneal right adrenalectomy, the patient is placed in the left lateral decubitus or semi-lateral decubitus position, ranging from 45º to 70º. The authors prefer using a beanbag mattress, but a gel roll will suffice. The patient's umbilicus should be near the joint in the table to allow for flexing of the table to improve flank exposure. Safety straps and tape are used to securely position the patient, and all pressure points should be padded to prevent nerve compression injuries.
The patient's right arm is placed on an arm rest and should be adequately padded. A shoulder roll is also placed. Reverse Trendelenburg positioning can also help with exposure. The surgeon and assistant usually stand on the patient's left side with the video monitors above the right and left side of the bed; however, this can be individualized based on surgeon preference.
Monitoring and follow-up
Long-term monitoring following laparoscopic adrenalectomy depends on the indication for surgery and postoperative diagnosis. Patients who have had functional tumors removed are usually followed by an endocrinologist. In patients who have had removal of a pheochromocytoma, plasma fractionated metanephrines should be checked postoperatively and then annually.
In patients undergoing adrenalectomy for malignancy or metastasis, long-term follow-up should be coordinated with medical oncology.
Technique
Approach considerations
Three different surgical approaches have been described for laparoscopic adrenalectomy, as follows:
Transabdominal lateral flank approach

Anterior transabdominal approach

Retroperitoneal approach

[24]
Although each technique has its merits and proponents, the transabdominal lateral flank approach is most often used and is discussed here.
Transabdominal lateral flank approach
Port positioning and laparoscopic access
Laparoscopic access may be obtained by an open or closed technique based on surgeon preference and expertise. The authors' preference is to place a Veress needle just below the costal margin and preinsufflate the abdominal cavity. This is followed by optical trocar entry with a 5-mm trocar at the midclavicular line, approximately 2 fingerbreadths below the costal margin. This 5-mm trocar can be later "upsized" to an 11-mm trocar.
An alternative is an open cutdown at this area; however, the incision needed for this usually requires the placement of a 10- to 12-mm trocar or balloon-type trocar to prevent leakage of pneumoperitoneum. Four laparoscopic ports placed in the right subcostal region are typically required for laparoscopic right adrenalectomy, though some reports have described the use of single-incision techniques (including robotic-assisted approaches).[25, 26, 27, 28]
Port positioning and size of ports vary and are surgeon-dependant. However, at least one 11- to 12-mm port is required for clip applier or endoscopic stapler accommodation. The remainder of the ports may be 5-mm ports. Our typical port placement involves a 10- to 12-mm trocar placed in the subcostal region at the anterior axillary line (camera port), a 10- to 12-mm trocar in the subcostal region at the midclavicular line (surgeon's right hand working port), a 5-mm trocar in the subcostal region just to the right of the umbilicus (liver retraction), and a 5-mm trocar in the posterior axillary line subcostally (surgeon's left hand working port; see the images below).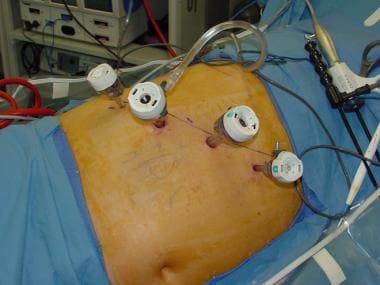 Port positioning for laparoscopic right adrenalectomy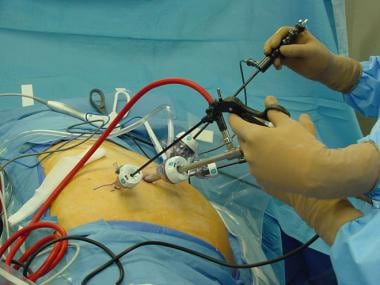 Port positioning for laparoscopic right adrenalectomy
Alternatively, the surgeon can use the two "inside" ports for working ports and have the camera coming in from the port in the posterior axillary line.
Liver retraction and dissection
After safe laparoscopic access and port placement, a diagnostic laparoscopy is performed to rule out other pathologic or anatomic abnormalities. At this time, attention is focused to the right upper quadrant as the liver is retracted from the port just lateral to the xiphoid. Liver retraction may be performed with a blunt grasper, a fan retractor, kite or snake-type retractors, or a Nathanson liver retractor. The liver is mobilized anteriorly and medially by incising the retroperitoneal attachments medially and then the triangular ligament to the level of the diaphragm (see the image and video below.)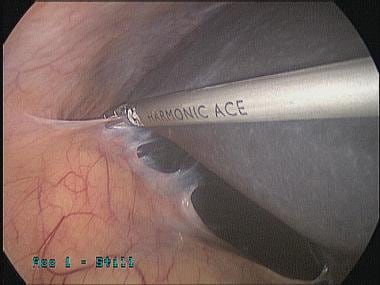 Mobilization of the liver with ultrasonic coagulation shears
Laparoscopic right adrenalectomy: Liver retraction and dissection. Video courtesy of William W Hope, MD.
Adequately mobilizing the liver with continued cephalad retraction with the liver retractor is crucial because the adrenal gland and vein is usually more cephalad than most surgeons appreciate. Mobilizing the hepatic flexure of the colon is usually not necessary; however, if it is obscuring the view or if injury during instrument exchange is a concern, the hepatic flexure can be mobilized inferiorly and medially with sharp dissection. The amount of dissection of the ascending colon and hepatic flexure varies and depends on the anatomy of the patient and size of the adrenal tumor.
At this time, if the adrenal is not visualized, starting the dissection on the inferior vena cava is often helpful, which can be a good landmark during the case (see the video below).
Laparoscopic right adrenalectomy. Video courtesy of William W Hope, MD.
The dissection of the inferior vena cava should start just above the renal vessels, which are often visible and then move cephalad. Intraoperative laparoscopic ultrasound may also be a helpful technique if the gland is difficult to locate or to evaluate the venous anatomy. Dissection of the vena cava can be performed sharply with laparoscopic shears or with a hook electrocautery. The surgeon must appreciate that the duodenum is in close proximity during this dissection and may be mobilized medially for better visualization if needed or to ensure no iatrogenic injuries during dissection. Again, if the adrenal vein or gland is difficult to find, it is usually more cephalad, and further mobilization and retraction of the liver is needed.
When the inferior vena cava is visible, the dissection progresses superiorly toward the liver. If the peritoneum on the inferior border of the liver was not previously divided, then further dissection is needed and is started at the vena cava and carried out laterally (see the video below).
Laparoscopic right adrenalectomy. Video courtesy of William W Hope, MD.
At this time, the liver retractor can be replaced to allow for more upward retraction and a better view of the adrenal gland. Next, the adrenal vein should be visualized and carefully dissected (see video below).
Laparoscopic right adrenalectomy. Video courtesy of William W Hope, MD.
Adrenal vein dissection and ligation
Extreme caution should be used when dissecting out the right adrenal vein, as it is often short and broad, and hemorrhage resulting from injury in this area can be very difficult to control.
The authors' practice is to use a right-angle dissector or Maryland dissector to gently dissect the vessel at the junction of the inferior vena cava (see the video below).
Laparoscopic right adrenalectomy. Video courtesy of William W Hope, MD.
After the junction of the adrenal vein/inferior vena cava has been dissected, a 10-mm "safety clip" can be placed at this junction. This allows further dissection of the vein and ensures that potential injury to the vein will be easier to control. After the vein is adequately dissected, two or three 10-mm clips are placed on the proximal side (toward the vena cava), and one or two are placed on the distal side (see the video below).
Laparoscopic right adrenalectomy. Video courtesy of William W Hope, MD.
Again, the adrenal vein is usually quite short, so accurate clip placement is vital; sometimes the distal clip is placed onto the adrenal gland. After the adrenal vein is adequately clipped, it is transected with scissors between the clips. Alternatively, if the adrenal vein is long enough and the dissection is adequate, an endoscopic stapler may be used to ligate the adrenal vein, although this can be challenging based on the anatomy and the location of the targeted adrenal vein.
Although still investigational, a series of laparoscopic adrenalectomies without the use of clips or sutures for hemostasis was reported.[29] In this series, 32 patients underwent laparoscopic adrenalectomy with the LigaSure device for hemostasis and dissection, though the authors did not specifically isolate the adrenal vein. There was minimal blood loss and no major bleeding complications .
Adrenal gland dissection
After the adrenal gland is controlled and divided, the remainder of the operation focuses on the dissection of the adrenal gland away from its remaining attachments. Great care must be taken not to disrupt or damage the adrenal capsule, especially in the setting of a pheochromocytoma or malignant neoplasm. Avoid grasping the adrenal gland. Instead, the periadrenal fat or overlying peritoneum can be grasped, or the gland can be bluntly retracted. Although numerous small arterial branches supply the adrenal gland, these are usually well controlled by using an electrosurgical device. If a larger vessel is encountered, clips can be used as well (see the video below).
Laparoscopic right adrenalectomy: Adrenal gland removal. Video courtesy of William W Hope, MD.
Adrenal gland removal and completion
After the adrenal gland has been completely dissected from its attachments and is free, it is placed in a specimen retrieval bag and removed through a 10-mm trocar. Depending on the size of the gland/tumor, the incision may have to be enlarged. Following gland removal, the adrenal bed is inspected for hemostasis, with the pneumoperitoneum pressure decreased to 6-8 mm Hg.
The adrenal vein clips/staples are inspected to ensure adequate ligation, and the area is irrigated and aspirated. Careful inspection of the area of dissection and surrounding areas is performed to identify inadvertent injuries. The 10-mm ports can then be closed, either laparoscopically with a suture passer or in an open fashion with an absorbable or permanent suture. The 5-mm trocars are removed under direct vision to ensure hemostasis, and the abdomen is desufflated. The port sites are closed with an absorbable suture, and surgical glue or dressings is applied.
Postoperative care
Postoperatively, patients are usually transferred to a regular surgical floor unless concern for hemodynamic issues, cardiopulmonary status, or intraoperative complications exists. Currently, laparoscopic right adrenalectomy is an inpatient procedure; however, some reports have detailed performing these procedures, in specialized units on a small number of patients, as an outpatient procedure.[30, 31]
A clear liquid diet can be started when the patient is awake and alert, and diet can be advanced as tolerated. Pain control with intravenous narcotics is begun but often can be transitioned to oral analgesics rapidly due to the limited pain encountered. A complete blood count is obtained on postoperative day 1 with electrolyte monitoring as clinically indicated. Patients are usually discharged 24-48 hours after surgery.
Routine office follow-up is typically done 2-3 weeks after discharge, depending on the surgeon's preference, and wound complications are rarely encountered. In patients with Cushing syndrome, postoperative steroid management is usually coordinated in consultation with endocrinology.
Complications
The most serious and feared complication of a laparoscopic right adrenalectomy is hemorrhage from the adrenal vein or inferior vena cava, which can cause severe blood loss and may require conversion to an open procedure. Control of the bleeding with direct pressure can often minimize the bleeding and, depending on the injury, may be handled laparoscopically by suturing or hemostatic agents. If the injury is more complex, direct pressure may be placed while an open incision is made.
Other intraoperative complications are similar to other laparoscopic procedures and include injuries adjacent to structures such as the colon, small bowel and duodenum, liver, gallbladder, and diaphragm.[32]
Additional complications encountered during laparoscopic adrenalectomy include those related to hormonally active tumors, most notable pheochromocytoma. Failure to adequately prepare patients with pheochromocytoma preoperatively can result in severe hypertensive crisis intraoperatively. Adrenal insufficiency may occur in patients with hypercortisolism not given appropriate stress dose steroids.
It has been shown in one large registry that surgeon inexperience, older patients, those with higher BMI's, larger tumors, and patients with pheochromocytoma are risk factors for complications associated with laparoscopic adrenalectomy. If the surgeon is early in his learning curve these factors may be taken into account when deciding on operative planning.[33]
Medscape Reference © 2011 WebMD, LLC