Open Adrenalectomy
Author: Peter P Stuhldreher, MD; Chief Editor: Kurt E Roberts, MD more...
Updated: Aug 12, 2014
What would you like to print?
Overview
Background
Although laparoscopic surgery has become the treatment of choice for the majority of incidentally detected adrenal masses, open adrenalectomy still plays an important role in the armamentarium of adrenal surgeons.[1]
The history of adrenal surgery is longstanding, with the first planned adrenalectomy performed in 1914 by Perry Sargent.[2] Dr. Charles Mayo performed the first flank approach for pheochromocytoma in 1927, although at the time of surgery he was unaware of the full disease process involved. Through the early to mid-1900s, multiple changes in surgical approaches to the adrenal gland were developed to augment several posterior and anterior approaches. For decades, little change to adrenal surgery was seen until first laparoscopic procedure of the adrenal gland was described by Michael Gagner in 1992.[3]
The adrenal glands (see the image below) are paired glands superior to the kidneys bilaterally that reside within a separated layer of Gerota fascia, and they provide multiple functions in the body. The outer layer, the cortex, contributes to homeostasis via its endocrine function, secreting cortisol, aldosterone, and dehydroepiandrosterone (DHEA). These hormones play pivotal roles in regulating salt and water balance, and in the case of DHEA add virilization hormones to the hormonal milieu. The inner layer, the adrenal medulla, is derived from neural crest cells and is important in the sympathetic regulation of the body by secreting norepinephrine. For more information about the relevant anatomy, see Suprarenal (Adrenal) Gland Anatomy.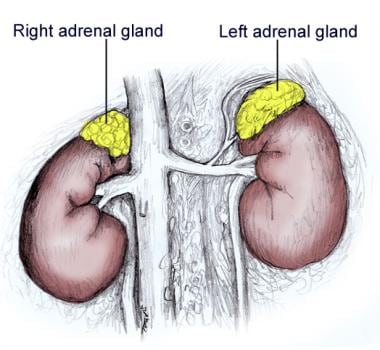 Left and right adrenal glands.
There are several known disorders of adrenal metabolism that involve hypersecretion of these different molecules. Increasing use of imaging technologies, such as computed tomography and magnetic resonance imaging, for aid in diagnosis of other conditions has led to increased diagnosis of adrenal masses. The incidence of these incidentally noted adrenal masses has been estimated to be around 5%.[4, 5, 6, 2, 7] Autopsy studies have supported this estimation, showing the incidence of adrenal masses found at autopsy to also be around 3-5%.[5, 2, 8] Furthermore, studies of hospital discharges have shown an increase in adrenalectomy rates from 1988 to 2000 by 43.4%.[7, 9] With increasing diagnosis and treatment of adrenal masses, optimization of cure and minimization of morbidity is very important.
Indications
Indications for adrenalectomy at first may seem straightforward. However, with the increasing rates of diagnosis of asymptomatic and likely benign adrenal masses, management still remains controversial.[10]
Masses that are greater than 6 cm have a rate of adrenocortical carcinoma of 25% and should be managed surgically.[8] Masses that are smaller than 4 cm may be safely observed because their rate of adrenocortical carcinoma is 2%.[8]
Size categories, however, do not alter management for hormonally active lesions; these should also be managed with surgical excision in most cases. The adrenal gland can be a common site for metastases, so patients with known primary malignancies should be managed according to guidelines for the primary malignancy by stage and grade. For example, the adrenal gland is a common site for synchronous or metachronous metastasis from renal cell carcinoma; surgical excision can frequently offer primary cure in conjunction with nephrectomy.[11]
Surgical excision is indicated for the following adrenal pathologies: Conn syndrome, Cushing syndrome, pheochromocytoma, large myelolipoma, metastatic tumors, adrenocortical carcinoma, and neuroblastoma (pediatric population). The choice of approach will depend on size, location, possibility of malignancy, and surgeon experience with the different techniques. The open approach to adrenalectomy is considered the gold standard for masses suspected of being adrenal carcinoma.[2]
In addition, open adrenalectomy is the treatment of choice in patients who have contraindications to laparoscopic surgery. A patient's inability to undergo pneumoperitoneum is an absolute contraindication to laparoscopy. Multiple previous abdominal operations and obesity remain relative contraindications to laparoscopy.
Contraindications
Absolute contraindications to adrenal surgery of any sort include uncorrected coagulopathy and poor cardiac or pulmonary function. In cases of widely metastatic disease with concomitant adrenal mass, tissue diagnosis should be made before proceeding with adrenalectomy because primary adrenal carcinoma is rare.
Technical Considerations
Prior to operative intervention, treatment for appropriate coagulopathies and for hormonal excess should be instituted. Serum potassium levels should be corrected in hyperaldosteronism and hypertension control should be initiated.
If cortisol excess is severe, inhibition of cortisol with ketoconazole, mitotane, or metyrapone should be considered. In addition, good glucose control is necessary and operative replacement of steroids is indicated as the hypothalamic-pituitary-adrenal access for the normal contralateral adrenal gland will remain suppressed for some time after removal of the abnormal adrenal tissue.
For pheochromocytoma, initiation of alpha blockade with either phenoxybenzamine or prazosin is an absolute necessity to protect the patient from the sympathetic surges possible with manipulation of the mass during surgery. Some authors have advocated the use of calcium channel blockers preoperatively for the same reasons. In addition, vascular volume reexpansion is often necessary due to volume contraction with hypersympathetic states.
Outcomes
The outcomes of open adrenalectomy vary with the pathology of the disease process and morbidity changes with the approach chosen. Approaches that limit access to the peritoneum greatly decrease the rates of postoperative ileus; however, vascular control is often difficult.
The posterior lumbodorsal approach is also associated with high rates of neuromuscular morbidity including chronic pain (14%), laxity in flank muscles (30%), and flank numbness (10%).[12]
With adrenalectomy alone, roughly 35% of patients with hyperaldosteronism no longer require medications for hypertension.[13]
Outcomes of adrenalectomy for adrenocortical carcinoma are generally poor as this disease tends to present at an advanced stage. A large retrospective review from MD Anderson Cancer Center reported an overall survival of around 58%, with 86% of these cases undergoing adrenalectomy.[14] Other reports have reported a 5-year survival rate around 33%.[14] When stratified for stage, 5-year survival is 20-45% for Stage I adrenal tumors, 12.5-57% for Stage II adrenal tumors, 5-18% for Stage III adrenal tumors, and 0% for Stage IV adrenal tumors.[15] The most significant predictors of outcome after adrenalectomy for carcinoma are stage at presentation and complete resection.[16]
Outcomes for benign lesions, including hormone-secreting lesions, are excellent. Resolution of symptoms is achieved in nearly all cases, except those patients with contralateral disease or sites of metastasis in the case of pheochromocytoma.
Periprocedural Care
Patient Education & Consent
Information should be provided to the patient going over the planned approach to the surgery, approximate length and location of incisions, and expected postoperative care. In general, operative complications are low. However, it is very important to explain the risks to patients, especially those with suspected adrenal carcinomas as these are often locally invasive.
Knowledge of the relevant anatomical structures that reside by the left and right adrenal gland will guide the clinician to the possible injuries to adjacent structures, such as aorta/vena cava, bowel (small and large), liver, spleen, and ipsilateral kidney. Before undergoing resection for adrenal carcinoma, patients should be counseled about the potential need to perform anipsilateral nephrectomy. If caval thrombi are present, the patient should be aware of the extensiveness of the surgery required, as well as the possible need for cardiopulmonary bypass when atrial thrombi are present.
Pre-Procedure Planning
Preoperative preparation prior to adrenalectomy should be tailored to the type of adrenal pathology to be addressed. In general, assessment of blood counts and routine chemistry should be obtained preoperatively. Given the proximity to major vascular structures (vena cava and aorta) and multiple arterial and venous supplies, an active type and screen is recommended. Patients should be optimized from a medical standpoint to safely undergo general anesthesia as well. If the tumor is hormonally active, it is often important to involve endocrinologists for recommendations and consultation in postoperative care. In addition, with adrenal carcinoma, consultation with vascular surgeons and cardiothoracic surgeons are recommended with evidence of vena cava thrombus based on level of tumor thrombus.
Consultation with anesthesia is important during planned resection of pheochromocytoma due to preoperative volume contraction and intraoperative blood pressure shifts associated with this surgery due to adrenergic surge during manipulation of the mass.
Preoperative preparation in the case of adrenal masses is critical to plan the surgical procedure and anesthesia role to the type of mass. Preoperative imaging in the form of computed tomography (CT) or magnetic resonance imaging (MRI) provides invaluable information to the location of the mass, involvement of surrounding structures, size, and possibility of metastatic disease in the case of adrenal carcinoma. Additionally, findings on CT and MRI can help differentiate between a concerning mass and a simple adenoma. CT evaluation showing Hounsfeld units (HU) less than 10 are consistent with adenomatous disease and HU consistent with fat are indicative of myelolipoma.[5, 8]
MRI is also able to differentiate between adenoma and other pathology as adenomas will show signal intensity equivalent to the liver on T2-weighted images.[4, 8] Cost and convenience may preclude the routine use of MRI in diagnosis of adrenal masses, however. Preoperative imaging is also imperative for planning the proper approach to excision, especially in the case of adrenocortical carcinoma as invasion of adjacent structures, such as the inferior vena cava, is a contraindication to laparoscopy.[16, 17]
"Incidentalomas" found on imaging for other reasons that are not diagnostic of adenoma should receive a hormonal workup, especially with a history of hypertension requiring multiple medications, periodic episodes of hypertension and flushing, and glucose intolerance. Virilization in females should also lead one to consider a DHEA-secreting adenoma. It is important to note that incidentalomas do carry risk of subclinical Cushing syndrome in 5-14%, pheochromocytoma in 1.5-11%, and aldosteronomas in 1.5-3.3% of patients.[5]
To evaluate for hypercortisolism, measurement should include urinary free cortisol, low-dose dexamethasone suppression test, 2-3 daytime measurements of cortisol level, and measurement of adrenocorticotropic hormone (ACTH).[5, 8, 18, 19, 20, 21] Serum potassium levels and aldosterone to plasma renin levels are sufficient to diagnose hyperaldosteronism; DHEA sulfate and testosterone levels will diagnose states of androgen excess; pheochromocytoma can be evaluated with either urinary catecholamines/metanephrines or plasma metanephrines.[5, 8, 18, 19, 20, 21]
Some authors have suggested a minimal protocol consisting of pheochromocytoma workup, potassium measurement in hypertensive patients, and only measuring glucocorticoids and androgens with clinical presentations consistent with excess of these hormones.[22] If neuroblastoma or the less common metastatic pheochromocytoma is being considered, iodine meta-iodobenzylguanidine scanning should be performed to help diagnose and appropriately stage this neoplastic process.
Equipment
Standard laparotomy trays are used. For resection of ribs in the posterior and flank approaches, Doyen retractors are needed to elevate the periosteum from the rib and a rib cutter is used for resection. A standard Bookwalter retractor can be used for self-retaining retraction for the anterior and flank approaches. A Finochietto retractor is used for both the bilateral posterior approach and the thoracoabdominal approach. Depending on surgeon preference, a harmonic scalpel may be used in lieu of ligature for ligation of small and accessory adrenal vessels.
Monitoring & Follow-up
As expected, routine postoperative follow-up for wound complications, healing, and return to normal activity is warranted. Further follow-up is dictated by the final pathologic examination of the removed specimen. For hypersecreting tumors, with the exception of pheochromocytoma, further follow-up after routine postoperative follow-up is unnecessary.
For pheochromocytoma, the National Comprehensive Cancer Network guidelines recommend that history and physical examination, blood pressure checks, and markers be assessed 3 and 12 months after surgery, every 6 months from years 1-3, and annually thereafter for surgically resectable disease. Imaging studies may be obtained when clinically indicated. For cytoreductive surgeries, the recommendations are for the above tests every 3-4 months with imaging when indicated in consultation with radiation oncology and medical oncology for metastases.
Follow-up for adrenocortical carcinoma is based on tumor grade on pathologic section. For low-grade tumors, imaging every 3-6 months and biomarkers (if it was a hormonally active tumor) are warranted.[23] For high-grade tumors, the clinician also should consider adjuvant radiation therapy or mitotane chemotherapy. In the case of metastatic disease, adrenalectomy can still be considered if it is low grade and more than 90% of tumor can be removed surgically; follow-up should be oriented to the residual disease.
Complications
Inadvertent injury to the surrounding structures can occur during adrenalectomy. Vascular injuries can be associated with hemorrhage or ligation of vessels not associated with the adrenal gland. Given the adrenal gland's close approximation to the vena cava, renal vessels, hepatic vessels, splenic vessels, and lumber vessels, injury to these structures is possible. Ligation of an upper pole renal artery branch, inferior vena cava, or mesenteric vessels is also possible.
Damage to adjacent organs is also a concern depending on the approach chosen with the anterior/thoracoabdominal approaches having more reported bowel injuries, but the flank and posterior approaches are associated with inadvertent pleural injuries. Expert knowledge of anatomy of the peritoneum and retroperitoneum is of utmost importance to prevent injury and allow for intraoperative recognition to decrease morbidity. Additionally, patients are at risk of wound complications such as breakdown, soft-tissue infection, and dehiscence.
Also with hormonally active tumors, several complications may arise that require careful monitoring and management for successful avoidance. With aldosterone-secreting tumors, hyperkalemia may be seen postoperatively as the contralateral adrenal gland's aldosterone secretion has been inhibited by oversecretion from the removed gland preoperatively. Hypokalemia may also be seen immediately postoperatively. Hypotension can be seen after resection of pheochromocytoma due to the preoperative alpha-adrenergic blockade.
More significantly, adrenal insufficiency (from downregulation of the hypothalamic-pituitary axis secretion of ACTH from excess cortisol) is a devastating complication of resection for Cushing syndrome if not recognized, aggressively treated, and prophylactically guarded against with steroid replacement. Hypoglycemia and hyperglycemia also may be seen postoperatively.
Technique
Approach Considerations
The approach chosen should maximize exposure to the important structures during surgery. Posterior/flank approaches offer the least efficient access to the vasculature, whereas abdominal approaches portend greater morbidity. It is critical to be mindful of the named vascular structures associated with the adrenal glands, as well as the potential for there to be numerous unnamed collateral vessels associated with large adrenocortical carcinomas.
The main arterial supply to the right adrenal gland is the inferior adrenal artery, a branch of the right renal artery, and venous drainage is directly into the inferior vena cava. On the left, the main arterial supply comes from the middle adrenal artery, a direct branch from the aorta, and the venous drainage is mainly to the left renal vein via the adrenal vein. Care should be taken with medial dissection of the adrenal gland because there are many anastomotic networks of veins and arteries in addition to the major vascular structures.
Posterior Approach
Also referred to as the lumbodorsal approach, this approach has the advantage of allowing the surgeon to both remain in an extraperitoneal dissection plane and offers access to both adrenal glands (although this requires two incisions).
Although this approach has several modifications, the standard approach has the patient in the prone position with arms extended over the head. The incision is made over the 11th or 12th rib, with or without a "hockey stick" extension cephalad.[4, 23]
The diaphragm is then dissected cephalad; incision through the diaphragm may be made if necessary. The peritoneum is swept inferior and adjacent retroperitoneal organs are identified and mobilized if necessary.
The vessels of the adrenal can then be ligated and the specimen removed after mobilization.
Although the morbidity of this procedure is reported to be low, previously mentioned rates of nerve or musculosketetal pain may be underreported. Access to vasculature is also limited.
Flank Approach
The flank approach will be familiar to the urologist because it can also be used for extraperitoneal access to the kidney. The patient for this approach is positioned in the lateral decubitus position with the pathologic side up. Adequate padding of the patient in this position is imperative to avoid hyperextension of nerves and to protect against the risk of rhabdomyolysis (especially in the obese patient).
The lower leg is flexed and padded at the hip; pillows are used in between the legs and the upper leg is extended and padded with the lower leg flexed. The lower arm is placed in roughly 90 degrees of extension with an axillary roll and the upper arm is placed in a flexed, extended posture in the appropriate arm board.
Incision is made over the 11th rib and carried down through the muscle and fascial layers over the 11th rib. The rib is mobilized posteriorly taking care to avoid injuring the neurovascular bundle. The rib is then resected and entry is made into the retroperitoneal space through the lumbodorsal fascia.
The peritoneum is reflected anteriomedially and often the cava or aorta may be identified when operating in the correct anatomic plane, depending on the side. The kidney may be mobilized as well for inferior traction to help expose the adrenal.
Dissection usually begins along the medial side of the gland with ligation of vascular structures. Using sharp dissection, the adrenal can be mobilized off the psoas muscle and separated from the ipsilateral kidney.
This approach offers excellent exposure in obese patients as their pannus will move anteriomedially and make dissection to the adrenal gland easier than an anterior approach. As with the posterior approach, vascular access is not as expedient as with anterior approaches. In addition, there is a risk of injury to the pleural reflection at the level of the 11th rib in the midaxillary line and inadvertent entry into the pleural cavity or lung injury. As such, the authors advocate for routine postoperative chest radiograph to evaluate for pneumothorax to rule out unidentified injuries. This approach also limits the surgeon only to evaluation of the ipsilateral gland.
Anterior Subcostal/Midline Approach
These two approaches are very familiar to both urologists and general surgeons as exposure to many other organs can be obtained through these approaches.
The subcostal approach is initiated with the patient supine and the incision is made two fingerbreadths below the costal margin. This may be extended across midline if necessary or extended to a full chevron if access to both adrenals is warranted.
The rectus muscle and fascia are divided medially and the external oblique, internal oblique, and transversus abdominus are divided with their fascia laterally. The falciform ligament is identified in the right hemiabdomen and ligated after sharp incision of the peritoneum. The colon is then identified and reflected medially by sharp dissection.
The spleen may be mobilized off the colon and kidney on the left by incising the ligamentous attachments, and the liver can be retracted superiolaterally after division of ligamentous attachments on the right. Care must be taken on the right to identify and protect the duodenum and on the left to identify and protect the tail of pancreas. Both of these structures can be reflected medially with appropriate mobilization when needed.
The adrenal gland can then be mobilized medial to lateral taking care to ligate vascular branches when encountered and to mobilize the kidney for inferior traction when needed. The wound is then closed in the standard fashion.
Access with a midline approach is very similar except the incision is made from xiphoid inferiorly, circumscribing the umbilicus. Entry into the peritoneum is obtained after identifying the midline raphe of the rectus sheath and sharp dissection. This approach will obligatorily limit the lateral extent of exposure as the adrenal gland on the right is located almost behind the vena cava and on the left in a very deep position when approached in this manner.
This approach offers the advantage of being well known to all surgeons and allows for bilateral exploration. However, it does lend itself to longer convalescence, higher rate of ileus, and may be difficult with obese patients.
Thoracoabdominal Approach
For this approach, the patient is placed in the supine position with the upper torso rotated at a 45-degree angle using a body roll. The incision is then made through the 8th or 9th intercostal space through the muscle layers and carried medially through the costal cartilage.
The incision is carried through the anterior and posterior rectus sheaths and the pleura is entered and the lung packed out of the field. Care is taken during division of the diaphragm to not be too central as the phrenic nerve can be damaged with careless division.
Control of the diaphragm during division with traction sutures is recommended. Entry into the peritoneal cavity and exposure to the adrenal gland is then carried out as described for the anterior approaches.
Closure of the diaphragm in this approach should be done with interrupted figure-of-eight nonabsorbable suture. The ribs require reapproximation. Prior to complete anterior closure, a chest tube is placed to suction and water seal.
This approach offers excellent exposure to the retroperitoneum and the great vessels, while also offer excellent exposure if inferior vena cava thrombus is present. However, it has the highest morbidity of all the approaches with risk of prolonged ileus, pulmonary complications, and necessary chest tube. As such, most authors reserve this approach for large tumors and adrenal carcinoma.[4, 23]
References
Bulus H, Uslu HY, Karakoyun R, Koçak S. Comparison of laparoscopic and open adrenalectomy. Acta Chir Belg. 2013 May-Jun. 113(3):203-7. [Medline].

Prager G, Heinz-Peer G, Passler C, Kaczirek K, Schindl M, Scheuba C, et al. Surgical strategy in adrenal masses. Eur J Radiol. 2002 Jan. 41(1):70-7. [Medline].

Gagner M, Lacroix A, Prinz RA, Bolte E, Albala D, Potvin C. Early experience with laparoscopic approach for adrenalectomy. Surgery. 1993 Dec. 114(6):1120-4; discussion 1124-5. [Medline].

Jossart GH, Burpee SE, Gagner M. Surgery of the adrenal glands. Endocrinol Metab Clin North Am. 2000 Mar. 29(1):57-68, viii. [Medline].

Barzon L, Boscaro M. Diagnosis and management of adrenal incidentalomas. J Urol. 2000 Feb. 163(2):398-407. [Medline].

Saunders BD, Wainess RM, Dimick JB, Upchurch GR, Doherty GM, Gauger PG. Trends in utilization of adrenalectomy in the United States: have indications changed?. World J Surg. 2004 Nov. 28(11):1169-75. [Medline].

Gallagher SF, Wahi M, Haines KL, Baksh K, Enriquez J, Lee TM. Trends in adrenalectomy rates, indications, and physician volume: A statewide analysis of 1816 adrenalectomies. Surgery. 2007 Dec. 142(6):1011. [Medline].

Grumbach MM, Biller BM, Braunstein GD, Campbell KK, Carney JA, Godley PA. Management of the clinically inapparent adrenal mass ("incidentaloma"). Ann Intern Med. 2003 Mar 4. 138(5):424-9. [Medline].

Saunders BD, Wainess RM, Dimick JB, Upchurch GR, Doherty GM, Gauger PG. Trends in utilization of adrenalectomy in the United States: have indications changed?. World J Surg. 2004 Nov. 28(11):1169-75. [Medline].

Graham DJ, McHenry CR. The adrenal incidentaloma: guidelines for evaluation and recommendations for management. Surg Oncol Clin N Am. 1998 Oct. 7(4):749-64. [Medline].

Itano NB, Blute ML, Spotts B, Zincke H. Outcome of isolated renal cell carcinoma fossa recurrence after nephrectomy. J Urol. 2000 Aug. 164(2):322-5. [Medline].

Thompson GB, Grant CS, van Heerden JA, Schlinkert RT, Young WF Jr, Farley DR. Laparoscopic versus open posterior adrenalectomy: a case-control study of 100 patients. Surgery. 1997 Dec. 122(6):1132-6. [Medline].

Blumenfeld JD, Sealey JE, Schlussel Y, Vaughan ED Jr, Sos TA, Atlas SA. Diagnosis and treatment of primary hyperaldosteronism. Ann Intern Med. 1994 Dec 1. 121(11):877-85. [Medline].

Vassilopoulou-Sellin R, Schultz PN. Adrenocortical carcinoma. Clinical outcome at the end of the 20th century. Cancer. 2001 Sep 1. 92(5):1113-21. [Medline].

Ng L, Libertino JM. Adrenocortical carcinoma: diagnosis, evaluation and treatment. J Urol. 2003 Jan. 169(1):5-11. [Medline].

Lee JE, Berger DH, el-Naggar AK, Hickey RC, Vassilopoulou-Sellin R, Gagel RF. Surgical management, DNA content, and patient survival in adrenal cortical carcinoma. Surgery. 1995 Dec. 118(6):1090-8. [Medline].

Ekici S, Ciancio G. Surgical management of large adrenal masses with or without thrombus extending into the inferior vena cava. J Urol. 2004 Dec. 172(6 Pt 1):2340-3. [Medline].

Barzon L, Scaroni C, Sonino N, Fallo F, Gregianin M, Macri C. Incidentally discovered adrenal tumors: endocrine and scintigraphic correlates. J Clin Endocrinol Metab. 1998 Jan. 83(1):55-62. [Medline].

Copeland PM. The incidentally discovered adrenal mass. Ann Surg. 1984 Jan. 199(1):116-22. [Medline].

Kloos RT, Gross MD, Francis IR, Korobkin M, Shapiro B. Incidentally discovered adrenal masses. Endocr Rev. 1995 Aug. 16(4):460-84. [Medline].

Osella G, Terzolo M, Borretta G, Magro G, Ali A, Piovesan A. Endocrine evaluation of incidentally discovered adrenal masses (incidentalomas). J Clin Endocrinol Metab. 1994 Dec. 79(6):1532-9. [Medline].

Ross NS, Aron DC. Hormonal evaluation of the patient with an incidentally discovered adrenal mass. N Engl J Med. 1990 Nov 15. 323(20):1401-5. [Medline].

Wein AJ, Kavoussi LR, Novick AC et al. Campbell-Walsh Urology. Philadelphia: Saunders, Elsevier; 2007. 1868-1888.
Medscape Reference © 2011 WebMD, LLC