Gallbladder Tumors Treatment & Management
Author: Thomas J VanderMeer, MD; Chief Editor: John Geibel, MD, DSc, MSc, MA more...
Updated: Jun 19, 2015
What would you like to print?
Approach Considerations
Cholecystectomy is recommended for suspicious gallbladder polyps in order to facilitate early detection and treatment. Risk factors for malignancy include a polyp larger than 1 cm, primary sclerosing cholangitis, the presence of a single polyp, and a patient age of greater than 50 years. Ultrasonographic findings of vascularity and invasion of the gallbladder wall are suspicious findings. One study demonstrated that 7.4% of gallbladder polyps that were less than or equal to 1 cm were neoplastic.[15] The report's authors recommended cholecystectomy for lesions that are 6 mm in size or larger.
Gallbladder cancer is diagnosed incidentally following cholecystectomy or based on preoperative imaging. The surgical indications are based on stage and margin status (see Staging). Incidentally discovered T1a gallbladder cancers (which are limited to the mucosa) can be treated with cholecystectomy alone. T1b tumors (which invade the muscle layer) are treated with resection of liver segments IVb and V and portal lymph node dissection. Bile duct resection is sometimes required to achieve a negative margin, especially if the cystic duct margin was positive on the cholecystectomy specimen. T2 and T3 lesions are also treated with liver resection and portal lymph node dissection, but extended right hepatectomy may be necessary to achieve negative margins.[7]
Contraindications to surgery with curative intent include the presence of distant metastatic disease (including biopsy-proven metastatic aortocaval lymphadenopathy), T4 lesion (local invasion of the hepatic artery, main portal vein, and multiple adjacent structures), and inability to obtain a negative margin. Most North American surgeons consider the presence of celiac and retroperitoneal lymph node metastases a contraindication to resection because of the poor oncologic outcome of these patients with currently available treatment. For the same reason, some controversy exists about the benefit of resecting patients with T3 lesions. Some patients may be technically resectable but unable to tolerate the necessary procedure.
Medical Therapy
Small gallbladder tumors are common and many can be safely followed with serial ultrasonographic examination. It is generally thought that polyps smaller than 1 cm are safe to follow, though one study[15] has recommended that polyps that are 6 mm in size or larger be considered for cholecystectomy. The factors listed above should be considered when deciding between surgery and observation for gallbladder polyps.
Chemotherapy is used in the adjuvant and palliative treatment of gallbladder cancer. Because of the rarity of this cancer, the benefit of adjuvant treatment remains unproven, and no standard adjuvant treatment protocol has been defined. Phase II studies have shown that the use of single-agent chemotherapy (with gemcitabine, capecitabine, or 5-fluorouracil) in the palliative setting can be beneficial. Combination chemotherapy also has been shown to be beneficial and is usually based on gemcitabine,[16] capecitabine, or 5-fluorouracil used in combination with cis-platinum or oxaliplatinum. Fluoropyrimidine-based chemoradiotherapy is commonly employed in the palliative and adjuvant setting as well. Since no regimen has shown superiority, participation in clinical trials is encouraged.
A 2008 study found that only 20% of patients with gall bladder cancer received adjuvant treatment.[17] In the report, no benefit from adjuvant therapy could be demonstrated, but only a small number of patients received this treatment. Generally, fluoropyrimidine-based chemoradiotherapy or single-agent chemotherapy with fluoropyrimidines or gemcitabine is used.[18] Because of the high cure rate with surgery alone for T1N0 lesions, adjuvant therapy is not commonly offered to these patients.
Surgical Therapy
Operative resection offers the only chance for long-term survival. The details are described below.[19]
Benign lesions
Cholecystectomy is recommended in patients with polyps larger than 1 cm or with polyps in the setting of primary sclerosing cholangitis, as well as in patients with a porcelain gallbladder. The decision about performing the operation laparoscopically or open depends on the risk of the lesion being malignant. Preoperative imaging should be reviewed to exclude the presence of invasion before planning a laparoscopic approach.
In these cases, the gall bladder is evaluated with frozen section. If a T1b or deeper cancer is identified, then more extensive surgery is performed as described below. The patient should be counseled about this possibility preoperatively.
Malignant lesions
Gallbladder cancer can be diagnosed incidentally in a surgical specimen excised for other reasons or based on imaging studies. When diagnosed incidentally, simple cholecystectomy alone is recommended for T1a lesions (limited to the mucosa) and further surgery is considered for deeper lesions. Patients may also present with jaundice. The benefit of preoperative drainage is debatable.
Patients with localized gallbladder cancer are evaluated for surgical resection. Surgery is contraindicated in the presence of distant metastases. If the tumor was diagnosed incidentally in a surgical specimen, reresection is indicated for T1b or deeper lesions.
Malignant lesions are commonly staged laparoscopically in order to exclude the presence of undetected intra-abdominal metastases prior to curative laparotomy. Staging laparoscopy is also shown to be effective when the cancer was diagnosed following laparoscopic cholecystectomy.
T1a gall bladder cancer can be treated with simple cholecystectomy. Patients with T1b or deeper gall bladder cancer are treated with hepatic resection and lymph node dissection that includes the portal, gastrohepatic ligament, and retroduodenal nodes. Resection of liver segments IVb and V are frequently adequate to achieve negative margins. In some cases, extended liver resection and/or bile duct resection may be necessary to achieve negative margins. (See the images below.) A study by He et al foundFor stages 0 and I patients, simple cholecystectomy is the optimal surgical procedure for stages 0 and 1, whereas radical cholecystectomy was preferable for stages II and III.[20]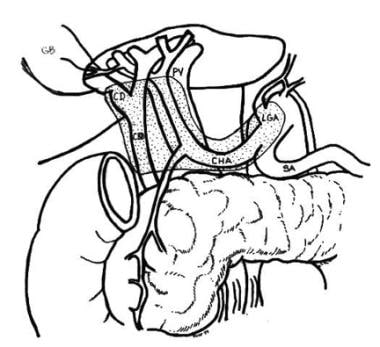 A schematic drawing of the extent of lymphadenectomy for gallbladder cancer, especially when the extrahepatic biliary tree is resected.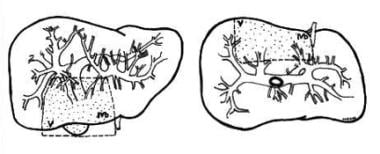 Gallbladder tumors. A schematic drawing of the extent of resection of liver segments IV-b and V for gallbladder cancer.
Adjuvant treatment with either fluoropyrimidine-based chemoradiotherapy or chemotherapy alone is recommended.
When patients are unresectable, tissue diagnosis and relief of jaundice (if present) are required prior to initiation of palliative treatment.
Percutaneous biopsy is avoided in resectable patients.
Preoperative details
As outlined above, the preoperative evaluation of the patient with gall bladder cancer is similar whether the tumor is diagnosed incidentally following cholecystectomy or based on imaging studies. History and physical exam determine the suitability of the patient to undergo curative surgery. When the tumor is diagnosed incidentally following cholecystectomy, the pathology report and preoperative imaging are reviewed to note the margin status, location of the tumor, and depth of invasion. If the cystic duct margin is close or positive, bile duct resection may be considered, for example.
Laboratory evaluation determines the extent of hepatic reserve and the presence of biliary obstruction. CEA and CA19-9 may be helpful as baseline studies that inform treatment decisions in the future. CT scans of the chest, abdomen, and pelvis are carefully reviewed to determine the presence of distant metastatic disease, the extent of local invasion, and the presence of vascular or biliary involvement. The operative plan can usually be determined preoperatively. The need for biliary drainage in patients with preoperative jaundice is individualized, but some surgeons believe that the increased risk of infection with preoperative biliary drainage outweighs the risk of hepatectomy in the setting of biliary obstruction.
Intraoperative details
Staging laparoscopy discovers undetected metastatic disease in a high percentage of patients and can be used to avoid a nontherapeutic laparotomy. The yield is reasonably high in patients that had a prior noncurative cholecystectomy as well. Many surgeons will plan staging laparoscopy for all patients prior to laparotomy with curative intent.
The initial exploration focuses on the presence of metastatic disease that was not detected by preoperative imaging and staging laparoscopy. As many as 15% of patients may be found to have metastatic disease that was not detected by these methods. In the view of most North American surgeons, biopsy-proven metastases in the celiac nodes preclude resection. Aortocaval nodal metastases are considered distant metastatic disease. Biopsy-proven metastases in the portal nodes may affect the risk-benefit analysis for individual patients as well.
Intraoperative ultrasonography (IOUS) is used to evaluate the extent of involvement of the liver, as well as the portal and intrahepatic vasculature. The intrahepatic vascular anatomy is evaluated as a guide to liver resection techniques. This information is especially useful when ligating the pedicle to segment V and avoiding injury to the right anterior portal pedicle or segment VIII pedicle. Extended right hepatectomy may be necessary to achieve tumor clearance if the tumor involves the right portal pedicle.
Surgical exploration will determine the need to resect other organs that may be involved, such as the stomach, duodenum, and colon. It may be difficult to distinguish scar from malignancy. In these cases, suspicious tissue should be treated as malignancy in order to improve the chances of a margin-negative resection. If tumor is suspected on the bile duct based on a previous pathology report or operative exploration, the presence of tumor on the right hepatic duct must be evaluated. Suspicion of tumorous involvement of the right hepatic duct will require an extended right hepatectomy, excision of the extrahepatic biliary tree, and Roux-en-Y hepaticojejunostomy to the left hepatic duct.
A lymph node dissection to include the portal lymph nodes, peripancreatic lymph nodes, and retroduodenal lymph nodes is performed. A recent study indicates that accurate staging requires examination of at least 6 lymph nodes.[21]
Complications of surgery
The overall complication and morbidity rate is approximately 25%. Complications are similar to those experienced with cholecystectomy and include infection, hematoma, and bile leaks. Complication rates are higher in patients undergoing more extensive resections. Liver failure can occur following extended hepatectomy, especially if jaundice is present preoperatively.
Long-Term Monitoring
There are no data to support aggressive surveillance following resection of gallbladder cancer, because treatment of recurrences is not generally effective. However, many clinicians and patients prefer follow-up imaging every 6 months.
References
D'Hondt M, Lapointe R, Benamira Z, Pottel H, Plasse M, Letourneau R, et al. Carcinoma of the gallbladder: Patterns of presentation, prognostic factors and survival rate. An 11-year single centre experience. Eur J Surg Oncol. 2013 Jun. 39(6):548-53. [Medline].

Blalock AA. A statistical study of 888 cases of biliary tract disease. Johns Hopkins Hospital Bulletin. 1924. 35:391-409.

American Cancer Society. Cancer Facts and Figures 2015. Atlanta: American Cancer Society; 2015. [Full Text].

Kwon AH, Inui H, Matsui Y, et al. Laparoscopic cholecystectomy in patients with porcelain gallbladder based on the preoperative ultrasound findings. Hepatogastroenterology. 2004 Jul-Aug. 51(58):950-3. [Medline].

Stephen AE, Berger DL. Carcinoma in the porcelain gallbladder: a relationship revisited. Surgery. 2001 Jun. 129(6):699-703. [Medline].

Shirai Y, Yoshida K, Tsukada K, et al. Identification of the regional lymphatic system of the gallbladder by vital staining. Br J Surg. 1992 Jul. 79(7):659-62. [Medline].

Tumors of the gallbladder. Blumgart LH, ed. Surgery of the Liver, Biliary Tract, and Pancreas. 4th ed. Philadelphia, Pa: Saunders Elsevier; 2007. 764-81.

Renehan AG, Tyson M, Egger M, et al. Body-mass index and incidence of cancer: a systematic review and meta-analysis of prospective observational studies. Lancet. 2008 Feb 16. 371(9612):569-78. [Medline].

Ries LAG, Melbert D, Krapcho M, et al. SEER Cancer Statistics Review, 1975-2005. Available at http://seer.cancer.gov/csr/1975_2005/.

Shindoh J, de Aretxabala X, Aloia TA, et al. Tumor location is a strong predictor of tumor progression and survival in T2 gallbladder cancer: an international multicenter study. Ann Surg. 2015 Apr. 261(4):733-9. [Medline].

Okada K, Kijima H, Imaizumi T, et al. Wall-invasion pattern correlates with survival of patients with gallbladder adenocarcinoma. Anticancer Res. 2009 Feb. 29(2):685-91. [Medline].

Okuyama Y, Fukui A, Enoki Y, Morishita H, Yoshida N, Fujimoto S. A Large Cell Neuroendocrine Carcinoma of the Gall Bladder: Diagnosis with 18FDG-PET/CT-guided Biliary Cytology and Treatment with Combined Chemotherapy Achieved a Long-term Stable Condition. Jpn J Clin Oncol. 2013 May. 43(5):571-4. [Medline].

Dehdashti F, Laforest R, Gao F, Shoghi KI, Aft RL, Nussenbaum B, et al. Assessment of cellular proliferation in tumors by PET using 18F-ISO-1. J Nucl Med. 2013 Mar. 54(3):350-7. [Medline].

American Joint Committee on Cancer. Gallbladder. AJCC Cancer Staging Manual. 6th ed. New York, NY: Springer; 2002. 139-44.

Zielinski MD, Atwell TD, Davis PW, et al. Comparison of surgically resected polypoid lesions of the gallbladder to their pre-operative ultrasound characteristics. J Gastrointest Surg. 2009 Jan. 13(1):19-25. [Medline].

Park JO, Oh DY, Hsu C, et al. Gemcitabine plus cisplatin for advanced biliary tract cancer: a systematic review. Cancer Res Treat. 2015 May 18. [Medline].

Duffy A, Capanu M, Abou-Alfa GK, et al. Gallbladder cancer (GBC): 10-year experience at Memorial Sloan-Kettering Cancer Centre (MSKCC). J Surg Oncol. 2008 Dec 1. 98(7):485-9. [Medline].

Hepatobiliary cancers. NCCN Clinical Practice Guidelines in Oncology™. Available at http://www.nccn.org/professionals/physician_gls/pdf/hepatobiliary.pdf. Accessed: June 17, 2015.

Reddy SK, Clary BM. Surgical management of gallbladder cancer. Surg Oncol Clin N Am. 2009 Apr. 18(2):307-24. [Medline].

He XD, Li JJ, Liu W, et al. Surgical procedure determination based on tumor-node-metastasis staging of gallbladder cancer. World J Gastroenterol. 2015 Apr 21. 21(15):4620-6. [Medline].

Ito H, Ito K, D'angelica M, et al. Accurate staging for gallbladder cancer: implications for surgical therapy and pathological assessment. Ann Surg. 2011 Aug. 254(2):320-5. [Medline].

Aldridge MC, Bismuth H. Gallbladder cancer: the polyp-cancer sequence. Br J Surg. 1990 Apr. 77(4):363-4. [Medline].

Aldridge MC, Gruffaz F, Castaing D, et al. Adenomyomatosis of the gallbladder. A premalignant lesion?. Surgery. 1991 Jan. 109(1):107-10. [Medline].

Bartlett DL, Fong Y, Fortner JG. Long-term results after resection for gallbladder cancer. Implications for staging and management. Ann Surg. 1996 Nov. 224(5):639-46. [Medline].

Chattopadhyay D, Lochan R, Balupuri S, et al. Outcome of gall bladder polypoidal lesions detected by transabdominal ultrasound scanning: a nine year experience. World J Gastroenterol. 2005 Apr 14. 11(14):2171-3. [Medline].

Cho JY, Nam JS, Park MS, Yu JS, Paik YH, Lee SJ. A Phase II study of capecitabine combined with gemcitabine in patients with advanced gallbladder carcinoma. Yonsei Med J. 2005 Aug 31. 46(4):526-31.

Cho JY, Paik YH, Chang YS, Lee SJ, Lee DK, Song SY. Capecitabine combined with gemcitabine (CapGem) as first-line treatment in patients with advanced/metastatic biliary tract carcinoma. Cancer. 2005 Dec 15. 104(12):2753-8.

Cucinotta E, Lorenzini C, Melita G, et al. Incidental gall bladder carcinoma: does the surgical approach influence the outcome?. ANZ J Surg. 2005 Sep. 75(9):795-8. [Medline].

Dingle BH, Rumble RB, Brouwers MC. The role of gemcitabine in the treatment of cholangiocarcinoma and gallbladder cancer: a systematic review. Can J Gastroenterol. 2005 Dec. 19(12):711-6.

Donohue JH, Nagorney DM, Grant CS. Carcinoma of the gallbladder. Does radical resection improve outcome?. Arch Surg. 1990 Feb. 125(2):237-41. [Medline].

Hanada K, Itoh M, Fujii K. K-ras and p53 mutations in stage I gallbladder carcinoma with an anomalous junction of the pancreaticobiliary duct. Cancer. 1996 Feb 1. 77(3):452-8. [Medline].

Henson DE, Albores-Saavedra J, Corle D. Carcinoma of the gallbladder. Histologic types, stage of disease, grade, and survival rates. Cancer. 1992 Sep 15. 70(6):1493-7. [Medline].

Kobayashi S, Ohnuma N, Yoshida H, et al. Preferable operative age of choledochal dilation types to prevent patients with pancreaticobiliary maljunction from developing biliary tract carcinogenesis. Surgery. 2006 Jan. 139(1):33-8. [Medline].

Kusano T, Takao T, Tachibana K, Tanaka Y, Kamachi M, Ikematsu Y. Whether or not prophylactic excision of the extrahepatic bile duct is appropriate for patients with pancreaticobiliary maljunction without bile duct dilatation. Hepatogastroenterology. 2005 Nov-Dec. 52(66):1649-53.

Onoyama H, Yamamoto M, Tseng A. Extended cholecystectomy for carcinoma of the gallbladder. World J Surg. 1995 Sep-Oct. 19(5):758-63. [Medline].

Owen CC, Bilhartz LE. Gallbladder polyps, cholesterolosis, adenomyomatosis, and acute acalculous cholecystitis. Semin Gastrointest Dis. 2003 Oct. 14(4):178-88. [Medline].

Weiland ST, Mahvi DM, Niederhuber JE, Heisey DM, Chicks DS, Rikkers LF. Should suspected early gallbladder cancer be treated laparoscopically?. J Gastrointest Surg. 2002 Jan-Feb. 6(1):50-6; discussion 56-7. [Medline].

Wullstein C, Woeste G, Barkhausen S, Gross E, Hopt UT. Do complications related to laparoscopic cholecystectomy influence the prognosis of gallbladder cancer?. Surg Endosc. 2002 May. 16(5):828-32. [Medline].
Table 1. AJCC TNM Classification of Gallbladder Tumors
Tumor (T), Node (N), Metastasis (M)
Description
TX
Primary tumor cannot be assessed
T0
No evidence of primary tumor
Tis
Carcinoma in situ
T1
Tumor invades lamina propria or muscle layer



See the list below:





T1a - Tumor invades lamina propria

T1b - Tumor invades the muscularis

T2
Tumor invades the perimuscular connective tissue; no extension beyond the serosa or into the liver
T3
Tumor perforates the serosa (visceral peritoneum) and/or directly invades the liver and/or 1 other adjacent organ or structure, such as the stomach, duodenum, colon, pancreas, omentum, or extrahepatic bile ducts
T4
Tumor invades the main portal vein or hepatic artery or invades multiple extrahepatic organs or structures
NX
Regional lymph nodes cannot be assessed
N0
No regional lymph node metastasis
N1
Portal lymph node metastasis
N2
Distant lymph node metastasis such as periaortic, pericaval, superior mesenteric artery, or celiac artery
MX
Distant metastasis cannot be assessed
M0
No distant metastasis
M1
Distant metastasis
Table 2. AJCC Staging of Gallbladder Tumors According to TNM Classification
AJCC Stage
TNM
0
Tis, N0, M0
I
T1 (a or b), N0, M0
II
T2, N0, M0
IIIA
T3, N0, M0
IIIB
T1-3, N1, M0
IVA
T4, N0-1, M0
IVB
Any T, N2, M0



Any T, any N, M1




Medscape Reference © 2011 WebMD, LLC