Gastric Outlet Obstruction Workup
Author: Andres E Castellanos, MD; Chief Editor: John Geibel, MD, DSc, MSc, MA more...
Updated: Dec 02, 2015
What would you like to print?
Laboratory Studies
Obtain a complete blood count (CBC). Check the hemoglobin and hematocrit to rule out the possibility of anemia. Obtain an electrolyte panel. As noted previously, identifying and correcting electrolyte abnormalities that tend to occur is essential. Liver function tests may be helpful, particularly when a malignant etiology is suspected. A test for H pylori is helpful when the diagnosis of peptic ulcer disease (PUD) is suspected.
Imaging Studies
Plain abdominal radiography, contrast upper gastrointestinal (GI) studies (Gastrografin or barium), and computed tomography (CT) with oral contrast are helpful. (See the images below.) Plain radiographs, including the obstruction series (ie, supine abdomen, upright abdomen, chest posteroanterior), can demonstrate the presence of gastric dilatation and may be helpful in distinguishing the differential diagnosis.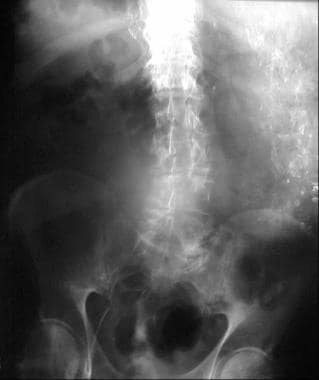 Plain radiograph of the abdomen. Enlarged stomach with calcified content.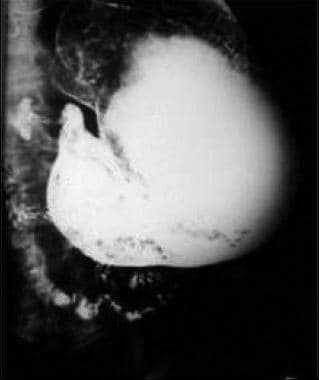 Contrast study demonstrating an enlarged stomach. The point of obstruction is visualized at the pyloric-duodenal junction (string sign).
Diagnostic Procedures
Upper endoscopy (see the image below) can help visualize the gastric outlet and may provide a tissue diagnosis when the obstruction is intraluminal.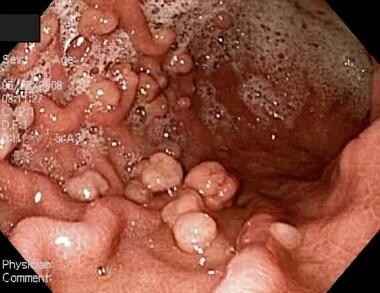 Upper endoscopy showing multiple gastric polyps. Such polyps are a major cause of gastric outlet obstruction.
The sodium chloride load test is a traditional clinical nonimaging study that may be helpful. The traditional sodium chloride load test is performed by infusing 750 mL of sodium chloride solution into the stomach via a nasogastric tube (NGT). A diagnosis of gastric outlet obstruction (GOO) is made if more than 400 mL remains in the stomach after 30 minutes.
Nuclear gastric emptying studies measure the passage of orally administered radionuclide over time. Unfortunately, both the nuclear test and the saline load test may produce abnormal results in functional states.
Barium upper GI studies are very helpful because they can delineate the gastric silhouette and demonstrate the site of obstruction. An enlarged stomach with a narrowing of the pyloric channel or first portion of the duodenum helps differentiate GOO from gastroparesis.
The specific cause may be identified as an ulcer mass or intrinsic tumor.
In the presence of PUD, perform endoscopic biopsy to rule out the presence of malignancy. In the case of peripancreatic malignancy, CT-guided biopsy may be helpful in establishing a preoperative diagnosis. Needle-guided biopsy also may be helpful in establishing the presence of metastatic disease. This knowledge may impact the magnitude of the procedure planned to alleviate the GOO. Histologic findings relate to the individual underlying cause.
References
Andersson A, Bergdahl L. Carcinoid tumors of the appendix in children. A report of 25 cases. Acta Chir Scand. 1977. 143(3):173-5. [Medline].

Gibson JB, Behrman SW, Fabian TC, Britt LG. Gastric outlet obstruction resulting from peptic ulcer disease requiring surgical intervention is infrequently associated with Helicobacter pylori infection. J Am Coll Surg. 2000 Jul. 191(1):32-7. [Medline].

Lam YH, Lau JY, Fung TM, et al. Endoscopic balloon dilation for benign gastric outlet obstruction with or without Helicobacter pylori infection. Gastrointest Endosc. 2004 Aug. 60(2):229-33. [Medline].

Taskin V, Gurer I, Ozyilkan E, Sare M, Hilmioglu F. Effect of Helicobacter pylori eradication on peptic ulcer disease complicated with outlet obstruction. Helicobacter. 2000 Mar. 5(1):38-40. [Medline].

Gouma DJ, van Geenen R, van Gulik T, de Wit LT, Obertop H. Surgical palliative treatment in bilio-pancreatic malignancy. Ann Oncol. 1999. 10 Suppl 4:269-72. [Medline].

Doberneck RC, Berndt GA. Delayed gastric emptying after palliative gastrojejunostomy for carcinoma of the pancreas. Arch Surg. 1987 Jul. 122(7):827-9. [Medline].

Abdel-Salam WN, Katri KM, Bessa SS, et al. Laparoscopic-assisted truncal vagotomy and gastro-jejunostomy: trial of simplification. J Laparoendosc Adv Surg Tech A. 2009 Apr. 19(2):125-7. [Medline].

Siu WT, Tang CN, Law BK, Chau CH, Yau KK, Yang GP, et al. Vagotomy and gastrojejunostomy for benign gastric outlet obstruction. J Laparoendosc Adv Surg Tech A. 2004 Oct. 14(5):266-9. [Medline].

Kim SM, Song J, Oh SJ, et al. Comparison of laparoscopic truncal vagotomy with gastrojejunostomy and open surgery in peptic pyloric stenosis. Surg Endosc. 2009 Jun. 23(6):1326-30. [Medline].

Hall NJ, Pacilli M, Eaton S, et al. Recovery after open versus laparoscopic pyloromyotomy for pyloric stenosis: a double-blind multicentre randomised controlled trial. Lancet. 2009 Jan 31. 373(9661):390-8. [Medline].

Jaffin BW, Kaye MD. The prognosis of gastric outlet obstruction. Ann Surg. 1985 Feb. 201(2):176-9. [Medline].

Khullar SK, DiSario JA. Gastric outlet obstruction. Gastrointest Endosc Clin N Am. 1996 Jul. 6(3):585-603. [Medline].

Kurtz RC, Sherlock P. Carcinoma of the stomach. Bockus Gastroenterology. 4th ed. Philadelphia, Pa: WB Saunders Co; 1985.

Lillemoe KD, Sauter PK, Pitt HA, Yeo CJ, Cameron JL. Current status of surgical palliation of periampullary carcinoma. Surg Gynecol Obstet. 1993 Jan. 176(1):1-10. [Medline].

Lillemoe KD, Cameron JL, Hardacre JM, Sohn TA, Sauter PK, Coleman J, et al. Is prophylactic gastrojejunostomy indicated for unresectable periampullary cancer? A prospective randomized trial. Ann Surg. 1999 Sep. 230(3):322-8; discussion 328-30. [Medline].

Arciero CA, Joseph N, Watson JC, Hoffman JP. Partial stomach-partitioning gastrojejunostomy for malignant duodenal obstruction. Am J Surg. 2006 Mar. 191(3):428-32. [Medline].

Bergamaschi R, Marvik R, Thoresen JE, Ystgaard B, Johnsen G, Myrvold HE. Open versus laparoscopic gastrojejunostomy for palliation in advanced pancreatic cancer. Surg Laparosc Endosc. 1998 Apr. 8(2):92-6. [Medline].

Alam TA, Baines M, Parker MC. The management of gastric outlet obstruction secondary to inoperable cancer. Surg Endosc. 2003 Feb. 17(2):320-3. [Medline].

Kantsevoy SV, Jagannath SB, Niiyama H, Chung SS, Cotton PB, Gostout CJ, et al. Endoscopic gastrojejunostomy with survival in a porcine model. Gastrointest Endosc. 2005 Aug. 62(2):287-92. [Medline].

Chopita N, Vaillaverde A, Cope C, et al. Endoscopic gastroenteric anastomosis using magnets. Endoscopy. 2005 Apr. 37(4):313-7. [Medline].

No JH, Kim SW, Lim CH, Kim JS, Cho YK, Park JM, et al. Long-term outcome of palliative therapy for gastric outlet obstruction caused by unresectable gastric cancer in patients with good performance status: endoscopic stenting versus surgery. Gastrointest Endosc. 2013 Mar 20. [Medline].

Adler DG, Merwat SN. Endoscopic approaches for palliation of luminal gastrointestinal obstruction. Gastroenterol Clin North Am. 2006 Mar. 35(1):65-82, viii. [Medline].

Baron TH. Surgical versus endoscopic palliation of malignant gastric outlet obstruction: big incision, little incision, or no incision?. Gastroenterology. 2004 Oct. 127(4):1268-9. [Medline].

Telford JJ, Carr-Locke DL, Baron TH, Tringali A, Parsons WG, Gabbrielli A, et al. Palliation of patients with malignant gastric outlet obstruction with the enteral Wallstent: outcomes from a multicenter study. Gastrointest Endosc. 2004 Dec. 60(6):916-20. [Medline].

Song GA, Kang DH, Kim TO, Heo J, Kim GH, Cho M, et al. Endoscopic stenting in patients with recurrent malignant obstruction after gastric surgery: uncovered versus simultaneously deployed uncovered and covered (double) self-expandable metal stents. Gastrointest Endosc. 2007 May. 65(6):782-7. [Medline].

Maetani I, Mizumoto Y, Shigoka H, Omuta S, Saito M, Tokuhisa J, et al. Placement of a triple-layered covered versus uncovered metallic stent for palliation of malignant gastric outlet obstruction: A multicenter randomized trial. Dig Endosc. 2013 Apr 29. [Medline].

Yim HB, Jacobson BC, Saltzman JR, Johannes RS, Bounds BC, Lee JH, et al. Clinical outcome of the use of enteral stents for palliation of patients with malignant upper GI obstruction. Gastrointest Endosc. 2001 Mar. 53(3):329-32. [Medline].

Del Piano M, Ballare M, Montino F, Todesco A, Orsello M, Magnani C, et al. Endoscopy or surgery for malignant GI outlet obstruction?. Gastrointest Endosc. 2005 Mar. 61(3):421-6. [Medline].

Wong YT, Brams DM, Munson L, Sanders L, Heiss F, Chase M, et al. Gastric outlet obstruction secondary to pancreatic cancer: surgical vs endoscopic palliation. Surg Endosc. 2002 Feb. 16(2):310-2. [Medline].

van Hooft JE, van Montfoort ML, Jeurnink SM, et al. Safety and efficacy of a new non-foreshortening nitinol stent in malignant gastric outlet obstruction (DUONITI study): a prospective, multicenter study. Endoscopy. 2011 Aug. 43(8):671-5. [Medline].

Mansoor H, Zeb F. Enteral Stents are Safe and Effective to Relieve Malignant Gastric Outlet Obstruction in the Elderly. J Gastrointest Cancer. 2014 Dec 7. [Medline].

Quigley RL, Pruitt SK, Pappas TN, Akwari O. Primary hypertrophic pyloric stenosis in the adult. Arch Surg. 1990 Sep. 125(9):1219-21. [Medline].

Huang YL, Lee HC, Yeung CY, et al. Sonogram before and after pyloromyotomy: the pyloric ratio in infantile hypertrophic pyloric stenosis. Pediatr Neonatol. 2009 Jun. 50(3):117-20. [Medline].

Chopita N, Landoni N, Ross A, Villaverde A. Malignant gastroenteric obstruction: therapeutic options. Gastrointest Endosc Clin N Am. 2007 Jul. 17(3):533-44, vi-vii. [Medline].

Holt AP, Patel M, Ahmed MM. Palliation of patients with malignant gastroduodenal obstruction with self-expanding metallic stents: the treatment of choice?. Gastrointest Endosc. 2004 Dec. 60(6):1010-7. [Medline].

Lillemoe KD, Cameron JL, Yeo CJ, Sohn TA, Nakeeb A, Sauter PK, et al. Pancreaticoduodenectomy. Does it have a role in the palliation of pancreatic cancer?. Ann Surg. 1996 Jun. 223(6):718-25; discussion 725-8. [Medline].

Mauro MA, Koehler RE, Baron TH. Advances in gastrointestinal intervention: the treatment of gastroduodenal and colorectal obstructions with metallic stents. Radiology. 2000 Jun. 215(3):659-69. [Medline].

Schwarz A, Beger HG. Biliary and gastric bypass or stenting in nonresectable periampullary cancer: analysis on the basis of controlled trials. Int J Pancreatol. 2000 Feb. 27(1):51-8. [Medline].

Shyr YM, Su CH, Wu CW, Lui WY. Prospective study of gastric outlet obstruction in unresectable periampullary adenocarcinoma. World J Surg. 2000 Jan. 24(1):60-4; discussion 64-5. [Medline].

Wade TP, Neuberger TJ, Swope TJ, Virgo KS, Johnson FE. Pancreatic cancer palliation: using tumor stage to select appropriate operation. Am J Surg. 1994 Jan. 167(1):208-12; discussion 212-3. [Medline].
Medscape Reference © 2011 WebMD, LLC