Implantable Loop Recorder
Author: Suneet Mittal, MD, FACC, FHRS; Chief Editor: Eric H Yang, MD more...
Updated: Sep 04, 2014
What would you like to print?
Overview
Introduction
The implantable loop recorder (ILR) is a subcutaneous, single-lead, electrocardiographic (ECG) monitoring device used for diagnosis in patients with recurrent unexplained episodes of palpitations or syncope, for long-term monitoring in patients at risk for or with documented atrial fibrillation (AF), and for risk stratification in patients who have sustained a myocardial infarction (MI) and those who have certain genetic disorders.[1, 2, 3, 4]
The device is typically implanted in the left parasternal region and is capable of storing ECG data automatically in response to a significant bradyarrhythmia or tachyarrhythmia or in response to patient activation. It is particularly useful either when symptoms are infrequent (and thus not amenable to diagnosis using short-term external ECG recording techniques) or when aggregate long-term data (eg, burden of AF) are required.
Indications
Patients with syncope
Syncope is defined as a transient loss of consciousness due to global cerebral hypoperfusion and is characterized by rapid onset, short duration, and spontaneous complete recovery. It is an extremely common clinical problem and can have an underlying cardiovascular etiology.
The most common cardiovascular cause of syncope is a disorder of autonomic function, such as neurally-mediated syncope (vasovagal syncope, carotid sinus hypersensitivity, situational syncope), chronic orthostatic intolerance (ie, postural orthostatic tachycardia syndrome [POTS]), and orthostatic hypotension (secondary to volume depletion, systemic illness, use of a vasoactive drug or pure autonomic failure/multiple system atrophy).
Another cause for syncope is obstruction to blood flow (eg, aortic stenosis, aortic dissection, pulmonary embolism, pericardial tamponade, pulmonary hypertension, etc); these can readily be identified by echocardiography. The most concerning cause is an arrhythmia (bradyarrhythmia or tachyarrhythmia), which can sometimes be difficult to differentiate from a disorder of autonomic function.[1, 2]
The initial evaluation of syncope consists of a comprehensive history, physical examination (including orthostatic blood pressure measurements), and an ECG. This initial evaluation dictates the decision on whether hospitalization is necessary for further evaluation as well as the need for additional diagnostic testing. An important additional test is the echocardiogram, which can identify patients at high risk for ventricular arrhythmias, such as patients with hypertrophic cardiomyopathy and severe left ventricular dysfunction.
In patients at low risk for a lethal ventricular arrhythmia, the need for additional evaluation depends on the frequency of syncope and its impact on quality of life. In patients with a single episode of syncope, an ILR may be useful in patients with underlying bundle branch block.
A prior study evaluating 52 patients with syncope and a bundle branch block who underwent ILR implantation after an unremarkable initial evaluation (including an electrophysiological study found that syncope recurred in 42% of these patients.[5] The ILR showed that recurrent syncope was commonly attributable to paroxysmal AV block.
In patients with frequent recurrences of unexplained syncope, the 2009 European Society of Cardiology (ESC) guidelines now advocate the "early" use of ILRs.
Since recurrent syncope occurs sporadically and because ECG documentation at time of recurrent syncope is an extremely important diagnostic modality, ILRs have a significantly greater diagnostic yield than 24-hour Holter, 30-day event, or 30-day mobile cardiovascular telemetry monitoring. The diagnostic yield of any ECG monitoring strategy increases as the monitoring period is increased[6] ; ILRs (with their near 3-year battery life) offer the best opportunity for diagnosis.[7, 8, 9]
The PICTURE registry, a prospective, multicenter, observational study that followed 570 patients with recurrent unexplained presyncope or syncope who received an ILR, showed that these patients were evaluated on average by three different specialists and underwent a median of 13 nondiagnostic tests (range, 9-20).[10] Within the first year, syncope recurred in a third of the patients; the ILR provided a diagnosis in 78% of the patients, most commonly a cardiac etiology.
In patients with recurrent vasovagal syncope, in contrast to tilt table testing, the ILR provides information about the characteristics of the heart rhythm during recurrent syncope[11, 12] and may help guide decisions regarding specific therapy.[1, 12, 13] For example, studies are currently under way to determine whether patients with ILR-documented bradycardia can benefit from a permanent pacemaker.
Patients with palpitations
ILRs also have an important role in the evaluation of patients with recurrent unexplained episodes of palpitations. In patients with infrequent episodes, short-term ambulatory ECG monitoring often fails to establish a diagnosis. The use of ILRs in these types of patients is safe and cost-effective and has a high diagnostic yield.[14]
Risk stratification post MI
There may be a role for ILRs in the risk stratification of post-MI patients. The CARISMA trial followed 1393 patients who received an ILR within 11±5 days of an acute MI, which resulted in a left ventricular ejection fraction £ 40%.[15] A significant bradyarrhythmia or tachyarrhythmia was documented in 46% of patients. The development of intermittent high-degree atrioventricular (AV) block was the most potent predictor of mortality.
The ongoing VEST/PREDICTS trial (Vest prevention of Early Sudden death Trial)/(PREDiction of ICD Therapies Study) is seeking to determine whether a wearable defibrillator used for the 2 months after infarction can attenuate early mortality; additionally, it is hoped that methods for risk stratification can be developed.
Patients with or at risk for AF
ILRs can provide long-term ECG monitoring in patients at risk for or with documented AF.[16, 17] In the CARISMA trial, a 28% incidence of new-onset AF was observed.[15] ILRs may come to play an important role in cryptogenic stroke patients; the CRYSTAL-AF study is currently prospectively investigating whether ILRs improve the diagnostic yield over short-term ambulatory external ECG recording techniques in this patient population.
Finally, multiple trials are currently underway to assess the clinical utility of ILRs in patients who have undergone ablation of AF. It is hoped that the ILR will be able to provide information about AF burden; this type of information is currently not possible to obtain in the absence of an implanted pacemaker or defibrillator.
Contraindications
The presence of an active infection or a bleeding diathesis may preclude implantation.
Disadvantages
Disadvantages include the need for a minor surgical procedure, the difficulty of always being able to differentiate supraventricular from ventricular arrhythmias, the presence of under- or over-sensing that may exhaust the memory of the ILR, and the cost of the device. The ILR has a high initial cost; however, it may actually be more cost-effective than a strategy incorporating multiple nondiagnostic investigations.[18, 19, 20, 21]
Preparation
Equipment
Implantable loop recorders (ILRs) are small leadless boxes, about 6.5-9 mL in volume (the size of a standard memory stick), with 2 self-contained electrodes that are implanted subcutaneously under local anesthesia, typically in a left parasternal location. Current ILR devices have a battery life of up to 3 years.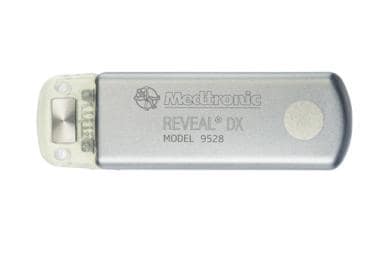 Medtronic Reveal® DX. Courtesy of Medtronic, Inc.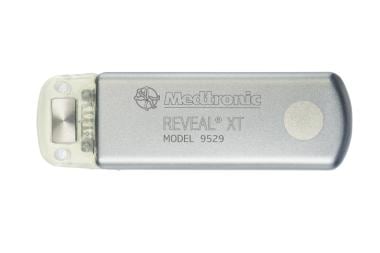 Medtronic Reveal® XT. Courtesy of Medtronic, Inc.
ILRs have a solid-state loop memory capable of recording and storing bipolar ECG recordings when either activated by the patient or a bystander in response to a symptomatic episode of palpitations or syncope[22, 23] or automatically activated upon occurrence of predefined bradyarrhythmia or tachyarrhythmia.[24, 25, 26] These devices can transmit data transtelephonically to a physician's office for review (see the table below).
Table 1. Implantable Loop Recorders (Open Table in a new window)
| | | | |
| --- | --- | --- | --- |
| | Medtronic Reveal® DX | Medtronic Reveal® XT | St. Jude Confirm |
| Size (Dimension) | 62 x 19 x 8 mm | 62 x 19 x 8 mm | 56.3 x 18.5 x 8 mm |
| Size (Volume) | 9 mL | 9 mL | 6.5 mL |
| Weight | 15 g | 15 g | 12 g |
| Arrhythmia Detection | Asystole, bradyarrhythmia VT/FVT | Asystole, bradyarrhythmia VT/FVT, AT/AF | Asystole, bradyarrhythmia VT/FVT |
| R-wave Sensing | Tracking threshold, noise reversion, over range detector | Tracking threshold, noise reversion, over range detector | Tracking threshold, noise inhibition -Sense Ability |
| Extended Diagnostics | ... | AT/AF burden, HRV, Patient Activity, Day/Night HR, Cardiac Compass | ... |
| Longevity | 3 years | 3 years | 3 years |
| Event Storage | 49.5 minutes | 49.5 minutes | 48 minutes |
| Patient Assistant | Marking symptoms | Marking symptoms and query | Marking symptoms |
| MRI Labeling | MR conditional | MR conditional | MR conditional |
AT = atrial tachycardia; FVT = fast ventricular tachycardia; HR = heart rate; HRV = heart rate variability; MRI = magnetic resonance imaging; VT = ventricular tachycardia.
Technique
Placement of an implantable loop recorder (ILR) can be performed in any standard procedure suite. The device is typically inserted in the left parasternal region. Prophylactic antibiotics are administered intravenously prior to the incision. Under sterile conditions the creation of a small subcutaneous pocket using local anesthesia is required. A mild anxiolytic and/or analgesic can also be administered to enhance patient comfort. Vector mapping to maximize the R-to-T should be considered.
Post-Procedure
Complications
The most common problems associated with the device are pain at the implant site and a local pocket infection that may necessitate removal of the implanted hardware. Poor R-wave sensing necessitating relocation of the device is also a rare possibility.
References
Brignole M, Sutton R, Menozzi C, et al. Early application of an implantable loop recorder allows effective specific therapy in patients with recurrent suspected neurally mediated syncope. Eur Heart J. 2006. 27:1085-1092.

Guidelines for the diagnosis and management of syncope (2009 version). European Heart Journal. 2009. 30:2631-2671.

K. Seidl, M. Rameken, S. Breunung, J. Senges, W. Jung, D. Andresen, et al. Diagnostic assessment of recurrent unexplained syncope with a new subcutaneously implantable loop recorder. Europace. 2000. 2:256-262.

Krahn AD; Klein GJ; Skanes AC; Yee R. Insertable loop recorder use for detection of intermittent arrhythmias. Pacing Clin Electrophysiol. May 2004. 27(5):657-64.

Brignole M, Menozzi C, Moya A, et al. International Study on Syncope of Uncertain Etiology (ISSUE) Investigators. Mechanism of syncope in patients with bundle branch block and negative electrophysiological test. Circulation. 2001. 104:2045-2050.

Assar M, Krahn A, Klein G, Yee R, Skanes A. Optimal duration of monitoring in patients with unexplained syncope. Am J Cardiol. 2003. 92:1231-1233.

Kang GH, Oh JH, Chun WJ, Park YH, Song BG, Kim JS, et al. Usefulness of an implantable loop recorder in patients with syncope of an unknown cause. Yonsei Med J. 2013 May 1. 54(3):590-5. [Medline]. [Full Text].

Lacunza-Ruiz FJ, Moya-Mitjans A, Martínez-Alday J, Barón-Esquivias G, Ruiz-Granell R, Rivas-Gándara N, et al. Implantable loop recorder allows an etiologic diagnosis in one-third of patients. Circ J. 2013 Sep 25. 77(10):2535-41. [Medline].

Palmisano P, Accogli M, Zaccaria M, Luzzi G, Nacci F, Anaclerio M, et al. Predictive factors for pacemaker implantation in patients receiving an implantable loop recorder for syncope remained unexplained after an extensive cardiac and neurological workup. Int J Cardiol. 2013 May 20. [Medline].

Edvardsson N, Frykman V, van Mechelen R, Mitro P, Mohii-Oskarsson A, Pasquié JL. Use of an implantable loop recorder to increase the diagnostic yield in unexplained syncope: results from the PICTURE registry. Europace. 2011 Feb. 13(2):262-269. [Medline].

Deharo JC, Jego C, Lanteaume A, Djiane P. An Implantable Loop Recorder Study of Highly Symptomatic Vasovagal Patients. J Am Coll Cardiol. Feb 7, 2006. 47(3):587-93.

Brignole M, Sutton R, Menozzi C, et al. International Study on Syncope of Uncertain Etiology 2 (ISSUE 2) Group. Lack of correlation between the responses to tilt testing and adenosine triphosphate test and the mechanism of spontaneous neurally mediated syncope. Eur Heart J. 2006. 27:2232-2239.

Davis S, Westby M, Petkar S, Pitcher D. Tilt testing is more cost-effective than implantable loop recorder monitoring as a means of directing pacing therapy in people with recurrent episodes of suspected vasovagal syncope that affect their quality of life or present a high risk of injury. Heart. 2013 Jun. 99(11):805-10. [Medline].

Giada F, Gulizia M, Francese M, et al. Recurrent unexplained palpitations (RUP) study comparison of implantable loop recorder versus conventional diagnostic strategy. J Am Coll Cardiol. Epub Apr 30, 2007; May 15, 2007. 49(19):1951-6.

Poul Erik Bloch Thomsen, Christian Jons, M.J. Pekka Raatikainen, et. al. The Cardiac Arrhythmias and Risk Stratification After Acute Myocardial Infarction (CARISMA) Study. Circulation. 2010. 122:1258-1264.

Hindricks G, Pokushalov E, Urban L, et al. Performance of a new leadless implantable cardiac monitor in detecting and quantifying atrial fibrillation. Results of the XPECT trial. Circ Arrhythm Electrophysiol. 2010. DOI:10.1161/CIRCEP.109.877852.

Gersak B, Pernat A, Robic B, Sinkovec M. Low rate of atrial fibrillation recurrence verified by implantable loop recorder monitoring following a convergent epicardial and endocardial ablation of atrial fibrillation. J Cardiovasc Electrophysiol. 2012 Oct. 23(10):1059-66. [Medline].

Boersma L, Mont L, Sionis A, Garcia E, Brugada J. Value of implantable loop recorder for the management of patients with unexplained syncope. Europace. 2004. 6:70-76.

Lombardi F, Calosso E, Mascioli G, et al. Utility of implantable loop recorder. Europace. 2005. 7:19-24.

Pierre B, Fauchier L, Breard L, Marie O, Poret F, Babuty D. Implantable loop recorder for recurrent syncope: influence of cardiac conduction abnormalities showing up on resting electrocardiogram and of underlying cardiac disease on follow-up developments. Europace. 2008. 10:477-481.

Krahn AD, Klein GJ, Yee R, Hoch JS, Skanes AC. Cost implications of testing strategy in patients with syncope: randomized assessment of syncope trial. J Am Coll Cardiol. 2003 Aug 6. 42(3):495-501. [Medline].

Krahn A, Klein G, Norris C, Yee R. The etiology of syncope in patients with negative tilt table and electrophysiologic testing. Circulation. 1995. 92:1819-1824.

Krahn AD, Klein GJ, Yee R, Takle-Newhouse T, Norris C. Reveal Investigators. Use of an extended monitoring strategy in patients with problematic syncope. Circulation. 1999. 26:99:406-410.

Krahn AD, Klein GL, Tee R, Skanes AC. Detection of asymptomatic arrhythmias in unexplained syncope. Am Heart J. 2004. 148:326-332.

Ermis C, Zhu AX, Pham S, Li JM, et al. Comparison of automatic and patientactivated arrhythmia recordings by implantable loop recorders in the evaluation of syncope. Am J Cardiol. 2003. 92:815-819.

Moya A, Brignole M, Sutton R, et al. Reproducibility of electrocardiographic findings in patients with neurally-mediated syncope. Am J Cardiol. 2008. 102:1518-1523.
Table 1. Implantable Loop Recorders
| | | | |
| --- | --- | --- | --- |
| | Medtronic Reveal® DX | Medtronic Reveal® XT | St. Jude Confirm |
| Size (Dimension) | 62 x 19 x 8 mm | 62 x 19 x 8 mm | 56.3 x 18.5 x 8 mm |
| Size (Volume) | 9 mL | 9 mL | 6.5 mL |
| Weight | 15 g | 15 g | 12 g |
| Arrhythmia Detection | Asystole, bradyarrhythmia VT/FVT | Asystole, bradyarrhythmia VT/FVT, AT/AF | Asystole, bradyarrhythmia VT/FVT |
| R-wave Sensing | Tracking threshold, noise reversion, over range detector | Tracking threshold, noise reversion, over range detector | Tracking threshold, noise inhibition -Sense Ability |
| Extended Diagnostics | ... | AT/AF burden, HRV, Patient Activity, Day/Night HR, Cardiac Compass | ... |
| Longevity | 3 years | 3 years | 3 years |
| Event Storage | 49.5 minutes | 49.5 minutes | 48 minutes |
| Patient Assistant | Marking symptoms | Marking symptoms and query | Marking symptoms |
| MRI Labeling | MR conditional | MR conditional | MR conditional |
Medscape Reference © 2011 WebMD, LLC