Wrist Arthritis Clinical Presentation
Author: Palaniappan Lakshmanan, MBBS, MS, AFRCS, FRCS(Tr&Orth); Chief Editor: Harris Gellman, MD more...
Updated: Nov 25, 2015
What would you like to print?
History
Patients presenting with osteoarthritis (OA) of the wrist are typically older than 50 years. However, RA and its variants may manifest earlier. Likewise, in patients with previous trauma, secondary OA can appear at a young age.
The predominant symptom of wrist arthritis is pain. In the early stages of wrist arthritis, pain is usually aggravated during the extremes of movement. As the disease progresses, the pain gradually worsens to involve the full, available range of motion.
The range of motion may also gradually deteriorate. OA may progress to such an extent that, in severe cases, the wrist has no movement. However, in rare cases in which the patient has inherent hyperelasticity, as in those with Ehlers-Danlos Syndrome or Marfan Syndrome, the wrist may maintain have good range of motion despite severe degenerative changes. The images below depict a patient with normal range of motion.
Range of motion may be normal in hyperelastic individuals despite underlying wrist arthritis.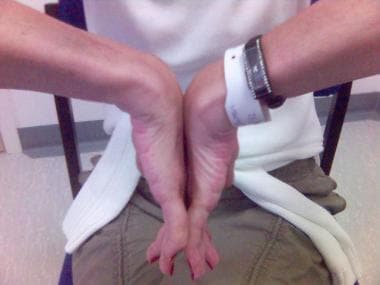 Range of motion may be normal in hyperelastic individuals despite underlying wrist arthritis.
Deformity is another feature of wrist arthritis. This is common in RA, in which deformity may be complicated by association with subluxation of the radiocarpal and inferior radioulnar joints. Swelling of the wrist is one of the most common manifestations of RA and may occur because of synovial thickening.
Because the wrist stabilizes the hand for functioning, pain and deformity may result in the loss of such function with weakness of the hand grip. Wrist deformity and instability reduce support for the hand to grasp, impairing dexterity, whereas stiffness and the inability to extend the wrist deprive the fingers of the tenodesis effect.
Physical Examination
Attrition rupture of the tendons may occur, specifically when they glide over the rough osteophytes, resulting in loss of function in the fingers. The flexor pollicis longus tendon is prone to such ruptures over the distal pole of the scaphoid; this is called a Mannerfelt lesion.
Cases have been described in the literature in which the flexor pollicis longus, flexor digitorum superficialis, and flexor digitorum profundus tendons to the index finger all are ruptured, with osteophytes at the distal pole of the scaphoid. Likewise, the small and ring finger extensor digitorum communis tendons are prone to attrition ruptures.
Persistent synovitis at the distal radioulnar joint may result in dorsal subluxation of the distal ulna, crepitus during forearm pronation and supination, deformity of the carpus, and rupture of the extensor digitorum communis tendons; this is called caput ulna syndrome. Because the tendons in the flexor and extensor compartments of the wrist have a synovial lining, synovitis of the wrist usually results in tenosynovitis, and may lead to tendon subluxation, adhesion, and, finally, rupture. See image below.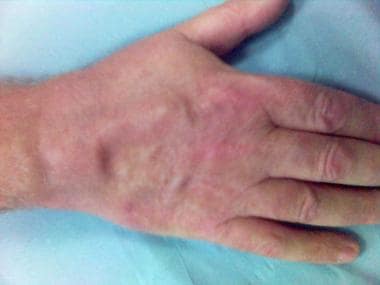 Synovitis of the wrist with extensor tenosynovitis.
Classic rheumatoid wrist arthritis begins with radial deviation of the wrist, resulting in ulnar head prominence. This progresses to supination and ulnar translation of the carpus, finally leading to volar subluxation of the radiocarpal joint. Crepitus in the wrist becomes more apparent as joint disease progresses.
References
Weiss AP. Osteoarthritis of the wrist. Instr Course Lect. 2004. 53:31-40. [Medline].

Hamalainen M, Kammonen M, Lehtimaki M, et al. Epidemiology of wrist involvement in rheumatoid arthritis. J Rheumatol. 1992. 17:1-7.

Clayton ML, Ferlic DC. Arthrodesis of the arthritic wrist. Clin Orthop Relat Res. 1984 Jul-Aug. 89-93. [Medline].

Watson HK, Goodman ML, Johnson TR. Limited wrist arthrodesis. Part II: Intercarpal and radiocarpal combinations. J Hand Surg Am. 1981 May. 6(3):223-33. [Medline].

Ma JD, Wei XN, Zheng DH, Mo YQ, Chen LF, Zhang X, et al. Continuously elevated serum matrix metalloproteinase-3 for 3 ~ 6 months predict one-year radiographic progression in rheumatoid arthritis: a prospective cohort study. Arthritis Res Ther. 2015 Oct 14. 17:289. [Medline].

Schwenzer NF, Kötter I, Henes JC, Schraml C, Fritz J, Claussen CD, et al. The role of dynamic contrast-enhanced MRI in the differential diagnosis of psoriatic and rheumatoid arthritis. AJR Am J Roentgenol. 2010 Mar. 194(3):715-20. [Medline].

Zierhut ML, Gardner JC, Spilker ME, Sharp JT, Vicini P. Kinetic modeling of contrast-enhanced MRI: an automated technique for assessing inflammation in the rheumatoid arthritis wrist. Ann Biomed Eng. 2007 May. 35(5):781-95. [Medline].

Xanthopoulos E, Hutchinson CE, Adams JE, Bruce IN, Nash AF, Holmes AP, et al. Improved wrist pannus volume measurement from contrast-enhanced MRI in rheumatoid arthritis using shuffle transform. Magn Reson Imaging. 2007 Jan. 25(1):110-6. [Medline].

Feydy A, Pluot E, Guerini H, Drapé JL. Role of imaging in spine, hand, and wrist osteoarthritis. Rheum Dis Clin North Am. 2009 Aug. 35(3):605-49. [Medline].

Taljanovic MS, Melville DM, Gimber LH, Scalcione LR, Miller MD, Kwoh CK, et al. High-Resolution US of Rheumatologic Diseases. Radiographics. 2015 Nov-Dec. 35 (7):2026-48. [Medline].

Ichikawa S, Kamishima T, Sutherland K, Okubo T, Katayama K. Radiographic Quantifications of Joint Space Narrowing Progression by Computer-based Approach Using Temporal Subtraction in Rheumatoid Wrist. Br J Radiol. 2015 Oct 20. 20150403. [Medline].

Baker JF, Ostergaard M, Emery P, Hsia EC, Lu J, Baker DG, et al. Early MRI measures independently predict 1-year and 2-year radiographic progression in rheumatoid arthritis: secondary analysis from a large clinical trial. Ann Rheum Dis. July 2013. [Epub ahead of print]:[Medline].

Adams BD. Surgical management of the arthritic wrist. Instr Course Lect. 2004. 53:41-5. [Medline].

Bhamra J, Bhamra K, Hindocha S, Khan W. "The Role of Wrist Fusion and Wrist Arthroplasty in Rheumatoid Arthritis". Curr Rheumatol Rev. 2015 Oct 26. [Medline].

Willis AA, Berger RA, Cooney WP 3rd. Arthroplasty of the distal radioulnar joint using a new ulnar head endoprosthesis: preliminary report. J Hand Surg Am. 2007 Feb. 32(2):177-89. [Medline].

Sammer DM, Shin AY. Comparison of arthroscopic and open treatment of septic arthritis of the wrist. Surgical technique. J Bone Joint Surg Am. 2010 Mar. 92 Suppl 1 Pt 1:107-13. [Medline].

Bedford B, Yang SS. High fusion rates with circular plate fixation for four-corner arthrodesis of the wrist. Clin Orthop Relat Res. 2010 Jan. 468(1):163-8. [Medline]. [Full Text].

Field J, Herbert TJ, Prosser R. Total wrist fusion. A functional assessment. J Hand Surg Br. 1996 Aug. 21(4):429-33. [Medline].

Kistler U, Weiss AP, Simmen BR, Herren DB. Long-term results of silicone wrist arthroplasty in patients with rheumatoid arthritis. J Hand Surg Am. 2005 Nov. 30(6):1282-7. [Medline].

Kwon BC, Choi SJ, Shin J, Baek GH. Proximal row carpectomy with capsular interposition arthroplasty for advanced arthritis of the wrist. J Bone Joint Surg Br. 2009 Dec. 91(12):1601-6. [Medline].

Garcia-Elias M. Eclypse: partial ulnar head replacement for the isolated distal radio-ulnar joint arthrosis. Tech Hand Up Extrem Surg. 2007 Mar. 11(1):121-8. [Medline].

van Winterswijk PJ, Bakx PA. Promising clinical results of the universal total wrist prosthesis in rheumatoid arthritis. Open Orthop J. 2010 Feb 17. 4:67-70. [Medline]. [Full Text].

Vance MC, Packer G, Tan D, Crisco JJ, Wolfe SW. Midcarpal hemiarthroplasty for wrist arthritis: rationale and early results. J Wrist Surg. Aug 2012. 1(1):61-68. [Medline].
Medscape Reference © 2011 WebMD, LLC