Wrist Arthritis Workup
Author: Palaniappan Lakshmanan, MBBS, MS, AFRCS, FRCS(Tr&Orth); Chief Editor: Harris Gellman, MD more...
Updated: Nov 25, 2015
What would you like to print?
Approach Considerations
Plain radiography is central to the workup of wrist arthritis. Bone scanning may show hot spots, but findings are not specific and do not provide additional information. Arthroscopy can be diagnostically useful, and are occasionally used as therapeutic procedures. Arthrography is not useful in common practice, but can be combined with arthroscopy to enhance information.
Computed tomography (CT) scanning may be useful to delineate the problem in individual bones and their articulations; however, it is not routinely used for primary osteoarthritis (OA) or rheumatoid arthritis (RA).[6] Magnetic resonance imaging (MRI) is especially useful to assess instability caused by ligamentous tears but not for established OA of the wrist.[7, 8]
Plain Radiography
Radiographic findings in wrist posteroanterior and lateral views reveal degenerative changes.[9, 10, 11] See images below.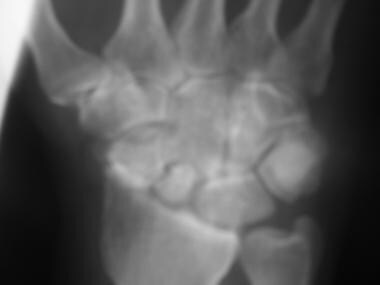 Osteoarthritis of the wrist.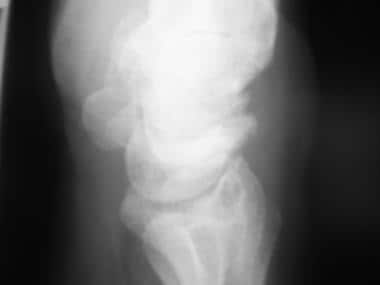 Osteoarthritis of the wrist, lateral view.
The important areas to focus on are the radioscaphoid joint, the radiolunate joint, around the capitate, and the scaphotrapeziotrapezoid joint. However, all the joints should be individually evaluated for evidence of OA.
In general, surgical procedures are based on assessments of the radioscaphoid joint, radiolunate joint, and head of the capitate, which forms the main articulation of the midcarpal joint. The exact surgical option of choice is directly related to which joints are preserved and which joints are destroyed.
MRI scans
MRI scans have been shown to be useful in rheumatoid arthritis, especially in early stages to predict radiographic progression. In 2013, Baker et al showed that high baseline score and poor improvement over the first 24 weeks in synovitis and in bone edema were independent predictors of radiographic progression at 1 year.[12] An increase in bone erosion of greater than 0.5 at weeks 12 and 24 also predicted progression. In addition, radiographic and MRI progression at 1 year were associated with poor 12-week improvement in bone edema. As these early changes in MRI scans predicted the future progression, this investigation is valuable in shorter-duration studies to determine the efficacy of rheumatoid arthritis therapies in preventing structural damage.
References
Weiss AP. Osteoarthritis of the wrist. Instr Course Lect. 2004. 53:31-40. [Medline].

Hamalainen M, Kammonen M, Lehtimaki M, et al. Epidemiology of wrist involvement in rheumatoid arthritis. J Rheumatol. 1992. 17:1-7.

Clayton ML, Ferlic DC. Arthrodesis of the arthritic wrist. Clin Orthop Relat Res. 1984 Jul-Aug. 89-93. [Medline].

Watson HK, Goodman ML, Johnson TR. Limited wrist arthrodesis. Part II: Intercarpal and radiocarpal combinations. J Hand Surg Am. 1981 May. 6(3):223-33. [Medline].

Ma JD, Wei XN, Zheng DH, Mo YQ, Chen LF, Zhang X, et al. Continuously elevated serum matrix metalloproteinase-3 for 3 ~ 6 months predict one-year radiographic progression in rheumatoid arthritis: a prospective cohort study. Arthritis Res Ther. 2015 Oct 14. 17:289. [Medline].

Schwenzer NF, Kötter I, Henes JC, Schraml C, Fritz J, Claussen CD, et al. The role of dynamic contrast-enhanced MRI in the differential diagnosis of psoriatic and rheumatoid arthritis. AJR Am J Roentgenol. 2010 Mar. 194(3):715-20. [Medline].

Zierhut ML, Gardner JC, Spilker ME, Sharp JT, Vicini P. Kinetic modeling of contrast-enhanced MRI: an automated technique for assessing inflammation in the rheumatoid arthritis wrist. Ann Biomed Eng. 2007 May. 35(5):781-95. [Medline].

Xanthopoulos E, Hutchinson CE, Adams JE, Bruce IN, Nash AF, Holmes AP, et al. Improved wrist pannus volume measurement from contrast-enhanced MRI in rheumatoid arthritis using shuffle transform. Magn Reson Imaging. 2007 Jan. 25(1):110-6. [Medline].

Feydy A, Pluot E, Guerini H, Drapé JL. Role of imaging in spine, hand, and wrist osteoarthritis. Rheum Dis Clin North Am. 2009 Aug. 35(3):605-49. [Medline].

Taljanovic MS, Melville DM, Gimber LH, Scalcione LR, Miller MD, Kwoh CK, et al. High-Resolution US of Rheumatologic Diseases. Radiographics. 2015 Nov-Dec. 35 (7):2026-48. [Medline].

Ichikawa S, Kamishima T, Sutherland K, Okubo T, Katayama K. Radiographic Quantifications of Joint Space Narrowing Progression by Computer-based Approach Using Temporal Subtraction in Rheumatoid Wrist. Br J Radiol. 2015 Oct 20. 20150403. [Medline].

Baker JF, Ostergaard M, Emery P, Hsia EC, Lu J, Baker DG, et al. Early MRI measures independently predict 1-year and 2-year radiographic progression in rheumatoid arthritis: secondary analysis from a large clinical trial. Ann Rheum Dis. July 2013. [Epub ahead of print]:[Medline].

Adams BD. Surgical management of the arthritic wrist. Instr Course Lect. 2004. 53:41-5. [Medline].

Bhamra J, Bhamra K, Hindocha S, Khan W. "The Role of Wrist Fusion and Wrist Arthroplasty in Rheumatoid Arthritis". Curr Rheumatol Rev. 2015 Oct 26. [Medline].

Willis AA, Berger RA, Cooney WP 3rd. Arthroplasty of the distal radioulnar joint using a new ulnar head endoprosthesis: preliminary report. J Hand Surg Am. 2007 Feb. 32(2):177-89. [Medline].

Sammer DM, Shin AY. Comparison of arthroscopic and open treatment of septic arthritis of the wrist. Surgical technique. J Bone Joint Surg Am. 2010 Mar. 92 Suppl 1 Pt 1:107-13. [Medline].

Bedford B, Yang SS. High fusion rates with circular plate fixation for four-corner arthrodesis of the wrist. Clin Orthop Relat Res. 2010 Jan. 468(1):163-8. [Medline]. [Full Text].

Field J, Herbert TJ, Prosser R. Total wrist fusion. A functional assessment. J Hand Surg Br. 1996 Aug. 21(4):429-33. [Medline].

Kistler U, Weiss AP, Simmen BR, Herren DB. Long-term results of silicone wrist arthroplasty in patients with rheumatoid arthritis. J Hand Surg Am. 2005 Nov. 30(6):1282-7. [Medline].

Kwon BC, Choi SJ, Shin J, Baek GH. Proximal row carpectomy with capsular interposition arthroplasty for advanced arthritis of the wrist. J Bone Joint Surg Br. 2009 Dec. 91(12):1601-6. [Medline].

Garcia-Elias M. Eclypse: partial ulnar head replacement for the isolated distal radio-ulnar joint arthrosis. Tech Hand Up Extrem Surg. 2007 Mar. 11(1):121-8. [Medline].

van Winterswijk PJ, Bakx PA. Promising clinical results of the universal total wrist prosthesis in rheumatoid arthritis. Open Orthop J. 2010 Feb 17. 4:67-70. [Medline]. [Full Text].

Vance MC, Packer G, Tan D, Crisco JJ, Wolfe SW. Midcarpal hemiarthroplasty for wrist arthritis: rationale and early results. J Wrist Surg. Aug 2012. 1(1):61-68. [Medline].
Medscape Reference © 2011 WebMD, LLC