Gallbladder Mucocele Treatment & Management
Author: R Vijayaraghavan, MBBS, MS, FRCS(Edin); Chief Editor: John Geibel, MD, DSc, MSc, MA more...
Updated: Jun 20, 2016
What would you like to print?
Approach Considerations
Contraindications to surgical treatment of gallbladder mucocele would obviously include any associated medical conditions or illnesses that preclude surgery. No absolute contraindication to surgical treatment exists.
Laboratory research suggests that chemical ablation of the gallbladder mucosa may be an alternative in patients who are medically unfit, elderly, or critically ill. A combination of ethanol, sodium tetradecyl sulfate, and mucosal exfoliant has been successfully tried in rats.[1, 2, 3, 10]
A medical line of management with oral dissolution therapy should not be considered in patients with obstructed gallbladders. In acalculous hydrops observed in children as a part of a wider spectrum, expectant management may be considered.
Cholecystectomy and Cholecystostomy
Cholecystectomy is the definitive treatment for an obstructed gallbladder. Laparoscopic cholecystectomy (see the images below) is the criterion standard procedure.[11, 12, 13] A 2009 study derived from database information and a literature review found evidence that even when gallstones are absent in patients with right-upper-quadrant (RUQ) pain and a positive hepato-iminodiacetic acid (HIDA) scan, symptom relief is more likely to occur after cholecystectomy than it is after medical treatment.[14]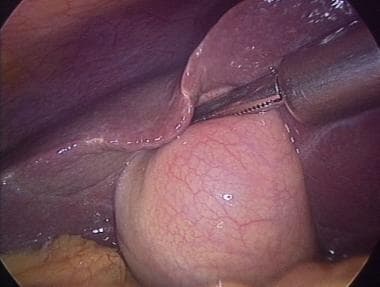 Laparoscopic view of distended gallbladder in woman aged 70 years with sudden onset of severe right upper abdominal pain.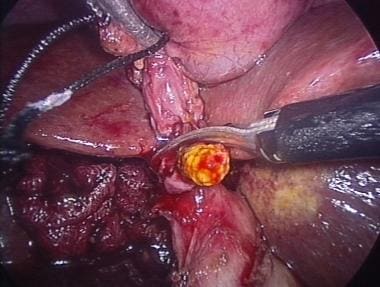 Stone being extracted from cystic duct through small ductotomy.
Open cholecystectomy may be performed in patients who have a very large gallbladder, greatly thickened gallbladder walls, or an obliterated triangle of Calot. In such cases, laparoscopic dissection may be difficult and time-consuming.
In patients with systemic signs and symptoms, preoperative management should include correction of hydration, nasogastric drainage (if necessary), and appropriate broad-spectrum antibiotic therapy. Preferably, cholecystectomy is carried out during the same admission.
Intraoperative aspiration of the large gallbladder helps facilitate grasping the gallbladder for dissection. The aspirate is clear and watery or mucoid (white bile). Intraoperative cholangiography may be indicated, depending on clinical and investigative features that may suggest obstruction of the common bile duct.
Upon being opened, the gallbladder shows a white wall, clear and watery or mucoid content, a stone or stones impacted in the neck or cystic duct, a narrowed cystic duct, or a tumor or polyp causing obstruction of the neck of the gallbladder.
In some patients, percutaneous (ultrasonographically guided) or open cholecystostomy may be used as a temporary measure. Cholecystostomy is usually performed in cases where the patient is very sick or the dissection is technically very difficult; in such instances, if the surgeon is an expert, laparoscopic subtotal cholecystectomy also can be performed. A subsequent completion cholecystectomy may be carried out once the patient's initial condition improves.[1]
Endoscopic ultrasound (EUS)-guided endoluminal approaches to gallbladder drainage have been described.[15]
References
Agrawal S, Jonnalagadda S. Gallstones, from gallbladder to gut. Management options for diverse complications. Postgrad Med. 2000 Sep 1. 108(3):143-6, 149-53. [Medline].

Feldman M, ed. Sleisenger and Fordtran's Gastrointestinal and Liver disease. 6th ed. Philadelphia, Pa: WB Saunders Company; 1998.

Rosen P, Barkin R. Emergency Medicine: Concepts and Clinical Practice. 4th ed. St. Louis, Mo: Mosby-Year Book Inc; 1998.

Damjanov I, Linder J. Diseases of the digestive system: gallbladder and extrahepatic ducts. Anderson's Pathology. 10th ed. St. Louis, Mo: Mosby-Year Book; 1996. vol 2:

Wight DGD, Symmers WS, eds. Systemic pathology. The Liver, Biliary Tract and Exocrine Pancreas. 3rd ed. Philadelphia, Pa: Churchill Livingstone; 1994. vol 11:

Maurer K, Unsinn KM, Waltner-Romen M, et al. Segmental bowel-wall thickening on abdominal ultrasonography: an additional diagnostic sign in Kawasaki disease. Pediatr Radiol. 2008 Sep. 38(9):1013-6. [Medline].

Rosai J. Rosai and Ackerman's Surgical Pathology. 9th ed. New York, NY: Mosby; 2004. vol 1: 1039.

Mofti AB, Al-Momen A, Suleiman SI, et al. The single gallbladder stone - is it innocent?. Ann Saudi Med. 1994 Nov. 14(6):471-3. [Medline].

Vijayaraghavan R, Belagavi CS. Double gallbladder with different disease entities: a case report. J Min Access Surg. 2006. 2:23-6. [Full Text].

Majeed AW, Reed MW, Stephenson TJ, Johnson AG. Chemical ablation of the gallbladder. Br J Surg. 1997 May. 84(5):638-41. [Medline].

Georgiades CP, Mavromatis TN, Kourlaba GC, et al. Is inflammation a significant predictor of bile duct injury during laparoscopic cholecystectomy?. Surg Endosc. 2008 Sep. 22(9):1959-64. [Medline].

Popkharitov AI. Laparoscopic cholecystectomy for acute cholecystitis. Langenbecks Arch Surg. 2008 Nov. 393(6):935-41. [Medline].

Gurusamy KS, Samraj K, Fusai G, et al. Robot assistant for laparoscopic cholecystectomy. Cochrane Database Syst Rev. 2009 Jan 21. CD006578. [Medline].

Mahid SS, Jafri NS, Brangers BC, et al. Meta-analysis of cholecystectomy in symptomatic patients with positive hepatobiliary iminodiacetic acid scan results without gallstones. Arch Surg. 2009 Feb. 144(2):180-7. [Medline].

Widmer J, Singhal S, Gaidhane M, Kahaleh M. Endoscopic ultrasound-guided endoluminal drainage of the gallbladder. Dig Endosc. 2014 Jul. 26 (4):525-31. [Medline].
Medscape Reference © 2011 WebMD, LLC