Video-Assisted Thoracoscopy
Author: Doraid Jarrar, MD; Chief Editor: Zab Mosenifar, MD, FACP, FCCP more...
Updated: Dec 30, 2013
What would you like to print?
Overview
Background
Video-assisted thoracoscopic surgery (VATS) is minimally invasive thoracic surgery that does not use a formal thoracotomy incision. VATS provides adequate visualization despite limited access to the thorax, allowing the procedure to be performed in a state of debilitation and for patients who have marginal pulmonary reserve.[1]
VATS is principally employed in the management of pulmonary, mediastinal, and pleural pathology (see the images below). Its main benefit has been the avoidance of a thoracotomy incision, which allows a shorter operative time, less postoperative morbidity, and earlier return to normal activity than with thoracotomy.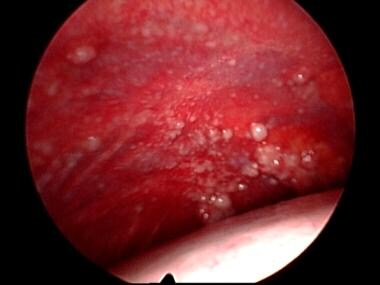 Examination for evidence of metastasis.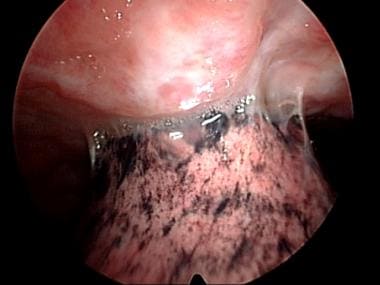 Pleural adhesions on medical thoracoscopy.
The first clinical application of VATS dates back to 1913, when adhesiolysis was performed to enhance pneumothorax therapy of tuberculosis via a cystoscope introduced into the pleural cavity.[1] VATS is now an established and widely used minimally invasive approach to diseases of the chest.
Compared to conventional thoracotomy, VATS lobectomy has resulted in better preservation of pulmonary function.[2] In addition, overall surgical mortality is 0-2% for VATS, which compares favorably to the conventional thoracotomy technique.[3]
Indications
VATS is used in both diagnostic and therapeutic pleural, lung, and mediastinal surgery. Specific indications include the following:
Contraindications
Absolute contraindications include the following:
Markedly unstable or shocked patient

Extensive adhesions obliterating the pleural space

Prior talc pleurodesis
Relative contraindications include the following:
Inability to tolerate single lung ventilation

Extensive pleural diseases

Coagulopathy

Prior radiation treatment for thoracic malignancy; plan to resect
Periprocedural Care
Equipment
Equipment for VATS includes the following:
5- or 10-mm video thoracoscope, with a 0- or 30-degree lens and a three-chip charge-coupled device video camera

Sponge-holding forceps

Long-blade diathermy pen

Endoscopic biopsy forceps (for simple pleural biopsy)

Endoscopic staple-transection devices (for lung wedge resection)

Rigid or flexible trocar cannula and/or sterile plastic bag

Thoracotomy tray

Chest tube drainage device with water seal

Suction source and tubing

Sterile gloves

Sterile drapes

Gauze squares
Patient Preparation
Anesthesia
For most VATS procedures, general anesthesia with selective single lung ventilation using a double-lumen endobronchial tube is preferred. Left-sided intubation is usually performed unless a left pneumonectomy is anticipated. A single-lumen endotracheal tube with a bronchial blocker is an acceptable alternative.
For treatment of pleural effusions and sympathectomy, single lung ventilation with low tidal volumes is a better option and allows adequate visualization of the pleural space. Moreover, CO 2 can be insufflated to facilitate partial collapse of the lung.
For pediatric patients, a single-lumen tube is used with the tip placed into the contralateral mainstem bronchus.
For major lung resections, typed and cross-matched blood should be available.
Two large-bore intravenous lines and an arterial line should be also placed.
Positioning
The patient is turned to a full lateral decubitus position and the operating table is flexed to widen the rib spaces on the operation side.
The positions of the surgeon and assistant depend on the site of the pathology as suggested by preoperative imaging.
The surgeon stands facing the site of the pathology with the camera-holding assistant on the same side.
The television monitor is positioned so that the surgeon, the site of pathology, and the monitor are aligned to allow the surgeon to look straight ahead when operating.
Alternatively, the patient can be positioned supine with a roll under his back to bump him up and gain access to the pleural space from a more anterior approach.
Thorascopic evaluation on the nonintubated patient under monitored anesthesia care has been described.[4]
Complications
Complications may include the following:
Persistent air leak

Bleeding from pulmonary vessels

Intercostal nerve damage due to insertion of instruments through the ports

Complications from single lung ventilation, including respiratory insufficiency or postoperative re-expansion pulmonary edema

Tumor implantation following VATS
Technique
Approach Considerations
Procedural limitations may include difficulty in controlling bleeding and a lack of intraoperative palpation.
VATS Approach
One to four incisions are used in thorascopic procedures.
For drainage of pleural effusions, it is sufficient to use one small incision to accommodate the 10-mm offset scope, evacuate the effusion, and use the talc poudrage and chest tube.
For a VATS lobectomy, 4 incisions are usually used. The largest incision is about 4 cm long.
Incisions are made in a triangulated fashion, with the incisions at least 5 cm apart so that the instruments do not cross.
This so-called baseball diamond approach aligns the camera and instruments to manipulate the lung and perform a resection.
For single incision cases, curved instruments are helpful.
Indications for Conversion from VATS to Thoracotomy
Indications for conversion from VATS to thoracotomy include the following:
Inability to achieve one-lung ventilation

Extensive pleural adhesions

Uncontrolled or significant intraoperative bleeding

Inability to identify a target lesion for biopsy

Technical difficulties with or primary failure of video equipment and/or endoscopic instruments
Medscape Reference © 2011 WebMD, LLC