Radiation Enteritis and Proctitis Workup
Author: Neelu Pal, MD; Chief Editor: John Geibel, MD, DSc, MSc, MA  more...
Updated: Dec 14, 2015
What would you like to print?
Laboratory Studies
In patients with acute radiation-induced intestinal injury, the complete blood count (CBC) and differential count may be within the reference range. With chronic injury, anemia may be noted because of chronic blood loss and malnutrition.[17] Elevated white blood cell (WBC) counts are observed with small-bowel obstruction and intra-abdominal sepsis because of bowel perforation or necrosis.
Complete metabolic panel results reveal electrolyte abnormalities.
Patients with chronic malnutrition because of malabsorption have abnormal liver function test results and coagulation profiles.
Other Tests
Radiation-induced enteric injury leads to extensive intestinal functional abnormalities, resulting in decreased bile acid and vitamin B12 absorption, increased fecal fat excretion, and increased lactose malabsorption. These factors combine to cause rapid small intestinal and whole gut transit, resulting in chronic diarrhea. Decreased bile salt reabsorption causes a cathartic reaction in the colon, contributing to diarrhea. Bile acid breath tests or direct measurement of bile acids in stool may be used to evaluate the alteration in bile salt metabolism by colonic bacteria.
Selenium-75 homocholic acid taurine (SeHCAT) is a synthetic conjugated bile acid that is resistant to deconjugation and dehydroxylation. SeHCAT may be used to evaluate the active transport of bile acids in the terminal ileum. Patients with poor SeHCAT absorption and retention respond well to cholestyramine treatment. SeHCAT may also be used to evaluate the effectiveness of antidiarrheal agents in reducing transit time and in improving bile acid reabsorption.
Imaging Studies
In the presence of mild intestinal injury, findings from plain abdominal radiography are nonspecific. Dilated bowel loops with air-fluid levels indicate bowel obstruction. Free air indicates perforation in severe acute or chronic enteropathy, especially in the presence of associated bowel obstruction.
Because most patients have undergone prior surgery, computed tomography (CT) of the abdomen and pelvis is the best study to reveal bowel obstruction. CT may differentiate a partial obstruction from a complete obstruction, as well as define the site of obstruction. Additionally, recurrent malignancy may often be identified. Most patients with obstructive symptoms because of radiation injury present with recurrent, partial obstructions. Patients who present with complete bowel obstructions require surgical exploration and definitive treatment based on the pathology encountered.
Upper gastrointestinal (GI) barium examinations with small intestinal follow-through accurately define the location, extent, and nature of stenotic lesions (see the image below). Mucosal patterns of affected bowel mimic those of inflammatory bowel disease (ie, thickened valvulae conniventes, mural thickening with thumb printing resulting from edema of the submucosa, infiltration of the intestinal wall with fibrotic tissue). Other findings include sinuses and fistulas, variable areas of barium pooling, and rapid intestinal transit of contrast agents.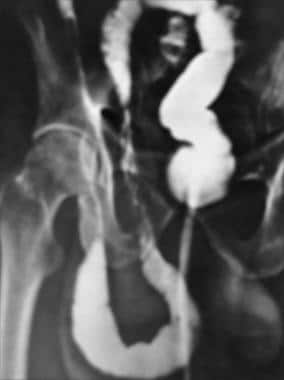 Contrast study of the small bowel revealing areas of extensive strictures with a loop of bowel fixed in the pelvis.
Endoscopy
Endoscopy is generally avoided in the acute phases of radiation enteritis because of the risk of perforation. Colonoscopy may be necessary to establish a diagnosis or to treat hemorrhage. In these instances, endoscopy is performed cautiously, with minimal bowel insufflation. The intestinal and rectal mucosa is friable and edematous, with areas of superficial ulceration. In severe acute radiation injury, the mucosa may be intensely inflamed, with diffuse duskiness, edema, and extensive ulcerations (see the image below).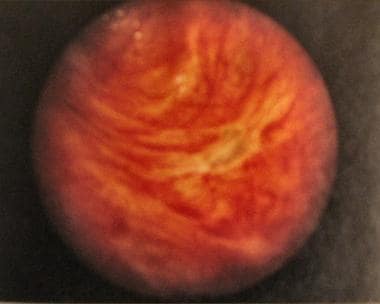 Diffuse inflammation and areas of superficial ulceration observed endoscopically in acute radiation enteritis.
Pale, thin, friable mucosa with prominent submucosal telangiectasias characterize the endoscopic findings in chronic radiation enteropathy. Smooth, symmetric strictures and areas of ulcerations and fistulas may be identified endoscopically. Bowel-wall biopsy samples are often necessary to differentiate areas of radiation injury from recurrent or de-novo malignancy.
Small-bowel capsule endoscopy is increasingly used to reveal areas of bleeding within the small bowel that are not accessible with traditional endoscopy. Although described in the literature, the use of capsule endoscopy to reveal strictures and fistulas is controversial. The capsule endoscope may become impacted in a stenotic area, risking complete bowel obstruction; therefore, in instances of bowel obstruction, the usefulness of small-bowel capsule endoscopy is limited.
Histologic Findings
Mucosal inflammation with necrosis and ulceration characterize the histologic findings of acute enteritis and colitis. These findings usually appear within 2 week of cessation of therapy and gradually resolve over the next few months with mucosal regeneration. The epithelial cells lining the intestinal crypts demonstrate marked enlargement with depletion of mucin and large atypical nuclei. Despite the intense inflammatory reaction, the general mucosal architecture is preserved, the low nuclear-cytoplasmic ratio is preserved, and no mitotic figures are present. These features help distinguish the radiation-injured intestine from malignancy.
The hallmarks of chronic radiation-induced intestinal injury are as follows:
Obliterative arteritis

Connective tissue fibrosis

Atrophy of the overlying mucosa
The blood vessels in the lamina propria and submucosa are ectatic with intimal fibroplasias, accumulation of foamy macrophages, and hyalin thickening of the vessel walls. All of these changes effectively result in luminal stenosis. Fibrosis of the connective tissue of the submucosa, muscularis propria, and serosa has a hyalinized appearance with large, atypical radiation fibroblasts. The appearance of these cells is typical of, though not pathognomonic for, radiation-induced injury. Many of the delayed complications of radiation exposure may be attributed to the ischemia related to vascular changes.
Staging
The Radiation Therapy Oncology Group (RTOG) and the European Organization for Research and Treatment of Cancer (EORTC) have developed a scoring system for organ-specific radiation-related morbidity according to symptom severity (see Table 1 below).
Table 1. Scoring System for Organ-Specific Radiation-Related Morbidity (Open Table in a new window)
| | | | | | | |
| --- | --- | --- | --- | --- | --- | --- |
|   | Grade 0 | Grade 1 | Grade 2 | Grade 3 | Grade 4 | Grade 5 |
| Signs and symptoms | None | Mild diarrhea, mild cramping, bowel movements 5 times per day, slight rectal discharge or bleeding | Moderate diarrhea and colic, bowel movements >5 times per day, excessive rectal mucus or intermittent bleeding | Obstruction or bleeding requiring surgery | Necrosis, perforation, fistula | Death directly related to late effects of radiation |
References
Shadad AK, Sullivan FJ, Martin JD, Egan LJ. Gastrointestinal radiation injury: symptoms, risk factors and mechanisms. World J Gastroenterol. 2013 Jan 14. 19 (2):185-98. [Medline].

Shadad AK, Sullivan FJ, Martin JD, Egan LJ. Gastrointestinal radiation injury: prevention and treatment. World J Gastroenterol. 2013 Jan 14. 19 (2):199-208. [Medline].

Kalaiselvan R, Theis VS, Dibb M, Teubner A, Anderson ID, Shaffer JL, et al. Radiation enteritis leading to intestinal failure: 1994 patient-years of experience in a national referral centre. Eur J Clin Nutr. 2013 Dec 11. [Medline].

Walsh D. Deep tissue traumatism from roentgen ray exposure. Br Med J. 1897. 2:272.

Warren S, Friedman NB. Pathology and Pathologic Diagnosis of Radiation Lesions in the Gastro-Intestinal Tract. Am J Pathol. 1942 May. 18 (3):499-513. [Medline].

Freund H, Gunderson L, Krause R, et al. Prevention of radiation enteritis after abdominoperineal resection and radiotherapy. Surg Gynecol Obstet. 1979 Aug. 149(2):206-8. [Medline].

DeLuca FR, Ragins H. Construction of an omental envelope as a method of excluding the small intestine from the field of postoperative irradiation to the pelvis. Surg Gynecol Obstet. Apr/1985. 160(4):365-6. [Medline].

Lechner P, Cesnik H. Abdominopelvic omentopexy: preparatory procedure for radiotherapy in rectal cancer. Dis Colon Rectum. 1992 Dec. 35(12):1157-60. [Medline].

Choi HJ, Lee HS. Effect of omental pedicle hammock in protection against radiation-induced enteropathy in patients with rectal cancer. Dis Colon Rectum. 1995 Mar. 38(3):276-80. [Medline].

Lavery IC, Harford FJ Jr, Fazio VW. Protection of the intestine during radiation of the pelvic bone. Surg Gynecol Obstet. 1979 Jul. 149(1):33-5. [Medline].

Sugarbaker PH. Intrapelvic prosthesis to prevent injury of the small intestine with high dosage pelvic irradiation. Surg Gynecol Obstet. 1983 Sep. 157(3):269-71. [Medline].

Devereux DF, Kavanah MT, Feldman MI, et al. Small bowel exclusion from the pelvis by a polyglycolic acid mesh sling. J Surg Oncol. 1984 Jun. 26(2):107-12. [Medline].

Deore SM, Shrivastava SK, Supe SJ, et al. Alpha/beta value and importance of dose per fraction for the late rectal and recto-sigmoid complications. Strahlenther Onkol. 1993 Sep. 169(9):521-6. [Medline].

Abayomi J, Kirwan J, Hackett A. The prevalence of chronic radiation enteritis following radiotherapy for cervical or endometrial cancer and its impact on quality of life. Eur J Oncol Nurs. 2009 Sep. 13(4):262-7. [Medline].

Sampath S, Schultheiss TE, Hitchcock YJ, Randall RL, Shrieve DC, Wong JY. Preoperative versus postoperative radiotherapy in soft-tissue sarcoma: multi-institutional analysis of 821 patients. Int J Radiat Oncol Biol Phys. 2011 Oct 1. 81(2):498-505. [Medline].

Ruiz-Tovar J, Morales V, Hervas A, et al. Late gastrointestinal complications after pelvic radiotherapy: radiation enteritis. Clin Transl Oncol. 2009 Aug. 11(8):539-43. [Medline].

Webb GJ, Brooke R, De Silva AN. Chronic radiation enteritis and malnutrition. J Dig Dis. 2013 Jul. 14(7):350-7. [Medline].

Vidal-Casariego A, Calleja-Fernández A, de Urbina-González JJ, Cano-Rodríguez I, Cordido F, Ballesteros-Pomar MD. Efficacy of Glutamine in the Prevention of Acute Radiation Enteritis: A Randomized Controlled Trial. JPEN J Parenter Enteral Nutr. 2013 Mar 7. [Medline].

Garcia-Peris P, Velasco C, Hernandez M, Lozano MA, Paron L, de la Cuerda C, et al. Effect of inulin and fructo-oligosaccharide on the prevention of acute radiation enteritis in patients with gynecological cancer and impact on quality-of-life: a randomized, double-blind, placebo-controlled trial. Eur J Clin Nutr. 2015 Nov 25. [Medline].

Scartoni D, Desideri I, Giacomelli I, DI Cataldo V, DI Brina L, Mancuso A, et al. Nutritional Supplement Based on Zinc, Prebiotics, Probiotics and Vitamins to Prevent Radiation-related Gastrointestinal Disorders. Anticancer Res. 2015 Oct. 35 (10):5687-92. [Medline].

Brooks JP, Perry BW. Radiation injury to the small and large bowel. Cameron JL. Current Surgical Therapy. 8. USA: Mosby; 2004. 43.

Buie LA, Malmgren GE. Factitial proctitis. Trans Am Proctol Soc. 1930. 29:80.

Busch DB. Radiation and chemotherapy injury: pathophysiology, diagnosis, and treatment. Crit Rev Oncol Hematol. Aug/1993. 15(1):49-89. [Medline].

Cho LC, Antoine JE. Radiation Injury to the Gastrointestinal Tract. Feldman M, Friedman LS, Brandt LJ. Sleisenger and Fordtran's Gastrointestinal and Liver Disease. 8. Canada: W.B. Saunders; 2006. 2: 38/813-820.

Cox JD, Stetz J, Pajak TF. Toxicity criteria of the Radiation Therapy Oncology Group (RTOG) and the European Organization for Research and Treatment of Cancer (EORTC). Int J Radiat Oncol Biol Phys. 1995 Mar 30. 31(5):1341-6. [Medline].

Cross MJ, Frazee RC. Surgical treatment of radiation enteritis. Am Surg. Feb/1992. 58(2):132-5. [Medline].

Deveney CW, Lewis FR Jr, Schrock TR. Surgical management of radiation injury of the small and large intestine. Dis Colon Rectum. 1976 Jan-Feb. 19(1):25-9. [Medline].

Draper KR, Sharp KW. Radiation Enteritis. Zuidema GA, Yeo CJ. Zuidema: Shackelford's Surgery of the Alimentary Tract. 5. USA: W. B. Saunders; 2002. 2: 31.

Eifel PJ, Levenback C, Wharton JT, et al. Time course and incidence of late complications in patients treated with radiation therapy for FIGO stage IB carcinoma of the uterine cervix. Int J Radiat Oncol Biol Phys. 1995 Jul 30. 32(5):1289-300. [Medline].

Fransson P, Widmark A. Late side effects unchanged 4-8 years after radiotherapy for prostate carcinoma: a comparison with age-matched controls. Cancer. 1999 Feb 1. 85(3):678-88. [Medline].

Franz K, Orth J Falleiner. Roentgen shading. Klin Wochenschr. 1917. 45:662.

Galland RB, Spencer J. Natural history and surgical management of radiation enteritis. Br J Surg. 1987 Aug. 74(8):742-7. [Medline].

Harling H, Balslev I. Long-term prognosis of patients with severe radiation enteritis. Am J Surg. 1988 Mar. 155(3):517-9. [Medline].

Keefe DM, Schubert MM, Elting LS, et al. Updated clinical practice guidelines for the prevention and treatment of mucositis. Cancer. 2007 Mar 1. 109(5):820-31. [Medline].

Kinsella TJ, Bloomer WD. Tolerance of the intestine to radiation therapy. Surg Gynecol Obstet. 1980 Aug. 151(2):273-84. [Medline].

Kneebone A, Mameghan H, Bolin T, et al. The effect of oral sucralfate on the acute proctitis associated with prostate radiotherapy: a double-blind, randomized trial. Int J Radiat Oncol Biol Phys. 2001 Nov 1. 51(3):628-35. [Medline].

Letschert JG, Lebesque JV, Aleman BM, et al. The volume effect in radiation-related late small bowel complications: results of a clinical study of the EORTC Radiotherapy Cooperative Group in patients treated for rectal carcinoma. Radiother Oncol. 1994 Aug. 32(2):116-23. [Medline].

Letschert JG, Lebesque JV, de Boer RW, et al. Dose-volume correlation in radiation-related late small-bowel complications: a clinical study. Radiother Oncol. 1990 Aug. 18(4):307-20. [Medline].

Lorusso D, Ferrandina G, Greggi S, et al. Phase III multicenter randomized trial of amifostine as cytoprotectant in first-line chemotherapy in ovarian cancer patients. Ann Oncol. 2003 Jul. 14(7):1086-93. [Medline]. [Full Text].

Ludgate SM, Merrick MV. The pathogenesis of post-irradiation chronic diarrhoea: measurement of SeHCAT and B12 absorption for differential diagnosis determines treatment. Clin Radiol. 1985 May. 36(3):275-8. [Medline].

Mak AC, Rich TA, Schultheiss TE, et al. Late complications of postoperative radiation therapy for cancer of the rectum and rectosigmoid. Int J Radiat Oncol Biol Phys. 1994 Feb 1. 28(3):597-603. [Medline].

Mameghan H, Fisher R, Mameghan J, et al. Bowel complications after radiotherapy for carcinoma of the prostate: the volume effect. Int J Radiat Oncol Biol Phys. 1990 Feb. 18(2):315-20. [Medline].

Mendelson RM, Nolan DJ. The radiological features of chronic radiation enteritis. Clin Radiol. 1985 Mar. 36(2):141-8. [Medline].

Morgenstern L, Thompson R, Friedman NB. The modern enigma of radiation enteropathy: sequelae and solutions. Am J Surg. 1977 Jul. 134(1):166-72. [Medline].

Ooi BS, Tjandra JJ, Green MD. Morbidities of adjuvant chemotherapy and radiotherapy for resectable rectal cancer: an overview. Dis Colon Rectum. 1999 Mar. 42(3):403-18. [Medline].

Perez CA, Lee HK, Georgiou A, et al. Technical factors affecting morbidity in definitive irradiation for localized carcinoma of the prostate. Int J Radiat Oncol Biol Phys. 1994 Mar 1. 28(4):811-9. [Medline].

Potish RA, Jones TK Jr, Levitt SH. Factors predisposing to radiation-related small-bowel damage. Radiology. 1979 Aug. 132(2):479-82. [Medline].

Regimbeau JM, Panis Y, Gouzi JL, et al. Operative and long term results after surgery for chronic radiation enteritis. Am J Surg. 2001 Sep. 182(3):237-42. [Medline].

Saclarides T. Radiation injuries of the Rectum. Zuidema GA, Yeo CJ. Shackelford's Surgery of the Alimentary Tract. 5. USA: W.B. Saunders; 2002. 2: 34.

Saclarides TJ. Radiation injuries of the gastrointestinal tract. Surg Clin North Am. 1997 Feb. 77(1):261-8. [Medline].

Shiraishi M, Hiroyasu S, Ishimine T, et al. Radiation enterocolitis: overview of the past 15 years. World J Surg. 1998 May. 22(5):491-3. [Medline].

Sigmon WR, Randall ME, Olds WW, et al. Increased chronic bowel complications with split-course pelvic irradiation. Int J Radiat Oncol Biol Phys. 1994 Jan 15. 28(2):349-53. [Medline].

Waddell BE, Lee RJ, Rodriguez-Bigas MA, et al. Absorbable mesh sling prevents radiation-induced bowel injury during "sandwich" chemoradiation for rectal cancer. Arch Surg. 2000 Oct. 135(10):1212-7. [Medline].

Waddell BE, Rodriguez-Bigas MA, Lee RJ, et al. Prevention of chronic radiation enteritis. J Am Coll Surg. Dec/1999. 189(6):611-24. [Medline].

Yeoh E, Horowitz M, Russo A, et al. Effect of pelvic irradiation on gastrointestinal function: a prospective longitudinal study. Am J Med. 1993 Oct. 95(4):397-406. [Medline].

Yeoh E, Sun WM, Russo A, Ibanez L, et al. A retrospective study of the effects of pelvic irradiation for gynecological cancer on anorectal function. Int J Radiat Oncol Biol Phys. 1996 Jul 15. 35(5):1003-10. [Medline].

Zhang H, Williams GM. Capillary and venule proliferation in the healing process of Dacron venous grafts in rats. Surgery. 1992 Apr. 111(4):409-15. [Medline].
Table 1. Scoring System for Organ-Specific Radiation-Related Morbidity
| | | | | | | |
| --- | --- | --- | --- | --- | --- | --- |
|   | Grade 0 | Grade 1 | Grade 2 | Grade 3 | Grade 4 | Grade 5 |
| Signs and symptoms | None | Mild diarrhea, mild cramping, bowel movements 5 times per day, slight rectal discharge or bleeding | Moderate diarrhea and colic, bowel movements >5 times per day, excessive rectal mucus or intermittent bleeding | Obstruction or bleeding requiring surgery | Necrosis, perforation, fistula | Death directly related to late effects of radiation |
Table 2. Surgical Procedures to Prevent Radiation Enteritis
Native tissue
Prosthetic materials
Reperitonealization procedures
Omentum-based procedures
Peritoneum and posterior rectus sheath
Omental transposition flap
Synthetic pelvic mold (spacer)
Uterine broad ligaments
Omentopexy - Omental apron or envelope
Saline-filled tissue expanders
Bladder
Omental hammock or sling
Absorbable mesh sling
Table 3. Surgical Procedures to Treat Complications of Radiation Enteritis
Obstruction
Fistula
Perforation
Hemorrhage
Resection and anastomosis
Resection and anastomosis
Resection and anastomosis
Resection and anastomosis
Bypass of multiple/long strictures
Bypass of fistula area
 
 
Strictureplasty
Diversion with proximal ostomy
 
 
Diversion with proximal ostomy
 
Table 4. Surgical Treatment of Radiation Proctitis Complications
Hemorrhagic proctitis
Rectovaginal fistulas and strictures
Transabdominal procedures
Perineal procedures
Proctectomy with coloanal anastomosis
Proctectomy with coloanal anastomosis
Transanal flap
Proctectomy with end colostomy
Proctectomy with end colostomy
Transvaginal flap
 
Colonic J-pouch-anal anastomosis
 
 
Ileocecal reservoir
 
 
Sigmoid colon onlay patch (Bricker-Johnston)
 
Medscape Reference © 2011 WebMD, LLC