Factor IX Deficiency Follow-up
Author: Robert A Schwartz, MD, MPH; Chief Editor: Srikanth Nagalla, MBBS, MS, FACP more...
Updated: Jun 17, 2016
What would you like to print?
Further Outpatient Care
Home care programs with self-infusion of FIX concentrate at the earliest sign of bleeding have medical and psychological benefits to the patient. Home care allows prompt care for bleeding, minimizes delays, and reduces complications. Home care must be undertaken with caution and combined with intensive education, supervision, and support, with selection of appropriate patients for home care. The images below demonstrate tourniquet application prior to self-infusion.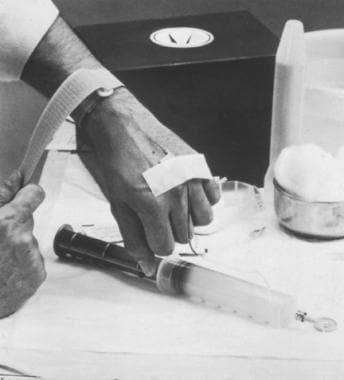 Application of Velcro tourniquet followed by self-infusion of concentrate as part of home therapy.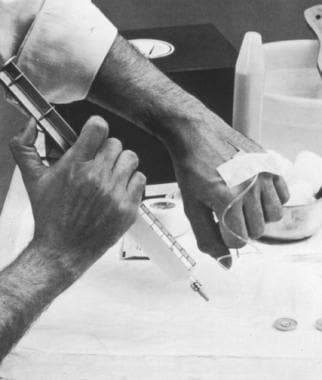 Application of Velcro tourniquet followed by self-infusion of concentrate as part of home therapy.
Complete annual physical examinations are performed, with laboratory testing for inhibitors, hepatitis, HIV, and other tests as needed. In addition, routine care as given to other patients, ie, mammography, rectal examination, prostate-specific antigen level, colonoscopy, and dental care should be undertaken.
Prophylactic care includes vaccination for hepatitis A and B, routine dental care, orthopedic care, physical therapy, and psychosocial and economic support. Although hepatitis A is transmitted infrequently by transfusion, superimposition of hepatitis A in a patient with chronic hepatitis increases the risk of acute hepatic failure.[27]
Further Inpatient Care
Patients are hospitalized only for serious complications requiring complex interdisciplinary care. Constant close clinical evaluation and serial laboratory monitoring are necessary to properly treat these patients, requiring the daily services of a trained hematologist.
Inpatient & Outpatient Medications
The availability of a continuous supply of products containing FIX to treat severe hemophilia as part of home therapy is essential for early and prompt self-treatment of bleeds. This minimizes the need for expensive hospitalization, reduces joint damage, and improves the quality of life for the patient.
Instruct patients to avoid use of acetylsalicylic acid, NSAIDs, and other over-the-counter and herbal medications that can precipitate or accentuate bleeding. Routine immunizations with hepatitis A and B vaccines and other routine care, as for influenza and pneumonia, should be provided.
Transfer
With the availability of qualified hematologists, surgeons, and laboratory support, many patients can be cared for at local community hospitals, many of which have access to sophisticated laboratory tests and thus allow local and convenient care. However, additional services are available at local hemophilia centers through state and federal programs to assist these patients in coping with the many consequences of a burdensome illness. Thus, it may not always be necessary to transfer such patients to university centers, where the cost of care may be higher.
Complications
Potential complications include severe arthropathy, with limitation of joint motion, pseudocysts, hepatitis, HIV-related illnesses, nephrotic syndrome, severe allergic reactions, development of inhibitors, CNS bleeding, infections, and death. Along with these, patients experience severe economic and social consequences.
Increased bleeding risk occurs with use of the following:
NSAIDs

Protease inhibitors, in HIV-infected individuals

St. John's wort ( Hypericum perforatum), an over-the-counter herbal medicine used for depression
Contribution of products of intermediate purity to immunosuppression is greater than with products of high purity.
Development of FIX inhibitors is a serious complication. Overall incidence of inhibitors in hemophilia B (3-5%) is less than in hemophilia A, but it rises to 12% in patients with severe hemophilia B. Hemophilia B is more likely to develop in patients with severe FIX deficiency because of large deletions or major abnormalities of the FIX gene. In these patients, development of severe allergic/anaphylactic reactions to FIX infusions is associated with the appearance of an inhibitor.
Data from children who developed inhibitors showed that the median number of infusion days of product prior to development of an inhibitor was 11; 50% of inhibitors develop before patients reach age 9 years. The frequency of anaphylaxis is higher on exposure to products containing FIX in patients with hemophilia B who subsequently develop inhibitors. Such anaphylaxis is rare in patients with hemophilia A.
An anamnestic rise in antibody titers in patients who already have an inhibitor can occur following transfusion of products containing FIX. Antibody development leads to failure of therapy usually effective for controlling bleeding, increases morbidity and mortality, and makes the performance of even minor surgery difficult.
Allergic reactions to older less pure coagulation factor concentrates can occur due to sensitization to foreign proteins. They include skin rash, fever, headache and, sometimes, anaphylaxis.
Acute decompensated DIC, myocardial infarction, or stroke can occur with the use of prothrombin complex concentrates (PCCs) or recombinant factor VIIa.
Hepatitis resulting from virus types A-E, hepatitis virus G, the SEN family of viruses A-H, with SEN d and SEN H transmitted parenterally and causing posttransfusion hepatitis; progression to cirrhosis; hepatic failure; and hepatocellular carcinoma are all problems that develop in individuals with hemophilia who were transfused with older less pure products.
Parvovirus B19 can be transmitted, depending on the product transfused, and it can cause aplastic anemia in immunocompromised hosts as well as a variety of illnesses. Human herpesvirus 8, HIV type 2, and HIV group O are other emerging pathogens.[28] Transfusion-transmitted virus (TTV) contamination of first-generation rFIX concentrate has been reported[29] ; second-generation recombinant products that do not use human serum albumin were free of TTV contamination.
HCV infection remains a serious problem, with progression to chronic hepatitis and hepatic failure in most patients, and it has been used as an indication for liver transplantation.
Other unidentified viruses (eg, those possibly present in Chinese hamster ovary cells, which are used to produce rFIX concentrates), can present potential health threats. HIV infection is possible. Transmission of other viruses currently is unknown.
Nephrotic syndrome is a concern, especially in patients with inhibitors undergoing long-term factor replacement. Anemia, leukopenia, or thrombocytopenia may occur. Gene therapy may be associated with an increased incidence of inhibitors.
Potential transmission of prions causing Creutzfeldt-Jakob disease (CJD) or its variant form (vCJD) in recipients of blood products was a serious concern early in this century. However, no individual with hemophilia nor any other blood product recipient in the United States is known to have developed CJD. A United Kingdom study found that as of May 2015, no new cases of transfusion-associated vCJD had occurred since 2007 and there was no evidence of transfusion transmission of sporadic CJD.[30] A sensitive and specific blood test for vCJD has been developed and has entered clinical use; it could be used to screen blood supplies.[31]
Hemophilia can also have a significant psychosocial impact, including addiction to narcotic analgesics and abuse of alcohol and other substances, which leads to unstable relationships. Lack of availability of appropriate jobs; inability to maintain a job due to recurrent illnesses; need for repeated job absences; and the need for repeated expensive medical care all lead to the likelihood of an inability of individuals with hemophilia to adequately support themselves.
Prognosis
Prognosis depends on the types of complications that develop, as well as the type of product replacement available when the patient started undergoing care. Currently, younger patients with hemophilia who receive recombinant products do much better than patients who received the older products. Gene therapy for these disorders is currently under evaluation.
Early and complete genetic testing of all persons newly diagnosed with hemophilia is key to anticipating and preventing serious complications.
Preventing or suppressing the anamnestic rise of FIX inhibitors in patients with severe FIX deficiencies may be feasible with the use of monoclonal antibodies, which target T-cell response to antigenic stimulation. The blockade of CTLA4 and CD28-B7 interactions with T cells is shown to have implications for successfully preventing destructive T-cell responses in autoimmune disease.
Patient Education
Registration with the National Hemophilia Foundation, educational seminars, and one-on-one discussions with patient and family members are essential. For patient education information, see Hemophilia.
References
Chavali S, Sharma A, Tabassum R, Bharadwaj D. Sequence and structural properties of identical mutations with varying phenotypes in human coagulation factor IX. Proteins. 2008 Apr 7. [Medline].

Metzner HJ, Weimer T, Kronthaler U, Lang W, Schulte S. Genetic fusion to albumin improves the pharmacokinetic properties of factor IX. Thromb Haemost. 2009 Oct. 102(4):634-44. [Medline].

Smith SB, Gailani D. Update on the physiology and pathology of factor IX activation by factor XIa. Expert Rev Hematol. 2008 Oct. 1(1):87-98. [Medline]. [Full Text].

Bauer KA, Kass BL, ten Cate H, et al. Factor IX is activated in vivo by the tissue factor mechanism. Blood. 1990 Aug 15. 76(4):731-6. [Medline].

Hoffman M, Monroe DM 3rd. A cell-based model of hemostasis. Thromb Haemost. 2001 Jun. 85(6):958-65. [Medline].

Roberts HR, Monroe DM III, Hoffman M. Molecular biology and biochemistry of the coagulation factors and pathways of hemostasis. Beutler E, Lichtman M, Coller B, et al, eds. Williams Hematology. 6th ed. New York, NY: McGraw-Hill Professional; 2001. 2001: 1409-34.

Zdziarska J, Chojnowski K, Klukowska A, Letowska M, Mital A, Podolak-Dawidziak M, et al. Therapeutic properties and safety of recombinant factor VIII and factor IX. Pol Arch Med Wewn. 2009 Jun. 119(6):403-9. [Medline].

Quadros L, Ghosh K, Shetty S. A common G10430A mutation (Gly 60 Ser) in the factor IX gene describes the presence of moderate and mild hemophilia B in the majority of the Gujarati population. Ann Hematol. 2007 May. 86(5):377-9. [Medline].

Kulkarni R, Lusher J. Perinatal management of newborns with haemophilia. Br J Haematol. 2001 Feb. 112(2):264-74. [Medline].

Kulkarni R, Lusher JM, Henry RC, Kallen DJ. Current practices regarding newborn intracranial haemorrhage and obstetrical care and mode of delivery of pregnant haemophilia carriers: a survey of obstetricians, neonatologists and haematologists in the United States, on behalf of the National Hemop. Haemophilia. 1999 Nov. 5(6):410-5. [Medline].

Sidonio RF Jr, Gunawardena S, Shaw PH, Ragni M. Predictors of von Willebrand disease in children. Pediatr Blood Cancer. 2012 Jan 11. [Medline].

Christophe OD, Lenting PJ, Cherel G, et al. Functional mapping of anti-factor IX inhibitors developed in patients with severe hemophilia B. Blood. 2001 Sep 1. 98(5):1416-23. [Medline].

Park CH, Seo JY, Kim HJ, Jang JH, Kim SH. A diagnostic challenge: mild hemophilia B with normal activated partial thromboplastin time. Blood Coagul Fibrinolysis. 2010 Jun. 21(4):368-71. [Medline].

Poon MC. Clotting Factor IX in Hemophilia B: Global Experience. Paper presented at: XVIII Congress of the International Society on Thrombosis and Haemostasis. July 6-12, 2001. Paris, France.

Roth DA, Kessler CM, Pasi KJ, et al. Human recombinant factor IX: safety and efficacy studies in hemophilia B patients previously treated with plasma-derived factor IX concentrates. Blood. 2001 Dec 15. 98(13):3600-6. [Medline].

Gamerman S, Singh AM, Makhija M, Sharathkumar A. Successful eradication of inhibitor in a patient with severe haemophilia B and anaphylaxis to factor IX concentrates: is there a role for Rituximab® and desensitization therapy?. Haemophilia. 2013 Aug 28. [Medline].

Escobar M, Sallah S. Hemophilia A and hemophilia B: focus on arthropathy and variables affecting bleeding severity and prophylaxis. J Thromb Haemost. 2013 Aug. 11(8):1449-53. [Medline].

Azzi A, De Santis R, Morfini M, et al. TT virus contaminates first-generation recombinant factor VIII concentrates. Blood. 2001 Oct 15. 98(8):2571-3. [Medline].

Poon MC. Pharmacokinetics of factors IX, recombinant human activated factor VII and factor XIII. Haemophilia. 2006 Nov. 12 Suppl 4:61-9.

Hedner U, Ginsburg D, Lusher JM, High KA. Congenital Hemorrhagic Disorders: New Insights into the Pathophysiology and Treatment of Hemophilia. Hematology (Am Soc Hematol Educ Program). 2000. 241-65.

Coukos G, Rubin SC. Gene therapy for ovarian cancer. Oncology (Huntingt). 2001 Sep. 15(9):1197-204, 1207; discussion 1207-8. [Medline].

Fewell JG. Factor IX gene therapy for hemophilia. Methods Mol Biol. 2008. 423:375-82. [Medline].

Ponder KP. Gene therapy for hemophilia. Curr Opin Hematol. 2006 Sep. 13(5):301-7. [Medline].

Giangrande P. The Future of Hemophilia Treatment: Longer-Acting Factor Concentrates versus Gene Therapy. Semin Thromb Hemost. 2016 May 5. [Medline].

Treisman GJ, Angelino AF, Hutton HE. Psychiatric issues in the management of patients with HIV infection. JAMA. 2001 Dec 12. 286(22):2857-64. [Medline].

Lin CN, Kao CY, Miao CH, Hamaguchi N, Wu HL, Shi GY, et al. Generation of a novel factor IX with augmented clotting activities in vitro and in vivo. J Thromb Haemost. 2010 May 21. [Medline].

Di Bisceglie AM. SEN and sensibility: interactions between newly discovered and other hepatitis viruses?. Lancet. 2001 Dec 8. 358(9297):1925-6. [Medline].

MediView. Recombinant therapy enhances safety and quality of life for hemophilia patients. Paper presented at: 53rd Annual Meeting of the National Hemophilia Foundation. November 16, 2001:Nashville, Tennessee.

Rigas B, Hasan I, Rehman R, et al. Effect on treatment outcome of coinfection with SEN viruses in patients with hepatitis C. Lancet. 2001 Dec 8. 358(9297):1961-2. [Medline].

Urwin PJ, Mackenzie JM, Llewelyn CA, Will RG, Hewitt PE. Creutzfeldt-Jakob disease and blood transfusion: updated results of the UK Transfusion Medicine Epidemiology Review Study. Vox Sang. 2016 May. 110 (4):310-6. [Medline].

Jackson GS, Burk-Rafel J, Edgeworth JA, Sicilia A, Abdilahi S, Korteweg J, et al. Population screening for variant Creutzfeldt-Jakob disease using a novel blood test: diagnostic accuracy and feasibility study. JAMA Neurol. 2014 Apr. 71 (4):421-8. [Medline].

Feuerstein GZ, Nichols AJ, Church WR. Novel murine monoclonal antifactor IX/IXa (BC2) is a potent anticoagulant with "self limiting" inhibition of hemostasis. Circulation. 1997. 96:142.

Kjalke M, Monroe DM, Hoffman M, et al. Active site-inactivated factors VIIa, Xa, and IXa inhibit individual steps in a cell-based model of tissue factor-initiated coagulation. Thromb Haemost. 1998 Oct. 80(4):578-84. [Medline].

Spanier TB, Oz MC, Minanov OP, et al. Heparinless cardiopulmonary bypass with active-site blocked factor IXa: a preliminary study on the dog. J Thorac Cardiovasc Surg. 1998 May. 115(5):1179-88. [Medline].

Coppola A, Tagliaferri A, Di Capua M, Franchini M. Prophylaxis in children with hemophilia: evidence-based achievements, old and new challenges. Semin Thromb Hemost. 2012 Feb. 38(1):79-94. [Medline].

Bajzar L, Manuel R, Nesheim ME. Purification and characterization of TAFI, a thrombin-activable fibrinolysis inhibitor. J Biol Chem. 1995 Jun 16. 270(24):14477-84. [Medline].

Bajzar L, Nesheim ME, Tracy PB. The profibrinolytic effect of activated protein C in clots formed from plasma is TAFI-dependent. Blood. 1996 Sep 15. 88(6):2093-100. [Medline].

Bouma BN, von dem Borne PA, Meijers JC. Factor XI and protection of the fibrin clot against lysis--a role for the intrinsic pathway of coagulation in fibrinolysis. Thromb Haemost. 1998 Jul. 80(1):24-7. [Medline].

Brooks M. A review of canine inherited bleeding disorders: biochemical and molecular strategies for disease characterization and carrier detection. J Hered. 1999 Jan-Feb. 90(1):112-8. [Medline].

Broze GJ Jr, Higuchi DA. Coagulation-dependent inhibition of fibrinolysis: role of carboxypeptidase-U and the premature lysis of clots from hemophilic plasma. Blood. 1996 Nov 15. 88(10):3815-23. [Medline].

Economides DL, Kadir RA, Lee CA. Inherited bleeding disorders in obstetrics and gynaecology. Br J Obstet Gynaecol. 1999 Jan. 106(1):5-13. [Medline].

The fibrinolytic system and thrombolytic agents. Bachmann F, ed. Fibrinolytics and Antifibrinolytics. New York, NY: Springer-Verlag; 2001. 3-15.

Green D. Complications associated with the treatment of haemophiliacs with inhibitors. Haemophilia. 1999 Sep. 5 Suppl 3:11-7. [Medline].

Hoots K, Canty D. Clotting factor concentrates and immune function in haemophilic patients. Haemophilia. 1998 Sep. 4(5):704-13. [Medline].

Kasper CK, Costa E, Silva M. Registry of Clotting Factor Concentrates. World Federation of Hemophilia. 1998:1-8.

Key NS, Aledort LM, Beardsley D, et al. Home treatment of mild to moderate bleeding episodes using recombinant factor VIIa (Novoseven) in haemophiliacs with inhibitors. Thromb Haemost. 1998 Dec. 80(6):912-8. [Medline].

Knobe KE, Persson KE, Sjörin E, Villoutreix BO, Ljung RC. Functional analysis of the factor IX epidermal growth factor-like domain mutation Ile66Thr associated with mild hemophilia B. Pathophysiol Haemost Thromb. 2006. 35(5):370-5. [Medline].

Lillicrap D. Molecular diagnosis of inherited bleeding disorders and thrombophilia. Semin Hematol. 1999 Oct. 36(4):340-51. [Medline].

Mosnier LO, von dem Borne PA, Meijers JC, et al. Plasma TAFI levels influence the clot lysis time in healthy individuals in the presence of an intact intrinsic pathway of coagulation. Thromb Haemost. 1998 Nov. 80(5):829-35. [Medline].

Qian J, Collins M, Sharpe AH, Hoyer LW. Prevention and treatment of factor VIII inhibitors in murine hemophilia A. Blood. 2000 Feb 15. 95(4):1324-9. [Medline].

Racoosin JA, Kessler CM. Bleeding episodes in HIV-positive patients taking HIV protease inhibitors: a case series. Haemophilia. 1999 Jul. 5(4):266-9. [Medline].

Redlitz A, Tan AK, Eaton DL, Plow EF. Plasma carboxypeptidases as regulators of the plasminogen system. J Clin Invest. 1995 Nov. 96(5):2534-8. [Medline].

Santagostino E, Fasulo MR. Hemophilia A and Hemophilia B: Different Types of Diseases?. Semin Thromb Hemost. 2013 Sep 8. [Medline].

Shapiro AD, Gilchrist GS, Hoots WK, et al. Prospective, randomised trial of two doses of rFVIIa (NovoSeven) in haemophilia patients with inhibitors undergoing surgery. Thromb Haemost. 1998 Nov. 80(5):773-8. [Medline].

Srivastava A, Chandy M, Sunderaj GD, et al. Low-dose intermittent factor replacement for post-operative haemostasis in haemophilia. Haemophilia. 1998 Nov. 4(6):799-801. [Medline].

Tedgard U, Ljung R, McNeil TF. Reproductive choices of haemophilia carriers. Br J Haematol. 1999 Aug. 106(2):421-6. [Medline].

Teitel JM. Recombinant factor VIIa versus aPCCs in haemophiliacs with inhibitors: treatment and cost considerations. Haemophilia. 1999 Sep. 5 Suppl 3:43-9. [Medline].

Thomson AR. Molecular biology of F IX. Colman RW, George JN, Hirsh J, et al, eds. Hemostasis and Thrombosis: Basic Principles and Clinical Practice. 4th ed. Philadelphia, Pa: Lippincott-Raven Pub; 2001. 123-34.

Tock B, Drohan W, Hess J, et al. Haemophilia and advanced fibrin sealant technologies. Haemophilia. 1998 Jul. 4(4):449-55. [Medline].

Warrier I, Ewenstein BM, Koerper MA, et al. Factor IX inhibitors and anaphylaxis in hemophilia B. J Pediatr Hematol Oncol. 1997 Jan-Feb. 19(1):23-7. [Medline].

Wildgoose P, Nemerson Y, Hansen LL, et al. Measurement of basal levels of factor VIIa in hemophilia A and B patients. Blood. 1992 Jul 1. 80(1):25-8. [Medline].

Wang QY, Hu B, Liu H, Tang L, Zeng W, Wu YY, et al. A genetic analysis of 23 Chinese patients with hemophilia B. Sci Rep. 2016 Apr 25. 6:25024. [Medline].
Table 1. Correlation Between Severity of Bleeding and the Level of Basal FIX Activity
| | | |
| --- | --- | --- |
| Severity | Functional FIX Levels, % | Bleeding and Hemarthroses |
| Severe | ≤ 1 | Lifelong spontaneous hemorrhages and hemarthroses starting in infancy |
| Moderate | 2-5 | Hemorrhage secondary to minor trauma or surgery; occasional spontaneous hemarthrosis |
| Mild | 6-25 | Hemorrhage secondary to trauma, surgery, or precipitated by the use of drugs such as nonsteroidal anti-inflammatory drugs |
Table 2. Rough Guidelines for Treatment Using Factor IX Concentrates
Type of Hemorrhage
Desired FIX Activity, % of Normal
Duration of Therapy, Days
Minor -



Uncomplicated



hemarthroses



superficial large



hematomas




20-30
1-2
Moderate -



Hematoma with dissection



Oral/mucosal hemorrhages and epistaxis hematuria*




25-50
3-7



(2-5 in oral hemorrhages)




Dental extraction(s)*
50-100
2-5
Major -



Pharyngeal/retropharyngeal,



retroperitoneal,



GI tract bleeding,



CNS bleeding surgery




~100 until bleeding is controlled; then taper to minimum required to prevent rebleed
7-10



(5-10 in



oral hemorrhages)




*Concomitant administration of EACA or tranexamic acid (both fibrinolytic inhibitors) can help reduce the dose of clotting factor replacement required to treat such bleeds.
Medscape Reference © 2011 WebMD, LLC