Amniotomy Periprocedural Care
Author: Nan G O'Connell, MD; Chief Editor: Christine Isaacs, MD  more...
Updated: Oct 26, 2014
What would you like to print?
Equipment
Equipment for amniotomy includes the following:
Examination gloves

Vaginal speculum and spinal needle (if a controlled amniotomy is to be performed)

Amniotic membrane perforator: This may be an amniotomy hook, such as the AmniHook (Briggs Healthcare, West Des Moines, IA), or an amniotomy finger cot, such as the Amnicot (Allied Medical, Perth, Australia) or the AROM-Cot (Utah Medical Products, Midvale, UT).*
The AmniHook is a rigid, plastic device with a pointed tip at the end of smooth curve, attached to a 10-in. handle (see the first image below). The Amnicot has a pointed plastic tip embedded in a latex or latex-free finger cot (see the second image below); the AROM-Cot is similar.

Amniotomy hook.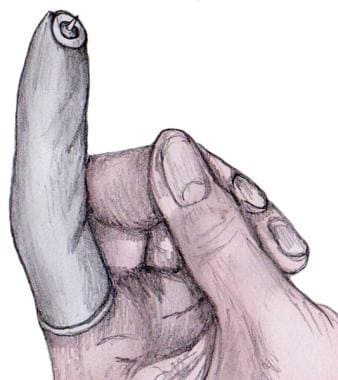 Amnicot
Patient Preparation
Amniotomy is usually performed with the patient supine in the labor bed, with knees and hips flexed (ie, "frog-legged"). It may also be performed with the patient in the lithotomy position, especially if a speculum is required.
Once the patient is positioned, sterile gloves are donned. The dominant hand is used to perform a cervical examination to assess dilation, effacement, position, and station. The presenting fetal part should be determined to be well applied to the cervix before performing amniotomy.
References
Cunningham, Levano, Bloom, Hauth, Rouse, Spong. Abnormalities of the Placenta, Umbilical Cord and Membranes. Williams Obstetrics. 23rd. United States: McGraw-Hill; 2010. Chapter 27.

Nachum Z, Garmi G, Kadan Y, Zafran N, Shalev E, Salim R. Comparison between amniotomy, oxytocin or both for augmentation of labor in prolonged latent phase: a randomized controlled trial. Reprod Biol Endocrinol. 2010. 8:136. [Medline].

Bricker L, Luckas M. Amniotomy alone for induction of labour. Cochrane Database Syst Rev. 2000. CD002862. [Medline].

Cooley SM, Geary MP, O'Connell MP, McQuillan K, McParland P, Keane D. How effective is amniotomy as a means of induction of labour?. Ir J Med Sci. 2010 Sep. 179(3):381-3. [Medline].

Cunningham, Lenevo, Bloom, Hauth, Rouse, Spong. Labor Induction. Williams Obstetrics. 23rd. United States: McGraw-Hill; 2010. Chapter 22.

Howarth GR, Botha DJ. Amniotomy plus intravenous oxytocin for induction of labour. Cochrane Database Syst Rev. 2001. CD003250. [Medline].

Selo-Ojeme DO, Pisal P, Lawal O, Rogers C, Shah A, Sinha S. A randomised controlled trial of amniotomy and immediate oxytocin infusion versus amniotomy and delayed oxytocin infusion for induction of labour at term. Arch Gynecol Obstet. 2009 Jun. 279(6):813-20. [Medline].

Mitchell MD, Flint AP, Bibby J, Brunt J, Arnold JM, Anderson AB. Rapid increases in plasma prostaglandin concentrations after vaginal examination and amniotomy. Br Med J. 1977 Nov 5. 2(6096):1183-5. [Medline].

Smyth RM, Alldred SK, Markham C. Amniotomy for shortening spontaneous labour. Cochrane Database Syst Rev. 2007. (4):CD006167. [Medline].

Wei S, Wo BL, Xu H, Luo ZC, Roy C, Fraser WD. Early amniotomy and early oxytocin for prevention of, or therapy for, delay in first stage spontaneous labour compared with routine care. Cochrane Database Syst Rev. 2009 Apr 15. CD006794. [Medline].
Medscape Reference © 2011 WebMD, LLC